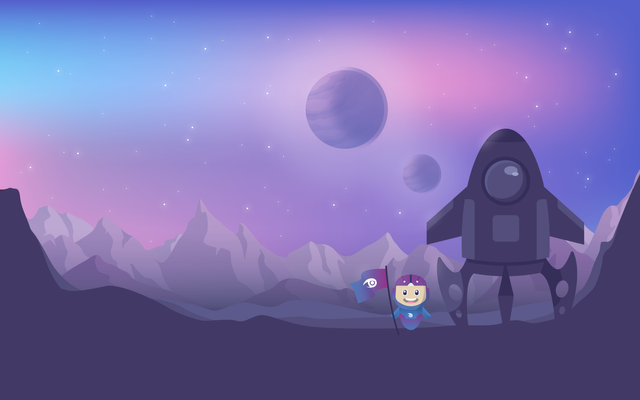 Source
I'm certain everyone on the steemit blockchain has at one time or the other heard of utopian-io. It is a steem-based project which aim is to encourage open source innovations. This, it achieves by incentivizing individuals for their contributions to open source projects which could be critical reviews, bug hunting/fixing, useful suggestions, etc. It's a fact that so far, utopian has empowered thousands of individuals through the steem blockchain for their contributions to various open source projects, and their impacts are widely felt throughout the internet.


Conception Of A New Child
Having achieved remarkable feats within its short existence on the steem blockchain, utopian is about to the it's next giant leap which is setting up a colony that would accommodate more users comfortably. Utopian colony is a rebranded version of utopian v2 which has been running for a while also on blockchain. Utopian colony would be a hub of some sort and a crowdfunding platform for digital professionals. The proposed colony is to include a profiling system. Thus, every project/user on the platform can get to create profiles for themselves and publish their contributions on their own accounts.
Other proposed features include a tipping system, task/bounty page, payment tools/options for open source projects to receive donations, etc.


CAMPAIGNING - let's pledge our support
In order to bring this brainchild to life - a phenomenon that I'd scheduled to occur in the second quarter of this year, 2019, utopian needs financial contributions from willing individuals like you and me. The crowdfunding campaign is currently running on indiegogo.
Let's pledge our support here for utopian colony.


HOW?
You can support utopian colony by donating funds. Just ensure it's some amount you can afford to lose. Even as little as $10 donation would be appreciated. Different packages are given on the campaign site ranging from as little as $5 to as much as $1000.
Should you be donating, please do so at your own discretion. I'm no financial adviser, and this shouldn't be taken as a financial advice.

You can also support utopian colony by, at least, spreading words about the campaign on social media. To do this, visit the campaign page, click on the like button and follow the social media links attached there to share the campaign to your facebook page, Twitter, etc.
Your Dividends As An Early Supporter
As an early supporter of utopian colony, you stand to benefit in different ways.
You might have early access to utopian colony ecosystem.
You may be privileged to earn a profile badge depending on the type and magnitude of your support.
You may also be privileged to have free promotional opportunities when the system takes of fully.
You may earn VIP pass that allws you to enjoy special privileges. Etc


Why You Should Support Utopian Colony
As have already been said, utopian colony is an offshoot of utopian-io which supports and encourages open source projects and their innovations. These are all project we've directly or indirectly benefited from at one point or the other in our lives.
Moreover, there's a high possibility of a wider adoption of the steem blockchain with the utopian colony. With the profiling system where every user could create their own accounts and profile at no costs, the influx of new users is inevitable. Such phenomenon would no doubt boost the steem blockchain and strengthen the value of steem which would directly benefit you and me as steemians.




Follow these links and stay updated on utopian colony developments.