Repository
https://github.com/hapramp/1Rramp-Android
A. Introduction
The Steem blockchain is truly a beautiful community to belong to, no matter what the price of its cryptocurrency says at the moment. I don't think there is any other place you can find passionate developers like those that are found on the Steem blockchain. Example of these kind of developers we have on the Steem blockchain are the likes of those that developed Utopian, Actifit, eSteem, Steemconnect, 1Ramp, Steepshot and a whole lot of others.
It thus happens so that there is a healthy competition of decentralized applications on the Steem blockchain. Let's say you use Partiko, another dapp to make your blog posts and transact on the Steem blockchain and they decide to pack up one day. It does not translate to the end of the world for you. Instead, you can easily and immediately switch to the eSteem app or 1Ramp, no hard feelings. These developers have even made it easier, creating both an Android and iOS version of the apps for the users to utilize. This is especially important due to the influx of smartphone users all over the world.
In this series, we're going to be looking at one of the decentralized apps created on the Steem blockchain. This dapp is an open source one known as 1Ramp. We shall look at some of the recent developments that have so far been carried out on one of its major platform - the 1Ramp web app. Let us fire down.
B. What is 1Ramp?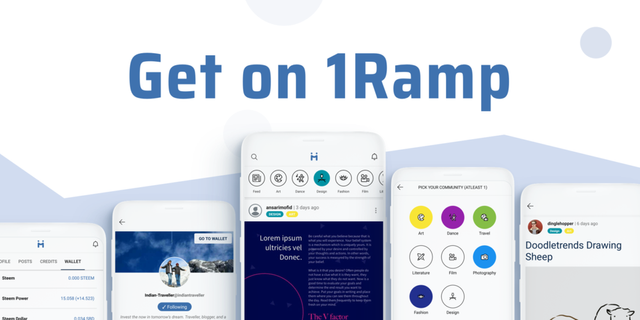 The 1Ramp platform is one among a teeming number of decentralized social media application built on the Steem blockchain. This platform gives its users the opportunity to create articles on it, interact with fellow members of the various communities and earn while doing what they know how to do best.
The kinds of content accepted on the platform includes articles, picture contents, blog posts, videos and others which are those of the users. When these contents are upvoted by other members of the platform, the owners as well as thos who upvote the posts are rewarded with cryptocurrency coins - Steem and SBD.
On 1Ramp, users can also earn by participating in contests and competitions held by other users of the platform. All you will need to do is to join in the contest and carefully follow the rules of the game.
C. The 1Ramp web-app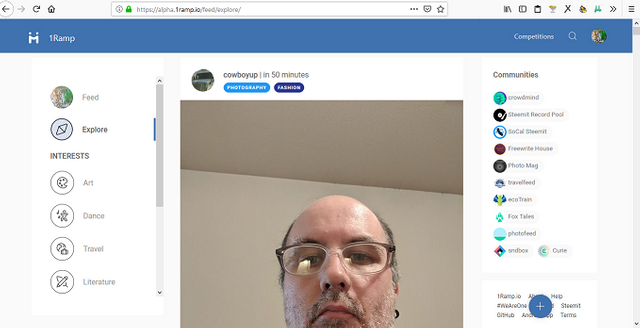 The 1Ramp web app is the web version of the 1Ramp range of apps created for its growing number of users. With this app, users are able to join the communities section of the 1Ramp on the blockchain according to their tastes or hobbies. Several communities and interests exist on this platform. To access the 1Ramp web platform, users simply need to visit the website via this link - alpha.1Ramp.io. Once you can sign in successfully, you are good to go.
D. Recent updates to the 1Ramp web app
A number of updates have been carried out recently to this web version of the 1Ramp app. The reason for this update is majorly to improve the overall experience for users of the platform. We will be looking at each of the new features extensively with the aim of pinpointing the benefits to us.
i. New markdown styling in 1Ramp editor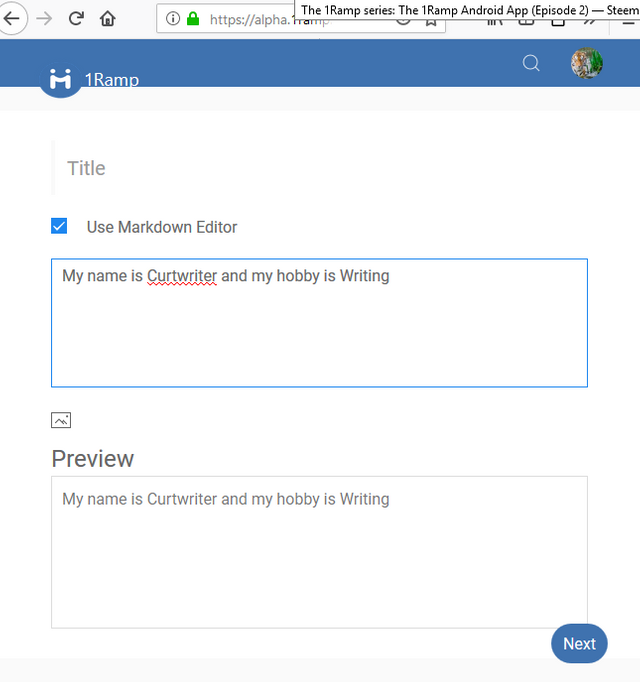 On the Steem blockchain, a majority of dapps provide its users with the markdown styling features. We have the likes of Actifit, Busy, Steeditor and a host of others. All of these style features have been made available so that users can produce better looking blogs or articles. With the markdown styling range of features, you can embolden, slant or increase the size of your text. All of these and many more are some of the features available in the markdown editor.
To appeal better to current and potential users, and also to allow them create better looking articles, the 1Ramp app has introduced the markdown editor in its web version. Before now, 1Ramp had the WYSIWYG editor put in place for users. However, the markdown editor has now been introduced in this new update. To allow for more flexibility between both editors and for users, a checkbox was provided which allows users the ability to toggle the markdown editor on or off. This means users are not forced to use any editor as they can choose between both editors.
Also enabled is a preview section which shows the output of your textual inputs in real time. Whatever markdown features you implement is immediately effected as you write your blog posts. This markdown editor feature is a feature that I love a lot as it has greatly improved my 1Ramp experience. I am quite sure other users will prefer the markdown editor to the other since we have already gotten used to it through our interactions with Steemit and the other Steem based applications.
ii. The infinite scrolling feature
Have you ever noticed that on Steemit, you keep on scrolling through your feed with no end in sight? Whether it is your feed or the trending page, there's hardly an end to the content you can find. At the end of the day, you'll likely get tired and move on to another section or a blog post. This is known as the infinite scrolling feature.
1Ramp has now introduced the infinite scrolling feature on its web version for users. Now, you can scroll through thousands of blogs - quality ones without an end in sight. All these blogs are sourced from quality and relevant contents made by users of 1Ramp and its various communities and interests such as WeAreOne, Arts, Dance, Literature and a host of others.
After I'm done with making a post on the blockchain, I am sometimes at loss for what next to do. However, with this new feature on 1Ramp, one could easily skim through a lot of posts from different users, look at different pictures, customs and cultures of different countries without having to open any post. I like this feature as well especially with how the pictures are rendered in full. If I discover any blog posts I like, I can simply open it in a new tab and just keep on scrolling.
iii. The 1Ramp skeleton placeholder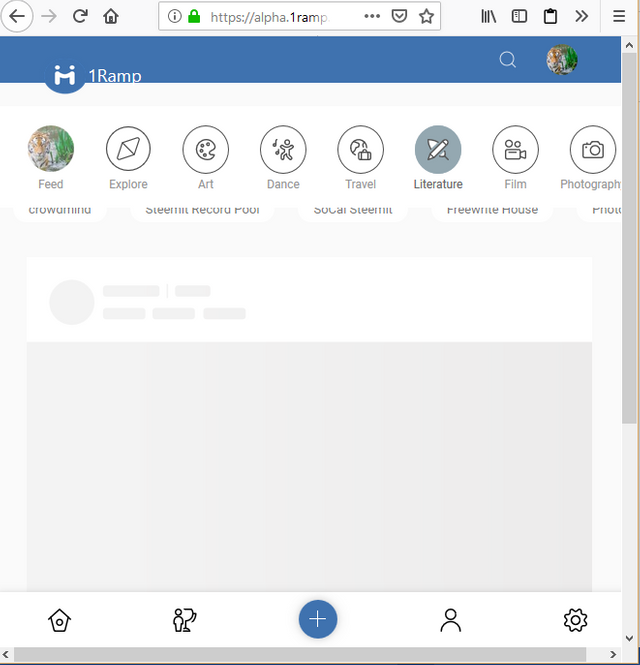 For those who are not programming inclined, it could be difficult to know what a placeholder is and how important it could be. Simply put, a placeholder is something that is used to take up space or is displayed for a short while until the real reason for which the space is created is used or applied.
An example is let's say while filling a form online and you see a faint text in a textbox which says "enter your email address". Once you click into the box and begin typing, that text disappears and is replaced by your email address. This is a typical example of what a placeholder is.
Sometimes, due to poor network connectivity or issues beyond your control, your feed on 1Ramp could take a lot of time before they are displayed. Previously, what shows off is an empty page which makes it look as though the page may never load. However, the new 1Ramp web update has been changed with the introduction of the skeleton placeholder. This shows off like empty boxes without the intended content and keeps on blinking as the page loads.
Once the page completely loads, the content replaces the empty boxes and you can continue scrolling. While this does not greatly impact our experience on 1Ramp, and it's hardly ever felt, it could sometimes be satisfying just seeing the skeleton placeholder blinking right there as your browser loads the feed. With this, you have the confidence that content will be displayed soon.
E. Conclusion
One decentralized app built on the Steem blockchain that has continued to make waves is the 1Ramp app. With its several improvements targeted at enhancing user experience, 1Ramp is surely making a name for itself on the blockchain. The contest and communities made available by the team also increases its value to users. We have so far been able to see the recent updates made on the 1Ramp web app. We have also seen the benefits of these updates. In our next post of this series, we will look at other new updates as well as features made available by 1Ramp.
I hope to see you on the next episode of this series. Have a nice week ahead.
I remain your amazing dApps presenter, @curtwriter.
Resources
A. https://steemit.com/utopian-io/@hapramp/launching-1ramp-formerly-hapramp-a-steem-platform-for-the-creative-communities
B. Other pictures are screenshots from my device
Series Backlinks