Godot Viewport Documentation
Repository
https://github.com/godotengine/godot-docs
Details
With the transition to Godot3 much of the documentation has fallen out of date. In many areas all it took was some updating of function names and the like in order to update the documentation, but in others much more was required. The Viewport docs were one of these places. I have:
added sections to explain various new functions of the Viewport class;
updated outdated sections;
added and replaced various images used to highlight certain parts of the Viewport menus in-engine; and
updated the corresponding class reference add and correct information.
Components
Viewports are a very important part of the Godot engine. They are the surface on which the game is displayed. The new version of Viewports allows for the use of custom made viewports to render directly to textures which can be used however the user likes. This is an important step away from how Viewports used to be used, which was more rigid. Now the Viewports are easier to create, render to, and read from than ever before. With these changes it was important that the documentation reflected the various uses and capabilities of the Viewport class.
Difference
The old documentation was out of date and reflected aspects of the Viewport class which are no longer applicable to modern Godot. The old class had multiple settings and was more rigid in the way it was used, and the documentation reflected this.
Additionally, the images used in the documentation were added quickly by someone on the release of godot3 to match the style of the new editor. Because of this the pictures looked hastily added. I have taken new pictures to replace those ones and I have added many images to show the various menus and sub-menus associated with the Viewport as well as images showing a basic scene with different Viewport settings.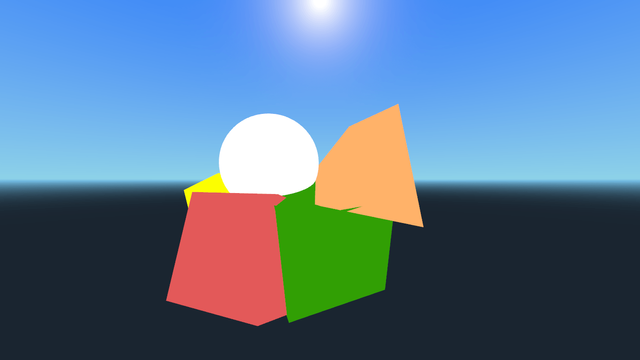 Here is a collection of primitive objects with an unshaded Viewport
In addition to the changes to the Viewport documentation I have also updated the Viewport class reference with a few small changes. One fixes updated information that is no longer accurate, and the rest are to add missing information that had not been added by previous contributors.
Links
http://docs.godotengine.org/en/latest/tutorials/viewports/viewports.html
Please note the link is to the latest version of the documentation. If you go to the stable version of the docs the old version is still present.
http://docs.godotengine.org/en/latest/classes/class_viewport.html
The class ref updates only with new releases of the engine, so it is very far behind. Currently the changes are not reflected in the official documentation, but they will be.
GitHub Proof of Authorship