Se você é novo no STEEMIT, deve ter estranhado bastante o editor de textos que é utilizado por padrão.
No início, todos têm dificuldades para entender as inúmeras opções do formato "markdown" e acabam deixando de aproveitá-las.
Em 5 passos, você conhecerá a ferramenta e saberá incrementar e dinamizar seus posts e comentários através do SlackEdit, um poderoso utilitário online.
ACELERE A SUA LEITURA:
Se você não gosta de ler e ver muitos detalhes, siga abaixo as dicas para partir para a ação, pulando praticamente 50% desse tutorial sem prejuízos.
If you're new on STEEMIT and never used a text editor like this before, it could be overwhelming and confusing.
Everyone struggles to understand all the options of markdown formatting and unfortunately do not enjoy full advantage of them.
In just five steps, you'll gain the knowledge and skills to boost your posts and comments through SlackEdit, a powerful online utility.
Do you wanna start quickly?
If you do not like to read and see lots of details, follow the tips below for go to action, skipping almost 50% of this tutorial without loss.
---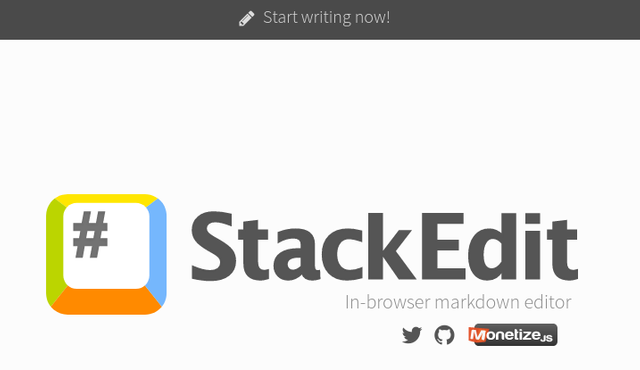 ---
Passo 2. Faça um breve tour para reconhecimento (opcional)
Quer partir para a ação? Clique em [ Got It ] e pule já para o Passo 4 desse tutorial.
ou...
Clique em [ Next ] para conhecer os menus
Step 2. Tour (optional if you wanna go fast)
Wanna start action? Just click in [Got It] and go to Step 4 of this tutorial.
or...
Click in [Next] to start the tour.

a) No lado direito está o menu Documentos
Aqui você pode criar, alternar e organizar seus textos. Os atalhos no teclado para alternar entre documentos são: ctrl + [ e control + ]
clique em [ Next ] para continuar
Click in [Next] to continue.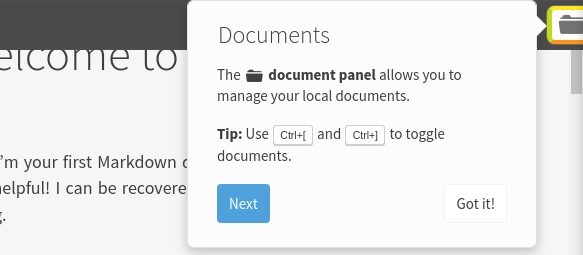 b) No lado esquerdo, o menu Principal
Você pode sincronizar seus documentos na nuvem usando google drive, dropbox, github, blogger...
clique em [ Next ] para continuar
b) Main menu
Click in [Next] to continue.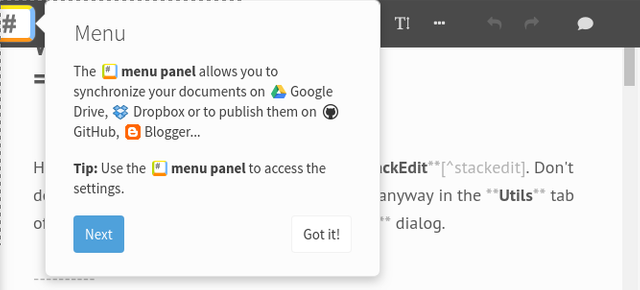 c) No meio, o Ícone para Comentários / Discussões
Esta funcionalidade do StackEdit permite adicionar comentários ou discussões internas. Muito útil para criação e edição colaborativa.
obs: Esses textos não aparecem para os leitores.
clique em [ Next ] para continuar
c) Comments/Discussions icon
Click in [Next] to continue.

d) Ajude a divulgar o aplicativo para browsers
Aqui você é convidado a ajudar de forma muito simples o projeto StackEdit. Clicando no link do Webstore e votando positivamente, você contribuirá para o reconhecimento do aplicativo. Obviamente, o link aponta para o download e instalação no seu navegador (browser). Instalar e votar é opcional.
clique em [ Got it! ] para finalizar.
d) Vote for help StackEdit team
Click in [ Got it! ] to finish tour.

---
Passo 3. Conheça os outros menus (opcional)
Vá direto para o Passo 4 se quiser partir para a ação
No canto inferior direito, você encontra um pequeno menu preto. Clique para expandir e conheça:
a. sintaxes do markdown
Lista de códigos para todas as funções.
Step 3. Know more tools (optional)
Wanna start action? Just go to Step 4 of this tutorial.
In the lower right corner, you will see a small black menu. Click to expand.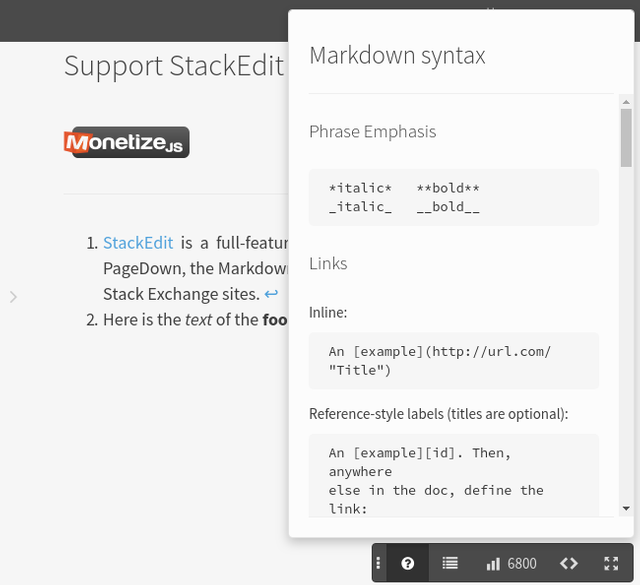 b) manual do StackEdit
Leia o manual completo do StackEdit se quiser ser um expert.
b) Manual
Read the manual if you wanna be an expert.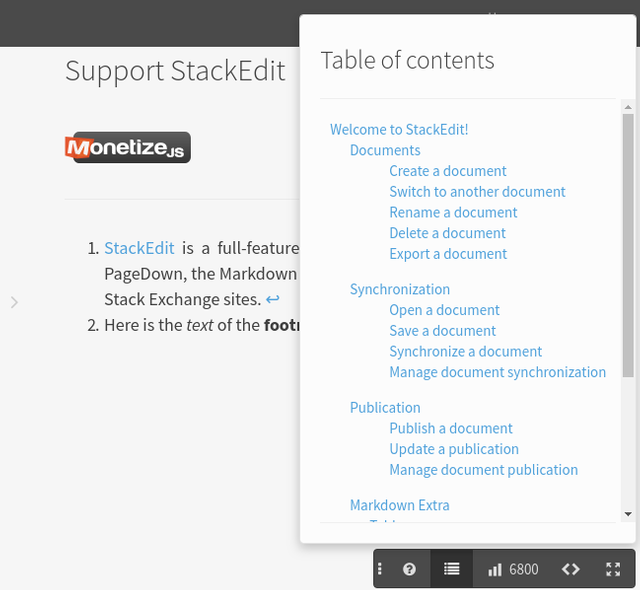 c) contador de caracteres, palavras e parágravos
Estatísticas para editores pouparem os olhos e o tempo dos leitores.
c) Statistics
Useful counters.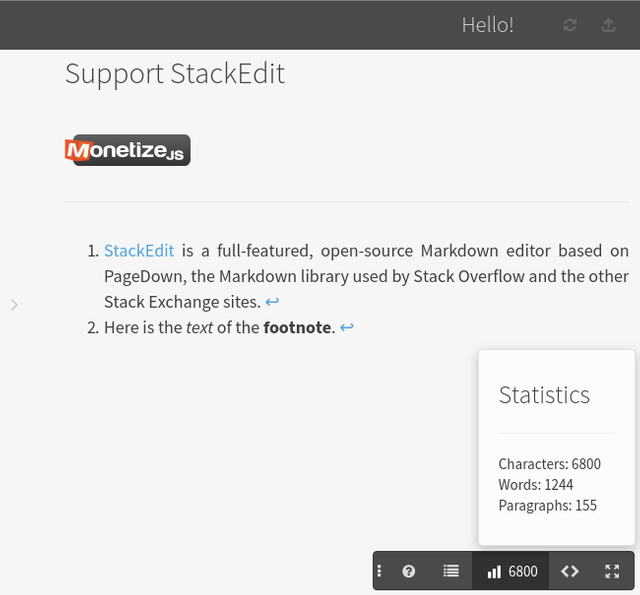 d) código html
Aqui você pode copiar o código html de seu texto para usar em outros sites que aceitem.
d) Html code
Here you could copy and paste html code to another site.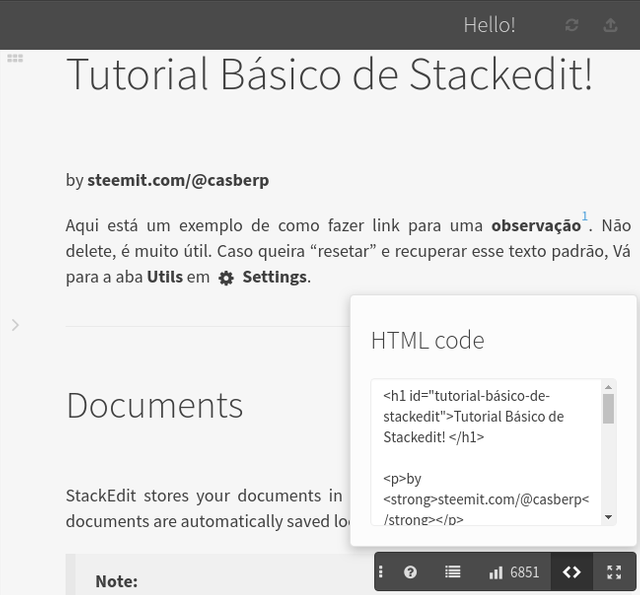 e) expandir a janela de visualização e ocultar o editor
Clicando no último nick, o modo de edição desaparece, para que a visualização fique mais fácil. Para voltar, clique no menu superior esquerdo.
e) Go to Viewer Mode
To return, click in the upper left menu.

---
Passo 4. Modifique os textos ou começe do zero
Você pode editar e ir aprendendo com o exemplo do lado equerdo, ou...
Step 4. Modify the texts or start from scratch
Here you can learn editing with the default example...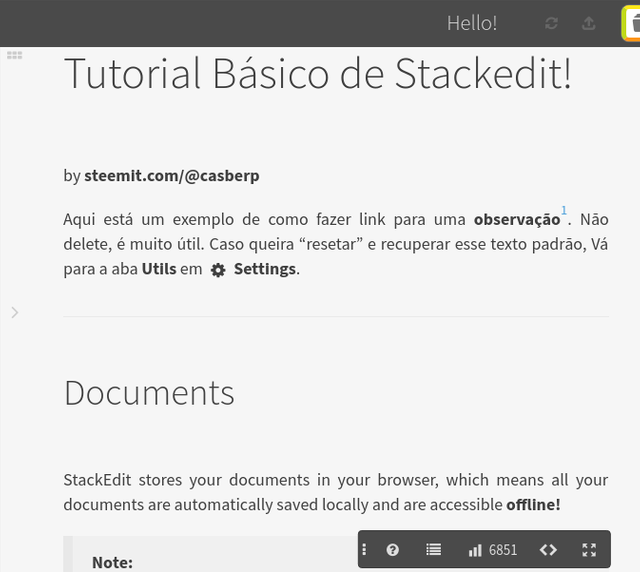 ... se preferir, apague todo o texto padrão e se aventure escrevendo e utilizando os menus superiores para negrito, itálico e outras opções.
Quer partir para a ação? Pule agora mesmo para o Passo 5.
Depois de brincar à vontade, você pode resetar tudo e começar novamente com o texto padrão. Para isso, clique no menu superior esquerdo e vá em Settings;
...or delete everything and start writing using upper tools like bold, italic, and others.
Do you wanna start action? Just go to Step 5.
After learning and editing what you want, you can reset everything to default.
To do it, click on the upper left menu and go to Settings;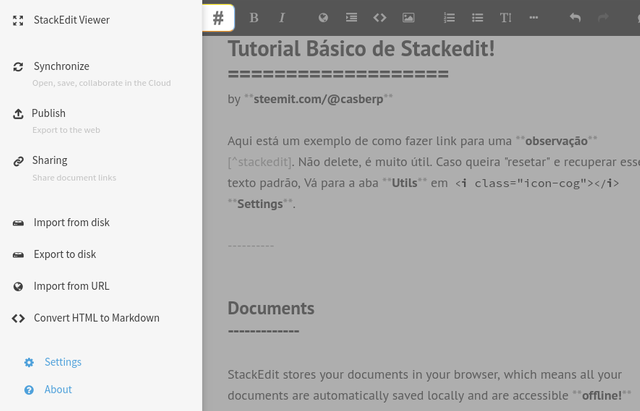 em seguida, clique na aba "Utils" e escolha a opção Reset application.
Click the "Utils" tab and choose the Reset application option.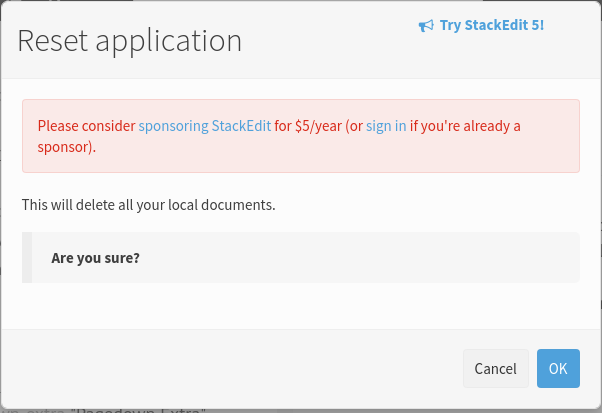 ---
5. Agora basta copiar e colar
Seu texto está pronto para ser publicado no STEEMIT ou em outros locais que permitam esse formato. Selecione com o mouse o texto na janela esquerda, copie e cole onde desejar.
5. Now, just copy and paste
Your text is ready for publishing. Select the text in the left window, copy and paste whenever you want.

Espero que a partir de hoje, seus posts sejam muito mais ricos.
 
 
Achou útil? Ajude compartilhando (resteem it - clicando no ícone do resteem).
I hope it was useful for you. Resteem it and share with your friends.