BlockDeals.org - Bringing a new Community to the Blockchain

Block Deals - About the Project
BlockDeals.org is a Steem Blockchain frontend specially tailored to the deals and bargains community. The Deals community alone is estimated to be around $5 Billion per year just in the USA, although we're starting with the feeder communities which thrive on finding and sharing awesome bargains.
These feeder communities command well over 10 million views per month globally so once we're established we expect our reach to be far and wide. And this is good news for the Steem blockchain because we're powered by Steem :-)
But we're different to the existing deals and bargain hunting communities like:- slickdeals.net, hotukdeals.com, ozbagain.com.au as their revenue model heavily relies on the advertising and affiliates income model and yet none of this money is feed back to the members.
And this is our point of difference.
Thanks to the power of Steem we will be able to reward our users with Steem for sharing deals, upvoting and contributing to active discussions.
It should also be noted that the bargain hunting and coupon communities are really active commenters and we expect to easily surpass the average 2.5 comments per post that Steemit current enjoys.
And if the Steem community is generous with their SP delegations our goal is to achieve a 10% market share by the end of 2018 and hopefully bringing with it another 100K Steem accounts who we expect will flow into other Steem technologies such as Steemit, Dlive, Dtube etc.
Yes, we are building this with scalability in-mind from the ground up.
Best of all we've designed Block Deals so it can work anywhere in the world, which means the opportunities are almost endless.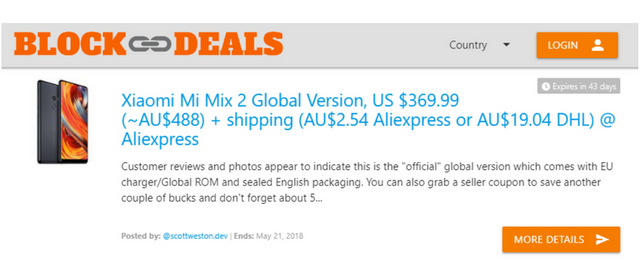 Current Features
We've only been working on BlockDeals.org for a little over a month and already there has been some great work done by the dev team. (Learn a little more about the BlockDeals Team)
Here are some of the existing features:-
Post Bargains
Filter by Country
Filter by 'Freebies'
Identify Expiring Deals
Login via Steemconnect
View Details (Redirect to Steemit)
Upvote Deals (Redirect to Steemit)
Comment on Deals (Redirect to Steemit)
Yes, we are still transitioning to a fully integrated website but we are building this from the ground up so it'll take time.
Our Development Mantra is "Release Early, Release Often" so expect subtle changes almost on a daily basis.
And check out the Road Map below for more information on what's to come.
Technology Stack
Ubuntu
Flask (A Python Micro Framework)
Mongo DB
Docker
MaterializeCSS
Gunicorn (Web Server)
Roadmap
Fully Integrated Website (Beta Release)
Add post details page within Blockdeals.org
(Will allow for commenting, upvoting within Blockdeals.org)
Add post metadata to summary feed. (upvotes, downvotes, comments, etc.)
Add auto country select (IP lookup to determine which country deals to display)
Add 'Featured' Tab ( Only verified deals will make the front page)
Add 'Live Feed' Tab (All deals will be listed here)
Add 'Community' Tab (Active community discussions)
Add basic Wallet features
Future Development
Add multi-Language Support
Advanced Wallet Features
Optimise SEO (bulk of traffic expected thru organic search)
Mobile App
Adding Support for Group Buying Deals
Marketing Campaign
Once the Beta version is released and we've accumulated enough SP to support a rapidly growing community we'll begin advertising through traditional means and begin bringing new users to the Steem Blockchain.
How you can contribute?
SP Donations - We have an immediate need for SP as this will be a prerequisite before we begin our mass marketing campaign. Any SP donations will be greatly appreciated.
( It's hard to disrupt an established industry with 10 x 20 cent upvotes per day )

Bug Hunting - Any bugs you find should be logged through Utopian.io so we can keep track of them.

Translations - We aren't ready for translators just yet, but when we've released the full Beta version we'll be rolling out to non-English speaking countries too. Look for our update posts for more details.

Logo Design - We've seen some awesome logo designs submitted through Utopian.io so we didn't spend a lot of time on ours. If you have a better logo design in mind then feel free to submit via Utopian.io

Add Some Deals - We've already had a few keen Steemians adding deals to the site, but we need more, so if you want to get rewarded for adding deals and bargains, then please start contributing.
Ideally we need a few good people to act as moderators and champions for their country and expect these power users will receive extra rewards for their effort.
We Are Live
Yes, an Alpha release is already live and initially we're focusing on existing Steemians who already know their way around the blockchain. Visit BlockDeals.org and add a deal today!
Feedback
We are actively monitoring comments so the best place to leave your feedback is here in the comments.
Thank-you for your time and we hope you're excited about this project as we are!
---
Posted on Utopian.io - Rewarding Open Source Contributors
---