BlockIntel Pull-Request: Models, Views, and Templates added.
Repository
https://github.com/BlockIntel/blockintel
New Features
Added Coin model.
Added id, name, description, website, reddit, twitter, and logo upload fields.
Added a basic template to verify correct information outputs.
Modified view file.
Modified settings file.
Modified urls file.
Screenshots
coinsindex.html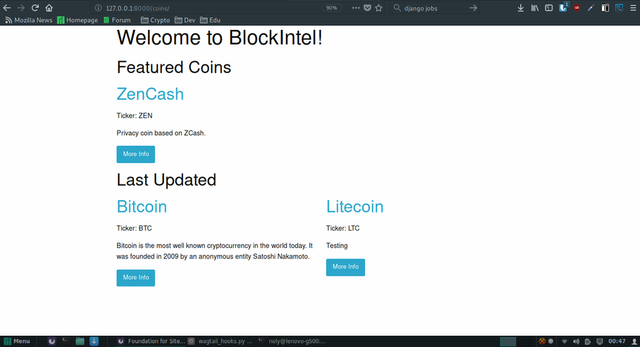 details.html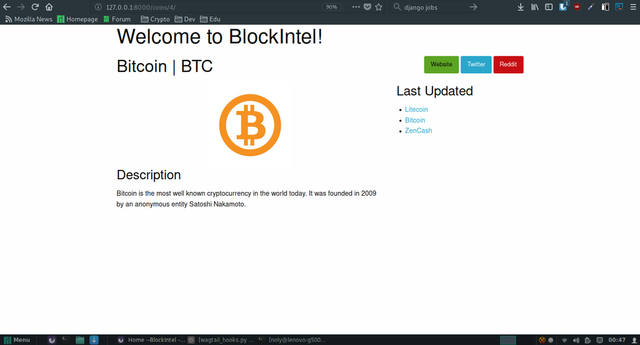 New Projects
What is the project about?
BlockIntel is a cryptocurrency information database. The project is being built with Django and will function similar to CoinMarketCap but with far more information available in one space.
Technology Stack
DJango, PostreSQL/sqlite3(dev).
Roadmap
There is no solid roadmap as of yet. Just keep improving and adding features.
How to contribute?
You may contribute via Github or contact me by e-mail if you're interested in collaborating.
GitHub Account
PR: https://github.com/BlockIntel/blockintel/pull/2/commits/ab2db998dd3dad8d9b199f63200ebb857d73e994
Edit: added another decent PR too.
https://github.com/BlockIntel/blockintel/commit/c02ead143aa38f7062209ee9e5d817a557e8506e