Today, I have put effort into translation of the project "LWT - Live without Tobacco" from English to Chinese Traditional.
I have completed 1,094 words of translation and suggested 82 translations in total into Chinese Traditional.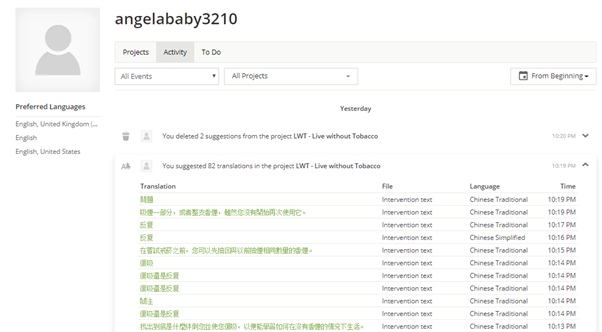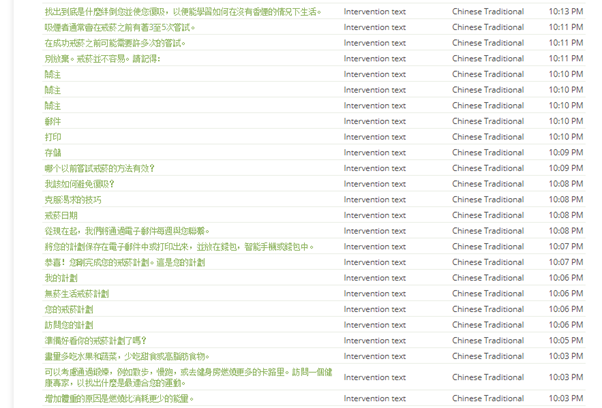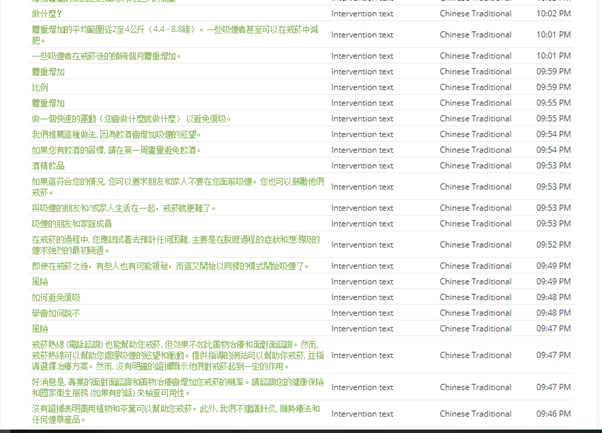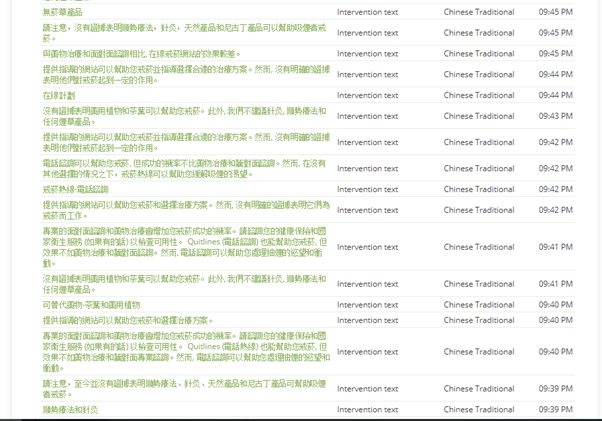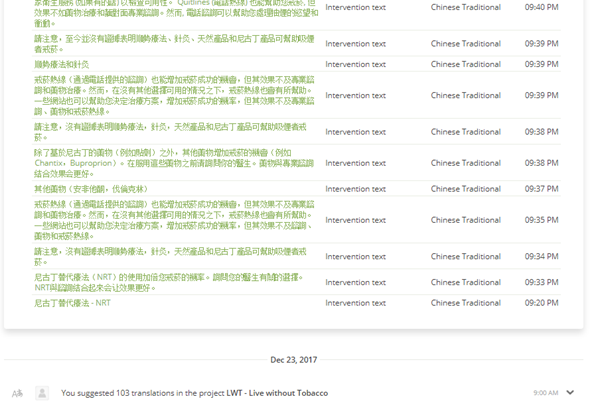 For example,
Websites that provide guidance may assist you quitting and guidance on choosing treatment options. However, there is no clear evidence showing that they work for smoking cessation.
There is no evidence showing that medicinal plants and teas can help you quitting. Also, we do not recommend acupuncture, homeopathy and any tobacco products.
The good news is that professional face-to-face counseling combined with medication increase your chances of quitting. Consult your health insurance and national health services (if you have one) to check availability. Quitlines (counseling over telephone) also help you quitting, but less than medication and face-to-face counseling. However, quitlines can assist you dealing with cravings and urges.
Quitlines (counseling provided over telephone) also increase your chances of quitting, but less than counseling and medications. However, quitlines can be helpful during cravings and when no other options are available. Websites could also help you deciding your treatment options and increase your chances of quitting, but less than counseling, medications, and quitlines.
The use of Nicotine Replacement Therapy (NRT) doubles your chances to quit. Ask your doctor about the options. The NRT works even better when combined with counseling.
The work that was done as follows:
提供指導的網站可以幫助您戒菸並指導選擇合適的治療方案。然而, 沒有明確的證據表明他們對戒菸起到一定的作用。
沒有證據表明藥用植物和茶葉可以幫助您戒菸。此外, 我們不建議針灸, 順勢療法和任何煙草產品。
專業的面對面諮詢和藥物治療會增加您戒菸成功的機率。請諮詢您的健康保險和國家衛生服務 (如果有的話) 以檢查可用性。 Quitlines (電話諮詢) 也能幫助您戒菸, 但效果不如藥物治療和麵對面諮詢。然而, 電話諮詢可以幫助您處理抽煙的慾望和衝動。
戒菸熱線(通過電話提供的諮詢)也能增加戒菸成功的機會,但其效果不及專業諮詢和藥物治療。然而,在沒有其他選擇可用的情況之下,戒菸熱線也會有所幫助。一些網站也可以幫助您決定治療方案,增加戒菸成功的機率,但其效果不及專業諮詢、藥物和戒菸熱線。
尼古丁替代療法(NRT)的使用加倍您戒菸的機率。詢問您的醫生有關的選擇。 NRT與諮詢結合起來会让效果更好。
Translation progress:
Initially, the bar was 48%.

After my work, the bar became 57%.

Here is the link to my work of translation: https://crowdin.com/project/livewithouttobacco/zh-TW#
---
Posted on Utopian.io - Rewarding Open Source Contributors
---