Steem Sincerity - Simple Spam Filtering Chrome Extension for Steemit.com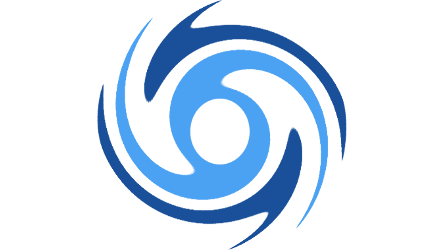 What is this software?
This is a simple extension for the Chrome browser which allows users to filter accounts which are considered to be spamming and to see more info about any account. It uses an experimental API called Steem Sincerity which provides various information about each commenting account, to re-render some parts of steemit.com pages.
How it works?
Once installed the user would visit a steemit.com post page, and once the page is loaded, would click the Steem Sincerity icon beside the address bar.


The page is quickly re-rendered to reduce the visibility of comments considered to be spam.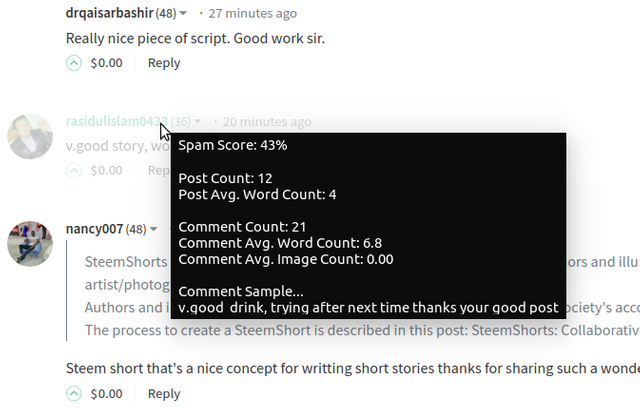 Hovering over any comment authors account link will now also display the following further information about the associated account:
Spam Score - How likely the comment is to be spam.
Post Count - How many posts this account has published in the last 7 days.
Post Avg. Word Count - The average number of words used in posts might give some indication of sincerity.
Comment Count - How many comments this account has made in the last 7 days.
Comment Avg. Word Count - Again , this may give some indication of sincerity.
Comment Avg. Image Count - Some people post many images in their comments. If you don't like memes, a higher value might put you off engaging with the commenter.
Comment Sample - a randomly chosen comment that this account has made in the last 7 days. It may give a clue to whether somebody is simply fishing for upvotes.
Commits
Implemented as the commits to 17th March at:

https://github.com/andybets/steem-sincerity-chrome-extension
Technology stack
This extension is very simple, and consists of just three small JavaScript files. This is deliberately to allow a fairly broad spectrum of users to be able to inspect the code and satisfy themselves that there are no security issues. It relies on the Sincerity API, which is subject to ongoing development, and expected to improve over time.
Roadmap
As a reference implementation, I expect this extension may be forked or otherwise used as the basis for a more elaborate and full-featured Chrome extension. It may also be integrated into other existing Chrome extensions.
How to contribute?
Please see the GitHub repo for issues I am unsure about, which you may be able to help with.
Because security is very important when it comes to Chrome extensions being used on cryptocurrency websites, and I don't have time to review complex code, I wish to keep this reference implementation very simple. Any suggestions are most welcome, but please start your own project if you wish to see significant changes.
Warning and Disclaimer
This software does not attempt to access any of your private account information, but such Steemit Chrome extensions may technically be able do this. Please only use your posting key with steemit.com, especially if you have Chrome extensions for it installed.
I accept no liability for accounts being compromised through the installation of any of the software I develop.
Website
This extension is available for installation here.
---
Posted on Utopian.io - Rewarding Open Source Contributors
---