Weekly overview of the development category - Week 13, 2019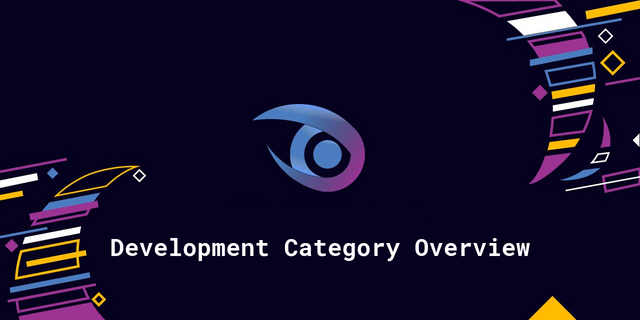 https://github.com/utopian-io/v2.utopian.io
2019-03-22 15:00:00 UTC to 2019-03-29 15:00:00 UTC
This is a weekly, semi-automated post where I will show some statistics and graphs of the development category. It will also serve as a showcase for the staff picks and task requests that were made in the current week. If you have any suggestions or things you'd like to see in this post, then please let me know!
Previous posts
Top contribution(s)
Getting interactivity on the comments was my target this time around. Posting replies to comments is now fully functional. This is a welcome improvement over only being able to interact with the main post through a comment there. Now interaction between commenters can be done as you reply to each other.

In addition to replying to comments, being able to upvote them was also much needed. Upvotes are now functional on comment themselves, rather than just posts. This makes all content on Steem upvotable now, and further increases the level of interactivity between users on the site.

Krnel has also added some improved UX, such as showing the reputation on the comments authors, added links to both the post and comment timestamps, as well as a hover time showing the exact time a post or comment was made.
Up to now decorations could be placed with the build tool, but only canceled from the town hall and neither upgraded or repaired. For this reason, Raycoms has added the decoration controller block. The block looks like a small chalkboard, and on right click, it opens a GUI and allows to configure the name of the decoration (including file path) and the level. The build tool would then display it as well in the rendered area and allow to select even to display several levels.
Category summary
There were 17 contributions of which 17 have a chance of being rewarded, or already were rewarded.
The average score was 75.3 with an average reward of 44.6 STU from Utopian.
The total reward from Utopian for development contributions this week (so far) is 759.0 STU.
There were a total of 13 unique contributors in the category. Unfortunately there weren't any new contributors.
Score distribution in the development category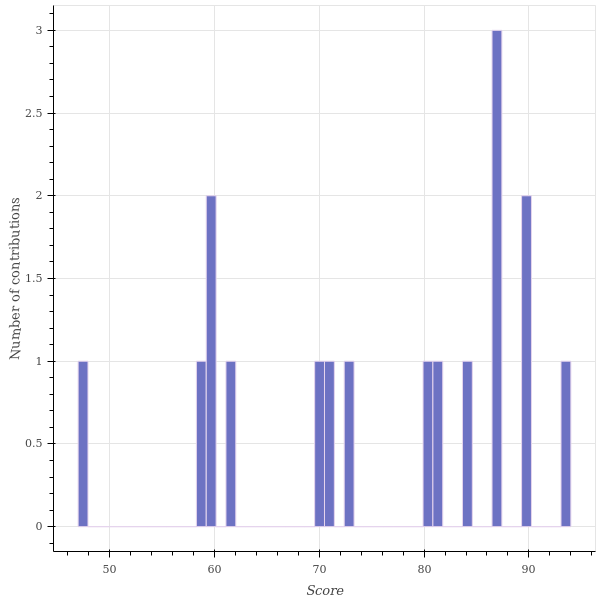 Number of contributions per weekday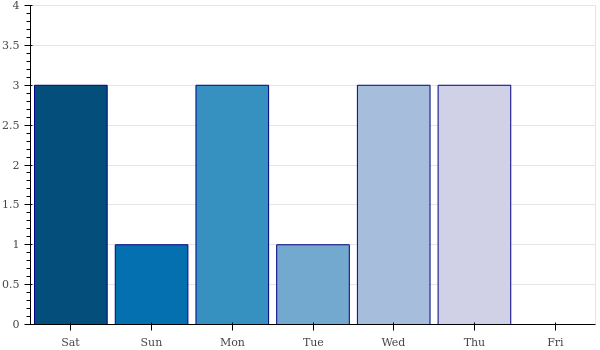 The entire week has been pretty up and down, and wasn't really consistent unfortunately. Friday didn't even have any contributions, which is pretty sad to see.
Average score, reward (STU) and time before review (hours) per week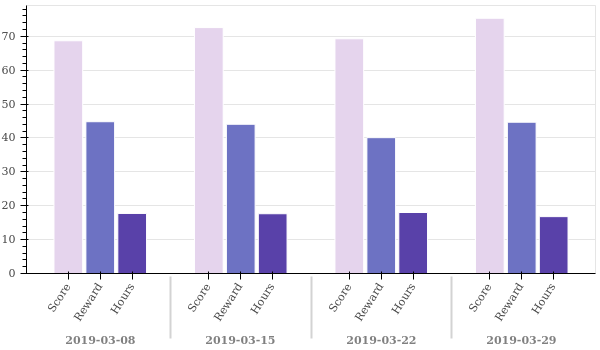 Time before review is the number of hours between the creation of the post and the time it is reviewed by a moderator.
The average score of contributions has gone up from 69.3 to 75.3 this week, which is a good indication that the quality of contributions has also gone up! The average reward, just like the average score, has also gone up (from 40.1 STU to 44.6 STU), which is of course great for our contributors. Finally, the number of hours it takes for us to get to a contribution and review it (on average) has gone down slightly from 18.0 hours to 17.0 hours.
Number of contributions reviewed per week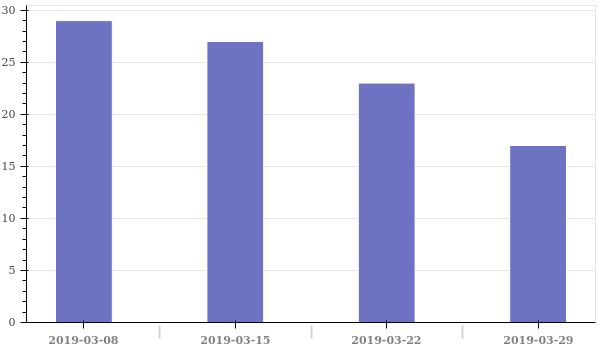 As you can see, the weekly number of reviews is down from 23 to 17. Unfortunately this seems to be following a trend, as the number of contributions over the last two weeks is also down from 56, in the two weeks prior, to 40. I was hoping that this wouldn't happen, but I had assumed it would. Even after the increase of the last few weeks, we are unfortunately seeing another dip.
Contributors
Number of unique contributors per week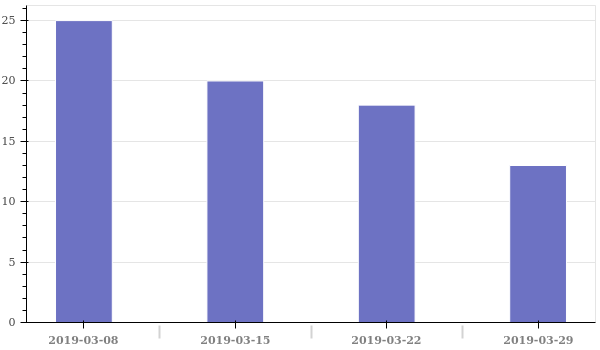 With the number of reviews going down this week it's unfortunately not that surprising to see the number of unique contributors go down slightly from 18 to 13 either.
Most active contributor(s)
Moderators
@amosbastian reviewed 1 contribution with an average score of 47.0.
@helo reviewed 12 contributions with an average score of 80.7.
@justyy reviewed 4 contributions with an average score of 66.2.
Helo is the MVP again, with Justyy a firm second. The rest of us haven't been very active, which sort of mirrors the contributors.
Number of reviews per weekday
As you can see, Monday was the day where we reviewed the most contributions in the development category. Sunday was the day where we reviewed the least.
Number of contributions reviewed per moderator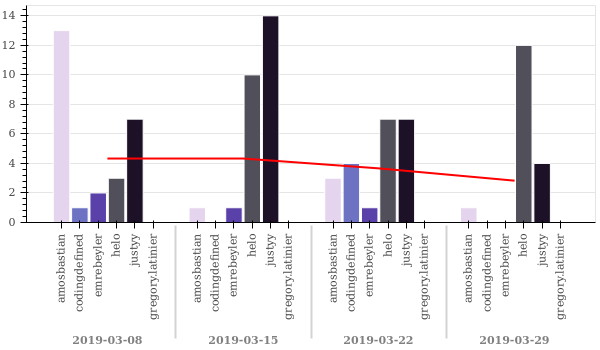 Average score given per moderator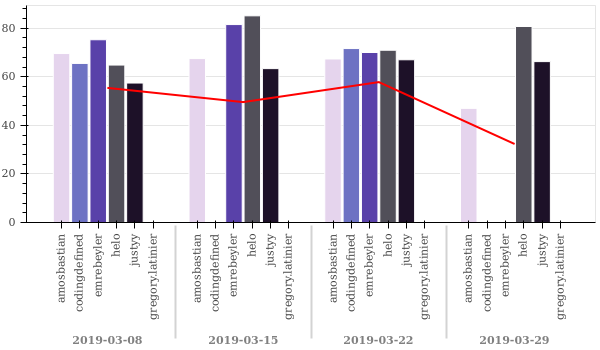 Task request(s)
No task requests have been reviewed this week, but there is one currently pending, so go check it out!
---
Also, if you think there is anything that can be worded more clearly, then please let me know!