Introducing Pixel Wheels ( Have fun and improve your driving skills)
Hello and welcome to my blog once again.
Playing a racing game in this our recent world of technology could prove to be benefiting and risky in influencing later behavior during driving. But it tends to do more good than harm.
Playing different racing games is mainly a driven force to reinforcing abilities behind the wheel and most times strengthen the mental ways of driving that is working for the brain and not just the eyes. Taking a controller (racing games) can, therefore, improve mind on a different road such as special attention, tracking abilities, hand-eye coordination, processing speed and many more.
These goals can, therefore, be achieved directly through android phones without difficulty. You can have fun as well as improve your driving intelligence. Now introducing Pixel Wheels
Introducing Pixel Wheels
Pixel Wheels is a top racing game that works on Windows, Android, Linux, macOS. It is a retro racing game that allows racers (users) to contest for first place on different tracks. It is a racing game application that allows users to pick a track of choice of race.
This application is more fun but can also improve user driving skills and wheel control.
Pixel Wheels possesses some amazing features that are easy to understand and these features will be well explained in this blog post. They include
Attractive Menu Page
Unlike many similar racing games, let alone looking at the menu page, many users immediately get uninterested and discouraged because they found it unattractive that they might end up not getting the fun they require for.
Pixel Wheels is built with a very well attractive menu page that does not contain any jam-packed options. The gameplay options are well arranged in attractive colors.
This takes the post down to a proper and well explanation of:
GAMEPLAY OPTIONS
The gameplay options are just so little and simple. At recent the gameplay options are just three in numbers where they consist of:
Quick race
Championship
Setting
The post goes down to review of the three gameplay options:
Quick Race
the quick race is an option that offers the user to play an ordinary game without entering into any competition with other racers. The quick race can also serve as a ground of training for users where the users can have the opportunity of testing their drive before entering into any Pixel Wheel competition.
During the Quick race, steps are followed before a race can be started by the users and they are:
1. Select Tracks
The tracks have two available ones free for the users which are the game default tracks. They are:
Let it snow
Don't slip


And other two are locked which are meant to be opened at the "Rank 3" stage or better still at the "Square Mountains Championship".
On the select track interface beneath are two "White arrows" that are used for user direction to "proceed "or "Go back".


2. Select Your Vehicle
This is the next step after users have selected track of choice, it contains six available cars in which users can choose any car of choice for a race. While they are other three locked cars that can be chosen only when users have surpassed the given conditions.
Locked cars conditions:
Pick 20 bonuses
Leave road 50 times
Hit 10 vehicles with a missile
3.The Race
Upon the right side is the position board, it displays the user position in the race from 1st – 6th and along with the lap covered out of three available laps.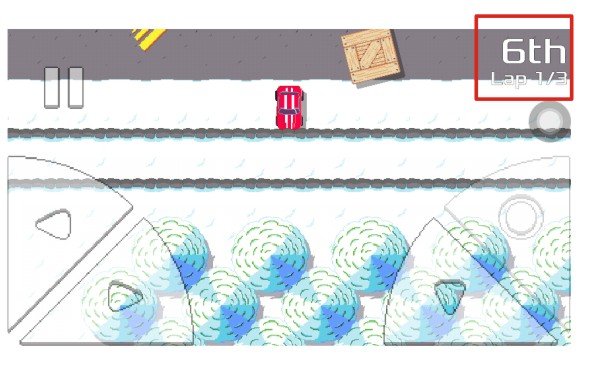 The riffle box
The users are expected to hit the box with their car where they can obtain riffles that will enable them to blow up other cars and collect points.
CHAMPIONSHIP
The championship is an option that offers the users to enter into competitive stage alongside with other racers and collect bonuses.
It also involves steps to start and they are:
1. Select Championship
The championship stages are two in numbers, one serves as default and the other can be opened after meeting up the conditions given
2. Select Your vehicle
Selection of vehicles applies just the same as quick-race option
SETTINGS
It consists of three options that are built for the user's choice. They are:
Input
Audio and Video
Misc

The brief explanations of gameplay options are now summarized down to a:
SIMPLE INTERFACE
All gameplay options are very simple to understand. The users can quickly understand the game in less time because they don't need to deal with unnecessary options.
Conclusion
Pixel Wheels is a game that can really help the users to improve their driving skills, have fun and reinforce their activities behind the wheel.
MY GITHUB PROFILE