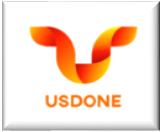 Problem
Stable coins have huge value to help grow the crypto universe. There are now many stable coins that are available. Some are backed by onchain crypto reserves e.g. DAI, SBD, bitUSD etc and others are backed by reserves in external places e.g. USDT.
The prices for these stable coins are expected to be stable but do fluctuate as can be seen in below picture: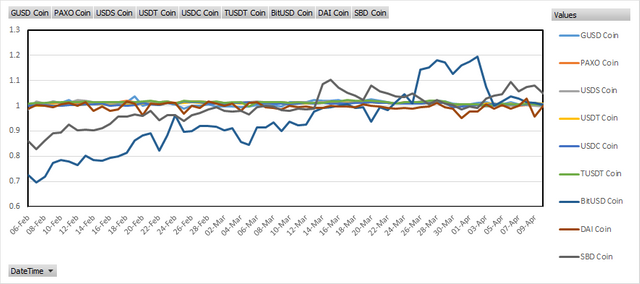 Crypto backed stable coins e.g. DAI, SBD, and bitUSD have large variations upto 30-50% from their target value of 1 USD. Although, others are stable but do vary between +/-5% and sometimes even upto +/-15%.
Therefore, none of the stable coin project, so far, provides perfect stability. Also by holding these coins holders wealth is continuously eroded due to inflation associated with USD.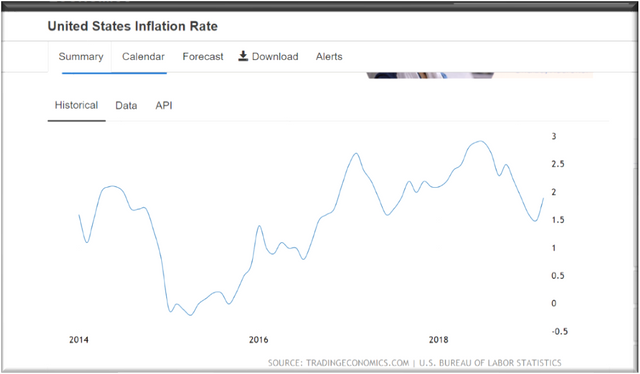 USDONE Concept
USDONE will always be pegged at 1 to 1 with USD. In addition to that USDONE holders will receive monthly dividend at the rate of 0.565% which is equal to 7% annual on their holdings. The dividends will be paid out on 1st of each month to USDONE token holders on that date.
Where To Buy and Sell USDONE
USDONE is a token on Steem Engine. Currently you can buy it only against SteemP. SteemP is pegged Steem on Steem Engine Platform. In future we will add other options.
Sell price will always be less than 1.05 and buy price will always be greater than 0.95 from USDONE. Your order will be executed as and when your quote is within these prescribed limits of USDONE. That is equal to 0-5% fee for conversion from SteemP to USDONE and USDONE to SteemP.
The buy/sell spread by USDONE will be continuously adjusted depending on the cost of stabilization, demand, and supply but will always be within 0-10%. This can be considered as stabilization fee similar to maker/dai stability fee which is constant and much higher with current rate of 14.5%.
What We Do To Maintain USDONE Stability
The Steem that you pay to buy USDONE are deployed in below activities to meet the above promised obligations:
Other stable currencies
Steem delegations
On blockchain fixed rate lending
External fixed rate lending
Obligation Fulfillment
USDONE account on Steem Engine will always remain funded with sufficient SteemP to meet the demands of liquidity requirements.
Why Would You Want To Use It
One can use SBD/Steem conversion but SBD is not a very stable coin with risk of losing upto 50% wealth
bitUSD/Steem is also low liquidity market and again bitUSD is not a stable coin with risk of losing upto 50% wealth
Other stable coin/Steem markets are available on centralized exchanges but there you lose the control of your Steem holdings
Centralized exchanges charge unreasonable large minimum withdrawal fees. For smaller value transactions this is very painful.
SteemEngine is DEX and you control your holdings with your Steem Keys all the time.
In addition to stability it also offers protection against inflation related devaluation of USD
This is the stability solution for steemians, by steemians, and within Steem ecosystem.
Links
Link to Steem Engine for USDONE
Link to Steem Wallet for USDONE
Link to Ethereum Wallet for USDONE
Link to Tron Wallet for USDONE
We also invite your feedback and comments. The best suggestions will be rewarded with USDONE tokens.
Additional Ideas From Community
Since we launched the token, below is the list of ideas provided by community in comments that will be implemented:
Audit Report - An audit report with proof for onchain assets holding will be published regularly. The Frequency will be optimized so that it does not increase cost of storing in one place and managing the stability, return, and liquidity obligations.
Delegator Rewards - Under consideration.
Audit Report
Below is our audit report produced on 26th April and added here on 26th April itself: