You are viewing a single comment's thread from:
RE: Minnowhelper New Bots
Hello Mate!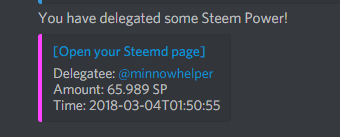 As you can see to the right, I have finally joined back on board to the delegation team. I had a few things I needed to take care of before I could get back in.
Nice to see you have new accounts, however, I am curious as to why... why not make one account much larger? If more accounts, why not combine them so that you can have the minnowhelper "team" of bots join together on a vote. i.e. you buy a vote from 1 account but you get from all the accounts. I think people would bid more on the main account if it trailed with the other acocunts. Idk, just seems excessive to do multiple.
Anyways, do you have any means to direct message other than slack?