Hello friends!
Today marks the opening of Brigada Eskwela all over the Philippines. It is the time when classrooms and the schools are being prepared for the opening of classes.
Brigada Eskwela is the annual school's maintenance week. A time where teachers, parents, pupils and other stakeholders from both public and private organizations help hand in hand to ready the school.
My dream here is to repair and build a better classroom as to make it more conducive to learning.
The school is our second home. We spend almost half of our waking hours inside the school when we were still students and even now as a teacher. But that's okay since I have that burning passion to teach. We all know that learning is the ultimate goal of education. Aside from providing education and learning to the students, it is also the school's obligation to make the education and learning process as pleasant as possible. And by that it means that school facilities are in working order since this is an important aspect of quality education.
Classroom environments are extremely important for students and for teachers. Everything from the color of the walls to the arrangement of the desks sends impressions to students and can affect the way a student learns.
Now think about this, can you really concentrate when you can't take your eyes off the peeling paint of the classroom ceiling? Can you focus on the lesson when you keep on covering your nose because of the dust from the damaged floors? Can you stay attentive to your teacher when the pupils from next classroom is peeping on the holes of the walls?
Repairing of the schools will not only be pleasing to the eye but more importantly, an area more conducive to learning. However, this entails the problem of funding. Most public school systems lack the budget to put up with the small and the much needed repairs so that the damage pile up and accumulate over the years and it hits everyone all at once that the school has been reduced to something close to a group of old-fashioned, rundown and substandard buildings.
I really do believe that if we want to improve the quality of education in our schools and raise the standards of our graduates, we must take the time and the funding to improve the quality of the school infrastructure itself.
Look at the condition of my classroom as of today: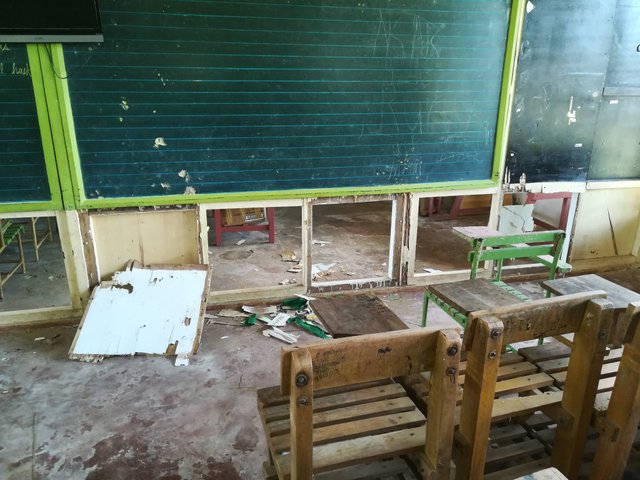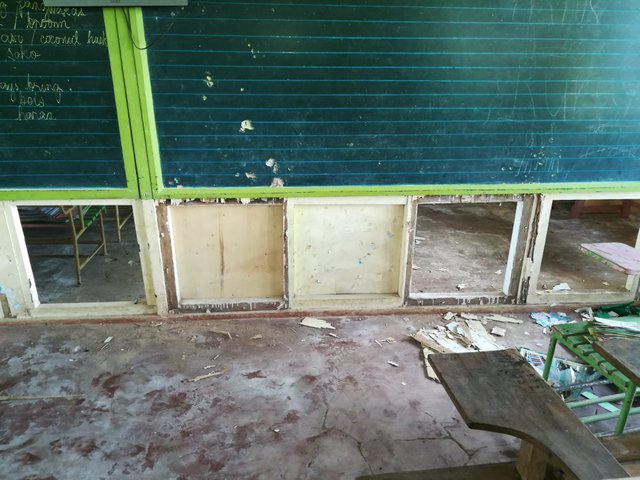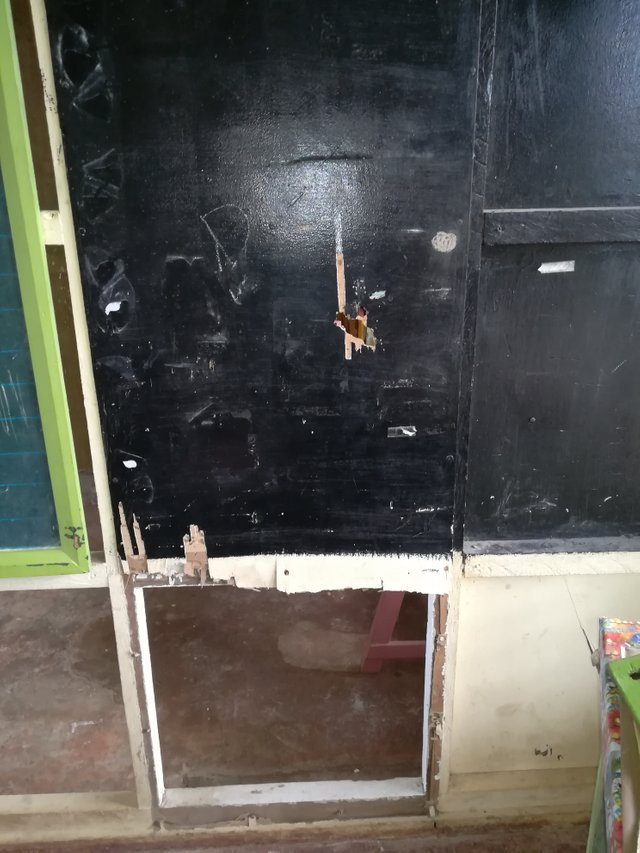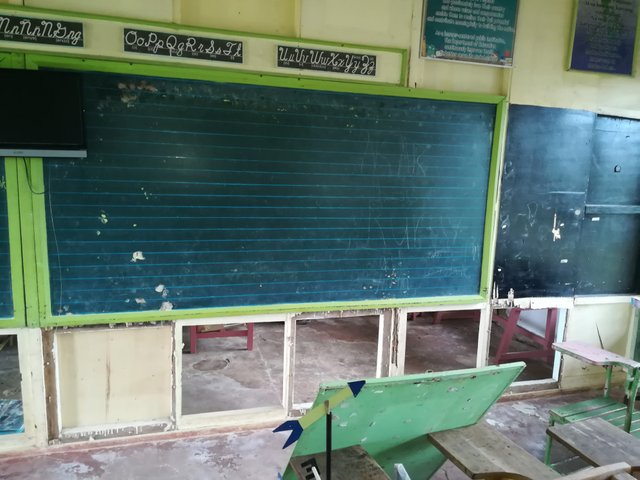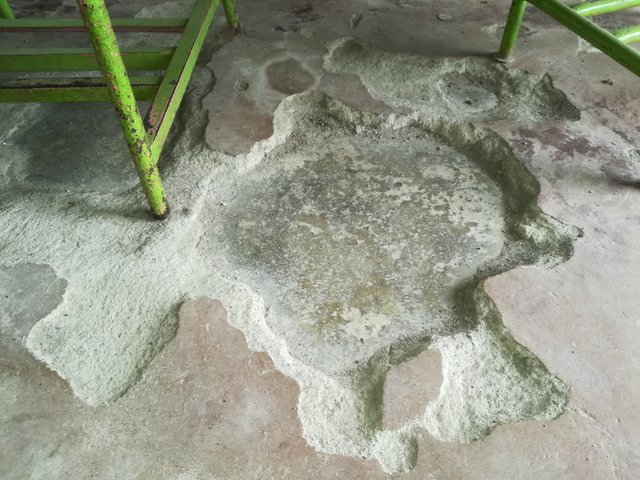 As you can see, lots of repair are badly needed. But my problem is that I don't have the budget to fix it. The school has also very limited funds.
Maybe some of you here would say that the government should be the one to solve this and the school has its own fund.
A school has its own fund in the form of MOOE (Maintenance and Other Operating Expenses).
Being the biggest school in our town, it also has the biggest amount of expenses like electric bills which would sometimes amount to ten thousand pesos (P10,000), water bills which would amount to almost five thousand pesos (P 5,000), salary for 2 security guards eight thousand peses (P 8,000), internet bills Four Thousand Five Hundred Pesos(P4,500), the rest would be alotted for School/teachers/office supplies plus trainings of any school personnel. We are 32 teachers in the school so we need to stretch the budget really hard.
So as you can see, we have lots of expenses but we have very limited funds. That is the reason why we are looking for donors who would be able to help us for the said repair.
Having a better classroom would:
make it more conducive to learning.
attract more learners to enrol
avoid PARDOs (Pupils At Risk of Dropping Out)
motivate the teacher to do better in teaching
make the pupils feel at home and secure
improve the performance of both the teacher and the learners.
Those are the reasons why I am here to ask your support for this #upfundme campaign. I really wanted to give the best for my school kids. As their teacher, I am really after the benefits of my pupils.
Now, I am knocking once again to those generous hearts of yours to please lend your helping hand. Be an instrument to make my dream for my children to come true. Be a person who can do something, who can touch the hearts and even change the lives of our future generation. Be a hero in your own way. Help me in making a difference.
We need more support. We need more sponsors in making our dreams come true.
Thanks for reading.
Target Goal in USD: $150
Target Date: June 02, 2018
Earnings as of Day 8: (4.93 SBD less curators)
I would be forever grateful for those who will be willing to support this campaign. Thank you very much.
Lovelots,
@yanzel4lyf

Please support SURPASSINGGOOGLE as a witness by voting him at https://steemit.com/~witnesses and type in "steemgigs" at the first search box.
If you want to give him witness voting decisions on your behalf, visit https://steemit.com/~witnesses again and type in "surpassinggoogle" in the second box as a proxy.
@paradise-found is a sweet and great person, a very humble and generous encourager, let us also support him by voting and typing in "gratefulvibes" at the search box
Others that we should support are: @henry-gant, @kenny-crane, @beanz, @teamsteem, @good-karma, @busy.org, @esteemapp, @hr1, @arcange @bayanihan, @acidyo, @anomadsoul, @steemitph, @jerrybanfield, @darthnava, @paradise-found, @geetharao, @stephenkendal and @richq11; they also have supported us. Thank you very much.
I thank @iwrite and @purpledaisy57 for mentoring me. Godbless!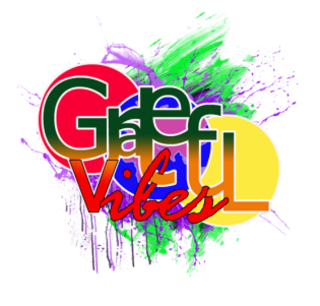 https://discord.gg/y863T7m