Hey Everyone,
My dog Floppy had successful back surgery on Friday 12/22/17. He is in recovery now and he should be ok!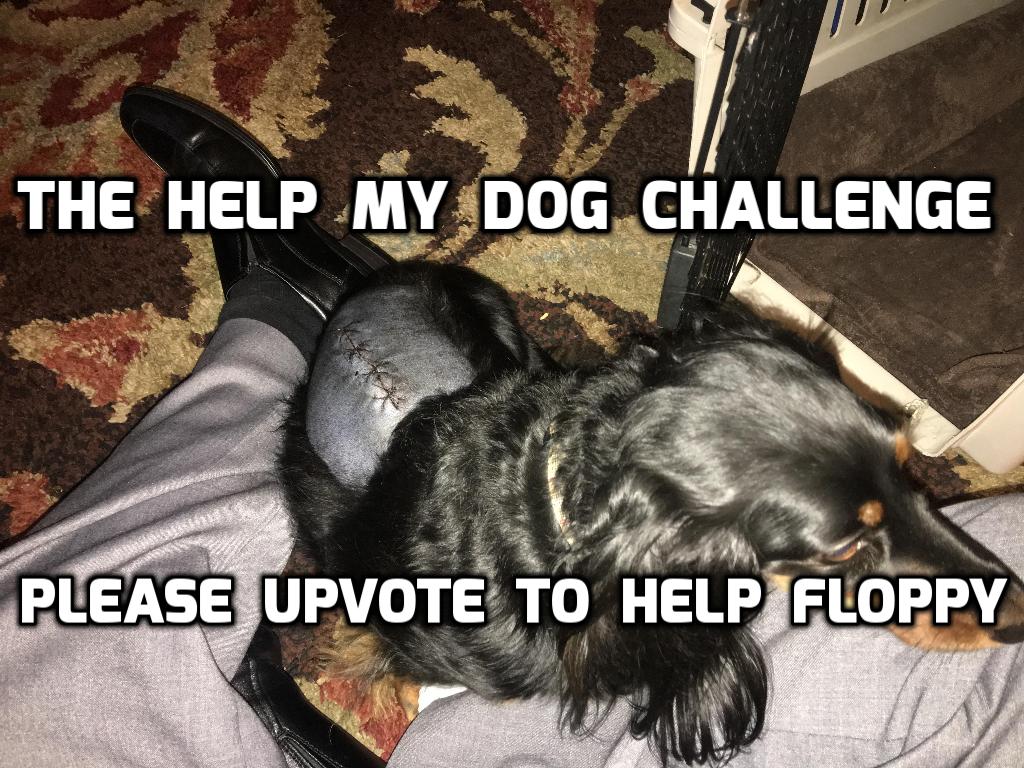 Unfortunately, these unexpected expenses have hit my family very hard and I am turning to the Steemit community in an effort to raise funds to pay for Flop's surgery. Every Upvote, Follow, Comment, and Resteem will help me out, and any straight donations would be straight up awesome!!! All of your kind words & support have been amazing so far and as you can see, it is growing by the day, so thank you so much!
...and remember, I am upvoting all your comments now!
Below are pictures of Floppy's scar from right after the surgery, January 20th, February 1st and February 13th... it's healing so well!!!!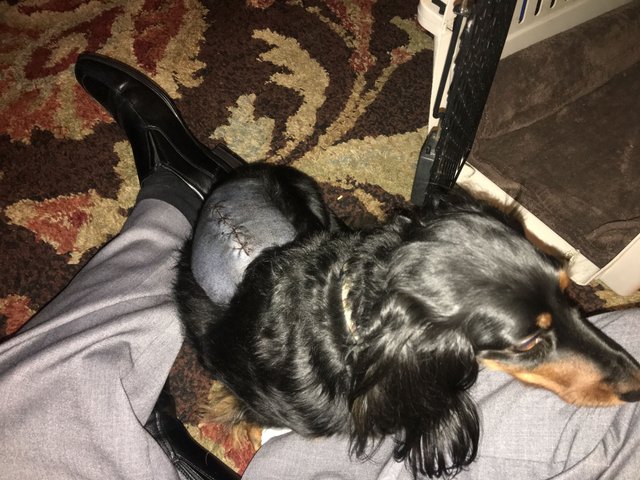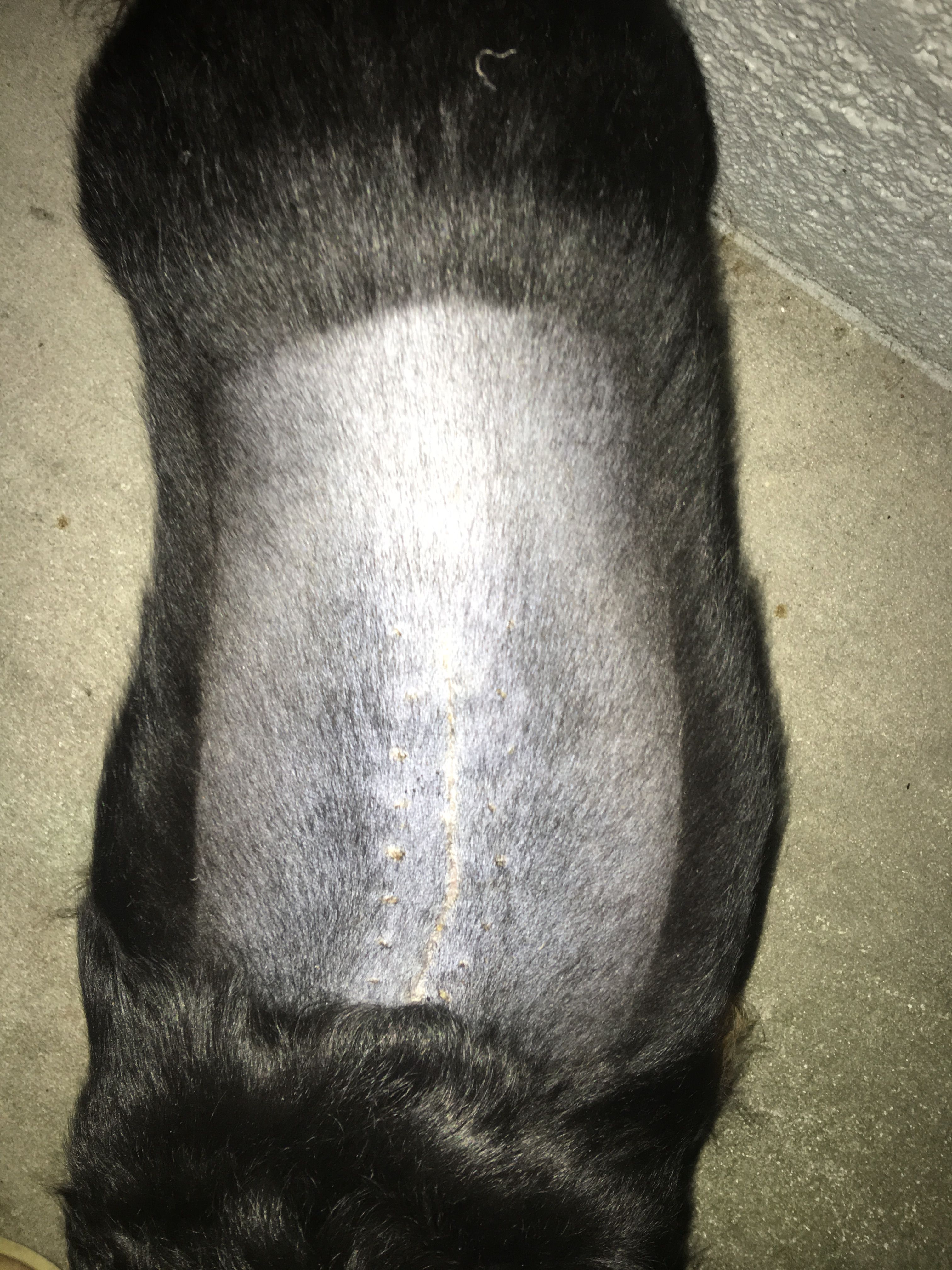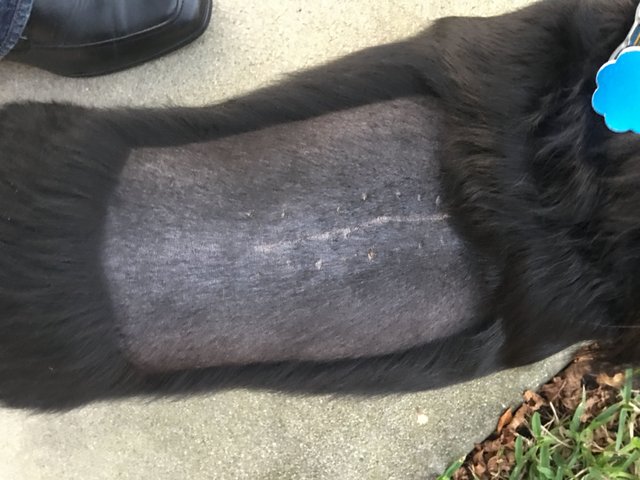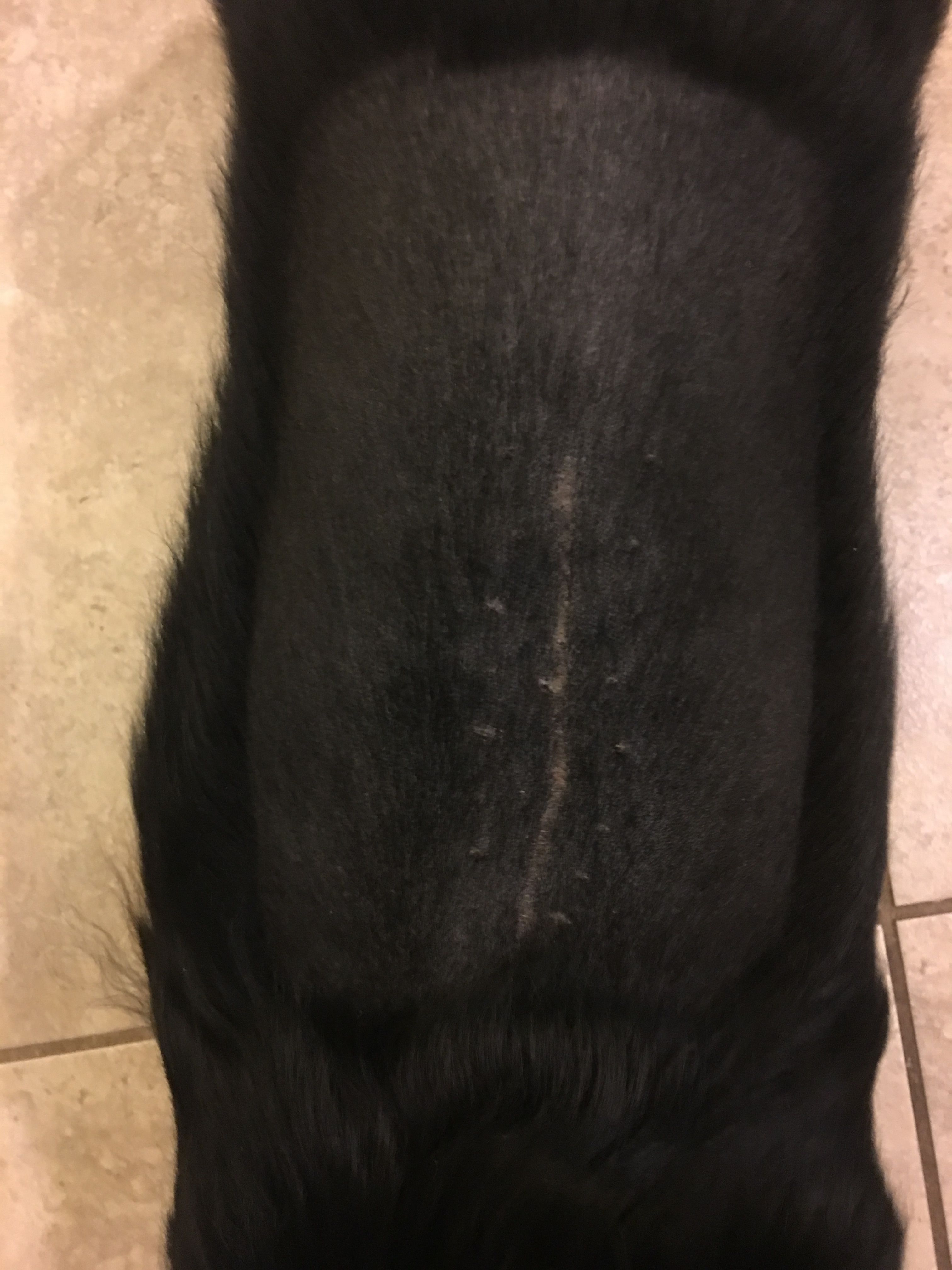 ...The Doctors really did an amazing job!
Again, I kindly ask that you follow me as well so you can continue to keep up on Flop's progress throughout the year, as well as the progress of my goal. Thank you all for your support, upvotes, follows, resteems, and donations so far. Progress is being made, slowly but surely, and my family is so appreciative!
---
DAY 52 UPDATE
Just a heads up that today's post is going to be very short. Lucas is turning 3 on Monday; my Mom flew in from Chicago today, Vanessa's family comes in on Saturday morning. The party is on Saturday and we are going to Disney on Sunday. We are also going out for dinner on Monday, probably Chucky Cheese! So I'm probably not going to be posting the next few days but wanted to give a quick post about Flop and then share some photos of him and Luey in honor of Lu's birthday!
Flop had a typical day. Morning and evening walk, begging for food, you know the drill! Vanessa did get home early today so he was able to spend more time with her than normal. They went for an early afternoon walk and she said that he did great! We had chinese for dinner and he scored a few pieces of Sesame chicken. He also jumped off the couch a FEW times today so that sucked.
All in all he was feeling great today! I hope you enjoy some pics of Luey and FLop, best buds!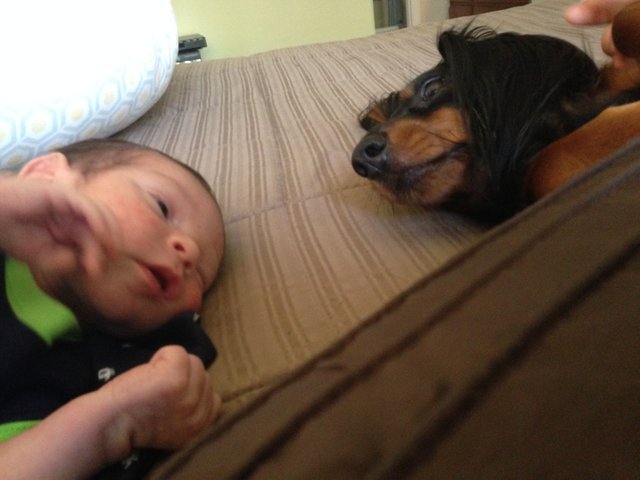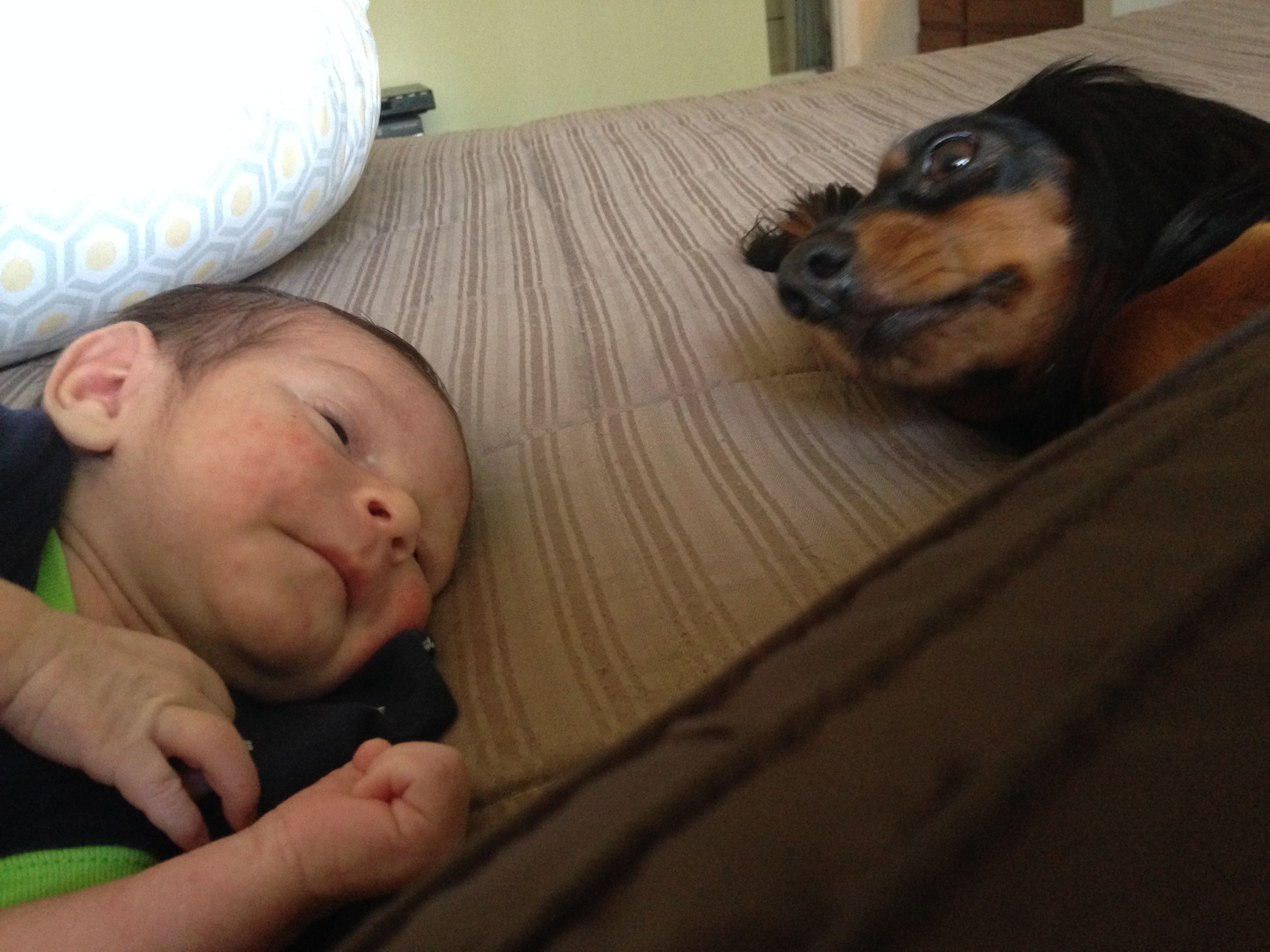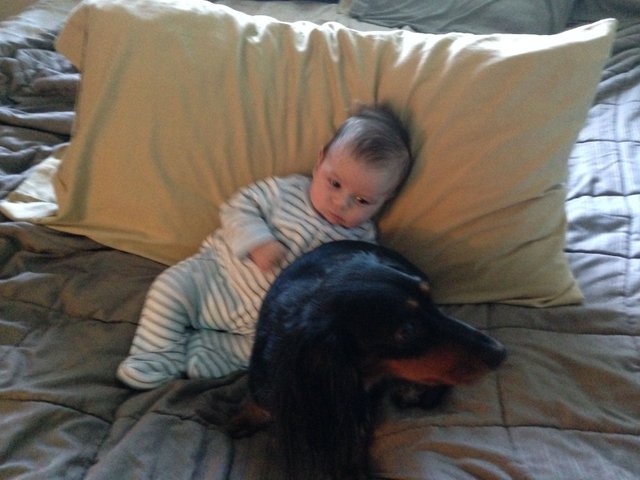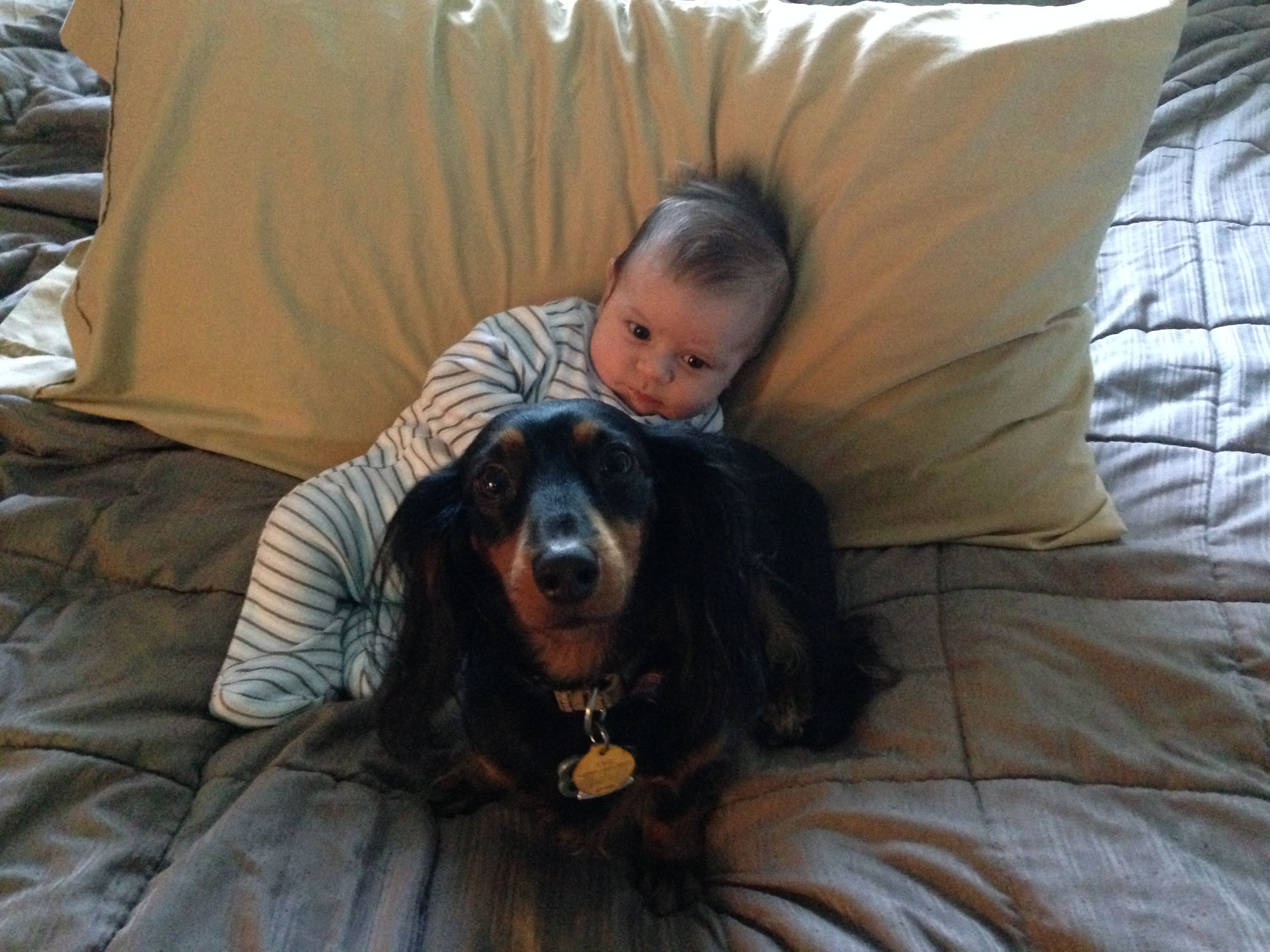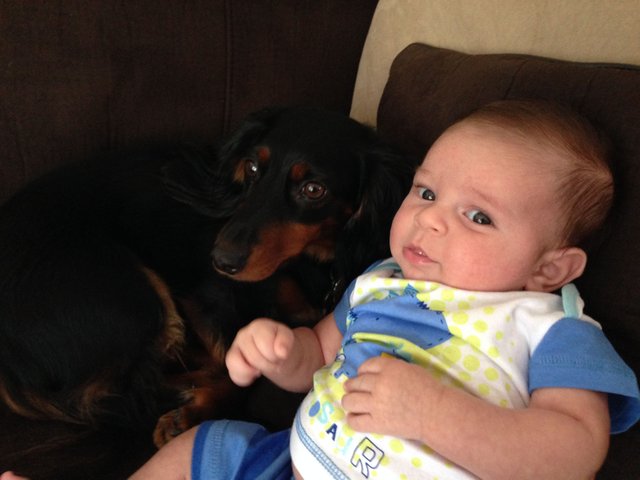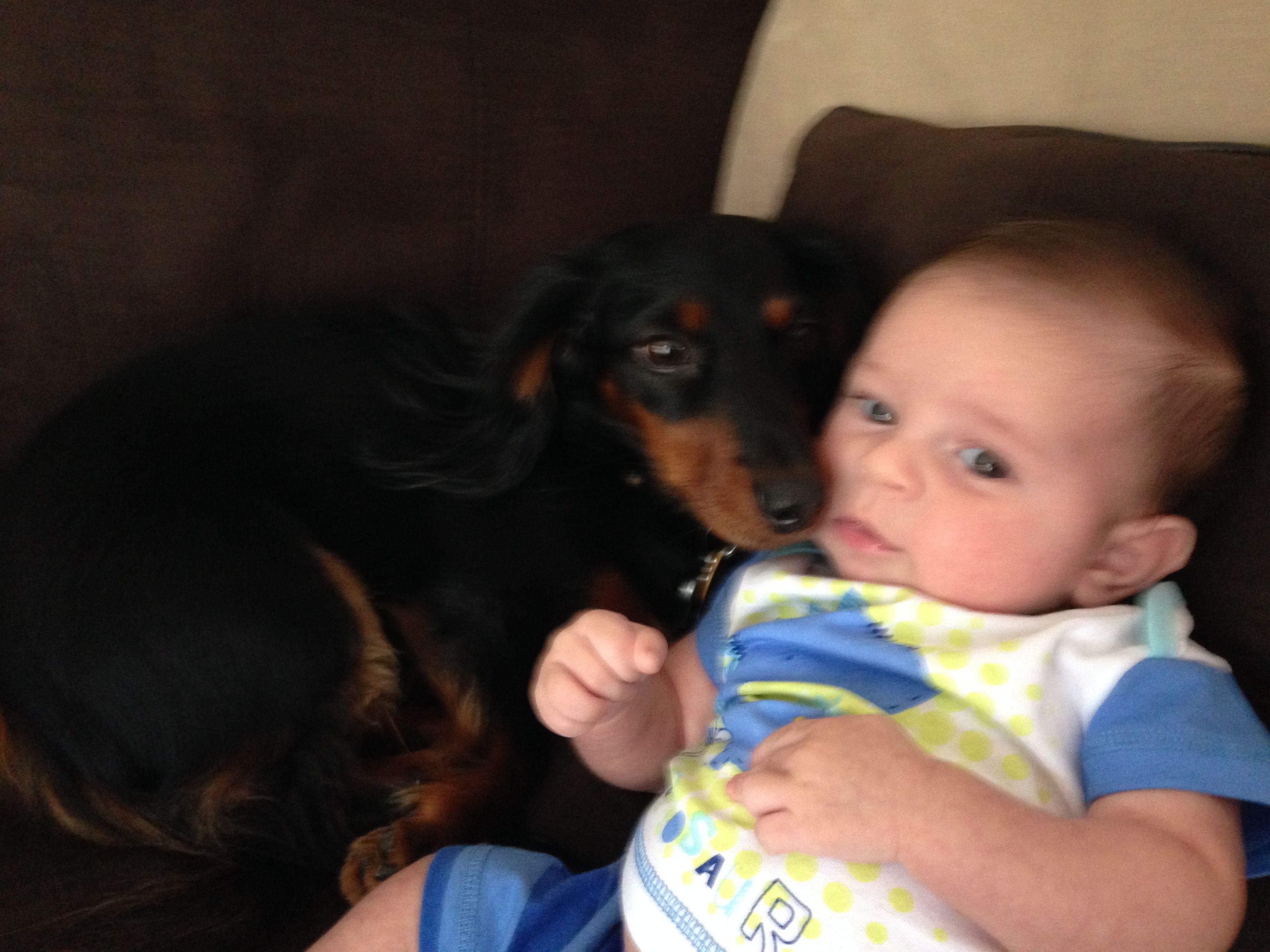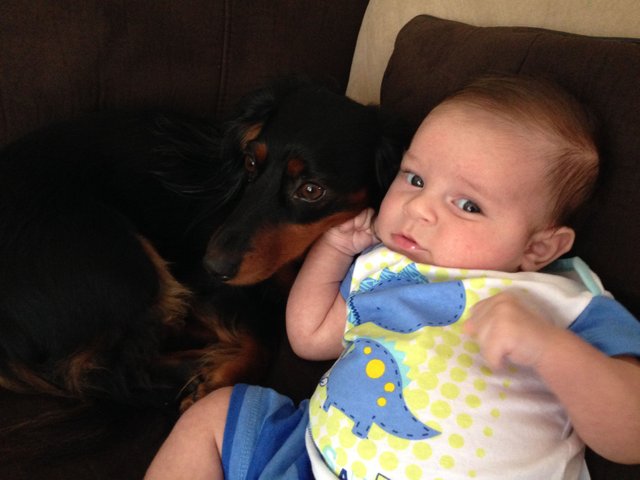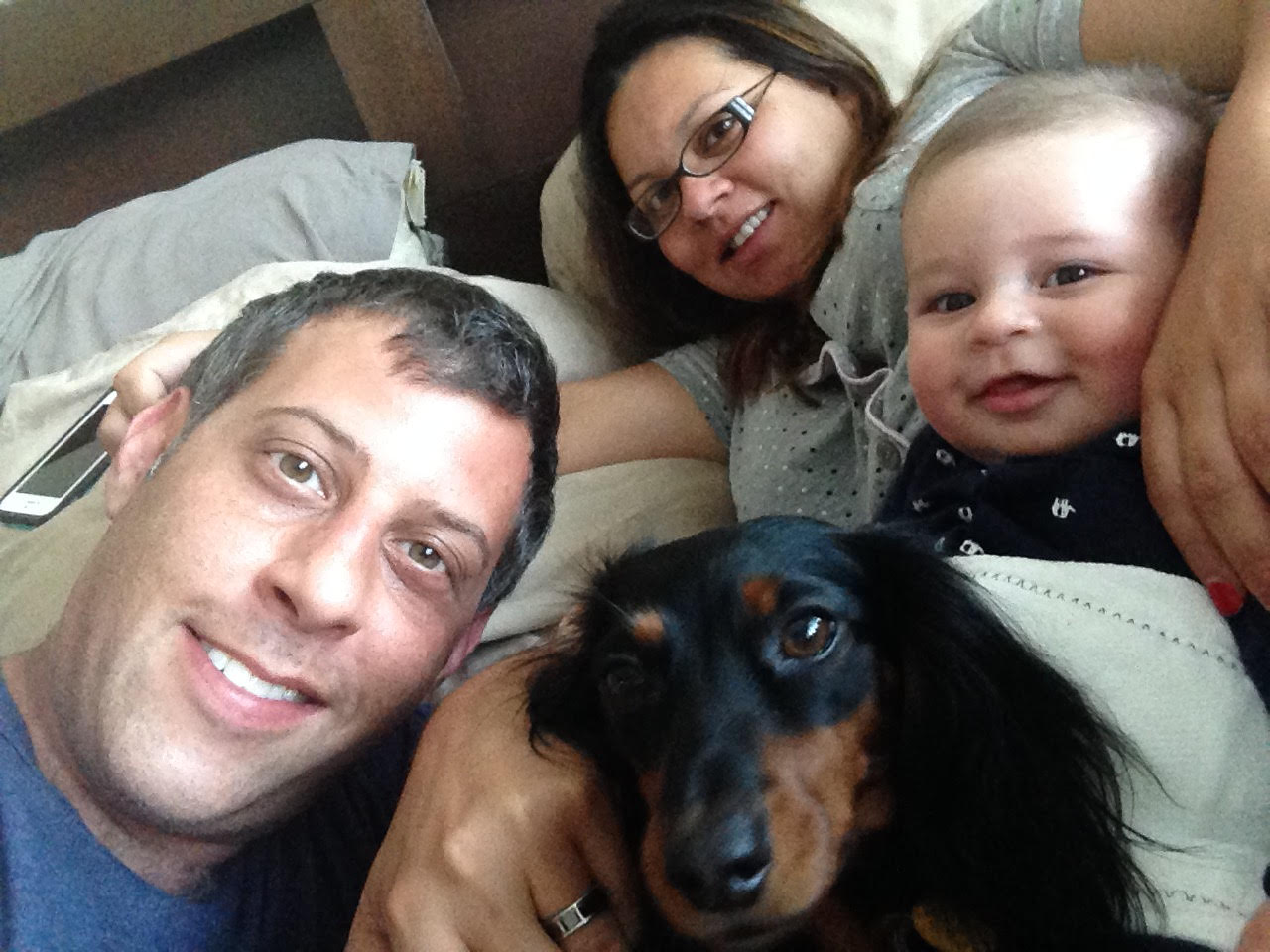 ---
FUNDS UPDATE
Day 1: $0.41 Challenge Total: $0.41
Day 2: $0.31 Challenge Total: $0.72
Day 3: $0.08 Challenge Total: $0.80
Day 4: $0.08 Challenge Total: $0.88
Day 5: $0.11 Challenge Total: $0.99
Day 6: $0.14 Challenge Total: $1.13
Day 7: $0.89 Challenge Total: $2.02
Day 8: $3.89 Challenge Total: $5.91
Day 9: $0.90 Challenge Total: $6.81
Day 10: $15.13 Challenge Total: $21.94
Day 11: $1.50 Challenge Total: $23.44
Day 12: $0.44 Challenge Total: $28.88 (4.40 SBD donation!!!!)
Day 13: $5.01 Challenge Total: $33.89
Day 14: $1.03 Challenge Total: $34.92
Day 15: $0.44 Challenge Total: $35.36
Day 16: $12.59 Challenge Total: $47.95
Day 17: $0.11 Challenge Total: $48.06
Day 18: $0.13 Challenge Total: $48.19
Day 19: $0.52 Challenge Total: $48.71 (0.026 Steem donation!!!!)
Day 20: $1.53 Challenge Total: $50.24
Day 21: $0.53 Challenge Total: $50.77
Day 22: $4.06 Challenge Total: $54.83
Day 23: $2.08 Challenge Total: $56.91
Day 24: $1.68 Challenge Total: $58.59
Day 25: $7.40 Challenge Total: $65.99
Day 26: $3.58 Challenge Total: $69.57
Day 27: $3.92 Challenge Total: $73.49
Day 28: $5.79 Challenge Total: $79.28
Day 29: $3.44 Challenge Total: $82.72
Day 30: $8.27 Challenge Total: $90.99
Day 31: $1.47 Challenge Total: $92.46
Day 32: $2.71 Challenge Total: $95.17
Day 33: $4.92 Challenge Total: $100.08
Day 34: $14.79 Challenge Total: $114.87
Day 35: $1.18 Challenge Total: $116.05
Day 36: $1.22 Challenge Total: $117.27
Day 37: $0.27 Challenge Total: $117.54
Day 38: $8.67 Challenge Total: $126.21
Day 39: $15.45 Challenge Total: $141.66
Day 40: $4.56 Challenge Total: $146.22
Day 41: $3.49 Challenge Total: $149.71
Day 42: $1.64 Challenge Total: $151.35
Day 43: $6.55 Challenge Total: $157.90
Day 44: $1.04 Challenge Total: $158.94
Day 45: $0.46 Challenge Total: $159.40
Day 46: $0.74 Challenge Total: $160.14
Day 47: $2.26 Challenge Total: $162.40 (signed up by @rishi556 to @steembasicincome)
Day 48: $1.44 Challenge Total: $163.84
Day 49: $1.70 Challenge Total: $165.54
Day 50: $1.36 Challenge Total: $166.90
Day 51: $1.00 Challenge Total: $167.90
Day 52: $1.04 Challenge Total: $168.94
Thank you all for the votes and comments on yesterdays posts (74 votes, $1.04).
---
FUNDRAISER RECORDS:
Highest Day: $15.45
Daily Votes: 210
Vote Leaders: @sensation (97), @hr1 (57), @sbi3 (54)
Highest Donation: @techslut ($4.40 SBD)
We are now up to $168.94!!! As the Steem price continues to grow and the site gains more awareness, I hope that I'll be able to turn my goal into a reality! I hope you'll continue to keep following along and voting!!!! And Hopefully we'll get some MORE good votes (perhaps some WHALE votes) and even some more donations soon.
---
THE THANK YOU LIST
I'll be tagging and keeping a daily list to everyone who has voted and helped me out to recognize you. I hope you'll continue to take the time and continue to reciprocate the vote(s) you've already given me to help me reach me goal...even if your vote isn't worth anything (like mine), it will help me out because other people will see it and maybe it will TREND!!!
...If you are bothered by being tagged and want to be removed, please do not flag me, just let me know and I will happily remove you :)
DIRECT DONATIONS: @techslut, @anderssinho, @rishi556
UPVOTES: @geoffreydemars, @hr1 (57 votes), @boatsports90, @gameofmeme, @fuzzmaster, @kmar1e, @shlomit (40 votes), @yakubenko, @rachelhanson10, @mysassy, @deliberator, @linkonsaha31, @raimundolm, @ubg (4 votes), @christianity101, @fushock, @soqeweslu, @oequexinkffq, @barhatova, @zalovs, @bensonmorris, @evoragoa, @tenovoy, @fordrenadarost, @libalibach, @selenone, @nenasche, @iganckow, @simonjay (14 votes), @dmiton (3 votes), @cqf (40 votes), @fminerten, @steempty, @ew-and-patterns, @sidsuman, @yudexisjaume, @rizkigold, @sicomunity, @mirkmarvel, @stream (7 votes), @mmikhail, @parisienne, @vranilo, @nathan047, @worldtour, @kayleigh-alesta, @yahoooo, @nvidovskaya, @ferst, @zhgilmaks, @syedrobbins, @potop, @ass12, @nageen, @fenris, @vokosyuba, @deniskossya, @latonov, @bieshnabemlyudu, @samk, @sadomskiy, @adrialovell, @garsh, @jetperalta, @moorkedi, @gclipse, @runicar, @cathi-xx, @gonzo, @carrieallen (4 votes), @mikeshuh (4 votes), @faustofraser (2 votes), @cryptokemon, @hormen69, @scotaric, @billmega, @lazygamez, @syl, @goge-vandire (2 votes), @solbit, @filouman, @buckfumbler (23 votes), @salas92, @slotniki (2votes), @rewardpoolrape (2 votes), @ynexonstat, @asim1234, @transportir, @kerlund74, @pyrowngs, @plushzilla (8 votes), @st3llar (2 votes), @maraki (4 votes), @yoohowoooho, @josedr52, @vkrendyas, @hayat (3 votes), @nxtblg, @breezin, @econchain, @carn (2 votes), @iamgun, @dabeckster, @narcismihail, @barbadosso, @kanadeblanco, @newsteemians (2 votes), @santanero714, @doitvoluntarily (4 votes), @postpromoter, @sarmizegetusa, @lishu, @zarfot, @purplemoon, @alohaoy, @alex0, @vellosid, @christoryan, @resteemable (4 votes), @jorgebarbera, @acheslazhe, @djamp92, @factcheck, @remarch, @wofford, @alexarain (3 votes), @fortunee, @balkcracker, @jesusars, @smithgift, @amethystrosee, @zubegazka, @psyconinjalo, @dmiton (4 votes), @foridulislam (3 votes), @stephansuarez, @solbit, @filouman, @salas92, @ynexonstat, @asim1234, @antonshoj (2 votes), @transportir, @unholyleaf, @stekz42, @pedromrmourato, @celioeguga, @wauglya, @alislutsko, @abachiev, @nikita-nakl, @photographyilla, @grovzi, @kadcomba, @olichidja, @gladiuspa, @allrecipes, @medusaoftroya, @yalana, @alistinaeva, @fissherman, @posyuntat, @aleksphoto, @biutorinse, @benedict17, @ulyanagutor, @oksimarchuk, @pastapane, @rachelburger, @jeffjagoe (5 votes), @sakelazon, @atbeloush, @albertdraw, @gudkova, @ysyugovankina, @fidmary, @reactivator, @donkeykong9000, @ordosjc, @hakansahin, @newyorkdue, @gluisenriq, @desconocido, @felixgarciap, @oroncio, @anderssinho (20 votes), @nehuen, @krivoruchko, @ronaldosalas, @bessolov, @danilnin, @skyme, @mrnastykilla, @stolni, @thetalenrpwind, @arizal15, @hugobueno, @stemisz, @basedmak, @taxgiant, @sabil95, @wnina, @larryphang (2 votes), @untapentuoreja, @feklagusin, @shunguystin, @misinaelizaveta, @belovafm, @terrihly, @danrosen, @hendrafusian, @smarthamster72 (10 votes), @koteloks, @amraetich, @matarg, @anoncrpyt, @nombre.shido, @medicbtom, @tlsvchuoi, @skowtesuci, @rataysh, @blackhacker, @madstacks (20 votes), @rishi556 (16 votes), @dmitrijlem, @histiakov, @reginablanco, @ange.nkuru (3 votes), @vivirenvenezuela, @yaamitonmoy (4 votes), @andre-verbrick, @allamiin (2 votes), @olleyaya (2 votes), @steemitboard (4 votes), @thatterrioguy (25 votes), @upfundme (36 votes), @drjovig, @taskmanager (16 votes), @apprentice001, @jasonbu (5 votes), @purepinay, @mikeycolon, @smb14, @vaalavlaz, @roycecoolidge, @afgany19, @abachiev, @pedromarin, @nippel66, @d3nv3r, @bidnat, @oliverstoney (2 votes), @prizeportal (2 votes), @uv10, @slickwilly, @deepdickdog, @kerlund74, @neilanthony, @arkpk, @tuppence, @oswaldoml (2 votes), @notregme, @cub1 (6 votes), @edb1984, @cmp2020 (5 votes), @astronomyizfun (5 votes), @ksticky (3 votes), @rogasa3000, @ivanlyubche, @sergeidobrik84, @rifky.mufty, @ikorlyakov, @skeptic (2 votes), @oasis-in-arizona, @decoracion, @sallly, @monerve, @atoroshen, @vadejek, @allnervov, @stinelintemana, @utka (2 votes), @svankez, @womanandgun (2 votes), @byaanasbe, @nitkaanitka, @evseevamaria, @dss55ma, @talalyub, @vernoval, @heaa35, @dadi501, @baskuev, @vaseksuva, @sburnys, @originalworks, @tmitinen, @gctg63, @tobersteem, @nmf-ii, @buaan, @jarryd, @onlylogic, @zapper (4 votes), @olintz, @carolynstahl, @raulmutbosque, @kelyvanessa (7 votes), @gibransalazar7, @aerick, @lovinbudha, @blazeit, @mahyulmaulana, @omon, @bakolid, @anyiracsb, @itzamna, @onlyibenson, @aextraov, @erykboy, @aoe, @abrockman, @charisma1 (43 votes), @bitcoinminer25, @jesusjacr, @tsozhev, @vloglena, @nikitasemenov (2 votes), @bjjmike (2 votes), @flutterby (4 votes), @steem-lady, @sta-den, @burashest, @lamovamich, @yaguzinskayanas, @sokolovpetrlvh, @koshka, @realfrost, @inclitpugutt, @funnyman, @sacred-agent, @provodovair, @arkatit, @malina, @tmholdings (2 votes), @rodthrower18 (5 votes), @davidjose28, @cgrave, @silentkiller, @phaarmakone, @kenny-crane (2 votes), @thoughtsatdawn, @anomaly (18 votes), @slickhustler007, @parbatieseeram (2 votes), @remlaps1, @dandays, @puravidaville, @lisa.palmer, @choosefreedom (2 votes), @tesaganewton, @imamw, @flutterby29 (2 votes), @alenanek, @tamaraterentev, @sharovandreyq, @cfisher, @rapuncoco, @walid.larbi, @wbxcbc, @rostowatomkha, @joefontz, @kevlerrusa, @thepiratekenway7, @ciscibelioverer, @skunkape30uk (2 votes), @maleudi, @unipsycho (5 votes), @shantan, @amru, @engineerasraful, @boxer-cristian, @jose7288, @yuliyashe, @akimov, @avanturist, @sachorps, @sunrise1601, @rasmik, @photocontests (28 votes), @zemlyakovol, @naegling11, @oddworld4saken, @tinmofejsaltikov, @therockman, @berlee2522, @saggel, @silenthyena, @spagoozle, @anaydithmar, @elzarka, @chrissandoe, @robrigo (3 votes), @ojaber (3 votes), @rok-sivante (2 votes), @gentlebot (2 votes), @thing-2 (2 votes), @biophil (2 votes), @aueeventures, @josuecy, @cryptodoge42, @deligation, @vityamelik, @rafarod83, @karenps (5 votes), @zeddjacob, @kislants, @newstarg, @buyroyripu, @nosesheva, @karold, @badmusazeez, @mrscwin (3 votes), @dvdkrom, @jangamasisa (2 votes), @cryptocoinscrew (27 votes), @warnas (4 votes), @bue, @backtomining, @sensation (97 votes), @zhelezny, @naalakfob, @nonoytacz, @purusottama, @rongreed, @thebookmadclub, @hugospock, @gorbunov, @heimdallr, @fedabella, @vaserman, @annaxoxo, @capatazche, @plittolalook, @j1984mg, @veteran (2 votes), @snowflake, @luna33, @someonewhoisme, @freeyourmind, @guzv4, @cryptocartooner (18 votes), @ework, @yairdd, @thanhnghiep, @lando521, @dedicatedguy (4 votes), @johan1819, @titoperozo, @patricobrown, @yrivero11, @spiry-btc (12 votes), @jhonysins, @thestralss, @manuelmendez, @doc-gonzo, @geocesar, @moby-dick (27 votes), @samoda, @alqsm99, @grayson13, @acknowledgement (2 votes), @streetstyle, @resteemy (2 votes), @rafa300, @edi-suhendra, @pulsar, @everythink, @williamtangofox, @wardj, @emeraldknight93 (6 votes), @jhannah, @elektrobert, @mdkaufman21, @pom-persephone, @nicholasmwanje, @roxyal85, @suherii, @mooktshabalala, @isukanda001, @filipino, @drcath, @tjfresh, @aisforannabel, @scottshots, @hazmisyahputra, @kestuxs (6 votes), @abh12345, @steeminganarchy, @tiloupsa, @william331069, @dante1, @raistlin908, @steembasicincome, @ronel, @emmyem84, @cash-hunter, @korob, @jasonb777, @cmegetrich (2 votes), @memeon, @gaycharan789, @rachinata, @sbi3 (54 votes), @duranjose240, @dedekpase, @tsukuyomi, @drako2016, @xxsamu, @tejasdhule, @senseicat, @aakifzee, @claudiulimban, @mombmex, @danisagai, @chudnofsky23, @bassuniverse, @zeeknezh, @boguzhina, @vote-transfer, @nicolulu, @myuasinmo, @luckypower (3 votes), @malikial, @memebot, @talnya, @neoproppinspo, @sharliep, @alionchromich, @mstaxidrvr, @mariags97, @daniham, @vazakevva, @mamun98, @sublimate, @lanankuli, @massackre, @momin109 (2 votes), @d00k13 (15 votes), @annamighty, @rumdancer, @gladysstillwagon (9 votes), @lusterdoom, @mauigold808, @lucks, @justtryme90, @azhari, @cecig, @julianalpanta, @jimmyrai28 (2 votes), @diegodlz, @jmujicab, @elderson, @vandalizmrecordz, @apam, @andrea97, @lentarenta, @emelyanov, @fluizmok, @chere, @kachinske, @dexterdumb, @minnowsupport, @stirling, @drotto, @stephen.king989, @fatfingr1, @pomperipossa, @jhermanbeans, @banjo, @cryptohustler, @dickturpin, @numpypython, @myday,
Thank you all again and as always, I appreciate your help!!!
---
YESTERDAY's RECAP
Day 52 recap:
https://steemit.com/story/@geoffreydemars/3mgjao-the-help-my-dog-floppy-challenge-day-52-usd167-90-of-usd5-060-00-please-upvote-resteem-donate-directly
If you have any ideas on how I can get this in front of more people, or more people with larger voting power, let me know...any assistance I can get to help my dog is so greatly appreciated!!!
...Thanks again so much for reading my blog and supporting Floppy through his rehab & recovery!