Our early adopters are shaping the future of Open Source and Blockchain
Collaboration is important, especially when it comes to open source projects. Utopian strives to support innovative open source initiatives by creating more connections and partnerships with other inspiring open source projects. Our partner initiatives, presented here, are striving to disrupt the future of open source and blockchain by providing innovative solutions and tangible use cases.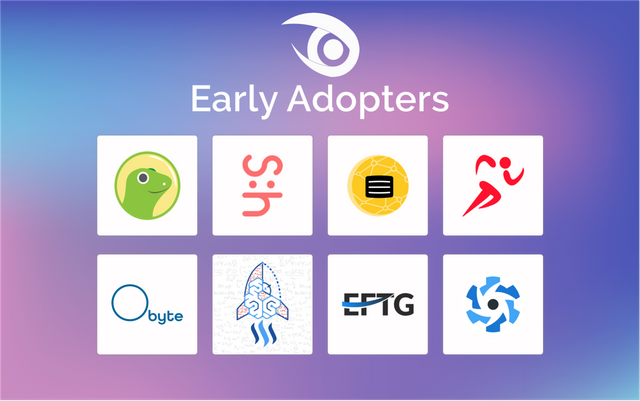 CoinGecko.com
CoinGecko provides a fundamental analysis of the cryptocurrency market. In addition to tracking price, volume and market capitalization, CoinGecko tracks community growth, open-source code development, major events, and on-chain metrics for over 4,000 publicly traded cryptocurrencies.
CoinGecko is a true supporter of the open source ecosystem and has collaborated with Utopian to supercharge the development of their various open source projects, including CryptoExchange, a Ruby library to query market data from cryptocurrency exchanges.
In the true spirit of open source CoinGecko has offered 500K impressions and listing on their newsletter with over 120K subscribers to help Utopian succeed in the running Indiegogo campaign. We thank the entire team at CoinGecko.com. Consider voting for CoinGecko as a witness.
Obyte.org
Obyte is an open cryptocurrency platform ready for real world adoption. Obyte data is stored and ordered using directed acyclic graph (DAG) rather than blockchain. This allows all users to secure each other's data by referencing earlier data units created by other users. This method also removes scalability limits common in blockchains, such as the blocksize issue.
Utopian and Obyte have long collaborated to localize Obyte and bring it to international audiences. This was achieved thanks to the amazing translation effort of our community, currently speaking more than 29 languages.
As a truly open source initiative, Obyte is also supporting the Utopian Indiegogo campaign and Fundition campaign by listing it in their newsletter and spreading the word through their community.
Steemhunt.com
Steemhunt is a daily ranking community for cool new products that rewards hunters. They are also working tirelessly on an exciting new initiative, ReviewHunt. The HUNT Platform (https://token.steemhunt.com/) is designed to be a home for product early-adopters who have exceptional knowledge and passion for cool new products. Steemhunt, (https://steemhunt.com/) as a base community DApp, has been operated for one year on the HUNT Platform. Reviewhunt will be the second DApp on the HUNT Platform that will enable tech lovers to run review campaigns and create product launch hype by hunters. It is currently under development, and its target launch is 2Q 2019.
Steemhunt believes in the importance of open source. In addition to having their work fully transparent and available on https://github.com/Steemhunt, Steemhunt is also supporting Utopian's Indiegogo campaign and Fundition campaign by providing a special reward for campaign supporters. Learn everything about it in this announcement.
The Quasar Framework


The Quasar Framework enables responsive single page apps, server-side render apps, progressive web apps, hybrid mobile apps (that look native!) & Electron apps, all using the same codebase.
Quasar has collaborated with Utopian on many occasions to empower new applications with their awesome framework on the blockchain and beyond.
Being a true supporter of open source and Utopian, the Quasar Framework is also providing a special reward for the supporters of the running Indiegogo campaign and Fundition campaign for Utopian. Learn everything about it in the announcement.
Actifit.io
Actifit.io is an innovative dApp that rewards your everyday activity. Built as one of the first Smart Media Tokens on top of the Steem blockchain, with beta Android and iOS mobile apps already available on the play store and the app store, Actifit tracks and rewards your activity with Actifit (AFIT) tokens, but also STEEM rewards via upvotes on your Steem posts.
Born with the open source approach as a priority, Actifit is also supporting the Utopian  Indiegogo campaign and Fundition campaign by providing an unique reward for the supporters of the campaign. Check it out here.
SteemSTEM.io
SteemSTEM.io provides a space in a thriving global community of like-minded individuals where both experts and passionate STEM bloggers can freely distribute their knowledge in a social media environment that actively promotes and rewards honest, reliable, and high-quality content.
As a fully open source project with innovation as a priority, SteemSTEM is also supporting the Utopian Indiegogo campaign and Fundition campaign by offering special exposure opportunities. Learn more in this announcement.
SteemPress
SteemPress is a WordPress plugin that enables connecting any Wordpress site to the Steem blockchain. It can help you reach new audiences as people browsing any app or website displaying content stored on the Steem blockchain can see your post, as well as having the potential to provide a new source of income through earning STEEM tokens.
SteemPress is also one of the supporter apps helping Utopian's Indiegogo campaign and Fundition campaign by providing an awesome reward for their pro-blog functionalities, you can read all about it here.
EFTG.eu

The aim of The European Financial Transparency Gateway consists of developing a Blockchain platform infrastructure technically to empower citizens and investors by giving them increased accessibility to publicly regulated information provided by the participating Officially Appointed Mechanisms (OAM). The EFTG Pilot Project also aims to provide search capability of member states' data, such as the Annual Financial Reports (AFR), in order to contribute to further integrated capital markets. EFTG is based on a new approach to build a distributed and decentralized system by interconnecting all the OAMs in Europe into a dedicated platform for sharing data instead of exchanging it, also adding full traceability and ownership management of the submitted and consumed financial data.