Take a look behind the curtain!
While our developer @wizearch has been busy building the site, we have been playing with the idea of keeping our developments a secret... or revealing a bit at a time. Secrets are fun! But we have to balance it with letting our supporters get EXCITED about the things we have planned! So - how about I explain about the
MONKEE WEAR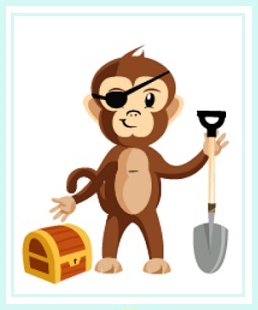 This one is probably the one I'm MOST excited about! Why? Because I am ALL about the accessories! As you can see - your little monkee avatar comes pretty bare! (Don't worry - it's ok! It's just a monkee!) He's got his little shovel, an eyepatch, and a treasure chest. Looks to me like he is itching to become a bit snazzier, don't you think?
After our Monkees save up some points, it's time to go digging for treasure, and SOME of those prizes are clothes, accessories.... ah ah ah. Sorry... I can't reveal it all right now! We need to keep a few secrets for the Monkees to reveal on their own!
Let's take a look into our Monkee Closet, shall we?
Maquemonkee IS one of our alpha monkees - but this is not his account. Just for display!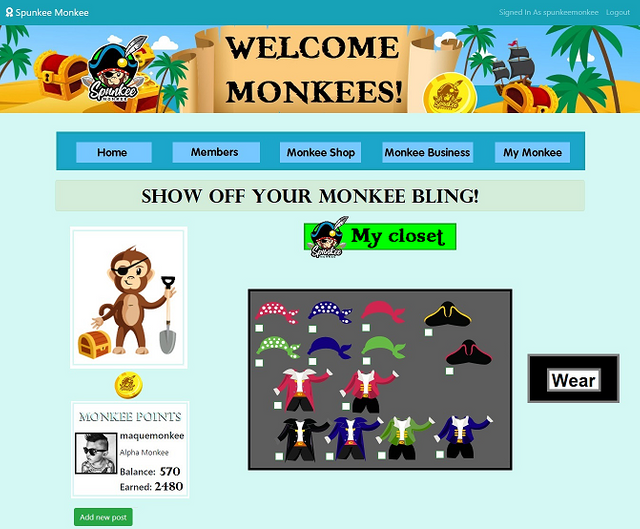 Ahhh. so perhaps today, I want to take away my chest, shovel , and eyepatch, and put on my blue outfit! Sure! Let's be flashier! Click on the items that you want to change into - hit "WEAR" and it's that simple! You're sporting a whole new Monkee look!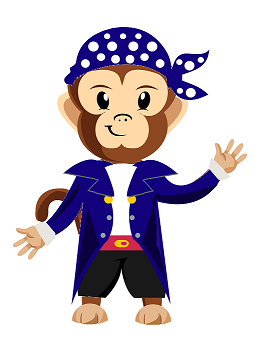 Do you think that's all we have in store for you Monkees???? Nope! We have more! But.... I'll let you wait until tomorrow's update to get a bit more excited!!!
Please Support this project for families by donating to our Fundition campaign OR donating to our Kickstarter campaign!
---
SPECIAL thanks to the Steemit witness who have been supporting Spunkee Monkee: @aggroed, @steemcommunity (made up of @paulag and @abh12345) and @derangedvisions (who is the other half of the @c0ff33a witness team)
---
READ OUR CROWNMIND INTERVIEW HERE
---
All Spunkee Monkee images have been created for Spunkee Monkee by the amazing @jimramones! Images are not to be used without permission from Spunkee Monkee.
---