UP-GAGE Challenge | Join and Get Rewarded (UPDATE::: Round 1 closed ) See you on the NEXT ROUND!
Hello my fellow Steemians from all over the world! How are you all doing? Hope you are all having a great time.
Today is gonna be an awesome day , because this post of mine is about telling and sharing you all how grateful i am with this blessing i got from a good samaritan. I have been on this platform for almost a year and i can say that my steemit journey had been awesome , awesome both in good and bad times. I am not sure what good thing i did to deserve a wonderful gift , but maybe God let this happen , so i can be an instrument of helping and engagement.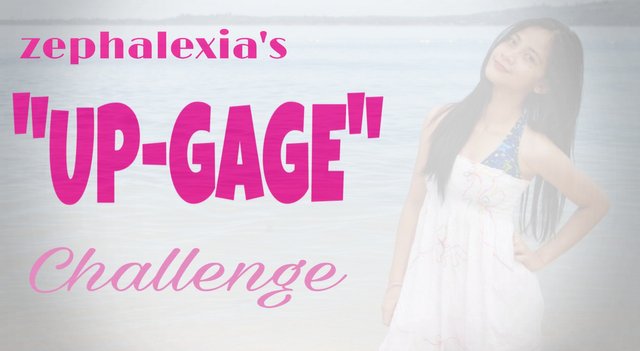 So what is this about
This is going to be my very first contest post , well not much of a contest but more of a giveback challenge. After receiving a blessing on steemit , I thought of having this kind of thing to be able to help others too. I will call it UPGAGE challenge - my upvote to help and commenting to promote engagement.
Who can join?
I prefer those steemian with 55 and below reputation to join this challenge so they'll be given a chance to have rewards and for them to be encourage to keep going , and for them to know that they matter and they have a value in this community.
How to join and important thing about the challenge
✓I will only be accomodating the first 5 commenters , since i would need to be mindful of my voting power too. And it's gonna be like 10 links i will be helping for this challenge (aside from those friends i need to upvote too 😊)
✓Look for a fresh or newly posted blog , like 5 minutes old or below.
✓post a related or meaningful comment on that post you got and include #up-gage on your comment
✓Then get the post link and paste it on the comment section of this post
What can you get on joining this?
✓Since i dont have much Steem or SBD to giveaway , i will be giving my upvote as my help to both of you. I will give my 30% upvote for your recommended link and i will give my 60% vote to your latest post
✓I will resteem the post of the very first commenter to join the challenge
Special Notes
✓I will run this challenge once or maybe twice or 3x a week for now, I will have to observe and see how the response from the community will be
✓I know my vote value is less than 0.50 , but my main goal on coming up with this amazing challenge is to giveback the blessing and a little help from me , also to promote connection between steemians.
✓As voting power decreases, so as the vote value , but don't worry , it will still add value to your post and beauty on your personality
✓A resteem would be a great help but not required
✓If there will be someone willing to be a sponsor , you will be very much welcome and appreciated😁
Let's go! and start the fun
much love,