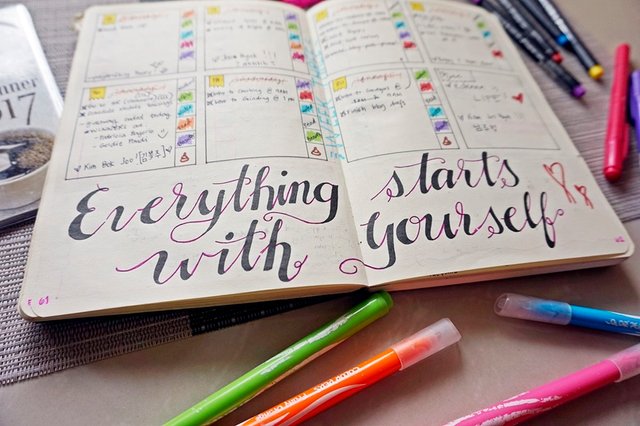 Who was I before I discovered Steemit?
Renee Alexis is an introvert blogger who struggles to be recognized and who was looking to monetize her blog. She loves to write and enjoys sharing bits and pieces of her life. A lot of her time has been invested in making quality posts to share with the cyber world and while her blog was a bridge to get more opportunities, it is a lot different than steemit.
Here's how I discovered steemit
I was a follower of @kneelyrac on Twitter and I read about her gushing about steemit. I was too shy to ask about it from her that time and so I experimented and explored steemit on my own. I was confused about all the crypto-talk. It was what I mainly saw that time. So I left and didn't go back for a time. December came and I went back to know more about steemit, my curiosity was at its highest. I tried to put up a post until I mustered up the courage to approach @kneelyrac. She welcomed me warmly, invited me to her group - #steemitachievers, and taught me the basic things about steemit. She advised me to put up original content and lots of pictures, and from then I started to make posts just for steemit.
What steemit changed in me
I started seeing the world in a different perspective, in a different angle.

I became more inspired as I think about all the things I have done and will do if they will be "steemable" or not, and how other steemians can benefit from my post.
I like how my every post in steemit earns a little something from upvotes. No matter how little they get, I really get giddy whenever I see them earn. I like how welcoming, how friendly, and how supportive steemians are. I like how they engage in my posts and I get to make new acquaintances and friends along the way.
The money is what attracted me most in steemit. Because let's face it, we all need money. And as a struggling blogger, there is no other thing that feels more fulfilling than having to earn from your hard work. The minutes and hours you spend in creating that one blog post, you know it will make you happy if it earns even the tiniest bit of $0.01!
Steemit is unlike any other social media network. Every post and every picture is worth something here. And that is its greatest asset.
Steemit is amazing in so many ways.

I started going out of my comfort zone. I joined contests - in writing, poetry-making, drawing, video-making, and photography. It will sound like a cliche but steemit has made me more creative in so many ways I can't imagine myself doing in the last year. Shoutout to @anomadsoul, @juliank, @howtostartablog, @jacinta.sevilla, @kneelyrac, @deeday31, and, of course, @surpassinggoogle, for hosting such amazing contests that gives everyone the chance and opportunity to join, engage and grow.
Steemit has opened my eyes to the endless possibilities that are lying ahead, waiting to be discovered, experienced and done.
So yes, even though I'm just less than a month old here on steemit, I have already been changed by this wonderful platform. Adjustments you ask? I had it and it was for the better.
Because of steemit, I became more profound, more productive, more motivated, and more inspired to create contents that are of good quality.
The writer in me has been awakened once again and steemit has become my cup of caffeine.

Cup of caffeine because it is addictive and I honestly cannot imagine what I would be doing today if I weren't steeming, or thinking up of a post to share, or reading up posts from the people I follow, or commenting on the posts I stumble upon.
Sometimes though, I cannot help but feel discouraged when a post I worked on really hard doesn't earn that much. I second-guess myself and question myself if I'm not good enough. I've seen so many posts that have earned so much and then I look at my own page with only cents in them. I then try to see the bright side of the world. Yes, sometimes you need to be patient and do more.
You are doing great, Renee. Don't be disheartened. You will soon get the hang of steemit and will have the growth you dreamed of having. But you will need hard work, perseverance, and a little but of luck. :)

Little by little, day by day, I am learning more about steemit's many quirks. And I always welcome new knowledge. I won't give up and I will just keep on steeming.
Steemit has somehow become a way of life for me. And I cannot wait to learn and grow more on this platform.

❤️ Renee Alexis ❤️
PS. Thank you @surpassinggoogle for hosting such a significant challenge. You have been an amazing inspiration to me sir. :)
PPS. My blog is still alive though, but I'm investing more of my time here on steemit because I am loving it.