Off grid goats
When we live off grid, so do our animals.  We don't have the benefit of having lots of electricity, so we had to come up with some work arounds when it came to our goats.  Our goats are Saanen/Nubian/Alpine cross.  We have them for milk production so they are not beefy goats.  In fact, they look skinny like an old milk cow.  But when goats kid out, the baby kids don't deal with the cold weather very well.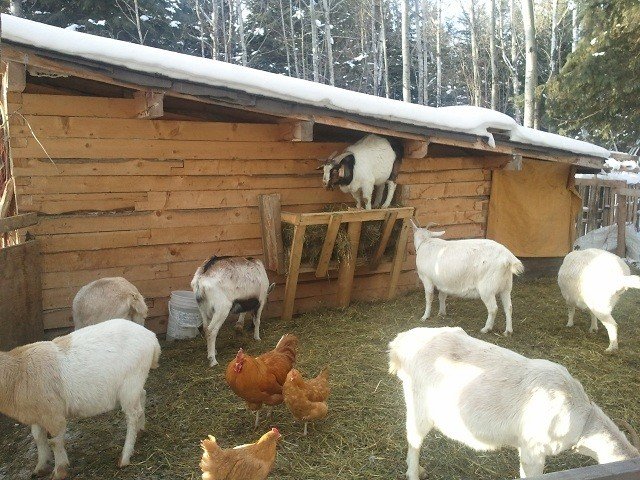 The solution was to hold off on the breeding until November/December time period.  If we allowed breeding to take place in August or September when the rut starts, we could end up with January / February kids.  Around here, there is a real risk of -35C weather at that time of the year.  Way too cold for baby goats, even if they were in the barn.  But if we can hold them off until November/December, then we are looking at April / May kidding.  Much nicer weather.  
But goats are curious, smart animals.  We have one that knows how to open gates and they can jump fences too.  So at times we cannot control breeding as mother nature's power is great!  A couple years ago we had a goat deliver her kids in January and one of them caught a chill.  If we don't warm up the kid right away we would lose it.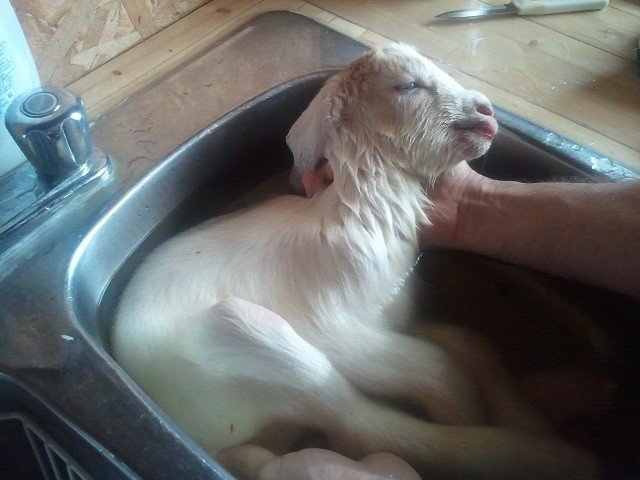 The good news is that we were able to save her and she is now a mom herself.  Her name is Sophia.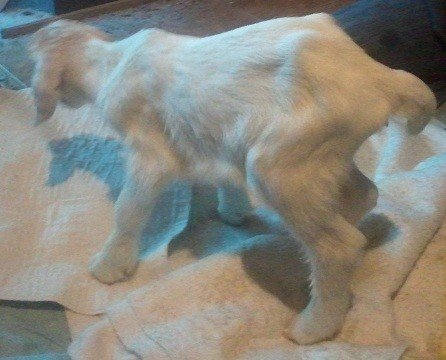 We kept her by the stove for a few days. 
The risk of intervening like this is that the mother usually abandons the kid.  Carey has been really good at getting the moms to re-accept the kids.  But once in a while we do have to bottle feed if the re-introduction does not work out.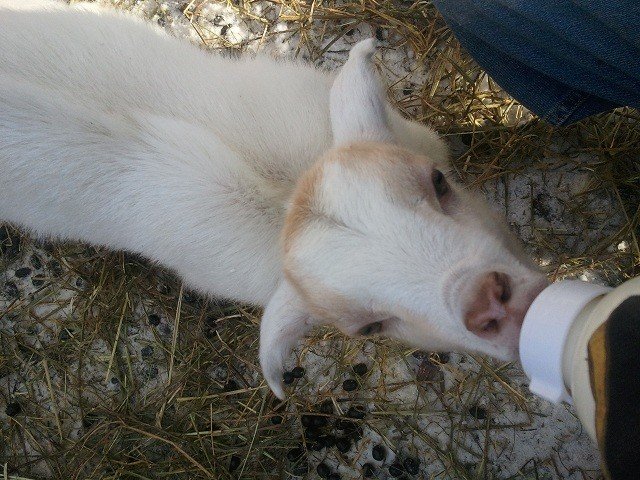 If you have goats or want to get into them, the website we like best that helped us learn how to look after these amazing creatures is Fias Co Farm.  They have an amazing website with lots of knowledge.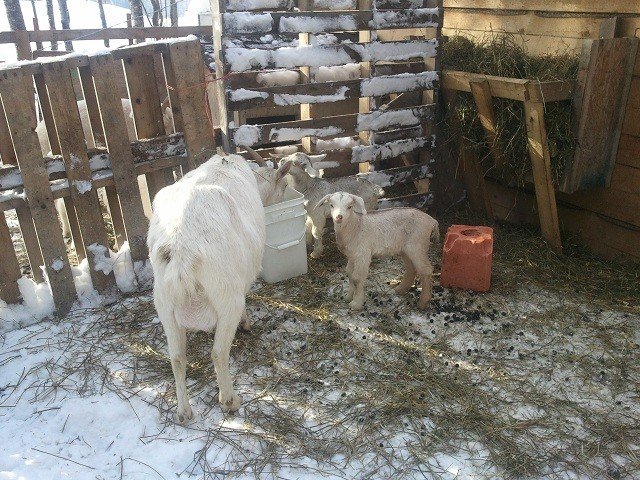 Once the kids are a few days old, they seem to be able to handle the cold better than a new born.  But we still keep an eye on them.  We don't have many born in the snow any more with our change of strategy.  These pictures are from when we first got the goats and before we made changes to our protocols.  
Keep in mind that goats are perpetual three year olds.  They are smart, get into trouble and are difficult to train.  They have all day to work on things, so they will challenge even the most patient off grid enthusiast.  But we love them despite their quirks and we enjoy their milk too.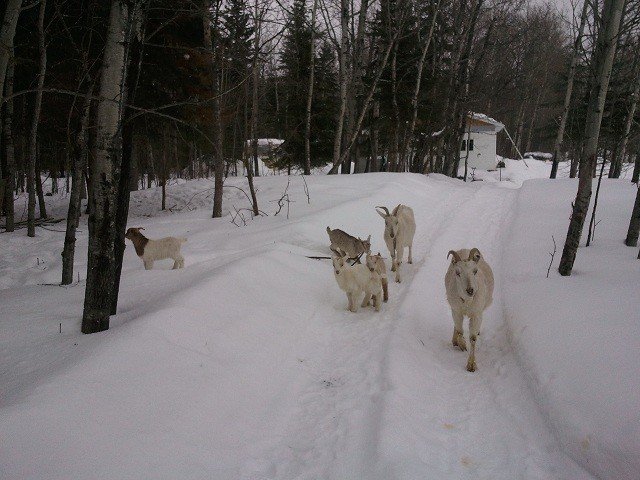 Goats are not grazers, they are browsers.  What that means is that they will eat grass like cows and sheep, but they really want the tree leaves, bark and other shrub type food.  They are more like a deer or moose than a cow or sheep.  We found if they are just on pasture, that they have a tendency to get sick and milk production drops.  But when we feed them trees, they are in heaven!  We also found that they prefer warmer water than cold water, especially in the winter.  They will survive by just eating snow, but if we can warm up the water for them, they are much happier and will produce more milk as a result.  
I wrote a post a few weeks ago about our thermal mass stock tank heater.  Click on the link to revisit it as it is our off grid solution for keeping water warm during the winter without electricity.  This was helpful for us and really helped the goats out as well.