We woke up this morning to a white winter land.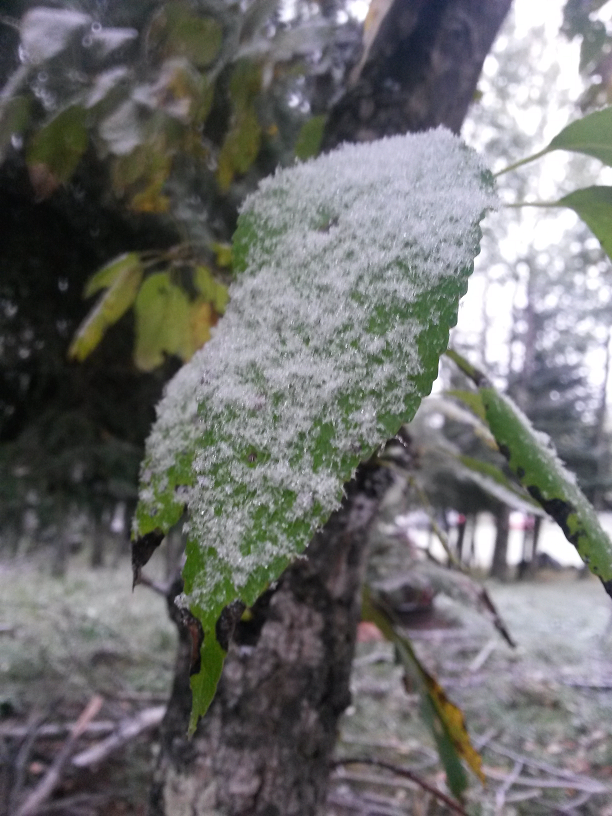 May 12, 2018, 8am MST (green leaves still on the trees)
So what better time is there to discuss the climate than now?  I'm not going to get into any debate about whether the climate is due to man made activities, is a natural phenomenon or a combination of both.  I'm not going to talk about whether we are warming or cooling either.  What strikes me about this topic is how people miss the point.
We need to find ways to deal with the changes, no matter the root causes.
I cannot change other people, but I sure can find ways to survive and change my life style so that I can help Mother Earth.  I've been around for over 50 years and when I was a kid, snow in May was an anomaly.  Now, snow in May or even September is common place.  In fact, in the last 5 years we have had 2 seasons where there was snow on the ground for 6 months or more.  I don't ever recall that happening when I was a kid.  So what are we doing about it?
We decided this spring that we will now plan for 6+ months of snow for each winter.  We already restructured our lives to account for a very short growing season, so despite the early snow, our garden is in and we are in the process of canning, freezing and preserving for the long winter.  We were not caught unprepared this year because of the work we have done over the years.
But I know that almost all farmers in the region have been caught unprepared.  The industrial food system cannot cope fast enough to deal with these changes.  There is a lot of crops still sitting on the ground getting snowed on.  Southern Alberta had a drought all year and northern Alberta had rain and now snow.  Hay prices have nearly tripled from last year and I expect the harvest to be impacted.  
While people are debating climate change, how many people are taking steps to secure their own food stuffs?  How many people are planting their own gardens, building green houses and learning how to forage in the bush so that they can survive should the climate take a drastic turn?  How many people would consider that the climate has already taken a drastic turn?  
I for one, would raise the flag and say that the climate has changed, significantly!!!  I've seen it unfold over the last 5 years.  I don't need charts, graphs, statistics or other models to prove the point.  My own observations have shown me that the weather we once had is no more.  So it is up to me to accommodate those changes if we are going to survive them.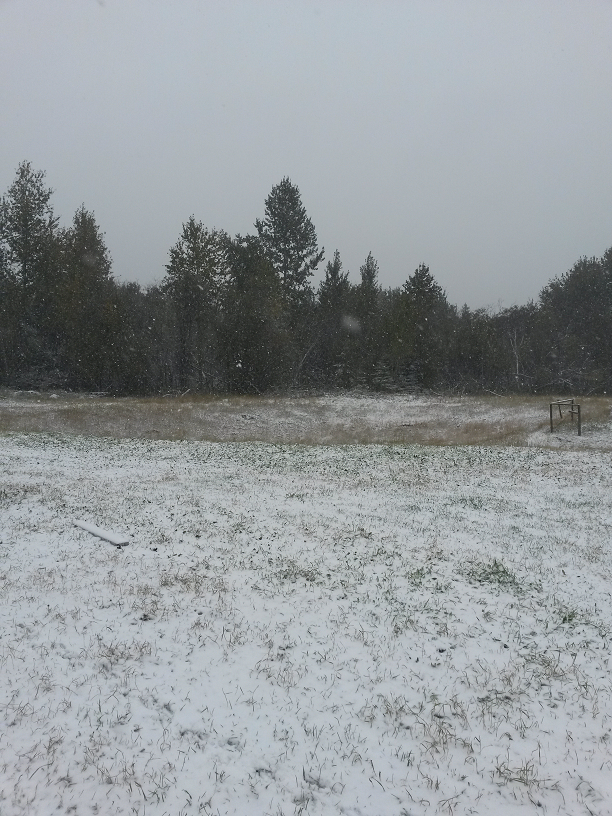 September 12, 2018, 10:30am.  Ground is white again.
I know deep in my heart that the industrial food system will not survive these changes.  It is so large and bloated, that it cannot keep up to the steep curve of changes that I am now witnessing.  They can throw all kinds of technology at the problem, but it is too late and it won't work.  What is required is that the individual take responsibility for their own needs as the system is cracking under the climate pressures.  
Here is the kicker to all of this
If people are dependent upon the system to feed them and the system fails, who is responsible?  Not the system.  The individual will always be held accountable for their own needs.  If the individual fails to provide for his / her own needs, then the individual will die.  The individual has NOBODY to blame but themselves.  
However, there are abusive, violent, coercive and evil people out there who will do almost anything to entice slavery and dependency so that they can siphon energy from the people.  Their own greed and lust for power will result in sabotage and other acts of horror to ensure that people don't work towards independence from these pirates.  Whether the climate crashes the system or some other natural or man made trigger causes it, we have a spiritual duty to ensure that we not only survive the crash but thrive as well.  We cannot do that if we don't have the skills, knowledge or experience to make that transition.  Waiting for the system to crash is too late.  We must be proactive and take steps now so that when it does happen, we can protect our family, clans and tribes.  
While politicians argue over the cause of the changes, they implement changes to continue sucking the life from the people and ensuring dependency is maintained.  
Warning
Mother Earth will not tolerate this abusive and violent behaviour much longer.  She will shake herself like a wet dog and when she does, cities will fall, systems collapse and chaos will unfold like never before.   Most of us don't remember what it was like in the 30's during the great depression.  My dad remembered and told me stories.  He said that the farmers were okay because they could grow their own food.  The people that suffered the most were the ones that lived in the cities.  
In the 30's, 50% of the population was rural and 50% was urban.  Today, 2% is rural and the vast majority of that 2% is industrial farmers.  98% of the people depend on that 2%.  Do you really think this is not going to be a problem?  If you agree with me, chances are you are already growing your own food and working to get out of the cities.  A system collapse now will be a thousand times worse than the 'Great Depression'.  It will make the Great Depression look like a tea party.