Ulog Contests: What Is The Starkest Difference Between A Fly And A Bird?
 Start Here
We will start a series of contests very regularly but to apply  contests to a more testimonial and historical use etc These  ulog-contests will be very simple contests that will accomplish a  long-road-of-things. For one, we will use these contests to implore  everyone and Uloggers to explore the use of ulogs.org and the  full-beauty of the  #ulog movement and the fun, world-adjusting art of ulogging. We will have many such fun ulogging-activities going forward and in  the long run, use much of activities to continue to up-build our  Ulogs.org model as well as up-build the model of our Ulogs' mainstream game etc 
We will keep this particular post simple as it is a contest. 
Contest Proper
This contest is a very simple contest called: Comedy Solutions
Many time, "many things" are simple but we usually tend towards "attempting the nth complexest solutions" first, ever leaving out the "first simplest obviousest solutions" e.g Ever wondered what is on Bingo's mind? While you can easily ask Bingo "what its on its mind"; we end up going for years to schools to study veterinary, then on to Mars to do apprenticeship under an alien petinary psychologist for aeons of years, just to find out what is on Bingo's mind. Note: (Bingo lives beside you each day!)
In this contest, you are simply require to answer (in the comments below), the simple question below:
What is the starkest difference between a Bird and a Fly? 
Quick Guidelines For Effective Participation.
As uloggers, you are encourage to love ulogs.org and relish using it. We hope this #ulog-contests puts us in that culture. (Note that  you can carry out all steemit activities also on https://ulogs.org). It is still in test phase and your "using it" gives us feedback to improve on it.
To participate in this contest, you are encouraged to use https://ulogs.org to comment your answers. (Optional)
You can still participate even if you feel someone got the answer.
You can re-ulog this post for visibility. (Optional)
You are encouraged to mention friends etc in the comments below, so that they can participate. You can do so, even if your aren't participating. (Optional)
You can pass this post across to steemians, uloggers etc who are currently not actively posting as they can gather some rewards by simply participating. (Optional)
If you participate (optional), you will learn something and learning is the ultimate earning. 
The contest is very easy as there are no wrong answers. You can fully participate or simply guess the answers! 
Why To Consider Participating Via Ulogs.org?
You will be giving back to steem. 
Be reminded of steem's beauty. 
You will get in the art of ulogging. 
You be "true fans" of Uloggers and ulog-subtags and the communities these bear forth etc
You can earn some rewards.
You will learn something. 
If you participate by mentioning your friends, they will find out  about ulogging and those who have temporarily gone into-the-box as  regards "steeming" can be restored to "out-of-the-box" once again  through ulogging
We will get to know you better and this helps the  #ulog movement.
The Rewards Styling
Every participant will win something in the comment section before their comment pays out. Receiving is an art. However, small or big the rewards, give it more testimonial essence. 
Every participant wins some rewards. 
Correct answers that use https://ulogs.org to respond, will win the most rewards. 
Correct answers that didn't use https://ulogs.org, will win more rewards
Incorrect answers will win rewards
Wrong guesses will win rewards.
If you simply mentioned friends to participate (in the comments), you will win rewards.
If you re-ulogged this post and you are able to indicate that you did so in the comments, you will win rewards. 
etc
Kindly vote for the "steemgigs" witness. 
Dedicating My Entire Steem/Steemit Journey To My Mum
If you want to support an extra witness and you support mine "steemgigs", it will be really helpful. 
To vote my witness, simply visit https://steemit.com/~witnesses and upvote "steemgigs" or simply click Here to do it on one click!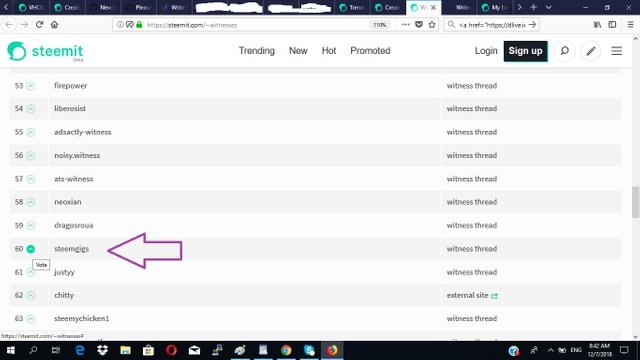 If you want me to make witness voting decisions on your behalf, simply visit https://steemit.com/~witnesses and type in "surpassinggoogle" in the second box for proxy. 

  Subscribe to us on YouTube: UloggersTV