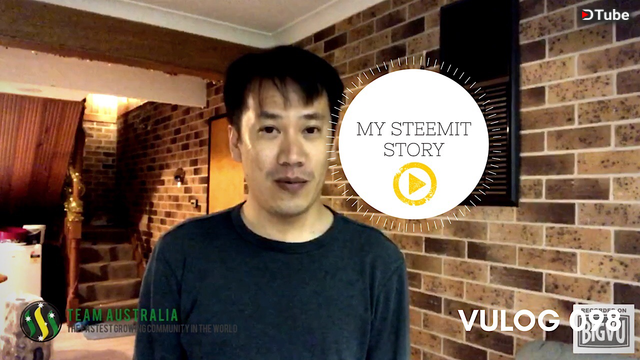 ---
After watching @bobaphet response to @kawaiicrush's #steemstory vlog, I decided to jump in and do one too. I don't often make a vlog (or vULOG in this case 😂) so this is a great excuse hahaha.
To help me with this, I decided to test BIGVU a teleprompter app for smartphones and it works quite nicely indeed. That helps me have a more fluent speech for the clip.
Here is the script:
Hi Steemit!
This vULOG (video ULOG) is a response to a vlog from @bobaphet which was a response to a vlog from @kawaiicrush 😂, she asked people to share their Steem story so here is mine.
My name is Quoc Huy or Huy for short and I'm from The Central Coast in NSW Australia.
My background is in IT, I work as a full stack web developer for the On Demand product of a national TV and Radio broadcaster.
Throughout my life, I had multiple hobbies: like singing in a wedding band, gospel singing at Uni although I'm not religious, photography, fishing, gardening, worm farming and black soldier fly larvae breeding
Before Steemit, I had social accounts on Twitter, Facebook, YouTube and blogger.com for each of my hobbies.
It was with photography that I started to try to get a little bit of pocket money with my hobby and I started to give classes to photography clubs. But since the birth of my boy and then our move to Australia, I kind of lost interest in photography and was more into the outdoors with fishing, gardening and Worm farming / BSFL. I'm selling worms and BSFL as a way to finance the hobbies and was always looking for some form of passive incomes. And started to write some eBooks on worms and soldier flies
Discovered Steemit in Feb 2018 thanks to Larry another worm farmer from Canada. He was also one of my mentors at the time and author of several eBooks. Steemit was one area he was investigating and introduced it to me.
I Initially joined Steemit to blog about Worm farming but progressively started to digress and got into other topics.
I wasn't sure if I should have multiple accounts or keep a single one. But I chose simplicity, even though some of my followers might prefer if I specialised my posts.
In March, I started a witness node in order to learn more about Steem blockchain and contribute to the network. I had all the technical skills required to run and maintain a witness server so why not try it. With the current number of witness votes I've received, I'm ranked witness #114 and I am producing about 3 blocks per day currently valued at about 1 STEEM per block which is not a lot compared to the expenses and effort put into the operation.
I believe Steem has a lot of opportunities which is why I'm still on the platform despite all its weaknesses. I think we need to be patient and all contribute for the long run.
Well that's about it for today, I'm trying to go to bed early these days as I spend too much time with the computer and it is affecting my health.
If you have some witness votes available, please consider supporting mine.
Talk to you soon
---
Previously on my Ulog:
---
Vote for my witness
On Steem, Witnesses are playing the important role of providing a performant and safe network for all of us. You have the power to choose 30 trusty witnesses to package transactions and sign the blocks that will go in the Steem blockchain. Vote for me via SteemConnect to help me do more useful projects for the communities.
---
| I'm a member of | these communities |
| --- | --- |
| | |
| | |
| | |
---
Credits
The image at the top has been generated with the Canva app using my own photo.
---
Protect your money against Phishing Scam!
Cryptos accounts are the target of international scammers because they want your hard earned money!
Those people are very clever and in a moment of inattention, you've given them your login and password!
I've created a Chrome extension that can help you detecting scam links!
Install Steemed Phish Chrome desktop browser extension now!
Password and Private Keys security
You all know that your Steem password is the access to all your STEEM, SBD, posting, transferring, everything... right?
So, please, follow these simple steps and keep yourself safe:
Apart from the initial setup of your account, NEVER use your password ANYWHERE, if stolen, it will give full control to your Steem account.
Backup your password and keep it somewhere safe. Use a password manager like Lastpass, print it on paper and put it in a safe (no kidding). If you forget your password, no one can help you out.
To login for creating content and curating, use your Private Posting Key
To make transfers and account operations, use your Private Active Key
To encrypt and decrypt memos, use your Private Memo Key
---
▶️ DTube
▶️ IPFS