Today when I woke up, the first thing I thought of was that it was the start of election campaign. I thought of that because my helper Jay is running for Kagawad or councilor in my barangay. The I forgot it was First Friday. The Lay Minister always comes every First Friday and Sundays also Holy Day of Obligations like Christmas and New Year. So when I heard the Lay Minister calling at the gate we kind of panicked my mom was awake but still in bed. So we rushed to get to the living room. I am thankful that he includes me too.
Then after breakfast I was sitting at my laptop with my cup of coffee and my loyal dog Thor. I was reading about the new thing #ulog or #ulogs and about beain a #ulogger. Wow what a cute and unique name. @Surpassinggoogle said it is about us or you.
Here are links to learn more about it : https://steemit.com/ulog/@ulogs/the-world-needs-to-hear-from-you-even-steemit-is-calling-now-you-can-answer-create-a-ulog-today-the-u-in-ulogs-represents-you
https://steemit.com/ulogs/@ulogs/the-birth-of-ulogs-you-are-a-celebrity-so-why-not-just-ulog-no-video-camera-no-problemo
This will give us an opportunity to be able to make a blog or ulog because it will be about us, ourselves our human side and we are the star of the blog.
Tips on how to start a #ulog by @surpassinggoogle
Please help make it easy for us by keep it one #ulog a day and may it only be Ulogs.
It is better when a Ulog is "once a day".
It should be about you or events in a day, related to you.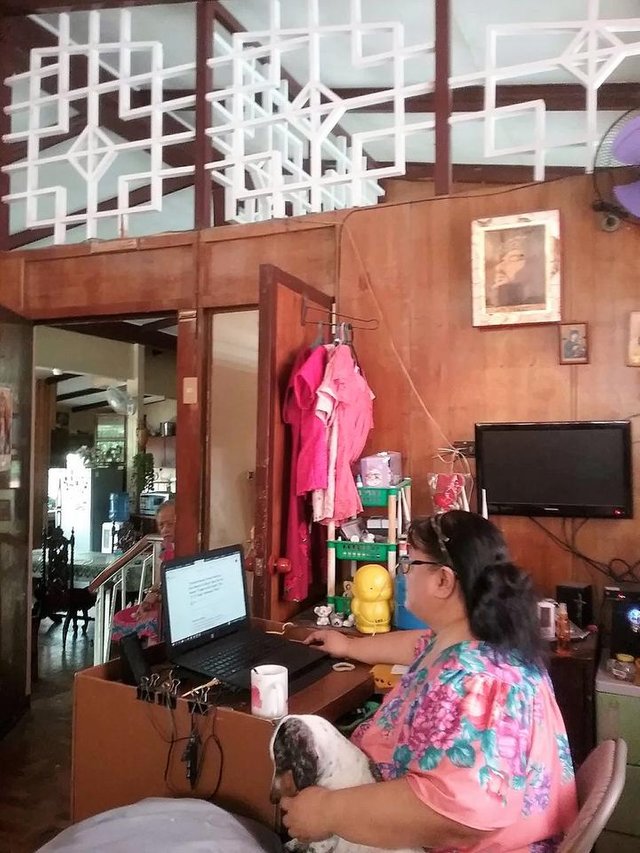 So I had my helper take my picture. Where I am most of the day. Sitting at my laptop, working on #steemit or browsing on the internet and other social media. My loyal dog Thor is always by my side. Sometimes he looks up to see what I am doing, sometimes he just sleeps besides me.
I hope I am doing this #ulog right. I started my day right with Communion and then breakfast. After opening my laptop I had to check some groups which I manage. I had to settle some bickering on one group, my HS class group. Oh dear we are already almost Senior but some people still do not understand or still want some division in the group. That is why I saw the post about #ulogs late .
So today I plan to keep on #steeming while keeping an eye on my mom. As you can see in the picture she loves to sit on the landing of the stair to our room. I can also see the dining area where I sit so I can keep track of her.
Again a quote from @surpassinggoogle:
The "U" in "Ulogs" represents "YOU".
With amassing numbers, it is possible to miss out on some, so please note that the essence of the Ulogs movement is to remove "barriers to entry", when it comes to "mining the human", using each content blog that we create.
So I will start my day fresh, and ready to keep going, to slowly reach my goals in life. I plan to be more positive and not negative, but if it can't be helped that the negativity is there, I will try to keep it at a minimum.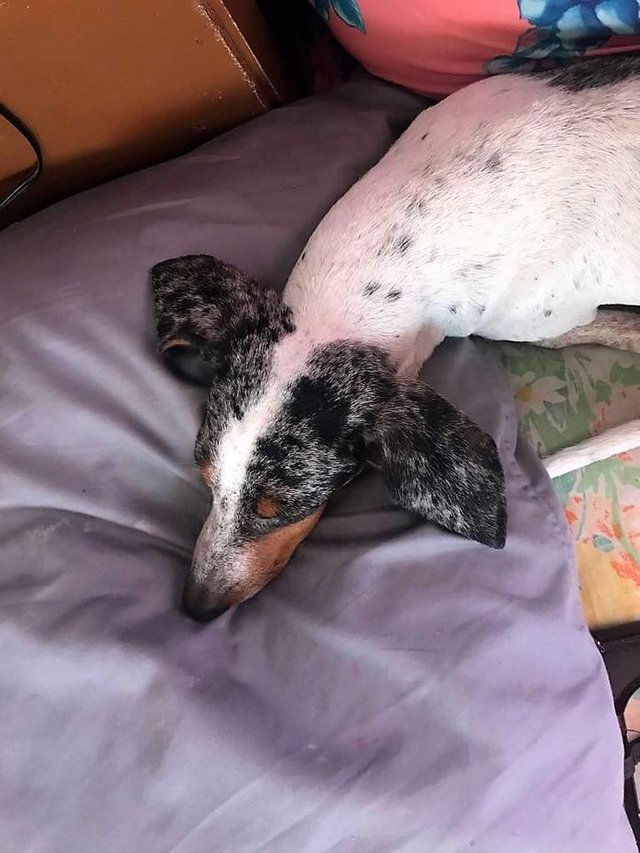 This will be how the rest of my day will go with my fur baby Thor at my side.
Tomorrow my #ulogs will be at night, describing how my day went or what I did and my ups and downs. I encourage everyone to try this, just one post for the day so at least you have something on #steemit, no more reason: "I have nothing to write about" I think we all have something to say about ourselves.
Thank you @surpassinggoogle for another great addition to #steemit!
PICTURES ARE MINE
Our mentor @surpassinggoogle has been very supportive of our group #SteemitDiversify and other groups too. Please support him as a witness by voting him at https://steemit.com/~witnesses and type in "steemgigs" at the first search box.
If you want to give him witness voting decisions on your behalf, visit https://steemit.com/~witnesses again and type in "surpassinggoogle" in the second box as a proxy.
Others that we should support are: @henry-gant, @kenny-crane, @beanz, @teamsteem, @good-karma, @busy.org, @esteemapp, @hr1, @arcange @bayanihan, @acidyo, @anomadsoul, @steemitph, @jerrybanfield, @darthnava, @paradise-found, @geetharao, @stephenkendal and @richq11; they also have supported us; also the many others who have visited My posts. Pls. support them too. Thank you very much.
I am grateful for them and for everyone who has helped me and my friends. (Quote made by @purpledaisy57 permission given to use for members of SD family)
Please like @teardrops on Facebook and Twitter:
https://www.facebook.com/teardropstokens/
https://twitter.com/teardropstokens
Please like the Facebook page: https://www.facebook.com/steemgigs/
& Twitter: https://twitter.com/steemgigs
PLEASE SUPPORT: https://steemgigs.org