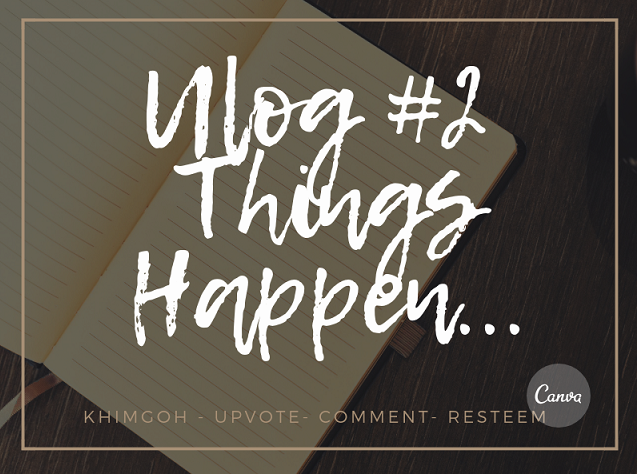 Image sourced and created on Canva
So I took a while to write this because I had to process it a little more before I could share. It was one of those times, when you realise that things do happen and there isn't much that you can do about it and how fragile life is generally. I did tell a couple of good friends and also family about this but I didn't really want to think about it.
Our National Day weekend was an extremely eventful, memorable and gut-wrenching one. We celebrated my father-in-law's birthday by going together on a staycation at the Concorde Hotel because the 31st of August was a public holiday and my sister-in-law had come from Penang to spend time with the family. We had an awesome time and that is food for another post. So post staycation, I was ready to spend the last day of the long weekend just getting ready for the new week ahead and as usual on Sundays we headed to church. The sermon was such a blessing to us as it was about living with the lenses of hope instead of the lenses of worry. We left church after the service and headed out for a quick snack as it was already about 3 pm then. We decided to visit one of our favourite shops in Seapark PJ and was ecstatic when we found a carpark along the side of the road right in front of the shop.
As we parked and ran into the shop as as a light drizzle started, I commented to my hubs that we parked right next to a pretty huge Hungry Ghost Festival Stage and metal canopy for the audiences ! This one took up nearly the entire length of the road and there were heaps of people working hard to fold the paper money for the ghost. According to what I know (which is not a lot), every year during the 7th month, the the spirits and ghost of the deceased are allowed to roam the mortal realm to visit the living ie. family etc. So they put up stages all over town so that plays and entertainment can displayed for these spirits and ghosts. Anyway, if you are interested you can go read up all about the Hungry Ghost Festival. https://en.wikipedia.org/wiki/Ghost_Festival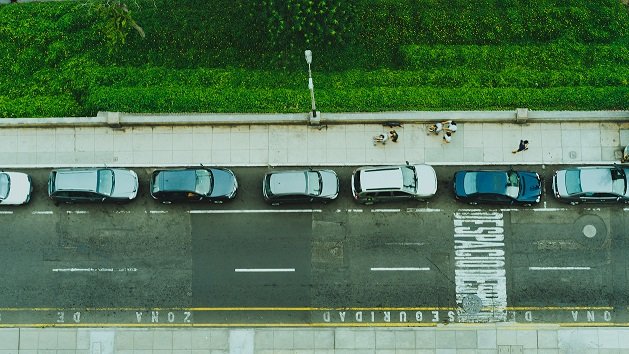 Don't you just feel super happy when you find a "good" carpark space?
Image Source from Unsplash
The sequence of events...
I then found a table and sat down with my kiddos whilst hubs went to order food. In our usual fashion, hubby would go order the food and I would keep my little Chapati and Murtabak entertained until the food arrived so we played silly games and made a lot of noise. The rain got heavier and so did the wind. All of a sudden we heard a really loud sound of something crashing to the ground! I can only describe it like the sound of a bomb going off (not that I have ever experienced one...never hope to experience one) and I literally jumped out of my chair. I looked out of the shop and saw the devastation outside and thought "Oh no! Our car!" then I started scanning the crowd of people looking for my hubs but he was no where to be seen! walked to the entrance of the shop and looked around and still didn't see him. I quickly went back to the table as the kids were a little distressed and wondering what had happened.
Then suddenly hubby appeared in front of me all drenched and said that he didn't make it on time and the car was affected. I couldn't understand him at first. I already knew that the car was buried under glass debris, metals bars and metal zinc roofing. What I didn't realise at first was that he had been watching the rain and had decided to go and try and move the car. He had just reached the car and was attempting to open the car door when suddenly everything came down around him. HE WAS IN THE MIDDLE OF EVERYTHING THAT CAME CRASHING DOWN! This horrifying thought didn't even register until a little later because I kept asking him where was he as I couldn't find him for quite a while after the structure came down. Felt almost nauseous when it dawned on me that he could have been hurt really badly. Those metals bars were big heavy ones and not to mentioned the potential damage from the broken glass that the numerous flourescent tubes provided for...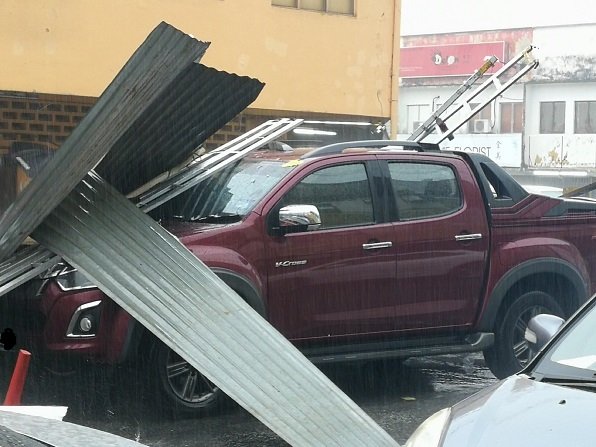 Our truck convered with debris...
Miracles after miracles!
Indeed it was a miracle that he was completely unharmed as he climbed up and around the debris back to us. Not a scratch on him! Since then we have all been thanking and praising God for His divine protection. Even the car if you look at the pictures, looked like that it might have suffered quite a bit of damage. However, when everything was cleared, the damage was broken roof racks, dents and scratches on the bonnet and all along the driver's side, and lastly a cracked spoiler at the back! It was a lot less than what we expected.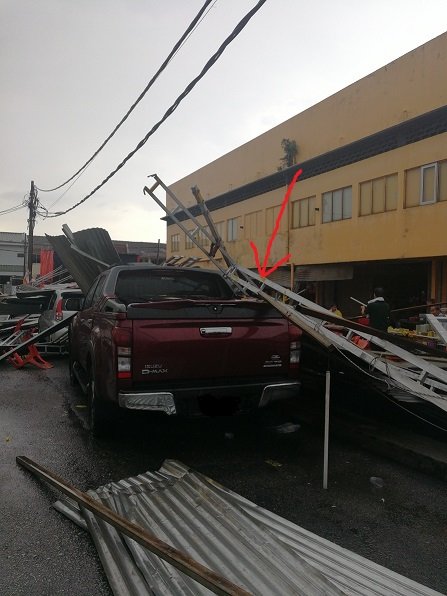 The red arrow is where he was standing! Eeks....
The whole incident garnered quite a bit of attention and within half an hour of it happening, the place was swarmed with reporters from the different newspapers, tow truck people, insurance claim agents and panel beaters. You really wonder about the network of their informants! Some arrived within 10 minutes of the collapse! Emergency services didn't get there till 45 minutes later. It was also the first time that I ever got to dial the 999 emergency number to call for the fire department as I was wasn't sure if help was needed to cut the bars...etc. Truth to tell, our emergency services still has a long way to go. All the information that I gave to the operator didn't seem to have been conveyed to the firemen who were coming and they had to call me themselves to double check the location and what had happened. I am still glad they responded.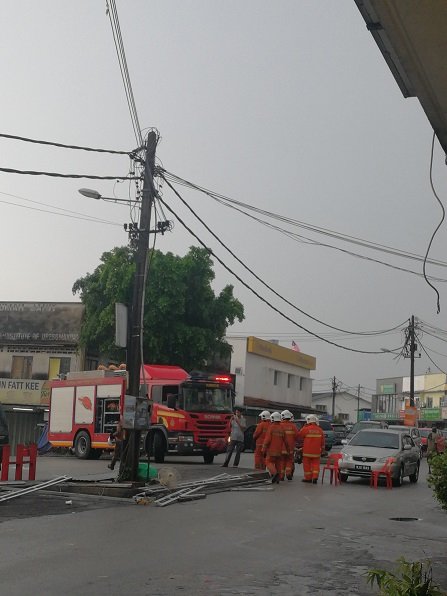 Emergency responders leaving after they checked that there was no one stuck under the collapsed structure
We drove away as soon as we could as we needed to make a police report in case we needed it for insurance purposes. The next day we sent the car to a recommended panel beater and he quoted us at least RM 5,000 or more for the repairs. The kids and I prayed hard "for the car to be healed" as that was the simplest way for them to understand the concept. Then hubby decided to take it back to Isuzu as they also provide a full scale of services. We wanted to get a quote for comparison as the car was only slightly over a year old. We didn't want to take it outside to be repaired and would really preferred for it to be repaired by Isuzu itself. Once again, we were praising and thanking God for a second miracle as they quoted us RM 1,800 for all the repairs! God is soooo good!! Can you imagine the difference???!!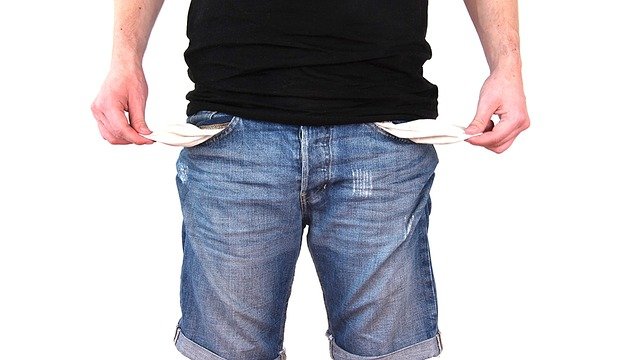 RM5K?? 😓
Image Source Pixabay
This weekend is another long weekend so we will be sending the car in for repairs next week. In the meantime, we will be praying for financial provision for the repairs as our laundry business has been affected in the last 6 months and we are a little tight having to make sure that we have enough for the overheads as well. Yup the irony of life...when it rains, it really pours! But stand with us as we continue to believe and pray for us as we navigate this little rough patch. Things happen.... but we don't have to succumb to it as we have a God that is our provider! Reminder verse from Phillipians 4:19...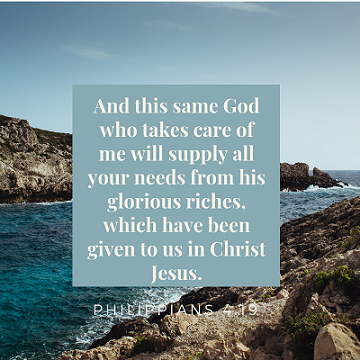 Thanks for reading!
Love,
Khim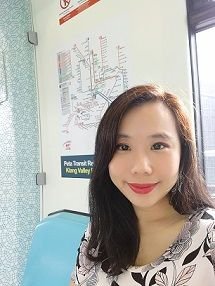 Proud to be a part of these fantastic communites!