Dear Diary: I Just Saw A Way To Prevent From Being Robbed On The Streets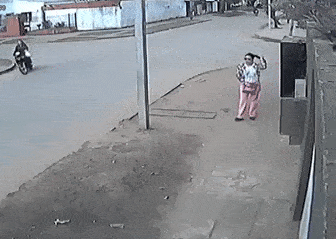 I have never experienced being robbed except in some instances that our store got stolen with its money because my mother just puts the money near the window. The crook just had cut the wire screen and casually took the money inside the wallet. A similar thing happened when somebody did the same, this time the crook slid its relatively small arm because of the signs on the wire screen and took some cash just laying in front and behind the candy jars.
There is that instance where walkman got stolen when we left our belongings to the vehicle of my friend which we are using to attend our Thanksgiving celebration. We told it to the security and they did nothing citing that it was our fault leaving our belongings behind. It quite made me angry because they are called a security and but it seemed that they are not fit for their job.
The woman in the video is just brave, had the robber a trigger-happy murder she would have been killed for that act that she flung her bag to the roof just to save it from being taken by the crooks.
But some snatchers will really shoot or kill you if you do fight them or make a tag of war with your belongings. Your life isn't worth your bag, cellphone, or cash. You can just earn it back afterwards, if you ever came across robbers better to give your money or your belongings than get yourself hurt or worse killed by such criminals in the streets as your life is more valuable than the things that you own.