Ulog #15: How Performing is Just Like Blogging - Sharing Your Craft to an Audience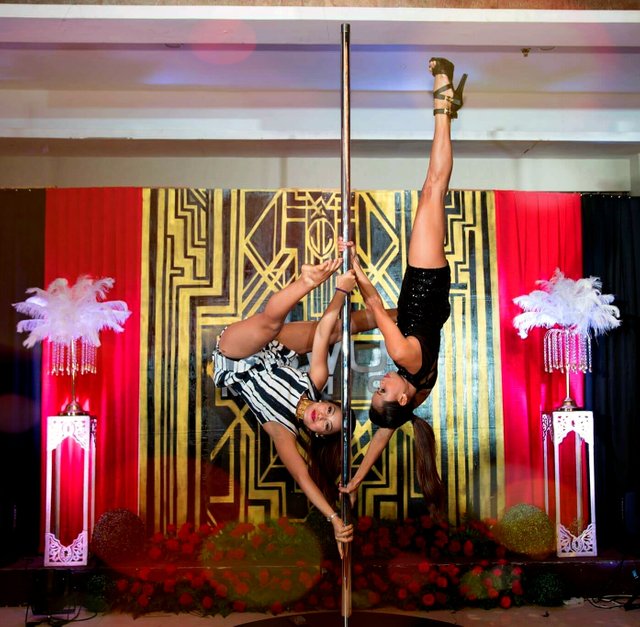 It's only lately that I got myself involved in performing arts - thanks to pole. Growing up during my grade school years, the only times I'm on stage was when I recite poems, when I'm competing for a Math and Science Quiz Bowl and during culminating activities when I take my proud moments of accepting my academic awards.
Also, it is only lately, after I graduated college that I got interested in blogging. I used to write in my diary but those are gibberish words and random thoughts that was never intended for a wide audience. It took time for me to decide to blog because I wasn't confident about my skills- much the same with my dancing skills.
The common thing about performing and blogging is that both requires an audience. You can dance like a retard in the shower and write 20 pages in your diary. But when you intend to do these things for others, it's a whole different story. Because I still consider myself a sucker in both things, I have come to realize that my journey in two different fields aren't too divergent. In fact, I can think of several things that make performing similar to blogging.
1. Performing is like Blogging: It is only Half Talent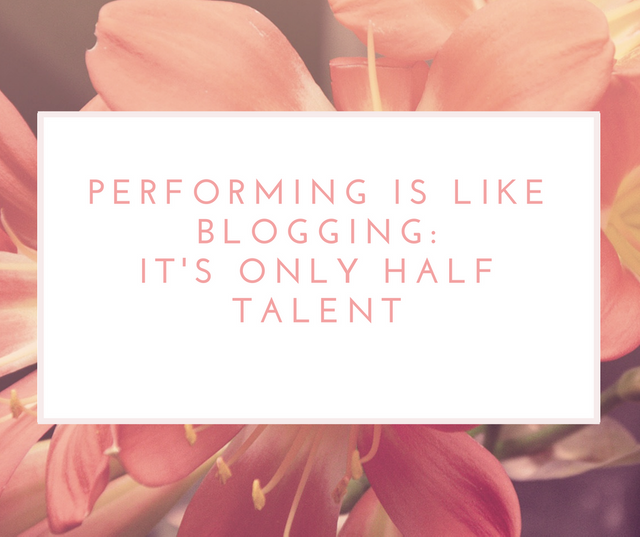 Let me share to you a beautiful photo of my fellow students in their costumes for their jazz performance. I am going to be blunt here - not all of these girls are good dancers.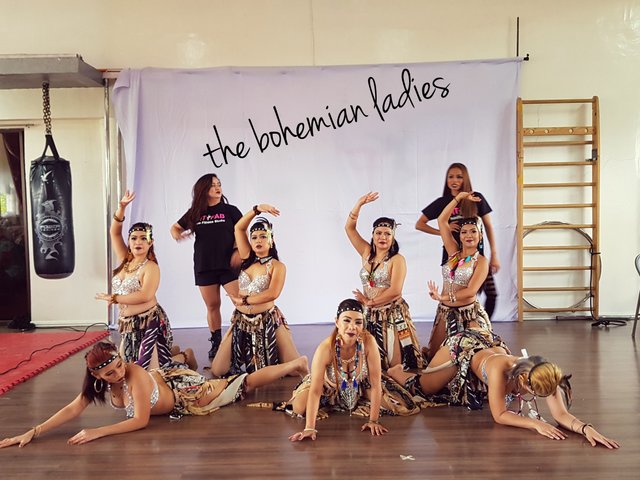 Some are even having a hard time doing a turn without losing their balance. But what I learned about performing is that its not just about talent. It's about hard work and making the most of what you are capable of. It's about working on your weakness and improving to suck less. In the end? These girls made a very awesome performance.
Bloggers are not born good writers. I tried digging through the old posts of my favorite Science beauty blogger and I tell you, she used to write crap back in 2012. But she has been consistently writing and eventually grew thousands of readers.
2. Performing is Like Blogging: You Push Your Self Harder Because You Have an Audience.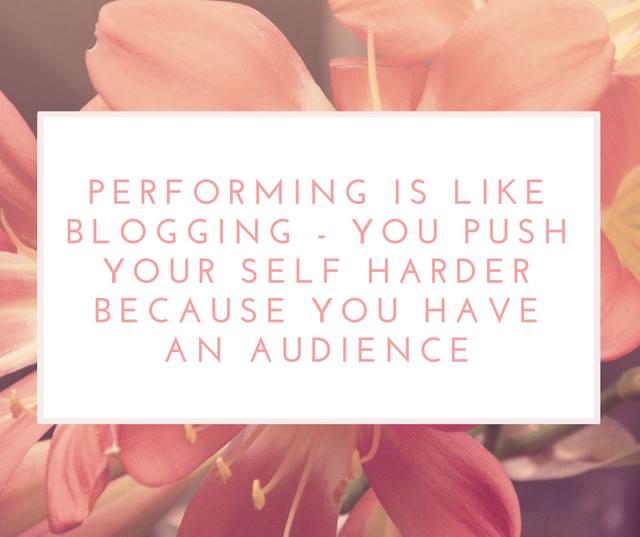 At first, I didn't understand why students pay for a recital. Why would I spend money just to get 4 minutes in the spotlight, when I can enjoy all the comfort of not having to stress about performing?
I was able to answer my own questions when I saw how professional artists train for a performance. "People will be watching, you don't want to give them a shitty show", that's what my coach said. I learned that when you have an audience, you push yourself harder than when you just keep your craft to yourself. I used to just keep a diary because I enjoy writing. But it wasn't until I started blogging that I became more conscious about my grammar and the overall readability of my work. Now, I write with less "graaaaggggghH" and "OMG's". Of course, I worked harder in improving my English, since it is not my first language.
3. Performing is like Blogging: You Work with Deadlines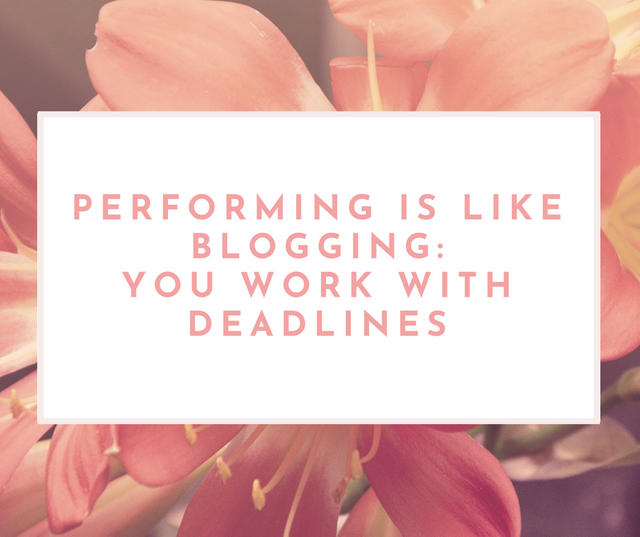 When you perform, you discipline yourself by setting a deadline for every milestone. You don't train at your own pace. You are under the pressure of a performance date. To be successful in blogging, you don't wait for the heavens to shine its rays upon you and give you inspiration to write. You have to set deadlines to push your ass to write even if you don't feel like it.
4. Performing is Like Blogging: You are Always Passionate for Learning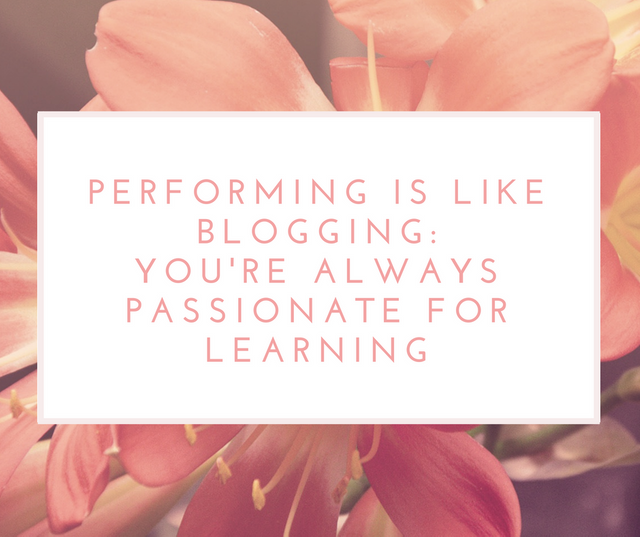 Having an audience means you will always have critics. The best way to handle criticism is focus on how you can improve. Like I mentioned, I'm a beginner in both performing and blogging and I still suck at both. Criticisms can be demotivating. However, when you do something that you really like, you become passionate about sucking less. You work hard on your weakness and pat yourself on the back for little progress.
5. Performing and Blogging can Both Give You an Opportunity to Inspire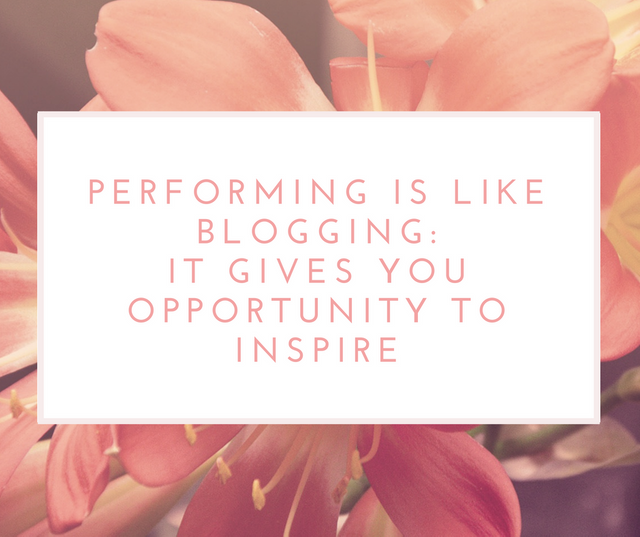 Two years ago, I was still 8 months in training for Pole dancing, I watched an International Pole Competition in Manila. I can still remember how inspired I was with the grace and strength of the pole athletes. It made me realize, that someday, I want to be able to create the same magic to other people, just as what these pole athletes did to me. Perhaps the greatest fulfillment in performing is the opportunity to touch your audience's hearts.
In writing, you don't have to be the best in the subject matter, you just need to be able to connect to a specific group of readers who find value to your work. For me, I can never please everyone. But if I could make an impact in even just one person's life through writing, then it's reason enough to keep going.
How about you? Have you ever dreamed of performing? What do you like doing that requires an audience?