Usman defeats Covington in the battle of the real BMF
Nigerian Kamaru Usman successfully defeated his UFC welterweight title with a fifth-round stoppage of Colby 'Choas' Covington at UFC 245 in Las Vegas.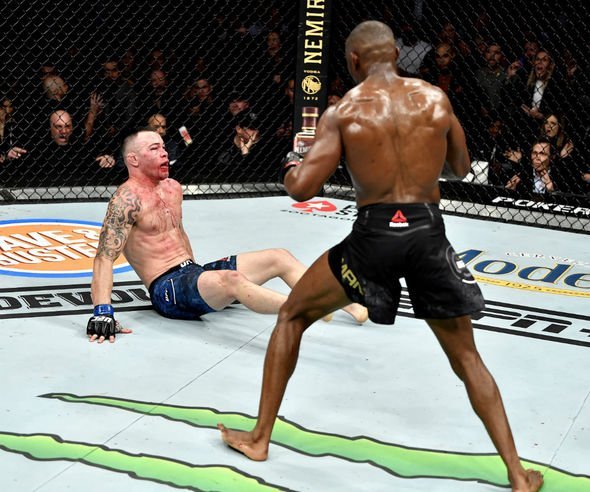 The UFC welterweight division has been in flux over the last few months. Question marks over whether this bout would be made, and with the introduction of the BMF (Baddest MotherF***er) title, had served to dilute the value of the welterweight title slightly.
Last night however left no doubt that Kamaru Usman and Colby Covington are the best that the 170 division has to offer and it was Usman who dug deepest to get his hand raised after a pulsating five-round battle.
Mano-a-mano
The two decorated wrestlers made a conscious decision to abandon their bread and butter grappling games and engage in a toe-to-toe stand-up fight.
It was the technical power striking of Usman versus the volume striking of Covington. Colby had his moments and several occasions he caught Usman flush, stopping the 'Nigerian Nightmare' in his tracks, however it was Usman's strategic power punching that ultimately won the battle.
Chop the body
The key to Usman's success was body punching. From the early rounds, Kamaru made a point of targeting Covington's midriff and Colby struggled to disguise just how much Usman was getting to him. The first two rounds Covington fought like a buzzsaw however by the third he visibly slowed as Usman slowly took control of proceedings.
At the end of the third, Covington complained to his corner that his jaw was broken. To his credit, Covington had no quit in him and it showed on the judges' scorecard. Going into the fifth, one judge had him winning 3-1, one had him down 3-1 and the other had the fight even 2-2.
In the beginning of the fifth Colby piled on the pressure however Usman raised his level tagging Covington with hard punches, eventually dropping him with a straight right. Covington got to his feet but was staggered and dropped again. Usman swarmed Covington forcing the ref to call a halt to the fight.
Anyone next?
With wins over Covington, Woodley, Edwards, Maia and Dos Anjos, Usman has now beaten five of the top six contenders. The prospects of Jorge Masvidal (ranked 3) wanting to fight Usman look slim with Jorge angling for a big money fight. With the likes of Santiago Ponzinibbio and Geoff Neal probably a couple of fights away from a title shot, it's a struggle to find an obvious contender for the title.
Based on merit, Birmingham's Leon Edwards deserves a rematch with Usman, having won eight fights in a row. However, UFC title bouts are made solely on merit so it will see how Usman fights next.
Trump card
As for Colby, we will really get to see what the UFC thinks of him with who he is pitted with next and on what card. Covington put in a gutsy display last night against an outstanding Champion. Up until now, he has mostly been able to dictate his fights. To cause 'chaos' by switching from grappling to striking attacks at his choosing. In this fight, he was forced to stand and fight for the best part of 5 rounds. That exhausts the gas tank in a different way than he's used too. In the end, he fell short.
With his elite wrestling, Colby will still be favourite against most of the top 10 welterweights. For me, his toughest out would be against Woodley, who should be able to negate his wrestling and has the power to hurt him.
However, with all his shenanigans outside the Octagon in the past couple of years, maybe Covington's most likely 'out' is to play his 'trump card' and enter WWE. Covington's heel persona and wrestling credentials have set up perfectly to transition into professional wrestling. He can take with him a bag of perceived grievances about how his title tilt went... 'Fake nut shot. Fake eye poke. Fake stoppage. Fake ref'. Which is ironic given that most see his antics as fake.
One thing that isn't fake is the fact that Covington and Usman can fight their asses off, and in Combat Sport that's all that really counts.