As recently re-emphasized by former New York City mayor Rudy Giuliani, he of 9/11 fame, we nowadays live in an era of Truth isn't Truth.
As most of us know, social media has vastly contributed to the sentiment of not correct news and the propagation of such.
Sadly enough, I recently got to taste a piece of that same cake. In an impersonal yet rather personal way.
But in a slightly different format.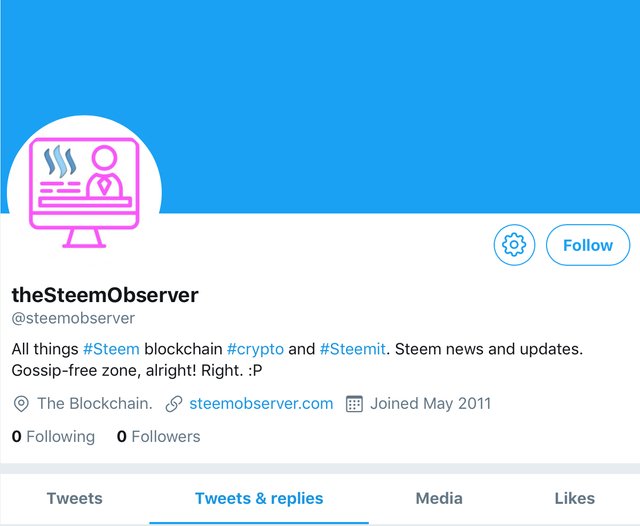 Looking at the screenshot above, I doubt there's anybody who will think that is a suspicious account. Other than the account being created in 2011, it seems to be a Twitter account for @steemobserver, a web property also based over at its own url.
Twitter Is Here to Save the Day
Alas... that is not what the algos or fact checkers over at Twitter, a centralized social media property, think.
This morning, doing my usual way too long short coffee waking session, I was checking zeh Titter for interesting Steem links. When something caught my eye, I wanted to share the link via a retweet on @steemobserver - the Twitter account that is. Much to my surprise it seemed the account had been suspended for "violating twitter policies".
Anybody who has spent some time online knows about false positives and that even the smartest algo can make an error. While still under-caffeinated, I didn't think much of it and launched a suspension appeal. After all, as far as I can recall, I don't use social media when drunk and thus it is highly unimaginable that I would have violated Twitter's guidelines.
I haven't done so with any social media account I have had (my original Twitter is more than 10 years old) and I doubt I would suddenly do anything offending online. Just a false positive, I thought and soon all will be fixed and I could retweet interesting Steem link again.
Or that's what I thought at least. Clearly I, and my brain, were massively under-caffeinated because I had misunderstood the era we live in. Something I would be reminded of few hours later only.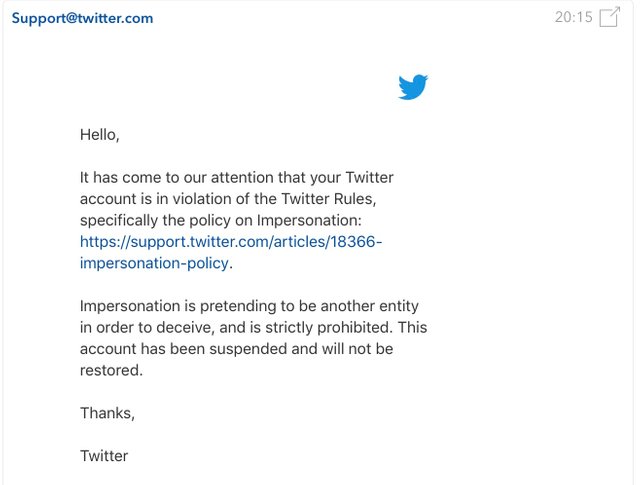 Impersonation
Definition of impersonate
impersonated; impersonating
transitive verb
: to assume or act the character of : personate
— Merriam-Webster definition of impersonate
Of course, I had to dig slightly deeper and requested more information, especially given the very arbitrary and unilateral decision of Twitter's account violation crew around this issue. Since Twitter's response merely updated me about the "crime" committed and gave no option to defend myself, let alone prove being the actual operator of the account.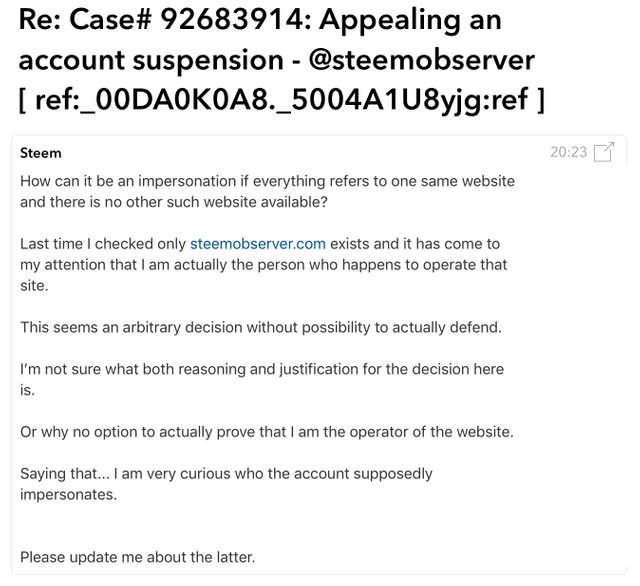 Obviously, I was intrigued who the account was supposed to impersonate. Especially given that the URL was linked in the profile, and as such, I would be the only one capable of claiming an impersonation violation expect that it wouldn't be impersonation. But more about that later.
I was surprised to now receive a reply within minutes only, compared to the several hours which went between my appeal and the initial answer from Twitter's HQ.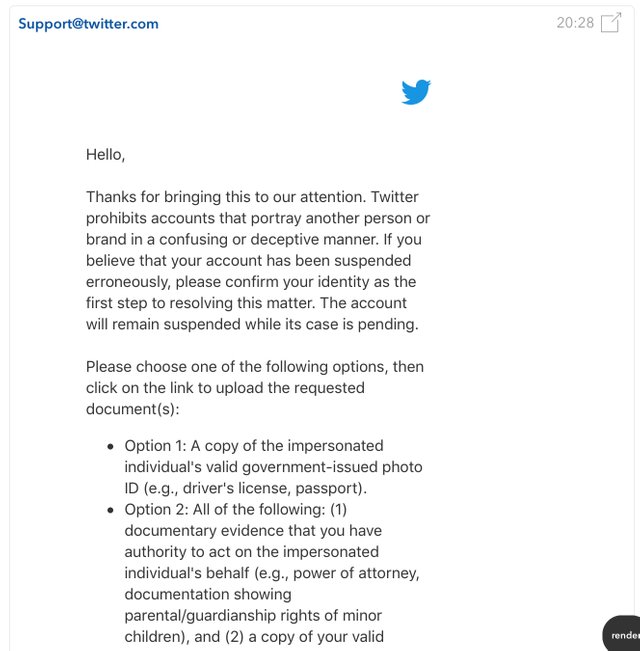 Great!
Suddenly I was given the opportunity to appeal and prove that I have the legal opportunity to actually operate under the name on my official ID and wouldn't thus be "impersonating".
Except for the little detail that there wasn't a case of impersonation because unless somebody goes through life being named steemobserver, which IMNSHO seems rather unlikely, there is no person involved here and as such no impersonation either. Nor would I thus be able to defend myself and get access to the account again because... @steemobserver is not my legal name.
No, it isn't. It truly isn't.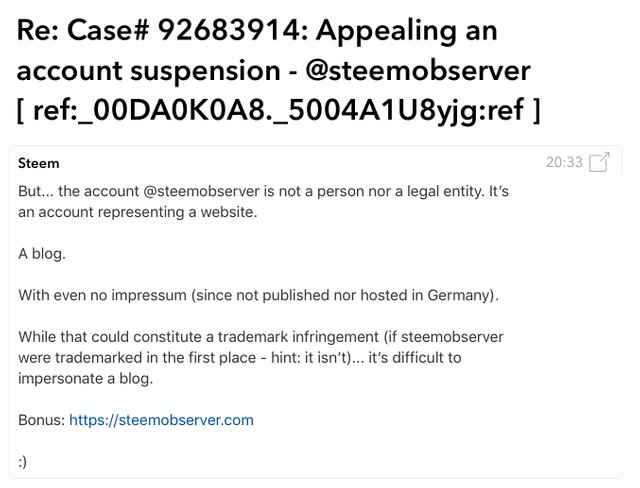 Obviously, it seemed that I had a triggered something now and the response was equally helpful.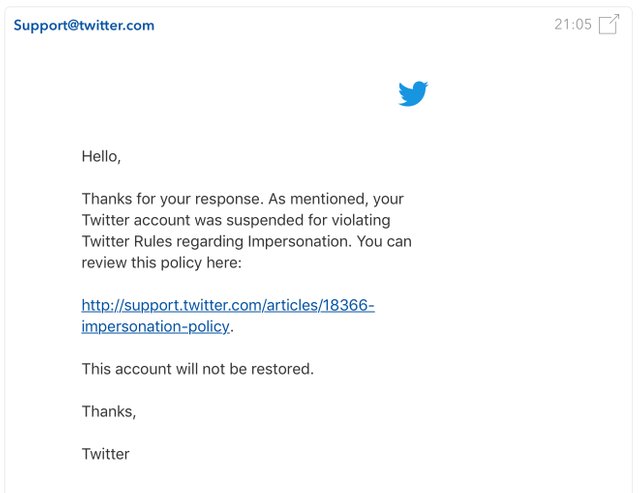 Having earlier checked Twitter's impersonation rules I was pretty sure I didn't violate them thus responded once more, yet the case was literally closed and I received an automated canned reply in response to my response. ¯_(ツ)_/¯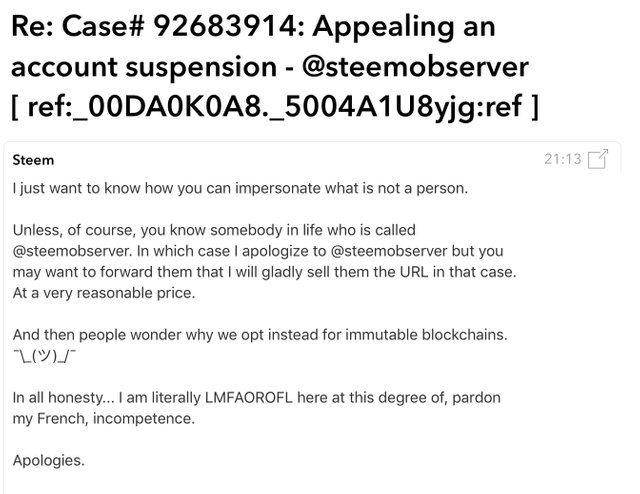 Yet another message I didn't get through.
While, obviously, when trying to promote an account - especially in the crypto niche - there are benefits from being on Twitter, the ludicrous nature of there appeal rejection begs questions.
The first question obviously being whether the responding staff actually had a look at things. Which seems rather doubtful. But maybe there is the possibility that they know somebody actually named steemobserver.
Impersonation is a violation of the Twitter Rules. Twitter accounts portraying another person in a confusing or deceptive manner may be permanently suspended under the Twitter impersonation policy.

An account will not be removed if:

The user shares your name but has no other commonalities, or
The profile clearly states it is not affiliated with or connected to any similarly-named individuals.

Accounts with similar usernames or that are similar in appearance (e.g. the same avatar image) are not automatically in violation of the impersonation policy. In order to be impersonation, the account must also portray another person in a misleading or deceptive manner.
Twitter's Impersonation Policy
Who knows, right.
Yet, the ease with which an account can be suspended despite 7 years of good standing (no strike or warning was ever given to that account) obviously shows that Twitter has issues. Nothing which we didn't know yet but the issues are real.
At the same time, anybody who has an account which doesn't reference them in name, may be left out and incapable to reclaim access to their account if their Twitter username doesn't match their ID.
Whether somebody filed a complained or whether an algo caught the account is rather irrelevant at this point, the response of the staff and their apparent inability to whether read or understand are much bigger a problem.
As most of us here on the blockchain know, Twitter isn't the only culprit when it comes to such arbitrary suspensions. Suspensions apparently without possibility to actual recourse.

I still plan to continue tweeting, from my "personal" account - at least until that one is suspended - and I accept that Twitter and Jack apply whichever rules and processes they deem fit. I, myself, reserve the right to care less about the centralized platform, now fully aware that using a nickname in similar circumstances will not allow me any opportunity to successfully appeal and regain access to my account.
Welcome to the (Steem) Blockchain
With the added bonus of potentially being rewarded (in crypto) for them spent on accounts and interaction, Jack, Mark, and Sergey may not yet accept it but unless they change tact... dinosaurs eventually were extinct and blockchain will disrupt them as too.