It was assumed that life on earth was extinct thousands of years ago, their race witnessed the destruction that occurred on the blue planet. The conditions of the planet after the meteorite were uninhabitable, the earth had ceased to be an object of interest hundreds of years before it was called Earth.
"I know it's very hurried... But I feel that I love you" - Love was a word that humans love to say, it came out of their mouths with a facility that was terrifying. As well as that boy who confessed his love to her and in his hands he tended a small open box with a ring inside.
The way she arrived at that situation would be very difficult to explain, without answering the obvious proposal she remained observing everything around her. People walked in the big hurried city, stuck in their business.
Allana could assure, if her data didn't lie to her that in that city there were the same number of people as in her planet. Only six months ago she had left Marwth to study the land, land that surprisingly had life.
In Marwth they don't waste their time in lost causes, being a small but efficient population dedicated to the study of other planets that in the future could be habitable. Until recently they believed to be the only planet with life in it, then to their surprise they had a distant neighbor where life never went extinct.
The earth.
The blue planet.
Even for the habitants of Marwth it was an enigma that this planet was habitable, especially for so many people. According to his statistics, the mere fact that there were so many species together on a planet under these conditions was incorrect.
That is why they sent her, Allana, one of the best researchers, she was trained in the different languages ​​of the earth and in different cultures. For six months she was living, as a human being more.
A luck that the habitants of Marwth didn't have so much difference in their physiognomy with respect to humans. Mixing up wasn't a problem and during that process she met Jack, a boy who helped her once she lost her way, a boy who invited her to eat and since in Marwth it is impolite to refuse an invitation she accept.
She never believed that things would reach that point, with Jack asking for his hand in marriage.
It was strange how different things developed on earth compared to on their planet. In Marwth the law stipulated a minimum of three years of courtship before asking for marriage and the wedding had to be a minimum of one year later.
In Marwth, marriages always worked, there wasn't a single case of divorce and families used to settle for just one child. In Marwth there was no overpopulation as in the land, the population was controlled like everything in Marwth
On earth everything was completely different. There was too much disorder hidden under the mask of freedom. As in the other planets that once had a population, that false freedom would bring the earth to ruin.
"So, what do you say? You accept?"- Allana fixed her view of the crowd to Jack, was good at deciphering the behavior of others so noticing the great nervousness in Jack didn't surprise her at all.
The proposal itself was what surprised her.
She never gave Jack signs of acceptance, not that she remembered. They were not even in a dating relationship for him to consider that she would accept it.
If She were in Marwth things would be completely different, not only for the time of engagement but the simple proposal. In Marwth it would be with a crown made of the most beautiful stones extracted from the mines by the same fiancé in front of his relatives in a formal meeting.
Not with a ring bought in any store and in an outdoor cafe in front of all the people. The people around her began to see her surprised because she didn't respond.
The situation was completely absurd.
That same morning Allana had been notified that she should return to her planet. She was happy to return home, but there was a feeling that she couldn't decipher that didn't let her enjoy the whole news.
"I'll have to reject your proposal" - People around him were surprised and some mocked. Jack only saw her incredulous.
*"But I love you" - His voice sounded in a thread of voice.
"Your feelings are not reciprocated" - The silence in the place was clearly uncomfortable, people seemed disgusted by the sincerity of Allana.
Already tired Allana retired and without looking back she continued her way to her place of residence.
That would be her last day on earth, she would return to Marwth that same night.
The strange feeling was still there and seeing the people without worries of the earth discovered that it was.
The secret of the long life in Marwth was because there was a paranoia to finish how those planets that have long since ceased to exist, to be forgotten in time.
That's why in Marwth they studied the other planets to not end up like that.
The earth had its days numbered, there were earthquakes, tsunamis, avalanches, volcanic eruptions and other natural disasters. That was an indisputable warning of what was coming, even though the terrestrials didn't seem to care much, they continued their life as if nothing had happened.
Allana would leave that night and leave behind a planet that would soon cease to exist, all confirmed by her data.
But who knows, the land had been thousands of years as unfit for life, and during those years there was life to this day.
Maybe for many years it would continue like this, maybe that's how humans were, they lived as long as they could and then they continued to live, day after day, without counting what would come in the future, just living.
With a smile Allana wished the best to humanity, in spite of the disorder in which they lived, they deserved to be happy the time they had left.
No doubt Allana would make sure that the earth was remembered.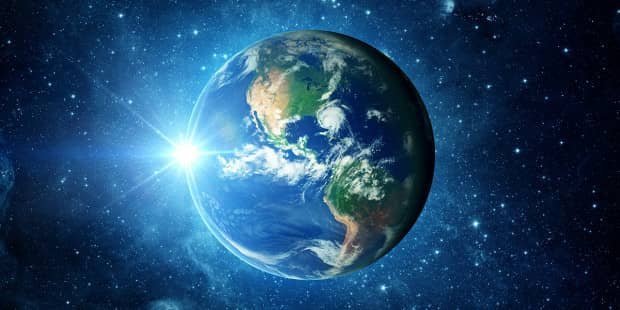 I'm back for that time out xD i hate the internet of my country e.e, well... This is for the #twentyfourhourshortstory contest uwu have a nice day <3
https://steemit.com/twentyfourhourshortstory/@mctiller/writers-win-5-steem-september-11-twenty-four-hour-short-story-contest-people-on-another-people-discover-earth-holds-life