Last week we looked at links coming into your page, today we'll take a look at the links ON your page. The onpage links are like the red-headed stepchild of SEO, ignored and often forgotten. Yet they are very important to ranking and Google Bots pay attention to them, even if site owners often forget them.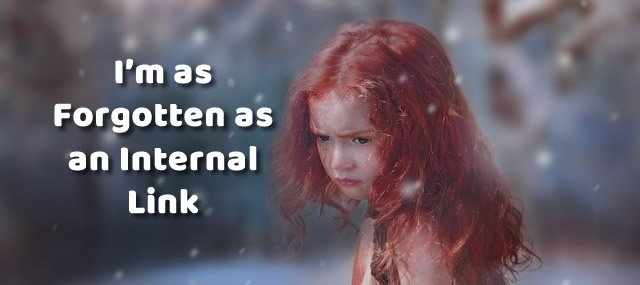 Courtesy of Pixabay

There are two types of on page links, those that go to other sites - called
outbound links
, and those that go to other parts of your site, usually called
internal links
.
Now if you're on Steemit or Blogger or Wordpress.com you may not think links to other parts of the Steemit or Blogger or the Wordpress site matter. After all, you don't run that site, right? But internal links are important in ranking whether they are on your website or a page on someone else's. They help the ranking of your page and the site itself. So if we want to get more people finding (and joining) Steemit, we want our content to rank high on the SERPs so it is found and followed.
Here's where you want to use internal linking.
On your navigation menu wherever possible. If you have a menu link for Blog, use keyterms as submenu links to categorize your content.
On Category titles - use in the same way as the menu links
In articles - link to other articles or locations in your site
In TITLES - especially if they are setup as part of the url link
On image captions - drop an anchored (text link) to a category or article - don't just use "click here" use the keyword in the text of the caption
Don't use a lazy menu link if you can use a keyword link instead. In other words don't just drop in About Us, (yawn) use something like Our Travel Experts.


You can see that Steemit has a built in internal linking system. When you tag your post, which you have to do before you can post, it is good practice to use one of the tags that is on the "hot" or "trending" list that Steemit has set up. Those tags become a sort of category and those categories are internal links. Thus, Steemit has built-in keyword rich internal links with fresh content being posted every day that use those links. This sends a super strong signal to the crawling Google bots that this site - Steemit.com - has good content and a lot of it for specific keyterms.
The second type of internal link are the ones you put in your blog text. When you include a link to any page - whether it's on or off your site, that becomes an internal link that passes authority from the page it's on (your blog post) to the page it links to.
Ranking is not just site-wide. Individual pages carry their own ranking. Page rank of individual pages helps the website's overall ranking in the SERPs.
For example - If you have a game review that gets a lot of attention from social media and search results, and you have a link on that review post that goes to the description of that game on the game dev's website, that game description page will get a boost from your link that will contribute to the overall website ranking for the game.
You can also use internal links to reference other parts of your own website - linking to other content pages. Here on Steemit, referencing other blog posts, your own or those created by others, helps both the linked to page and Steemit as a whole. That gives more points of entry for the linked to page. Not only can it be found in a Google search, and by an internal site search, but it can be found from other pages within the website itself.
Here's how a typical internal linking structure might look: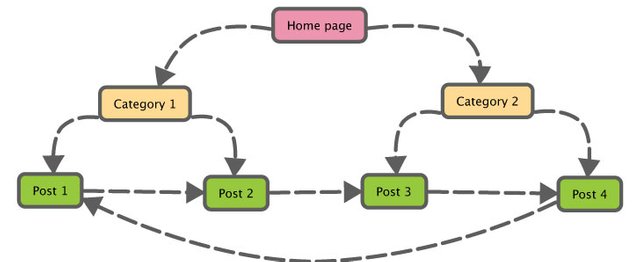 When readers click on that link in your blog post, this tells the Google Bot - "Hey this is an important page with good information on this topic" and the algorithms begin to rank that linked to page higher in the SERPs.
Here are a few things to avoid when you are doing links
Broken links - this is the most common mistake made on linking. TEST YOUR LINKS before you go live with the page.
Too many internal links - you need to use internal links because Google pays attention to them, but DON'T SPAM.
Not using anchored links - use your keywords whenever possible as a text (anchored) link.
Linking to a page taht uses a redirect - Google frowns on this, especially if the redirect is permanent or pops to more than one redirected page. Scammy, spammy sites will have a page that redirects to another page, and that page will redirect to yet a third page, and so on. This is a signal to the Google Bot that the page being linked to is probably on an unsafe website. CHECK YOUR LINKS before making your page live.
Google pays a lot more attention to internal links than you may have thought, and you need to use them wherever possible without spamming them or using them where it isn't natural to use them.
If you are doing a resource page - which naturally will have many outbound links, don't just list those links, include a short paragraph about the linked site. In other words, balance your outbound link to text ratio. You won't be punished for a resource page that's only a list of urls, but you will do your website more good if you have a good text to link ratio.
In our next article in this series we'll take a look at how to improve rankings using social media and video sites.
Previous SEO Articles in This Series
The Myth and Magic of SEO
The Marketing Mindset
Keywords - Part 1
Keywords - Part 2
Keywords - Part 3
Keywords - Part 4
Backlinks
Why Am I Writing This Stuff and How Will It Help Steem and Steemit?
I've been helping clients reach good rankings and teaching SEO for more years than I care to think about. Some of you may have taken part in Discord workshops and tutorial sessions I've had with various groups here on Steem. Because the blockchain is based on transparency and openness, it's time to bring that training out from the private Discord groups for everyone on Steemit.
If we want Steem and Steemit to grow, we need to be able to compete for eyeballs on the traditional net in an effective manner. Thus, we need to know and understand SEO because it is the primary mover behind getting those eyeballs on our content. By breaking down SEO into manageable chunks of information, I'm hoping everyone reading these articles will be able to improve their own rankings and turn more conventional net people into Steemians.