How to Exchange JPY ¥ to STEEM & vice versa 🎌💴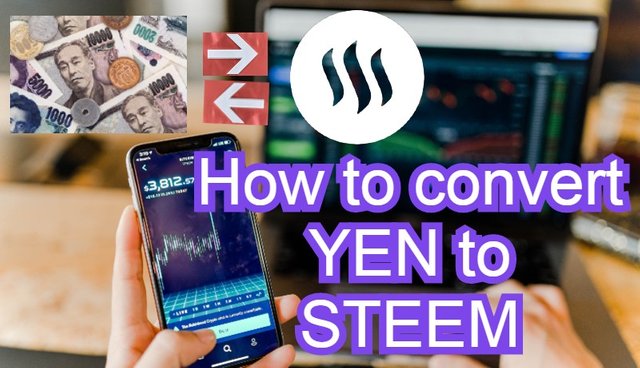 I'm writing this post on how I convert my FIAT Cash Japanese Yen ¥, into a STEEM token and send it to my steemit wallet and then power it up to make my upvote/curation worth more and get more curation rewards on Steem Blockchain. This post also to answer an inquiry on "How to withdraw steem to yen" from my fellow steemian from Japan @abbey701
Usually, I will cash out my JPY FIAT and deposit into my SEVEN Bank account through local seven eleven ATM machine.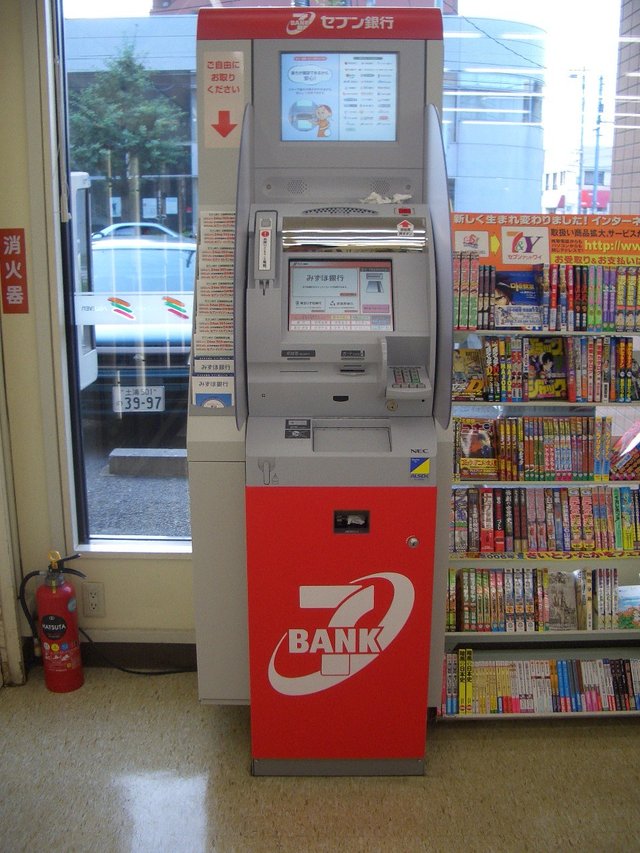 photo source
This is how the ATM look inside the 7-11 convenience store.
I use SEVEN bank account to deposit my JPY FIAT money into my bitflyer account. You can use your other bank account too, I use SEVEN Bank because this is the only bank account that uses my name as in my Resident Card, the other bank accounts are using my children's fathers' surname. Bitflyer requires the bank account must be registered under the same name and address as the registered bitflyer account holder. I have registered a bitflyer account using my own family surname so I have to use a bank account that uses my own name and family surname and that is only my SEVEN bank account. I wish I had registered all my bank accounts here in Japan with my own name last time because of this.
Then after depositing my Yen into my Bitflyer account which usually appears on my Bitflyer account a few minutes later, I exchange my Japanese Yen for a LISK coin. Why did I choose the LISK coin? When you transfer your coin to another exchange they will charge you some fees, currently on bitflyer, LISK transfer fees is 0.1 LISK. Second is the difference of price/spread between buy price and sell price(bid&ask spread) is the lowest for LISK.
I just noticed at this time of writing when I logged into my bitflyer account, they have listed a new coin, XLM/Stellar Lumens coin on bitflyer. The ask&bid spread for this XLM is the lowest and the transfer fees are free. XLM is currently the perfect coin to move your money into other exchanges. Bitflyer has not yet listed STEEM on their market so we cannot buy STEEM on bitflyer, we will have to go to other exchanges that list STEEM on their market, such as Binance, Poloniex and Bittrex.
Look at how much big differences between ask/bid on BTC here 😳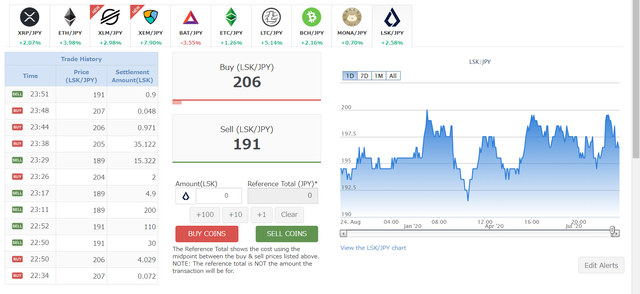 LISK coin spread was 15yen at this time of screenshot, but I'm cheapskate, I will go for the lowest spread and transfers' fees available😄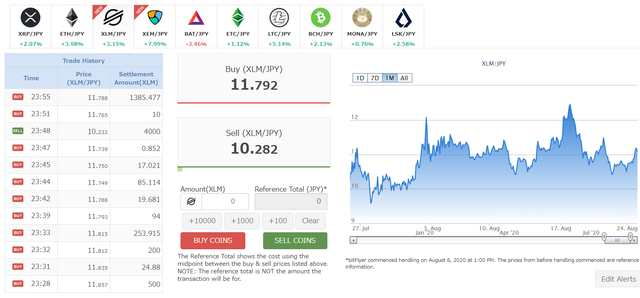 Look at this XLM coin the spread was only 1yen!! This is perfect also the transfer fees is FREE 😃jackppot!
I will then transfer my XLM to Binance from my bitflyer wallet. You will have to register binance account in order to get the address wallet for XLM in Binance exchange. Since only STEEM/BTC trading pair listed on Binance, I will convert my XLM coin to BTC by selling my XLM for BTC. I will submit sell order and get BTC so I can buy STEEM with this BTC I got from selling XLM earlier.
After buying STEEM with BTC, I then have a STEEM token now on my Binance exchange wallet. Now I want to move this STEEM token to my steemit account wallet. I will withdraw and follow all the instruction on the withdrawal process such as putting memo if required/usually I don't put memo as its not necessary, the memo only necessary if you want to withdraw STEEM token from your steemit wallet and deposit into any exchange wallet, and my steemit account wallet address which is my steemit account name cryptokannon without the @.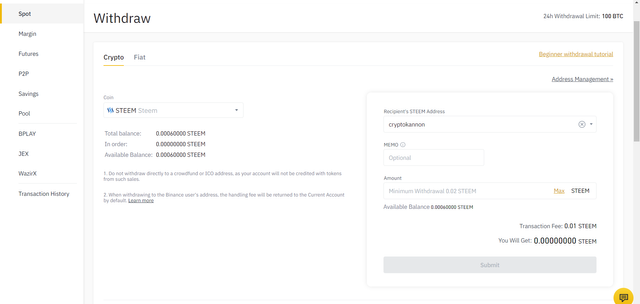 Binance withdraw page for STEEM token
Usually after a few minutes, you will receive your STEEM token in your steemit wallet. Then you may proceed to this post on how to Power up your steem to steem power, so you can have more curation rewards through your upvote.
For STEEM withdrawal
This is easy, go to your wallet section and click on the steem and select the transfer at the dropdown menu. Follow the instruction on deposit process of your exchanges that you want to use to deposit your steem, for example if you use Binance exchange, select STEEM token and this time select for deposit and follow the instruction of putting the memo and correct account name for transfer the STEEM to your binance wallet.
Next is just do the reversal of the above process. Sell your STEEM to BTC then buy XLM with the BTC you sell earlier if you want to cash out your STEEM to JPY, then transfer your XLM to Bitflyer exchange or any other local Japan Crypto Exchange, make sure you have the correct address for deposit your XLM at your Bitflyer exchange wallet. Once your XLM is deposited into your exchange wallet then you can sell this XLM coin into JPY. The last procedure is to withdraw that JPY into your local bank account, and just follow the instruction of your exchange on how to withdraw. Note there is withdrawal fees of 220yen-770yen depending on the total amount of your withdrawal.
I hope this post helpful to you steemian who are currently steeming from Japan. There are many other ways too to do the withdrawal. For example you can skip many of the step above if you use @swap.app to transfer your STEEM as BTC and receive it in your Japan exchange wallet. Then you only have to exchange the BTC to JPY and do the withdrawal as usual. Note that this https://swap-app.app/ service charge you 0.0003BTC/364 JPY per transaction.
Another way is we can do peer to peer transaction. Meaning, if you trust me, and you don't mind revealing your true identity to me, you can just transfer your STEEM token to me and I will transfer you the Japanese Yen equivalent to the value of STEEM token that you selling/exchange with me into your bank account. We can use Coinmarketcap site as a reference for current STEEM token value at the market.


To other steemian from Japan, do you have other better way on how to do exchange your JPY to Steem and vice versa? Please share with us in the comment section 😊