Exodus 1.60.0: A Wild Tron Mainnet Approaches!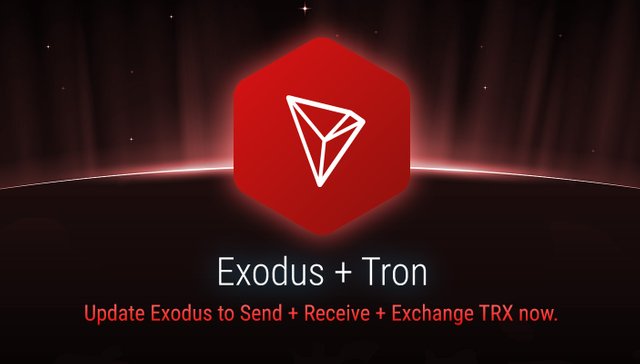 EOS, Tron, ICON, VeChain - the number of assets transitioning from ERC20 tokens running atop Ethereum to mainnets with their own blockchain are accelerating at a blistering pace. As all of these assets are effectively brand new coins, we at Exodus have to evaluate each mainnet coin on its own merit and put our asset integration engineers to the task of building out the infrastructure to keep these coins running smoothly for all Exodians.
And it's been no easy task.
Exodus, however, has never been a wallet to shy away from such trials! We're happy to announce that one of these mainnet coins is re-joining the Exodus Movement in Version 1.60.0, and we can assure you that it won't be the last.
We've also brought a new coin to our Ethereum Assets menu in this release - one that has been long requested by our users - that we hope will usher in a new era of stability for die-hard fans of our wallet.
No Exodus release, however, would be complete merely with new assets! We've squashed a few bugs in Version 1.60.0 and pulled out the proverbial dust pan for some late Summer cleaning on Ethereum and ERC20 tokens that we hope will help keep balances tidy going forward. Read further to get the full scoop on the latest and greatest Exodus release!
Mainnet Tron: The Legacy Returns
On June 24th of 2018, the Tron Foundation began the process of transitioning its ERC20 token to a mainnet all its own. It's been a long time coming, but we're pleased to reveal that mainnet TRX is now a first-class, fully-exchangeable asset in Exodus!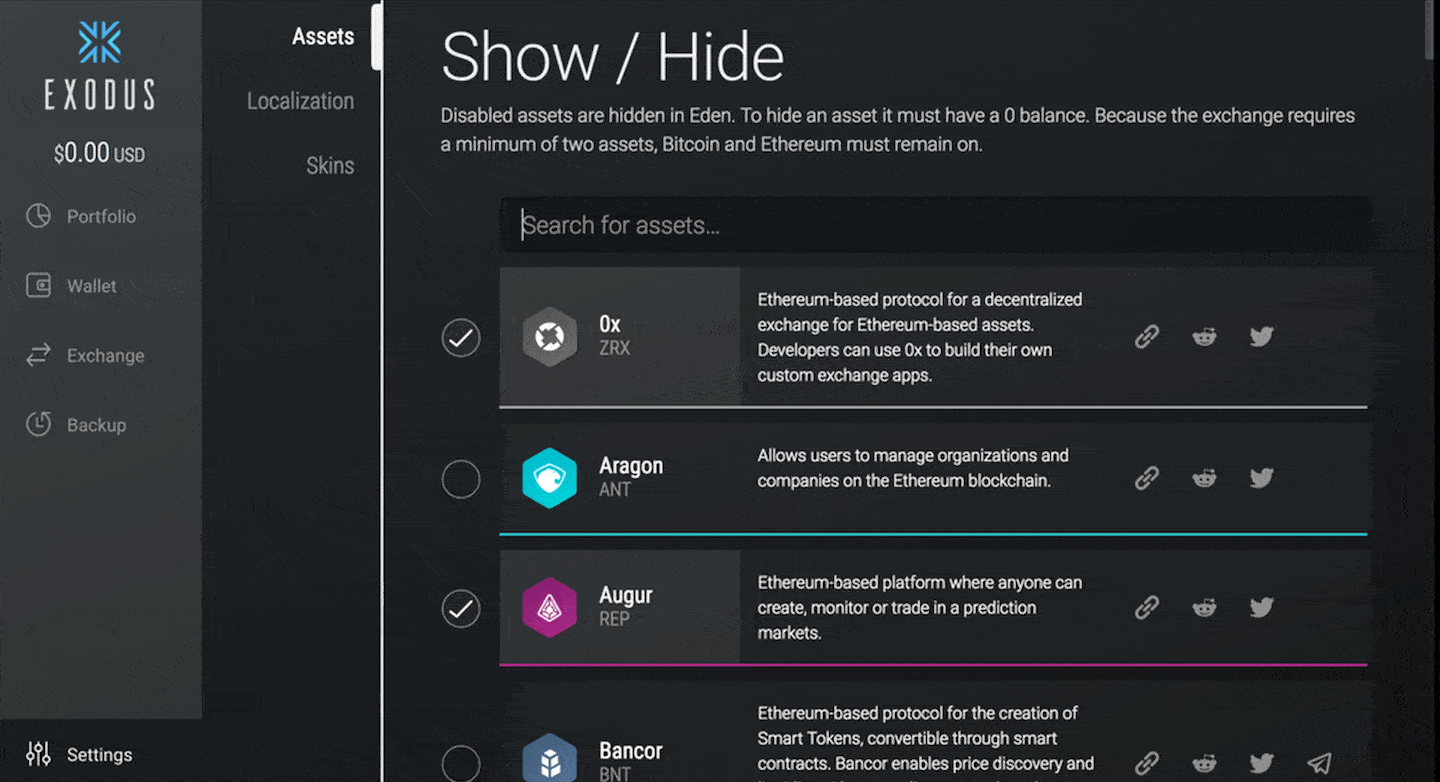 From its roots in pioneering the airdropped token model as an alternative to ICOs, the Tron Foundation has never shied away from bombast and its mainnet launch was no different.
For all TRX holders storing coins on centralized exchanges with no private key ownership, we're happy to offer an alternative in storing (and swapping) your coins while maintaining your financial sovereignty.
Still have some ERC20 Tron lingering in your Exodus wallet? It's not too late to swap them! Take a look at this handy guide that'll walk you through the process.
ERC20 Tether: The De Facto Stablecoin, Now in Exodus
Tether is by no means the first stablecoin to make its way into Exodus. DAI, the smart contract-based, dollar-pegged coin, has been a part of the unexchangeable Ethereum Assets section since April 12th of 2018. TrueUSD, a fully-exchangeable USD stablecoin, has likewise been available in Exodus since August 16th of this year.
But neither of these coins possess the sheer volume of the original stablecoin, Tether (USDT):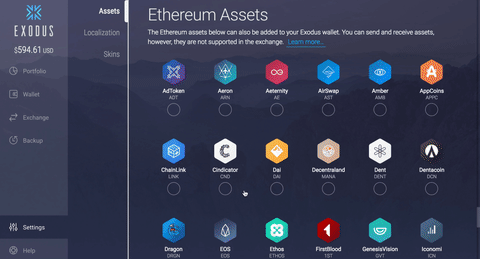 Exodus users looking to get exposure to the US Dollar directly in their wallet now have a bevy of options for doing so! Being a part of our unexchangeable Ethereum Assets section, Tether cannot be swapped using the Exchange tab of Exodus - yet. For the time being, day traders and frequent swappers may still be better off using TrueUSD as the most frictionless stablecoin in Exodus.
As freedom of choice is a staple of the Exodus ethos, however, we're thrilled to be able to offer so many stablecoin options in a single wallet.
ETH and ERC20 Dust: Now in the Dustbin of Exodus History
Have you ever made a Max exchange in your Exodus wallet with Ethereum or an ERC20 asset, only to find fractions of a coin were left over? Or perhaps you made that one transaction that nearly emptied your wallet, but not quite? Previously, this would leave your wallet with a minute balance too small even to cover transaction fees (known as dust in crypto lingo).
If you're the type who doesn't want this dust balance interfering with your svelte asset wheel, fret no more! You can now safely disable dust balances in Exodus should you choose to do so: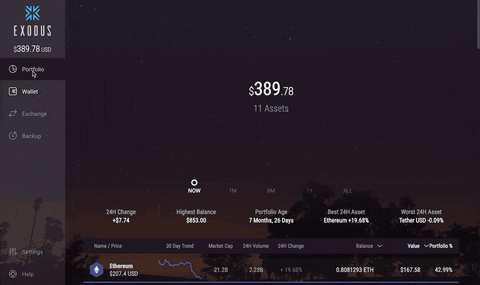 Too Many Inputs? We'll Let You Know!
The wondrous ways our customers find bugs for us to expunge never ceases to amaze, and this one was particularly obscure!
Some Exodus users took unspent and joined transactions in UTXO assets to a new extreme - if you attempt to send a transaction that has more than 50 inputs, our poor Insight servers just won't know what to do! Luckily, this is an easy fix - sending the transactions in a couple smaller outputs should fix it right up for 'ya.
However, Exodus did an admittedly poor job letting users know what was going on with this error in the past. Thankfully, we have a fancy new error message to give you a heads-up whenever this occurs going forward. Rejoice!
In Closing
With that, dear Exodians, we bid you ado until September 27th when we'll be back with yet another riveting edition of our extended release notes, and of course, a new version of Exodus to talk about! We hope you enjoyed reading this as much as we enjoyed creating it for you. Any upvotes, comments, or resteems from our beloved users are greatly appreciated! We always love interacting with our fellow Steemit brethren.

Please reserve the comments section for lively and honest discussion about the article! If you have technical issues with Exodus, our Community Support team will be happy to speedily assist you if you send a descriptive email to: [email protected]
This post first appeared on Steemit as an exclusive article but was also reblogged on the Exodus Movement Medium page. We give the <3 to our fellow Steemians first and foremost, but this article may appear elsewhere after its initial publication.