Hand tools.. thousands of years of innovation, or... just a bent piece of wire??
I'm not gonna lie... When I noticed today that @offgrid-online is hosting a "What are your all time favorite hand tools and why?" contest, I got really excited. I love tools and any excuse to talk about them is fine with me.
Many times when we begin to consider technology, we think immediately of highly complex devices designed to perform complicated tasks. And why not? These devices are astounding in their functionality and have become huge parts of our daily lives.
But isn't there also something profoundly beautiful about a technology that has become simpler and simpler through the passing of the generations? I'm talking technologies that have refined themselves, through countless thousands of hours of use, to transfer as much force as possible from the worker to the workpiece.
I find that idea endlessly fascinating and I tend to zone out into how much I love hand tools. They are effective and relatively inexpensive, and best of all, you never need to plug them in. Often times they are much better at performing certain tasks than their contemporary, slap-an-engine-on-it counterparts, yet they cost very little to maintain and don't rely on any toxic fossil fuels to operate.
There are many hand tools that I use and appreciate, but these are three of my favorites right now:
1. The Broadfork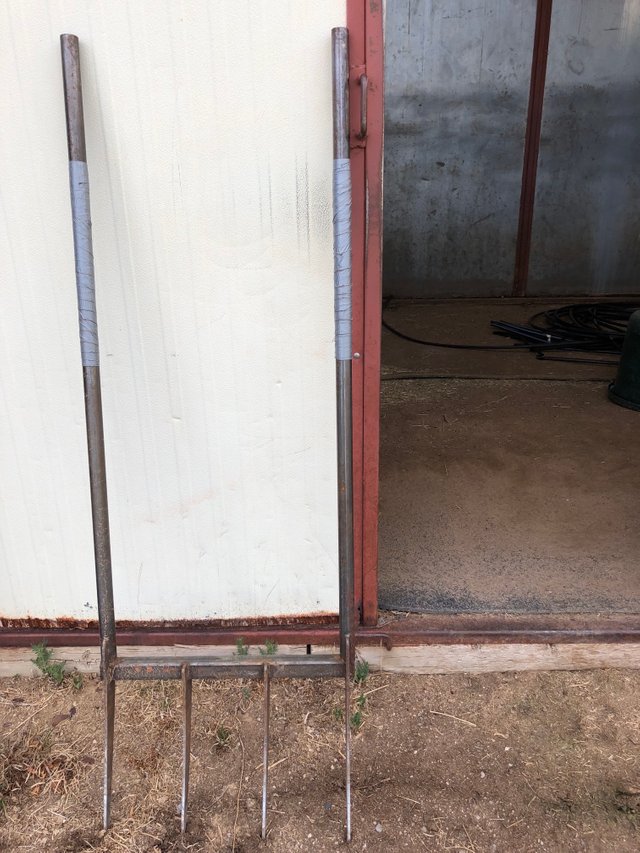 This particular broadfork is solid steel and very heavy duty. These aren't needed for most soil types, but we have some special soil in New Mexico...


If you've ever used a broad fork, you know how amazing they are. Through simple action, you can bury the tines deep into the soil. Then, by using your body weight to lean back, you lift the soil up, effectively aerating it and allowing water, microbes, and insect life to penetrate deeper into the ground. By repeatedly broad forking soil that has a healthy soil-food-web, you can continue to create high carbon top soil even while crops are growing in it! By this I mean the microbial life digests insoluble minerals in the soil and converts them to compounds that your plants roots can absorb, and then larger critters eat the microbes and produce castings which help build up carbon and restore the texture of the soil.
So with one motion you are simultaneously aerating your soil and improving fertility. It doesn't get much better than that, folks....
My garden is pretty new and the soil is fairly compacted.. hoping to fix this by next season!
2. Stirrup hoe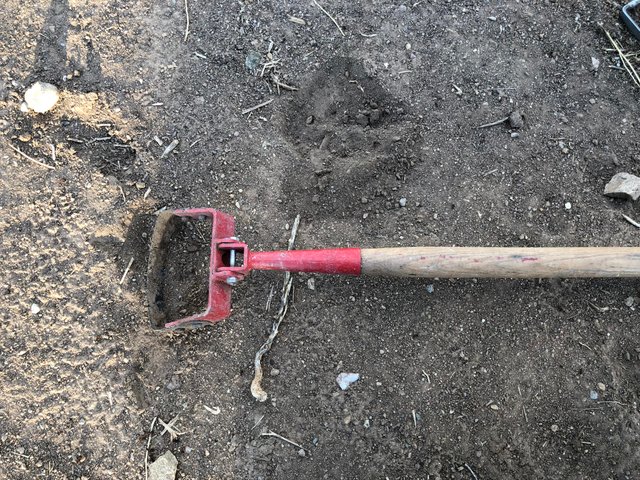 This tool has a pivoting head with a double sides blade that is about 1" thick and wraps up both sides of the tool. It makes quick work of most annual weeds. I use it all the time! It also works great to remove crop debris and smooth a bed out before planting.
3. And finally, a garden staple.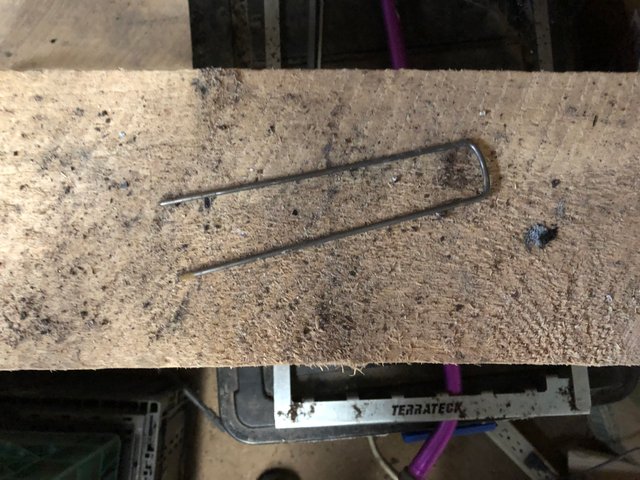 Yep.. this staple is about 6" long and 1" wide. I use it for many different things. For example with irrigation line I use two and loop the line through like a belt buckle, so I can pull the lines tight and they hold in place well (I don't have a picture of that). I also use it just as ... well, a garden staple. And then there is this:
Going back to my point about simplicity... That's why I really like the garden staple.. I mean, after all, it's just a bent piece of wire. Yet it is super useful for so many things. If only everything in life could be as simple as a garden staple. If only....
Thanks for reading this post... And if you like it, please resteem, upvote, or comment below!