Grow food in ALL seasons: A simple and FAST way to build rowcover and shade for your garden!
Rowcovers are an amazing addition to any size garden. You can use them for so many different things! For instance, you can cover your crops and help them extend further into the fall and even winter months. You can also use them for insect protection, moisture retention, and shade from the hot sun. They really are the best and key to having a healthy and productive garden.
This year I moved my market garden to a new location outside of Arroyo Seco, NM. So on top of normal farm operations, I've been doing lots of infrastructure work, like building a greenhouse, building all the beds, building shelves and storage, fixing the tractor, fixing trucks, etc etc... you get the idea.
This year it has become hot out much faster than normal. Since the sun is so bright and UV so damaging up here at 8000 feet, I came to the realization that I needed to find a way to shade most of my garden and I needed it to happen FAST!
My new garden is about 2000 "bed feet" so far, which means... 2000 feet of 30" wide raised beds. My old garden was 500 bed feet. Last year I built hoops for my old garden out of 1/2" conduit and hammered 18" rebar into the ground to hold them in place. Check it out: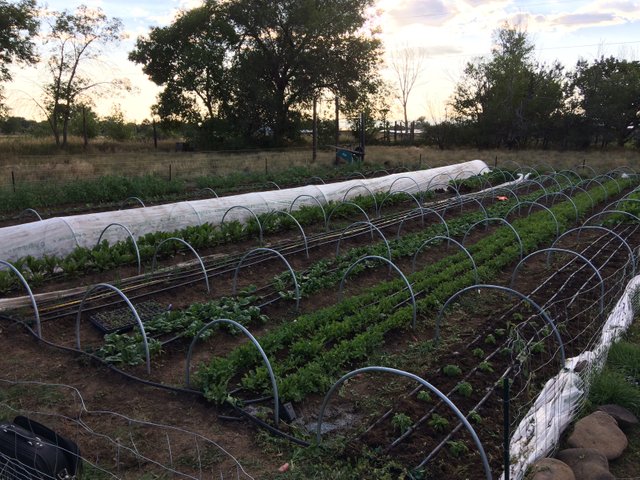 It worked great, but this year, my issue was that I didn't have money or time to setup my hoop infrastructure for 2000' and get shade on all my plants. All the bending and hammering was just out of the question, and I don't have the budget to buy the steel right now anyway. But, I had to somehow make it happen. Necessity really is the mother of invention!
So this is my solution: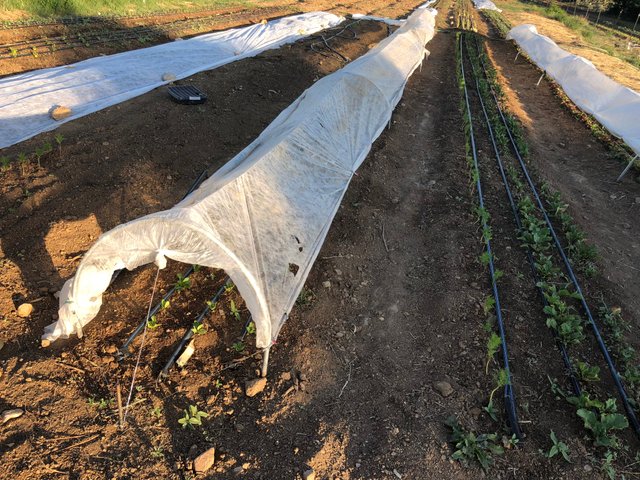 Instead of using a hoop every 5 feet or so, here I am using one every 12.5 feet. A 50' bed takes 5 hoops total.I am still hammering 18" sections of rebar into the ground to hold the first and last hoops in place. Then, I am running electric fence wire the full length of the bed like so: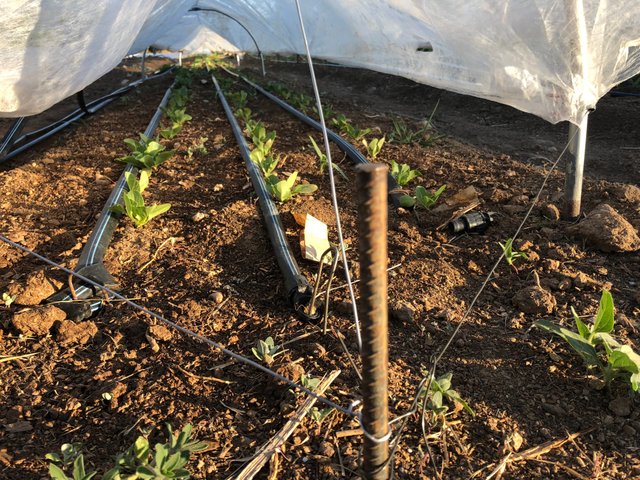 The central hoops just stay in place from the tension, so NO HAMMERING REBAR for the central hoops, or removing it later, which is very tedious especially with our soil type here. On 100' beds I hammer rebar at the 50' mark for stability.
For shade I am using Agribon 19 row cover. It is 10' wide. That way, I can have 19% light reduction, or double it to get 38% reduction. I clip the Agribon to the wires with little clamps I bought cheap online: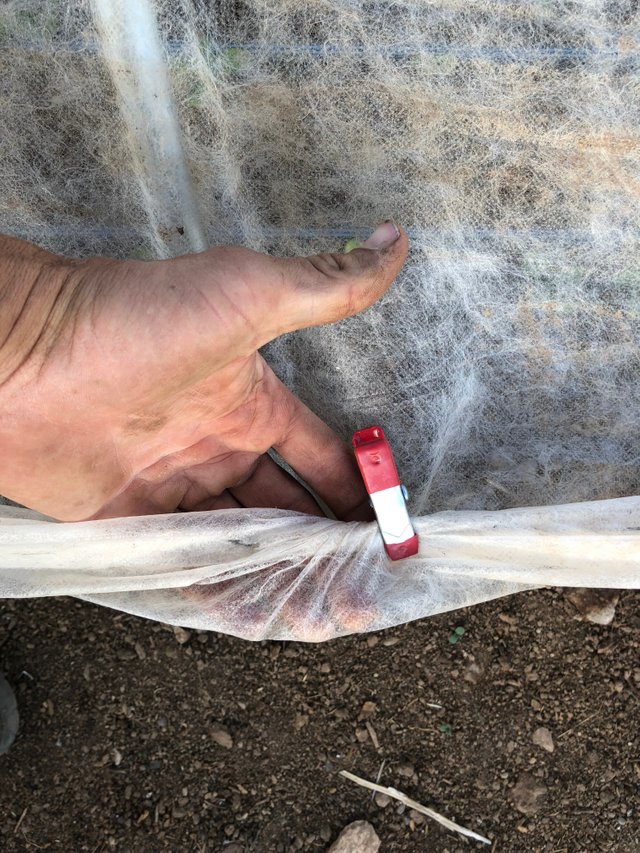 I didn't take a picture, but I use a small piece of duct tape to hold the upper, central wire in place across all the hoops.
And that's pretty much it! This setup was quick and cheap. Instead of EMT conduit for the hoops, you can use PVC or PEX pipe. I prefer the metal but you do need a bending jig to get the shape right (a piece of plywood with pieces of wood screwed to it to bend across works well). If you use PVC or PEX, you will have to drive rebar for all the hoops so they hold their shape.
This setup seems to hold up quite well in the wind. The tension from the fence wire holds everything down nicely. We've had some pretty damn windy days in the past week and everything has held tight. The wind is blowing strong as I type this, actually.
Another great advantage to this system is you can very easily adjust the lower wires. So you can set it up for shade, like I have in the pictures, OR, you can set it up to cover and protect the crops from wind and cold, without needing nearly as many stakes or staples in the ground. And no rocks either! It's much more efficient. I even will roll them around the work with the sun on particularly hot days.
So, because of the reduction of materials used, and the energy transfer of the wires holding tension on everything, I was able to make those 500' worth of hoops almost stretch the full 2000' of my garden! Pretty cool.
If you have a home garden or commercial market garden, I hope this technique can be of some help to you. And, if you enjoyed reading this, please upvote, resteem, or leave me a comment below!
Thanks!