Anarchy | Empowerment & Freedom Through Off-Grid Living & Permaculture [TribeSteemUp Question]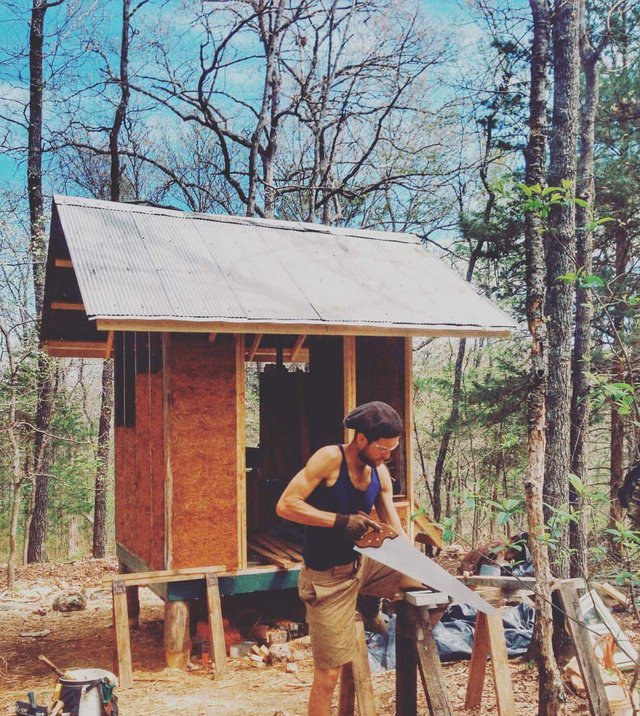 What Does Anarchy Mean to You?
In pondering this biweekly @tribesteemup question, I considered all the ways I make choices in my lifestyle that support values such as freedom, autonomy, sovereignty, justice and equality. These values are not a philosophy, but a lived reality. I don't mean to say I uphold these 100%, but that the drive behind much of what I do and how I live is fed by a desire to act in accordance with these universal values.
Photo of me building a composting toilet out of natural and salvaged materials with hand tools. This is before we had set up our solar system.
---
Anarchy for me is about personal orientation.
It's about how I relate to the world, how I show up and what approach I take with life.
What I choose to spend my time and energy on.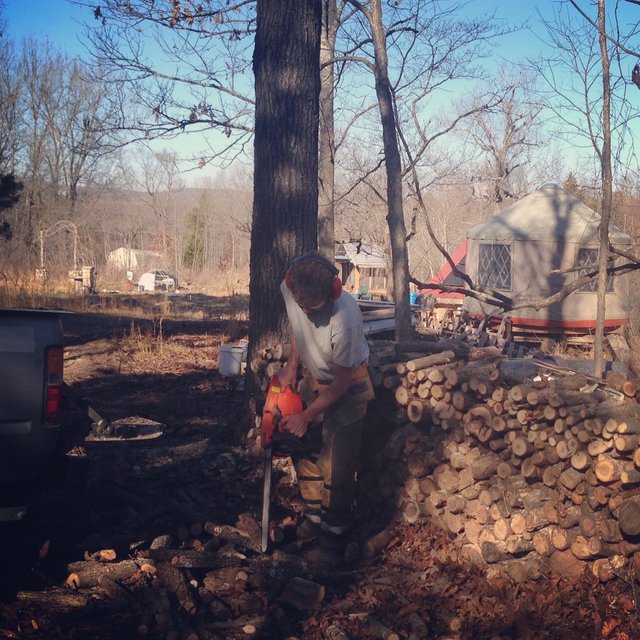 Cutting firewood on our homestead. When we take care of our own needs and relate with the land in sustainable ways, we are less likely to be dependent= controlled by outside forces.
This has manifested itself as a land based life as my partner Wren and I homestead 18 acres in southern Missouri. We live off grid where we grow food, practice herbalism and employ many natural building and permaculture techniques and design strategies. For me anarchy is about listening to the inner voice that guides me and connects me directly to Source without need of a centralized system or cultural framework for how I should live.
Anarchy is the desire and resulting actions to live out my full potential as a human unfettered by limits, constraints or boundaries. The desire to be free and sovereign individual leads me to grow food and medicine and directly work toward meeting my own needs rather than work to pay for things I need.
This is the best approach I've found that makes any sense for living my life fully and freely.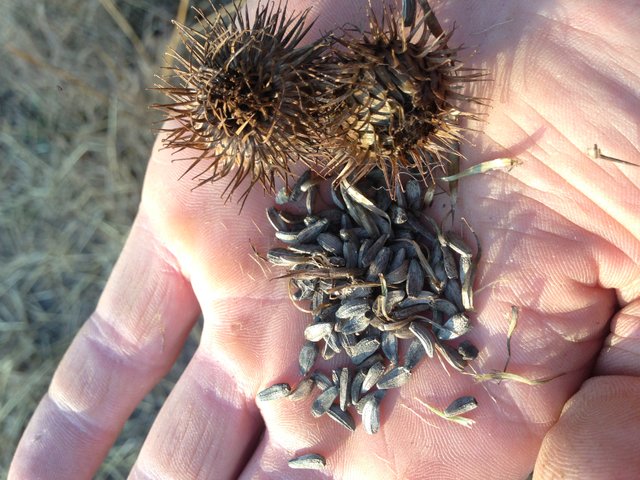 Saved Japanese Burdock seeds. Seed saving is an act of empowerment and resistance. If we have the seeds, we can grow and share food (and seeds) and live out our innate freedom as humans on this beautiful abundant earth.
---
Anarchy is all about connection. To place, to self, to needs, to values and most of all to FREEDOM. I see anarchy manifesting in many ways for different people in different situations, but I have chosen to remember my core essence as an Earth being and literally radicalized my life by returning to the root.
---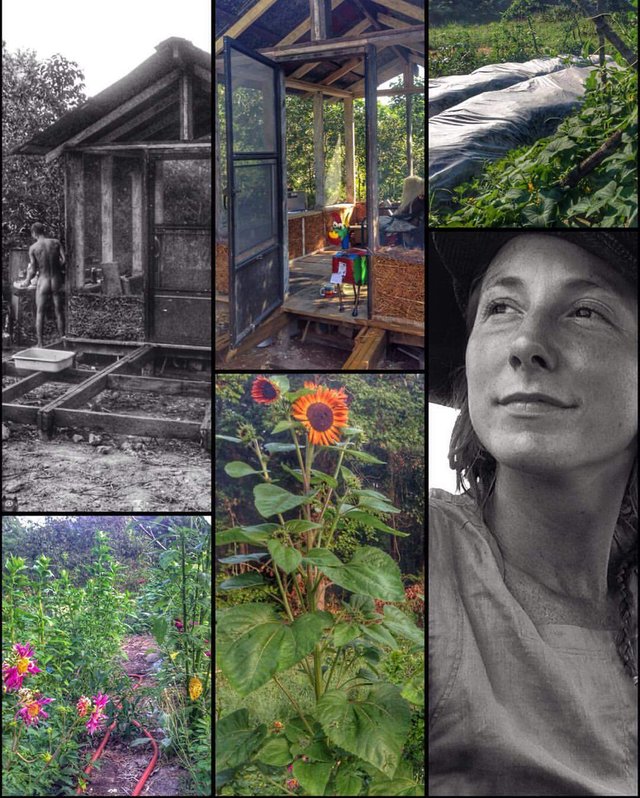 Homestead after our first year on the land. Gazebo in process. Food growing, Butts showing!
Anarchy is an individual choice
Because anarchy is a peronsal orientation, I cannot begin to define it for others.
I do know that for me it means living a life I can really believe in. A life where I can make my own choices, co-create the reality I want and live as a sovereign human.
Even the term anarchy is a response to that which is oppressive, centralized and controlled. We as individuals can choose to participate and uphold a current centralized model of oppression in the social structure or not. Not choosing to participate in it is not often presented as an option, nor are the skills easily learned in school. After all the school system is a great way to condition the masses to a conforming standard.
The core message is one of responsibility where individuals take control over varying aspects of their life and make choices accordingly.
---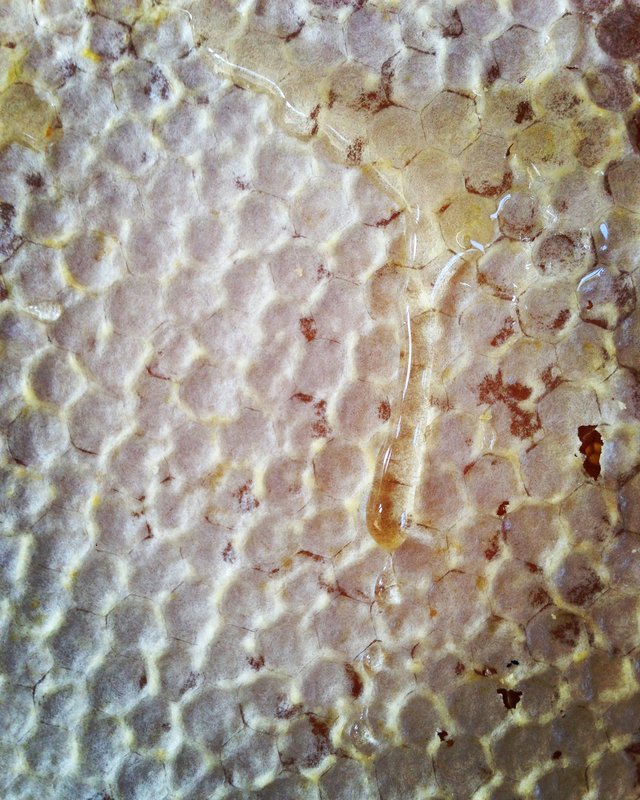 Honey from bees on our homestead. Aligning with natural forces.
Homesteading and creating abundance through diversity are two ways I live out anarchy.
By living in this way, I am working to decrease my reliance on systems that do not support freedom or equality and increasing my dependence on natural cycles, patterns and decentralized community structure.
I am grateful to have been raised in a diverse city and had access to public healthcare, education, sanitization. I know how easy it is to go along with "the way things are", but I've peeked behind the curtain and am not happy about what I've seen.
In unpacking the food system, I've learned about the damaging practices and unequal distribution of wealth and power.
In looking at ecology, I've seen that the most heinous and destructive practices or policies are choices made by centralized institutions. I've seen vast inequities and met folks trapped in cycles of debt. This awareness as well as years of experience has taught me that the way I want to live out anarchy is by living with the land and working towards meeting my own needs as much as possible.
This doesn't mean doing it all or doing it alone, but one key factors is decreasing reliance on the centralized grid of politics, social order, energy, laws and medicine.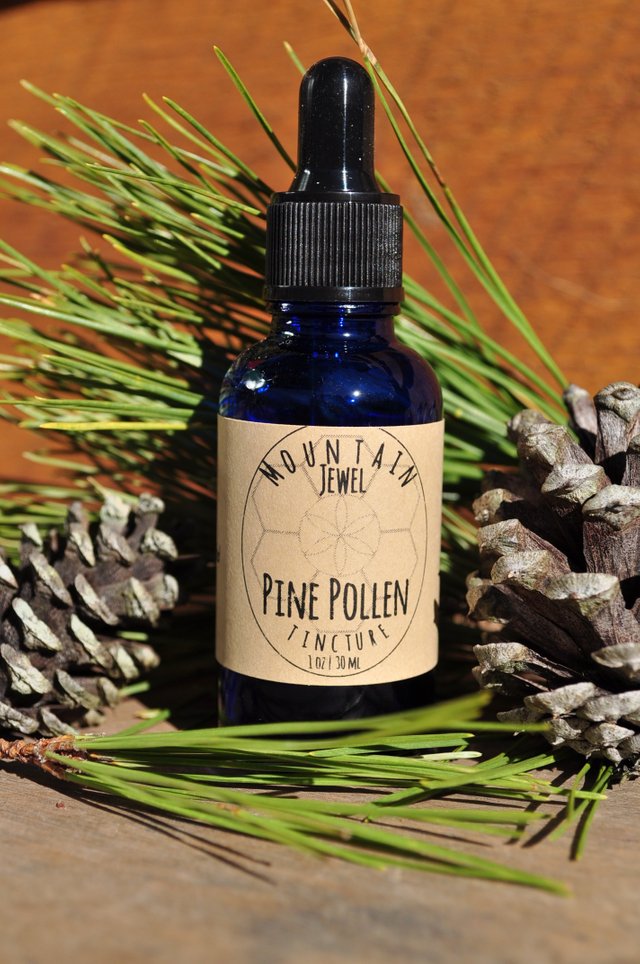 Herbal medicine is people's medicine and one of the foremost ways we can nourish, heal and empower ourselves and each other.
Anarchy is lived out by living off grid.
It's fairly simple in concept, but becomes increasingly complex in practice.
One thing is for sure; I wouldn't trade this life for anything. It has its host of challenges on the mental physical and emotional planes. It certainly has its ups and downs.
---
The core of this life for me is living autonomously where I make my own choices and decision and allow for spontaneous expressions of life to unfold and uniqueness to blossom. Day in and day out I am guiding my life, living an empowered life in relationship with natural cycles and becoming less and less dependent on centralized institutions. To me that is anarchy.
This is my response to @tribesteemup's question: What Does Anarchy Mean To You posed by @trucklife-family. Check out more responses at #tribesteemup.
What Does Anarchy Mean To YOU?