We have been facing great effort of our tree planters to plant many trees in past days. As you could realize there is currently a long queue of tree planters waiting for their upvotes (check stats here). We are very sorry for that. We have tried to solve the increasing interest by leasing SP using @minnowbooster service. It actually did not help because it just increased the number of you who wants to plant a tree in Cameroon to save and restore Abongphen Highland Forest in Kedjom-Keku village. Then it also reduces the funding we are able to get to succeed in our mission.
1 dollar = 1 tree planted
We actually divide your donations or revenues from your upvotes by two (in an optimal situation, otherwise over 50% of your donation is used to save forest). It means each 2 dollars donated or worth upvote is divided by two. 1 dollar goes directly to our conservation program, the other 1 dollar we use to power up our bot and for necessary services.
More useful articles and detailed reports of our conservation activities
We are going to intensify our efforts by publishing great quality and informative articles as well as detail reports of all our activities. It has not been possible in past months due to insecure situation in Anglophone part of Cameroon (Listen to the News radio from @pennsif, expect @treeplanter post about the situation - Akumbu(@akumbu) and Frank (@mr-greens), wrote the article for @treeplanter describing the current situation in Cameroon). Unfortunately, instead of a better situation, we are still facing high danger. We are looking for a way how to keep ourselves safe but still be able to inform you properly about everything we do towards the forest conservation in Cameroon.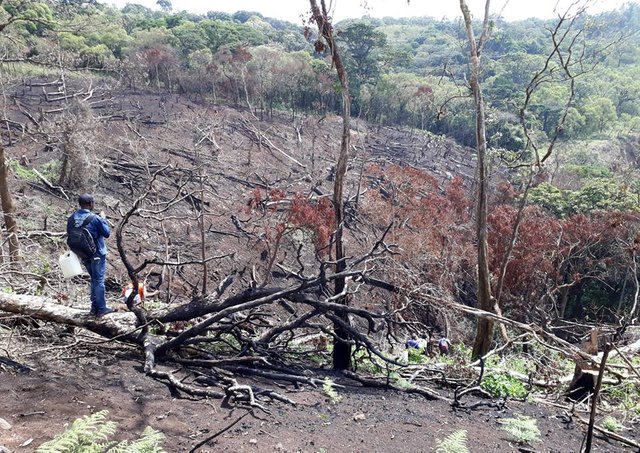 Over 3000 tree planters
Therefore we need your support more than ever before. There are currently over 3000 tree planters using our bot to raise direct funding for our conservation program. There are many others upvoting our posts which in the end works the same as the donation to our fundraising upvoting bot. Simply, all revenues and rewards are used for forest conservation program in tropical Cameroon and help us to sustain our effort.
How you could support tree planting in Cameroon?
STEEM POWER DELEGATION
Far the best support you can give us is Steem Power delegation. Thanks to higher SP the bot is able to process more donations every day, therefore to upvote more posts and obviously the most important plant more trees.
Looking closely current exchange rates (all we hope it cannot be lower anymore) every 5000 SP delegated to the @treeplanter allow us to plant 20 more trees every month.
I want to support your efforts!!!
* (respecting the current price of STEEM and SBD)
I want to delegate SP to keep @treeplanter active but I am also interested in some profit
It is as easy as to use minnowbooster services to delegate SP (check out our current offers here!. This delegation does allow us to plant the limited amount of trees but it keeps the capacity of the bot higher for more tree planters to participate.
Others ways to help us
Upvote posts of @treeplanter using steemauto.com or steemvoter.com
The other and easiest way how to support the forest conservation is to upvote our posts. It is not easier than to follow @treeplanter on steemauto.com or steemvoter.com so you are actually going to automatically upvote our posts meaning planting trees as well.

Use our fund-raising and upvoting bot @treeplanter
Manual how to plan trees with @treeplanter
You, good lady or man, transfer between 0.01 and 0.25 STEEM/SBD to my wallet, with the link in memo of the post or comment you want to have upvoted by me.
I will upvote the post and attempt to add 100% value per vote per STEEM/SBD you send, so 0.01 STEEM/SBD donation = approx 0.016 STEEM/SBD worth of vote, up to 0.25 STEEM/SBD = 0.4 STEEM/SBD worth of vote.
My rules
Each post/comment could be upvoted by me only once – if you send the same post/comment again, your contribution is going to be considered as a donation without upvoting
If you transfer less than 0.01 STEEM/SBD, I will just thank you for your donation – no upvoting
If you transfer more than 0.25 STEEM/SBD, I will upvote the post as the donation is 0.25 STEEM/SBD, the rest is just a donation – thank you for it.
I am going to keep my SP always high - meaning I will only vote every day to keep 80% of voting power. The amount of daily available votes depends on my current SP, see above.
If my SP is exhausted you will be queued – your link will get my upvote immediately I am strong again. If the link will get expired before I will be able to upvote it you get refunded.
If you have any trouble or you are concern about a donation contact
@treeassistant
for help.
More opportunities how to help
Contribute to our transparent accounts
| | | |
| --- | --- | --- |
| EUR | IBAN: CZ8120100000002401262246 | BIC/SWIFT: FIOBCZPPXXX |
| USD | IBAN: CZ9020100000002801262245 | BIC/SWIFT: FIOBCZPPXXX** |
| | | 1GVCsYsf2LzvyqDUYhXPjQbb2KtW6dDDH |
| | | 8LsW14JHnbvpq6RefqASJMgySN6K8SgAiG |
| | @treeplanter | @kedjom-keku |

Plant trees with our voting bot @treeplanter!


Check or website: www.kedjom-keku.com to get more information about our conservation program in Cameroon.
Nice day,
Co-founder and coordinator of @kedjom-keku association
email: martin.mikes@kedjom-keku.com
web: www.kedjom-keku.com

Thanks a lot!
Read, upvote and resteem other active articles of me @martin.mikes, NGO @kedjom-keku or voting bot @treeplanter - all revenue is going to be spend for natural conservation.
---
@raserrano - Developer
Members of Forest Friendly Family:
@treeplanter, @kedjom-keku, @martin.mikes, @laurakiss, @wormualain, @nforyembe, @thanianshiri, @raserrano, @mr-greens, @biodiversity, @ecodesigns, @greennews,@thegreens, @tuanis