Hello today!
---
I am back to you to continue my series about vacation spent in wonderful country of Georgia located on Transcaucasia, a geographical region between Black Sea and Caspian Sea.
It took a plenty of time to sort and process my photographs, and translate my thoughts into English, lol. But I enjoy the process, and I hope you will enjoy it too. For your convenience, I put links to previous parts at the bottom of this post.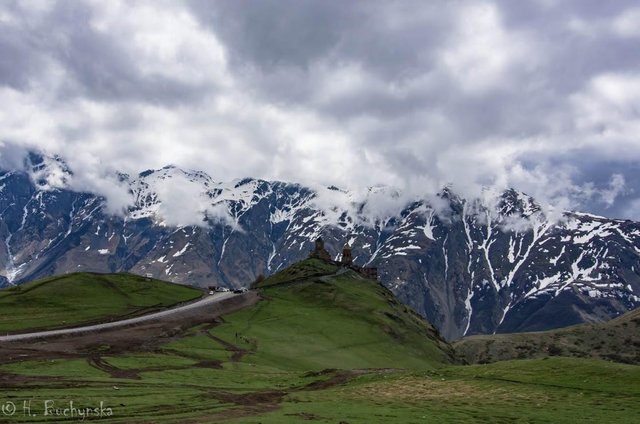 ---
Tuesday morning was cloudy, but it doesn't look like going to be rain today, at least before a middle.
The breakfast in our Hotel Sunshine Kazbegi was very very good. The night before out hostess asked what would we like for a breakfast and what time. She gave me a long list: traditional cheese, salad, sausage, khachapuri, omelet with filling on your choice, fruits, sweets. I asked: "What from this list do you have? And how many items may I select?" "Everything! Just tell me what time would you like to have breakfast". After our breakfast in Akhaltsikhe I could not believe it. But it was true. A perfect start of a perfect day.
The plan for the day was: Gergeti Trinity Church, Gveleti waterfal and return to Tbilisi (about 160 km).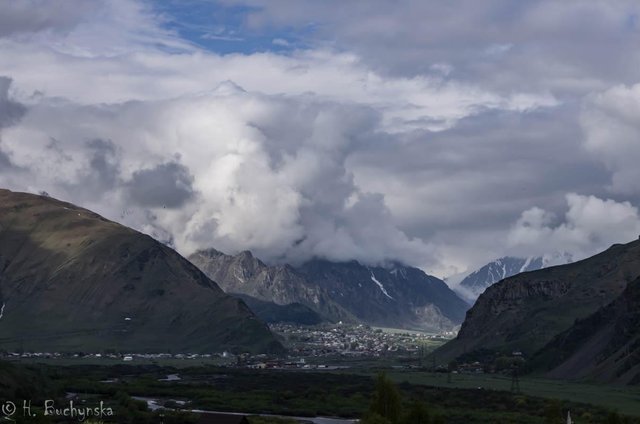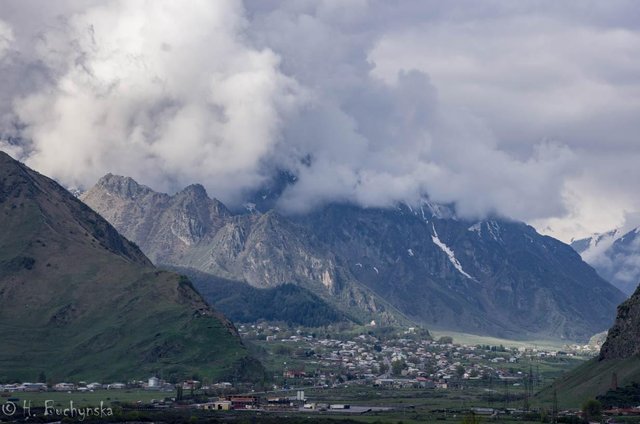 Gergeti Trinity Church
Our destination was right in front of us on the top of the hill, in clouds. But we managed to got a wrong way. Actually, if you have a car, it is easy to navigate: if the road is good, you are right, if bad (or very bad) - you are wrong, so stop without delay and find the right one.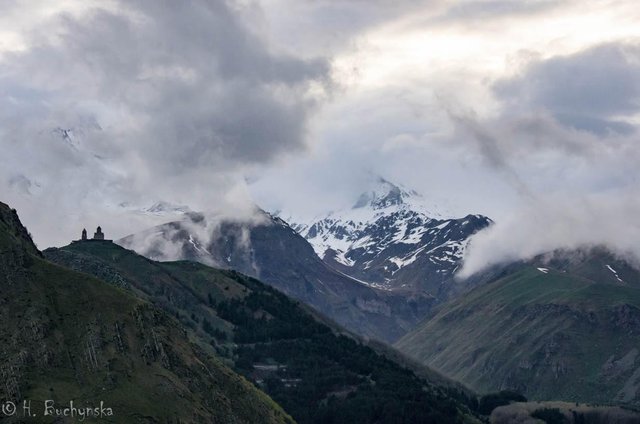 But don't flatter yourself. We visited it in May, but... Actually the road to the church on the world's most spectacular roads, and most dangerous.
Gergeti Trinity is a high mountain church at an elevation of 2.178m (7,145ft) above the sea level, located in the Mtskheta-Mtianeti region of north-eastern Georgia.


(source)
I must confess I never got so high in mountains even by feet :) To say I was excited - it's all the same that none. I was on seven heaven! And you know, no matter how easy it was to get to the point, you feel the power of mountains...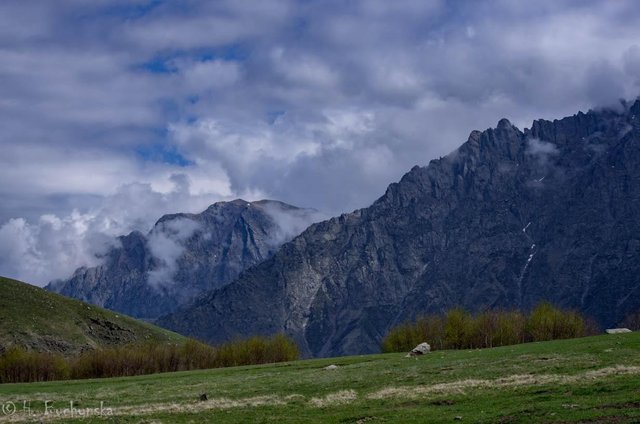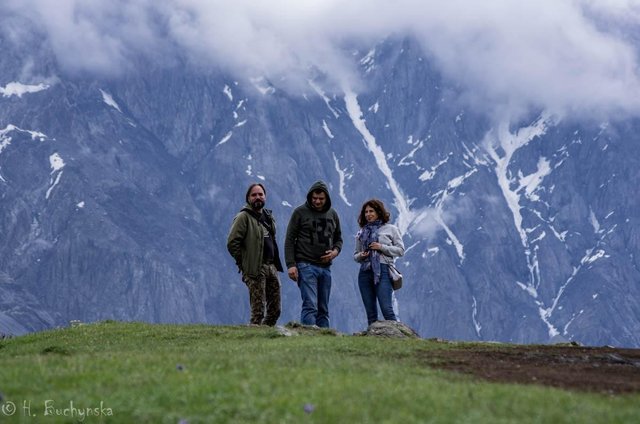 Suddently, I found myself in an early spring, among mountain meadow covered with flowers, and some of them I saw the the first time. Like these flowers of unreal blue color. Probably, someone know what is it?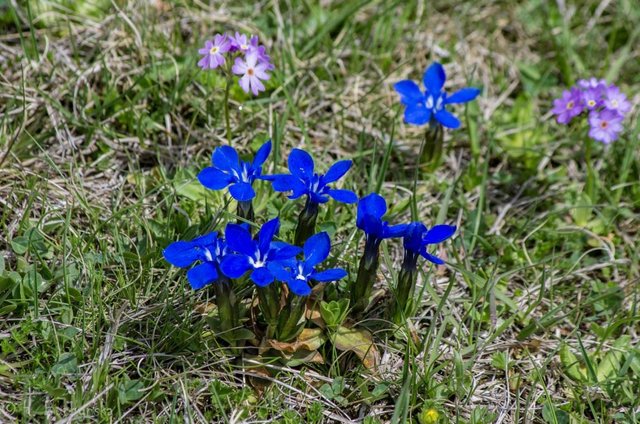 If you are my reader, you'd recognize the butterfly. It is exectly the same the one I captured in Ukrainian Steppe!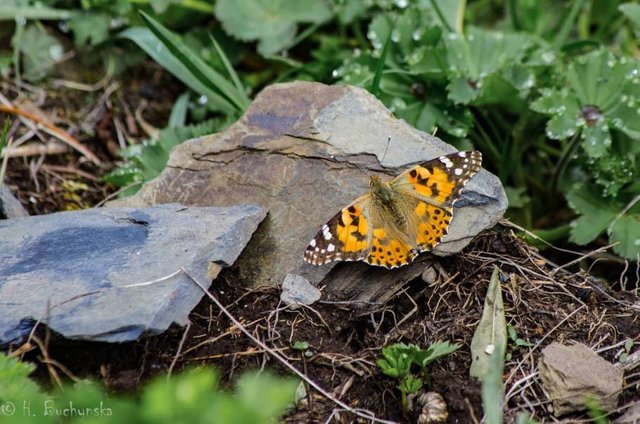 Okay, let's back to the material world :) There is a big, huge parking not far from the church. But there is a possibility to get by car more close, right by the Monastery. If you need it.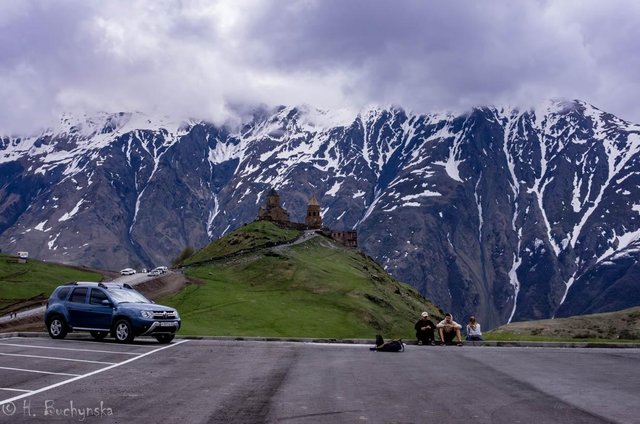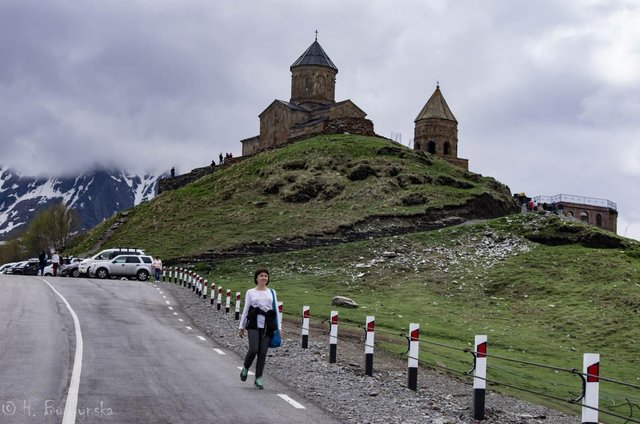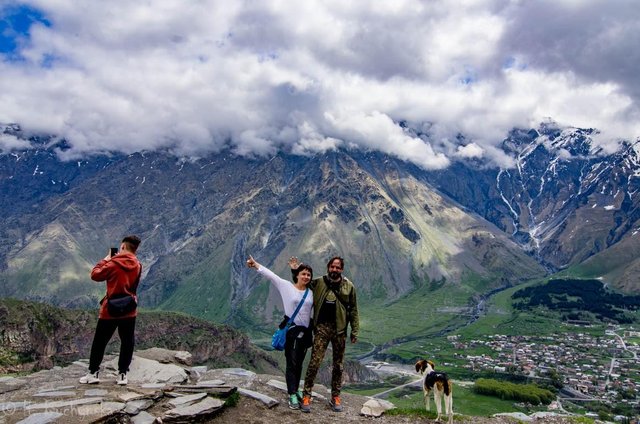 Walking around was a lot of fun. We listen to a chorus of Georgian traditional singing. If you are not familiar with their songs, I'd just say it is very unusual and impressive. We met a dog, no one knew where is his master, but he looked absolutely independent.
The Gergeti Trinity Church was built in the 14th century, and is the only cross-cupola church in Khevi province. The separate belltower dates from the same period as the church itself. Its isolated location on top of a steep mountain surrounded by the vastness of nature has made it a symbol for Georgia. The 18th century Georgian author Vakhushti Batonishvili wrote that in times of danger, precious relics from Mtskheta, including Saint Nino's Cross were brought here for safekeeping. During the Soviet era, all religious services were prohibited, but the church remained a popular tourist destination.
(Wiki)
According to Murphy's Law, Anything that can possibly go wrong, does. We did not see Mt Kazbek, it was shoulded with clouds. But ... anyway it wa an amazing journey. And I hope, not the last.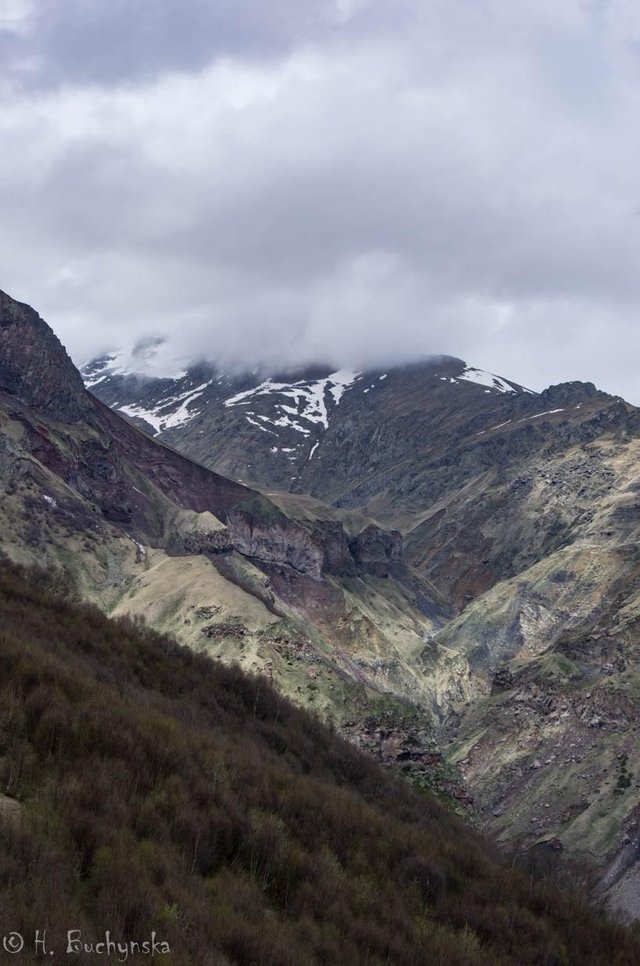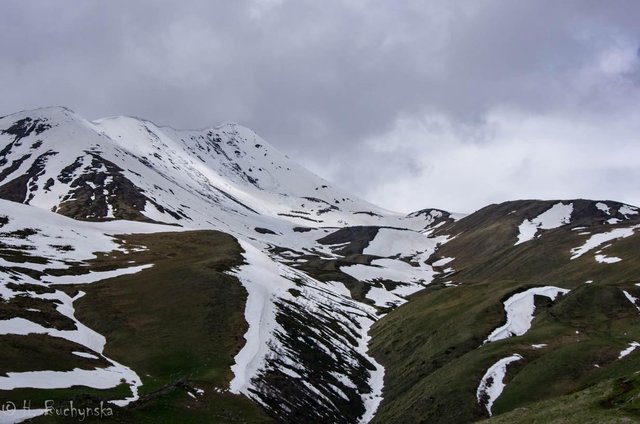 And we continue to the waterfall and the part 2.

That's all for today. I hope you enjoyed it!
Links:
My Georgian Diary. Day 1/7 - Tbilisi
My Georgian Diary. Day 2/7. Part1 ~ Mtskheta and Jvari Monastery
My Georgian Diary. Day 2/7. Part2 ~ Uplistsikhe сave settlement and Borjomi resort
My Georgian Diary. Day 3/7 ~ Vardzia cave monastery and Khertvisi fortress
My Georgian Diary. Day 4/7 ~ Roaming around Tbilisi and Birthday party
My Georgian Diary. Day 5/7 ~ "Mountain direction"
I greatly appreciate your time, and your comments and even upvotes :)


Unless stated otherwise all photos used in my posts are taken and owned by myself, if you wish to use any of my images please contact me.


Regards,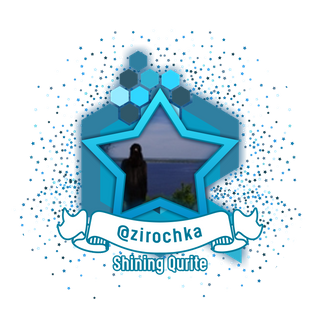 I am with @qurator, are you?