A Walk by the River Neris in Vilnius (Part 2)
Today, let's see what a walk along the river Neris can offer if you walk westwards from the same starting point of Žaliasis Bridge.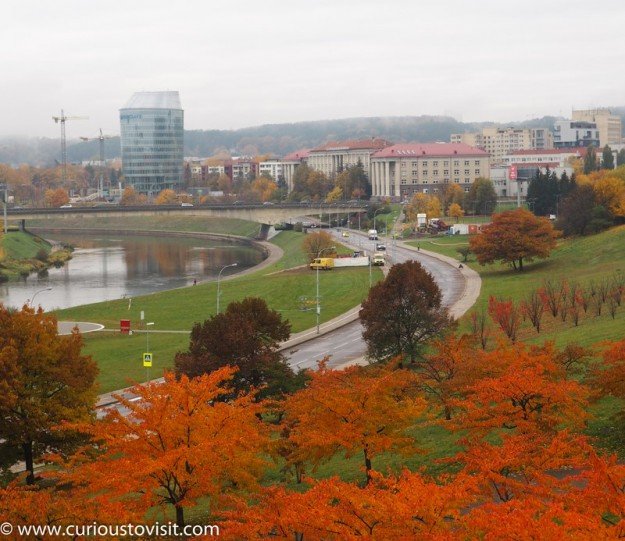 A Baroque Church by the River Neris
The first thing you'll notice immediately is a late Baroque church on the right bank of the river.
You are looking at St Raphael the Archangel Catholic church and monastery built in the 18th century.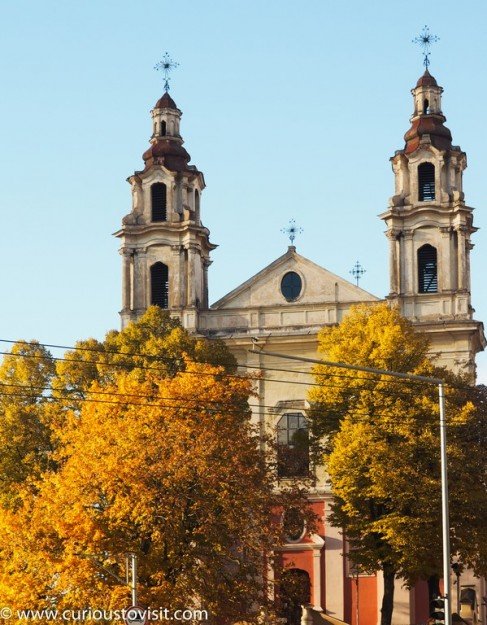 Today this church is not on most visitors' list as it is a bit away from the main city attractions, and in our walk today, this is the only 'old' religious monument you'll see mentioned.
I personally like how the church dominates the view as you look towards the river from the opposite side. And those two late Baroque style steeples look particularly elegant against the backdrop of autumn colours.

Recreational Area by the River Neris
Following along Upės street (or down by the water on the river walk) just before you reach the next bridge Baltasis Tiltas, you'll notice a few things.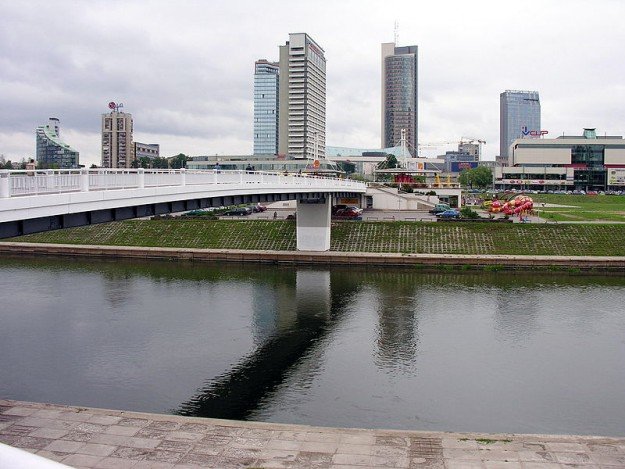 First, there's a barge point where you can hire a boat and go for a fun-filled tour on the river.
There are all sorts of boats available for rent, whether you want to have a full-blown on-water party or just the usual sightseeing experience. Here's their website, if you are intrigued.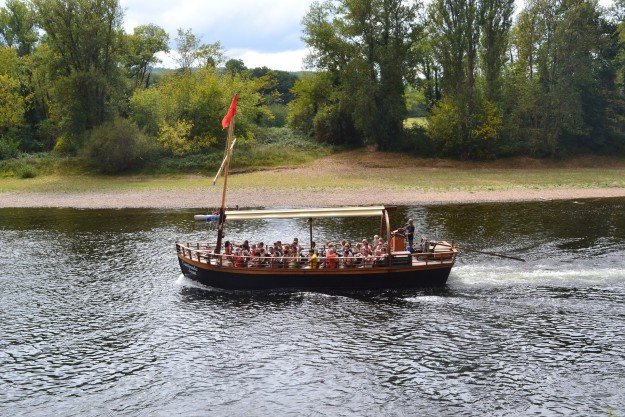 Another thing you'll notice is a sports complex on the same side of the river bank.
This is the Baltasis Bridge Recreational area where you can play or watch beach volleyball, go skateboarding or play basketball.
You can of course, also lounge about in one of the coffee shops overlooking the sports arena – CaffeineLT always has very good coffee.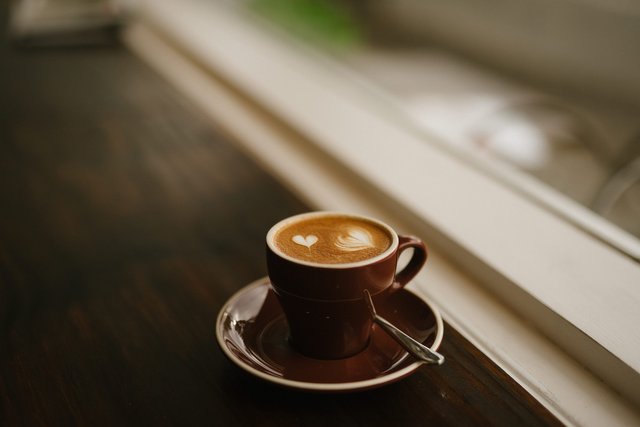 And better yet, just across the street from the sports complex, you can go shopping in CUP Department Store, one of the oldest department stores in the city, 45 years old.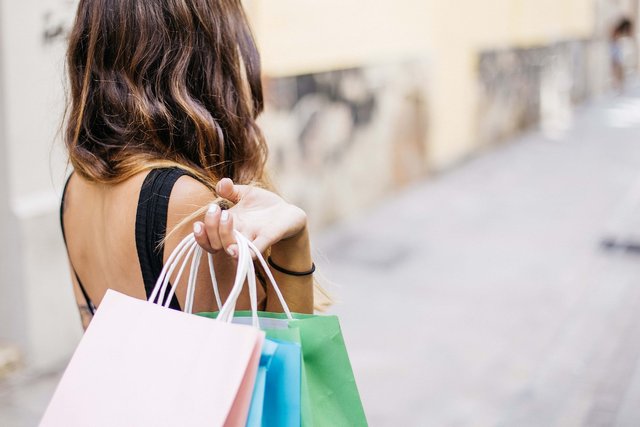 Although this shopping centre is not a large one, it is interesting not only in its choice of boutiques but also its history.
Built in 1973, during the Soviet occupation of Lithuania, it was one of the largest shops in the city as well as the country.
If you visit this shopping centre today, you definitely won't think its size is something to write home about. How times change!
Today CUP houses numerous boutiques and bigger shops as well as an array of restaurants and coffee shops, so you can easily spend a few hours not only shopping but also enjoying some lovely food.
Just at the bottom of the building, somewhere by the car park, a cheeky angel will tease your eye...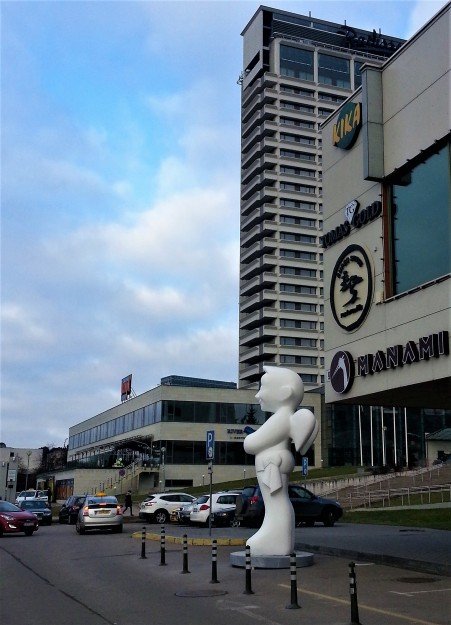 ...did you know Vilnius absolutely loves angels and even is called 'a city of low flying angels'?
So whether you are traveling with family or friends, this Recreational area around the Baltasis Bridge might just be the place where everyone will find something interesting to do – sports, cafes, boat trips, shopping or a simple picnic on the river bank.
If you visit this spot in the summer, late spring or early autumn, you might be lucky to see numerous hot air balloons taking off from here. That's where we started when I did my hot-air balloon flight over Vilnius.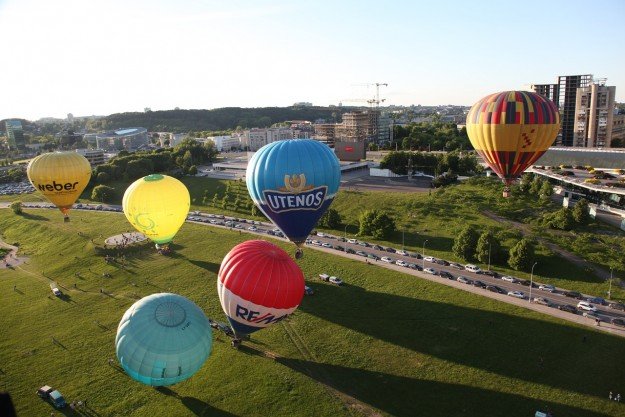 If you decide you've had enough of the river, you can cross the Baltasis bridge (which is a pedestrian bridge) and head straight into Lukiškių square and Gediminas Avenue, from where you'll easily reach the old town.

Radisson Blue Hotel - former Hotel Lietuva
If you continue along the river on Upės street, adjacent to CUP shopping centre you'll notice a high building, today bearing
Radisson Blu hotel
sign.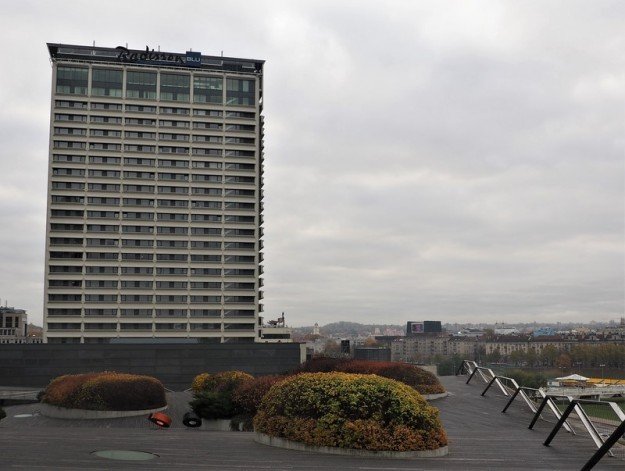 This is another newly revamped Soviet era building originally opened in 1983 although its construction started in 1960s.
When it was built it was called Hotel Lietuva and was the main hotel as well as the first 'skyscraper' in the city.
Today it's a 4-star hotel and its best feature (in my opinion) is its sky bar on the top floor – the views of Vilnius from there are spectacular.
Also at the foot of the hotel, there's another recreational area, popular with the adjacent bank and hotel employees, who love spending their lunch breaks here while gazing at the river and the city horizon.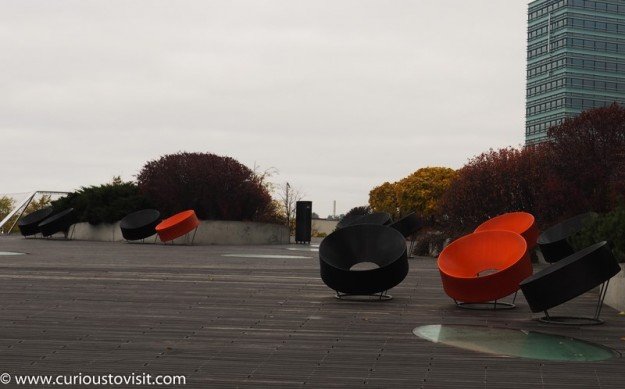 Sugihara Sakura Park by the River Neris
If you are not going to hit the Sky bar just yet, at the bottom of the Radisson Blu hotel hill you'll see a small
Sakura park.
This little park of gorgeous Sakuras is a monument to Chiune Sugihara 杉原 千畝 , a vice Consul to the Japanese Empire in Lithuania at the start of WW2.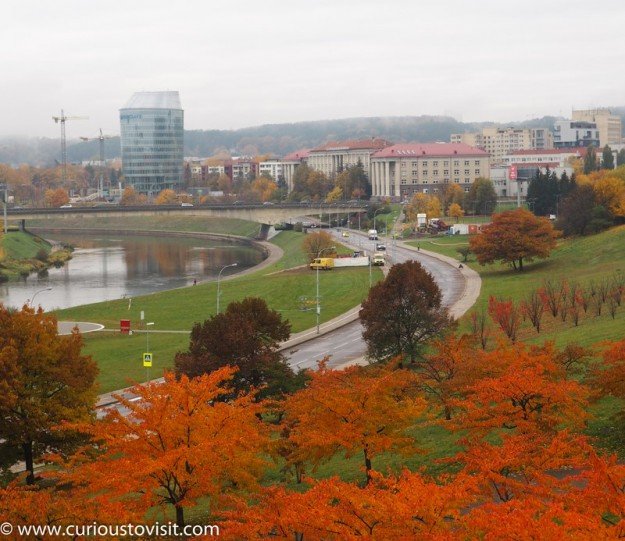 Why is Sugihara commemorated in Vilnius?
It's because he helped an estimated 6,000 Lithuanian and Polish Jews to flee Europe during WW2 by issuing transit visas for travel via Japanese territories.
Sugihara had no permission to do this from his superiors and by issuing such a vast number of transit visas, he was putting his job as well as his family's lives at risk.
Although he later received great honors from the State of Israel, in his own home country of Japan people didn't know what he had done for the Jewish community in Lithuania during WW2.
Most of Sugihara's friends seem to have found out about this episode of his life after a Jewish delegation turned up at his funeral in 1986… (Find out more about Chiune Sugihara HERE )
The Sakura Park is a beautiful location not only in the spring when cherry blossoms are in full bloom but also in autumn when the leaves turn a vibrant red and orange hues.

Lithuania's National Art Gallery by the River Neris
Right next door to the Sakura park you'll notice a statue of a woman with swallows in her hands.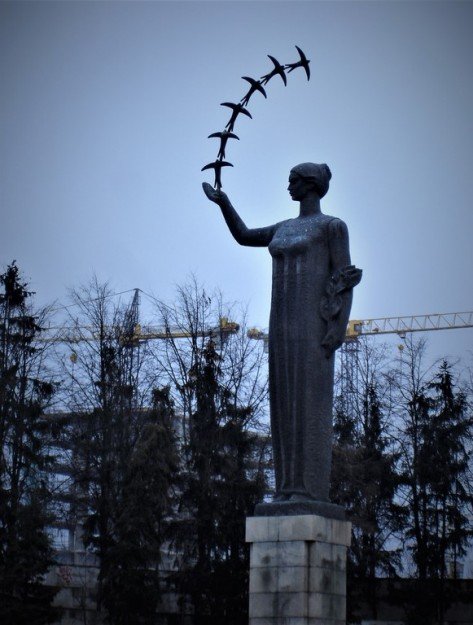 This is part of Lithuania's National Gallery of Art Complex.
Here you can get acquainted with Lithuanian modern and contemporary art, see what the creative fabric of this Baltic country looks like today.
If you are artistically inclined, check out their website here, you might find an exhibition of interest.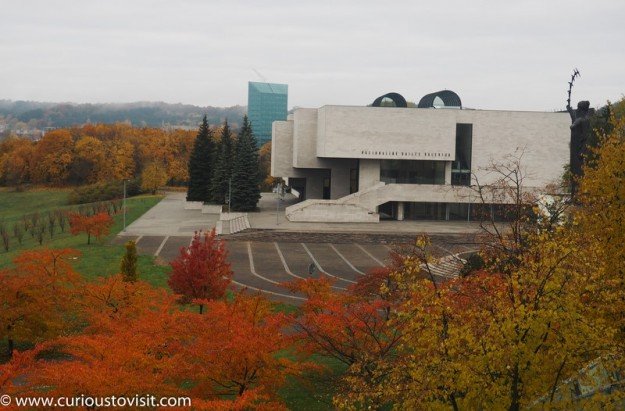 It's a very quiet place, never too busy with visitors, but an absolutely perfect spot for a relaxing walk.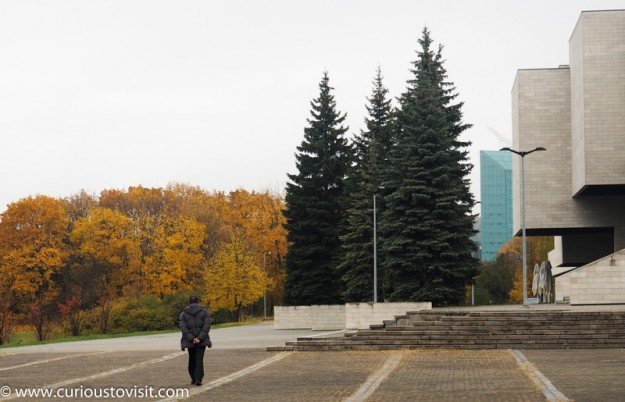 I was going to take you even further westwards along the river Neris, but I suspect you might be a bit tired at this stage...
... so take a seat somewhere on the river bank and rest your feet now, before crossing Baltasis bridge back to the city centre.
Visit Vilnius, enjoy your life!
All photos and text is my original content. This post includes some photos from pixabay for illustration purposes.
You can see copyright signs on photos because they were taken for my blog www.curioustovisit.com .
If you liked this post, let's connect – leave a comment or follow me at @vliet , I'll check out your profile as well.
You can also find me on my travel blog www.curioustovisit.com or Facebook Page HERE