Conquering the highest Mountain outside Asia: Aconcagua
We were in the bus with our group of fellow climbers, whom we would get to know very well over the next few weeks, and driving towards the foot of the highest mountain outside Asia, Aconcagua. Aconcagua is a little over 6,960 meters high, is the highest mountain in the Southern hemisphere, and is located near the border with Chile, in Argentina.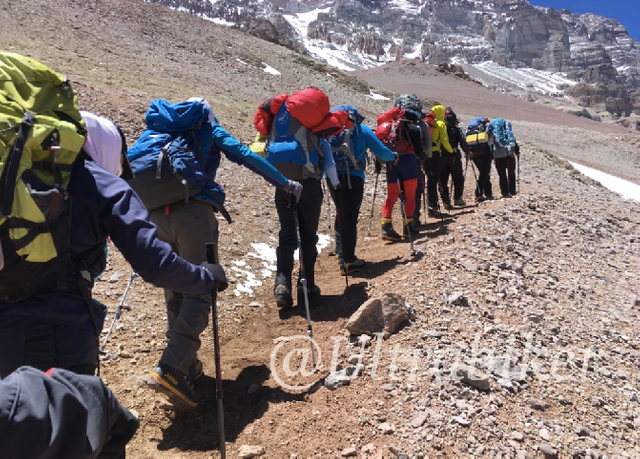 own photo
It was mid-December, and the best time to climb the mountain would be over the next few months; any other time of the year would be far too cold and windy. We had met our fellow climbers a few days earlier in Mendoza, and we were quite an international bunch with climbers from Australia, Bangladesh, Netherlands, USA, South Africa, Argentina, Uruguay, Hong Kong and Belgium.
The Mendoza region is the largest wine producing area in Latin America. The area is famous for wine made from the Malbec grape; it is also famous for growing olives. Our plans to visit those vineyards were put on hold a little while though; first there was some climbing to do: the wine-tasting promised to be a great reward for when we came back from the mountain.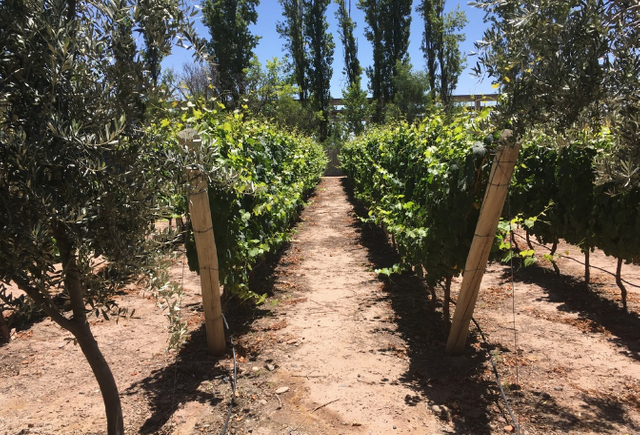 grape vines and olive trees in Mendoza, own photo
We had come to Mendoza by aeroplane from Buenos Aires, the capital of Argentina. It had been a long journey to even get to Buenos Aires: two long flights from Johannesburg , with a layover in Sao Paulo, Brazil. We had to collect our luggage in Buenos Aires and check it in for our flight to Mendoza. As we were carrying a load of stuff, this was a bit of an undertaking. We were carrying tons of warm clothes, double climbing boots, helmets, sleeping bags, mattresses, ice picks, crampons, food, etcetera.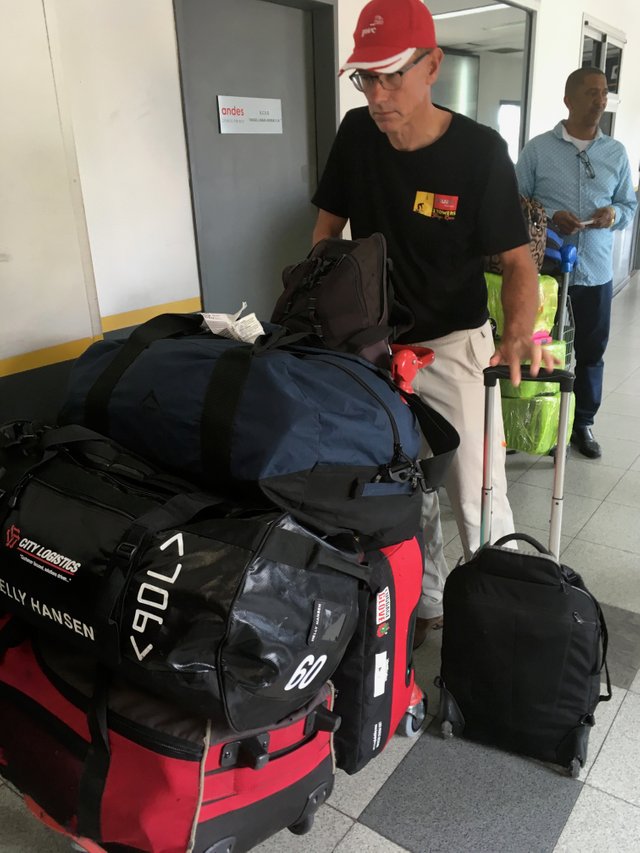 struggling with the luggage in Buenos Aires, own photo
We finally arrived in Puente del Inca, or the "Inca Bridge"; the bus stopped and we left the bus for a bit of sightseeing. The bridge is a natural bridge over the Vacas River and is formed by mineral deposits from the hot springs.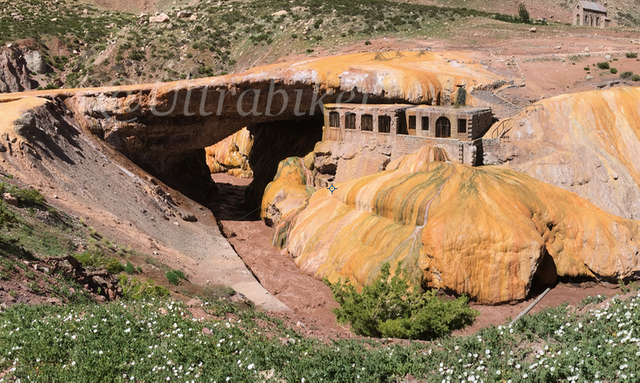 Puente del Inca, own photo
Most of the members of our climbing group had stayed in the same hotel in Mendoza and we had all booked with one of the larger organizations that guide Aconcagua climbers, "Inka". They had organized transport from the airport, we had received a briefing, a "gear check" and we had gone together to get our climbing permits in Mendoza, and to rent some additional gear that some of us didn't carry.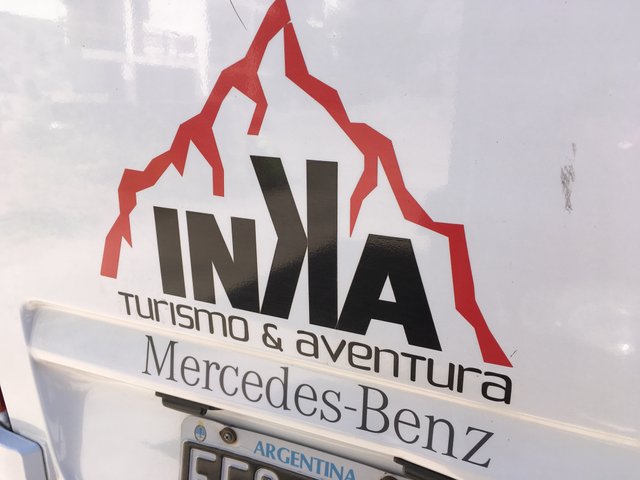 "Inka" – own photo
At Penitentes, close to Puente del Inca, we stayed in a hotel, this would be our last hotel for a few weeks; after this, sleeping would be in small tents in our sleeping bags.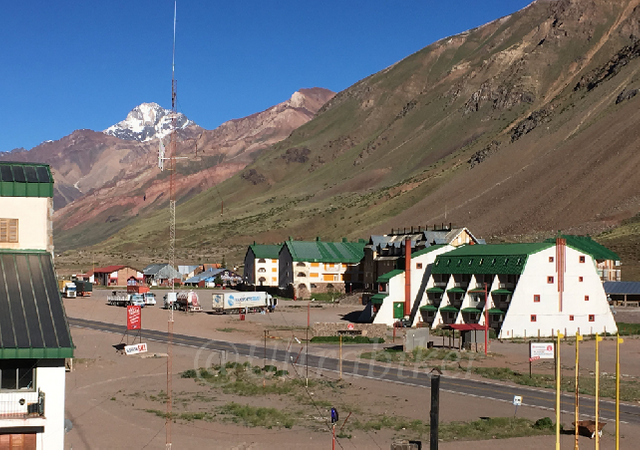 Pentitentes, own photo
At this place we had to repack our stuff; the organization had organized mules to carry some of our heavy equipment from Puente to Plaza de Mulas. Plaza de Mulas is aptly named, as this is the last site where the mules can go, from there on all the carrying would be done either by ourselves or by porters.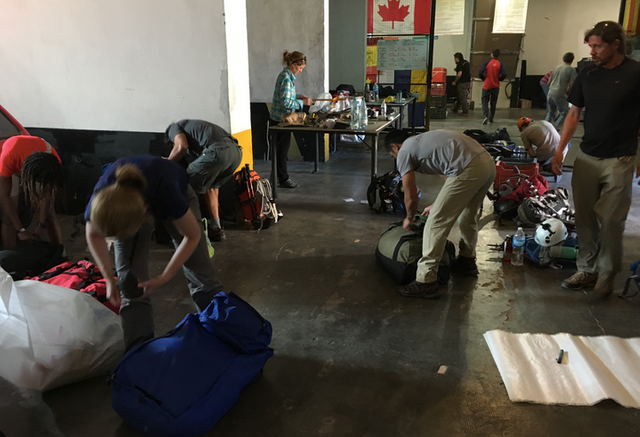 Repacking at Puente del Inca, own photo
Then the next day, finally, our hiking boots on and off we went. It was a pleasant hike; the weather and company were great and we arrived in Confluencia in high spirits. We found our tent, settled in and had a great dinner in the communal tent in the evening. We were now at 3,380 meters. The next day we would do a 'acclimatisation' hike to Plaza Francia, then come back to Confluencia to sleep.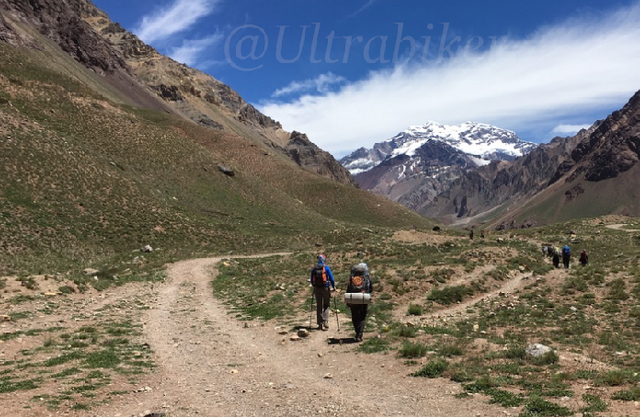 Finally on our way, own photo
Acclimatisation is key in climbing a high-altitude mountain like Aconcagua. Basically, you want your body to get used to the high altitude, where there is less oxygen to breathe. The Oxygen saturation in your blood is something you can measure, and some of us were carrying little hand-held devices that would do just that. A normal value is anything from 70 to 100, while values of 60 or below would indicate some serious problems. At plaza de Mulas there would be some medics that check the health of all the climbers, but I'm getting ahead of myself,…..
….. that is for next time, stay tuned and don't miss the next post!!!
Some Aconcagua facts:
Aconcagua – some facts:
• 6,961 metres high (22,837 ft)
• Argentina
• Highest mountain outside Asia
• Highest point in the Southern Hemisphere
• Part of the Andes mountain range
• 15 kilometres from the border with Chile
• Aconcagua is one of the Seven Summits
• 'Aconcagua' either means 'Sentinel of Stone', 'White Sentinel', there are some other meanings around as well
Climbing routes on Aconcagua
• The North route is the normal route
• The North route does not require any technical climbing
• Our estimate is that around 30 % of climbers succeed in reaching the top
The camp sites on the northern route that we passed through were:
Penitentes 2,740 metres
Confluencia 3,380 metres
Plaza Francia
Plaza de Mulas 4,370 m, base camp
Plaza Canada, 5,050 metres
Nido de Cóndores, 5,570 metres
Plaza Colera, 6,000 metres