Hello fellow Steemians!!! This post has been a long time coming! We are currently travelling in India and it has been hard to find time to sit down and write a post! In the last entry we travelled by train partly across the desert for 40 hours and spent a day checking out the city of Hami (Kumul).
Now, this was going to be our first time properly wild camping in China. We were travelling through the desert, what better place to start wild camping?! However, before we could even start to consider where we were going to sleep that night we had to get out of the city which turned out to be a long walk indeed.
We eventually got a ride to the outskirts of the city with a man that could speak a little English and even offered to take us up into the mountains. Unfortunately we didn't take him up on his offer as it was already past noon and we felt that we needed to get moving. After a few minutes by the side of the road we got picked up again by a young couple only going a short distance. Sometimes when you are hitchhiking you have to consider whether going only a few kilometres is worth it or not as you might end up missing out on a longer ride.
They dropped us off at the beginning of the motorway where Alex realised he had lost his sunglasses. Not unusual for him...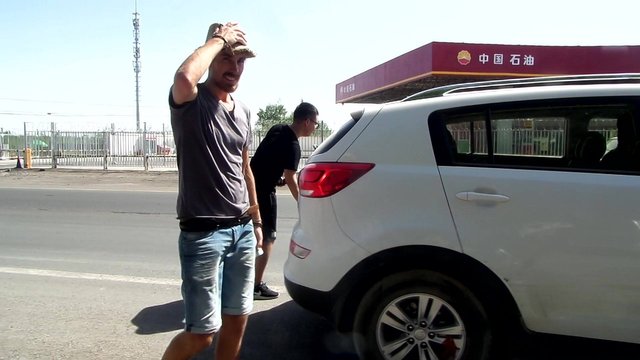 Our next ride was with a group of friends going a little way on the motorway in the right direction! Perfect. They were really friendly and we exchanged QQ (like whatsapp but more for kids as we had trouble authenticating WeChat) and continued to send them pictures for sometime afterwards!
As always communicating was a little tricky but we managed to get by and could explain what our journey was about as one of them could speak a little English. They dropped us off just before the exit they were going to take and we decided that this would be a good spot to wait for our next ride. Fortunately, just 10 minutes or so later a car stopped a few hundred meters down the motorway. Alex ran over to them to see if they would be willing to help out!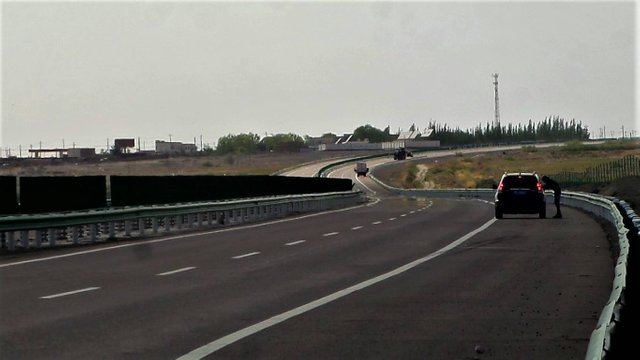 Through Offline Google Translate we were able to have quite a good conversation about our journey, where they were going and one of the two guys had just received his first passport and was very proud of it and let us have a look! They even tried to convince us to go with them to a different city but we politely declined and they dropped us off on the side of the motorway before their turn.This had to be one of the windiest places we had ever been dropped off! Our bags were nearly rolling away!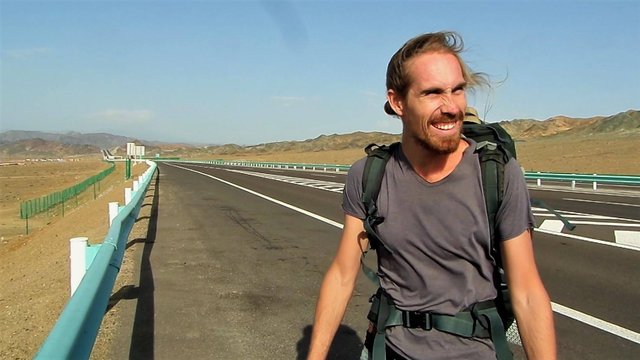 Shortly afterwards two local Uyghur men stopped and offered us a ride. Communication became even more complicated with these two nice men as they couldn't read Chinese and our Turkic language skills were not up to scratch. They did however play some traditional music from the area which was very cool! They also tried to convince us to go into the next city with them to have food but once again we declined with grace and hopped out of the car in search of somewhere to camp!
We don't really have any good pictures of the area as we were too busy looking for a spot to put our tent, but the scenery was utterly...well, desert but it certainly wasn't deserted! There were farms growing grapes and wind turbines everywhere. We decided on spending our first real night wildcamping in China in a tunnel under the motorway! How romantic!?
Do you remember that we said it was windy? Well it still was when we were trying to set up our tent and tunnel had now become a wind tunnel... We ended up having to put both our big bags and small bags in the tent just to prevent it from flying away! There was no posssibilty of using the pegs and the ground was concrete.
We managed to find part of a bumper from a car as a wind shield in order to be able to cook our delicious pot noodles (sense the irony...) and in the process of cooking with our alcohol stove Alex managed to knock it over, whilst Malin was still in the tent, sending flames high into the air only centemetres from the tent! Kicking dirt on the flames it went out quickly without any damage done, apart from Alex's dignity!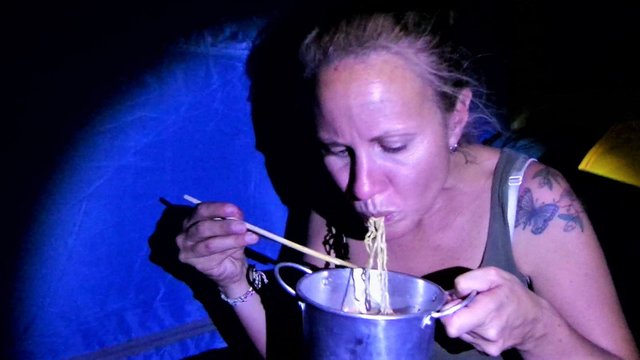 As you can imagine being cramped up in the tent with no space for your legs in the windy dry desert, this wasn't a particularly high point in our trip but something laugh about when looking back on it in the future! After little sleep we woke up early and thankfully the winds had receeded and we prepared our breakfast of porridge and Aeropress coffee! Not a bad start to the day for being under a motorway!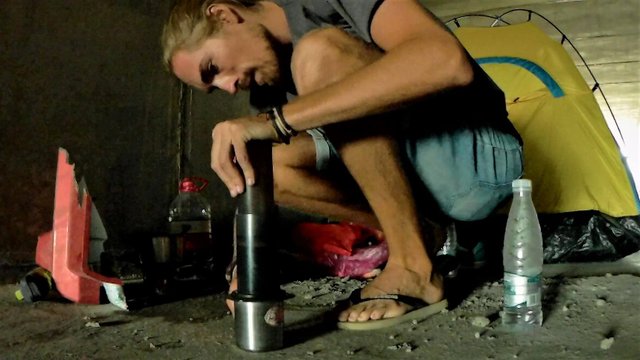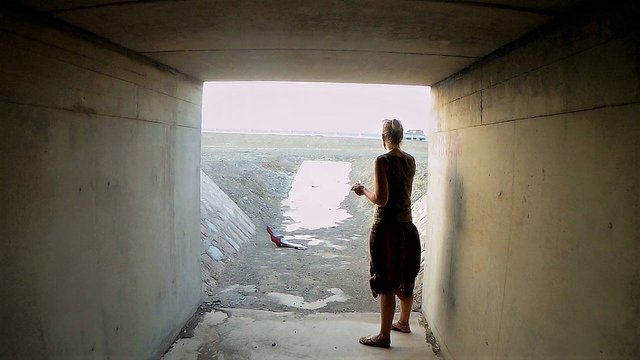 Ohh, if anybody is wondering how we got water out in the desert we started the day with a full 5 litre bottle and people kept giving us more smaller bottles throughout the day and by the time we set camp we had more than enough.
The good thing about camping under the motorway is that you only have to walk 50 metres to get to your hitchhiking spot!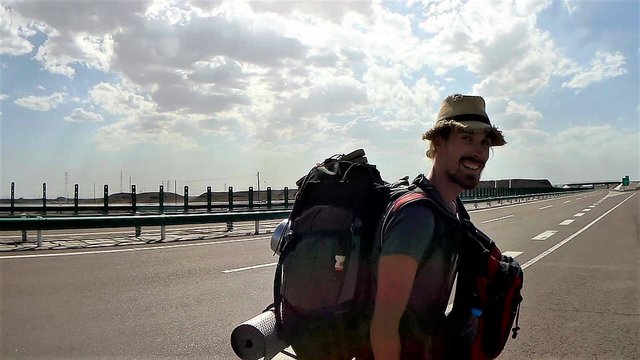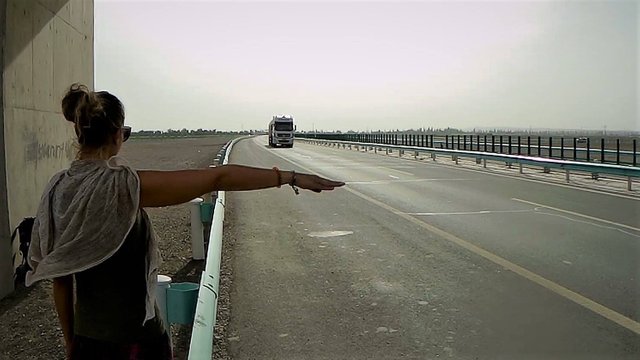 After a short wait and not many cars passing by, a big lorry pulled over and offered us a ride all the way to our destination, Turpan! What an amazing start to the day! The funny thing was that in the sleeping part of the cabin there was already a guy asleep and after 30 minutes or so in the cab he woke up, saw us, said something to the driver and went back to sleep again! The scenery was incredible and we tried to get some good shots but unfortunately as you can see our camera had a nice chunk of dust on the lense so sorry about the quality!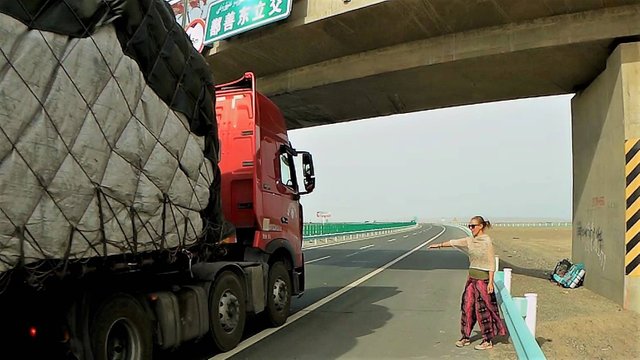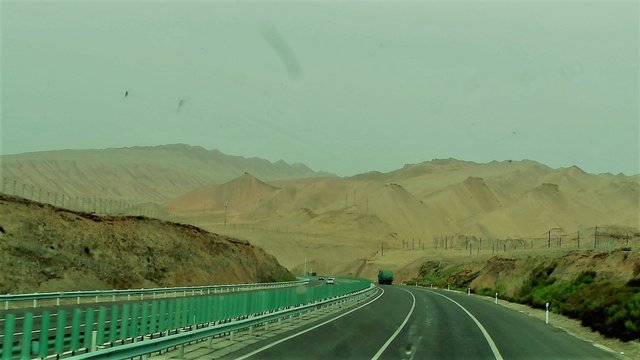 We arrived to the outskirts of Turpan and our driver dropped us off and we proceeded to walk the five kilometres into town. We found our hostel called 'White Camel Youth Hostel'. We were pleased to find that our room was almost like a cave dug into the ground! It was really nice and cool inside which was good considering we were in a desert!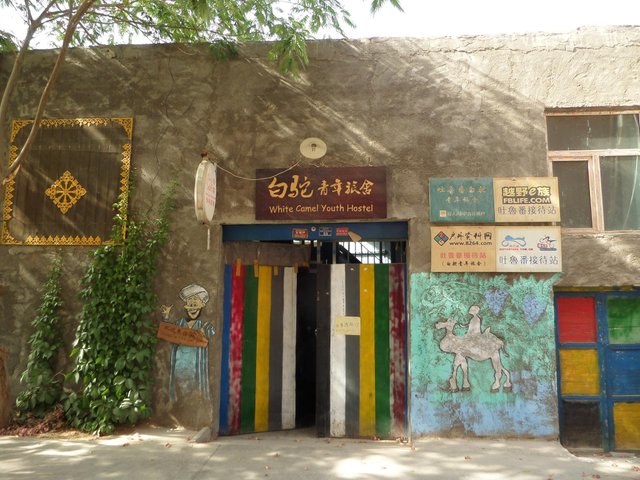 We spent the afternoon exploring the local area and wandering in the old town with the mudbrick houses which are apparently disappearing due to the influx of Han Chinese and government efforts. It was incredible to walk around, it felt like another country, another time even.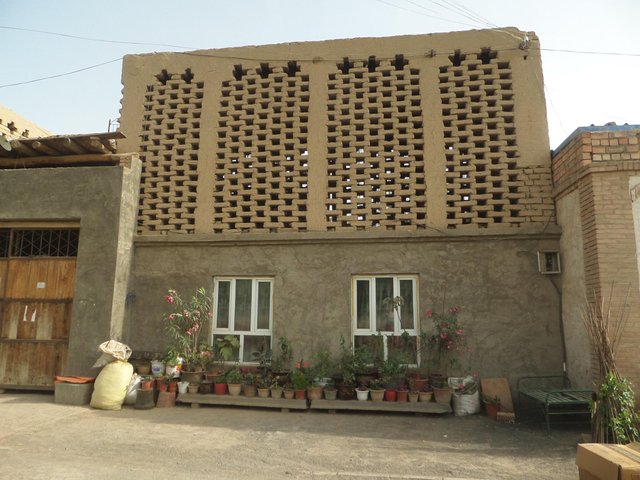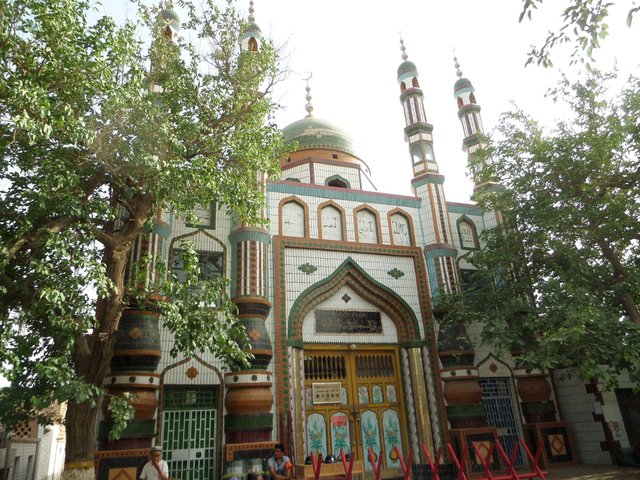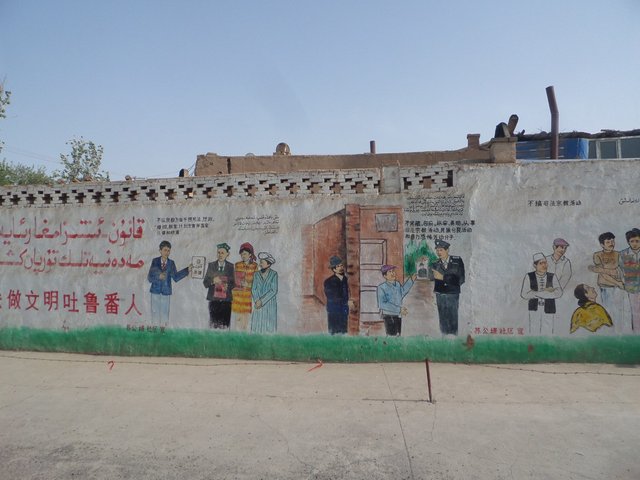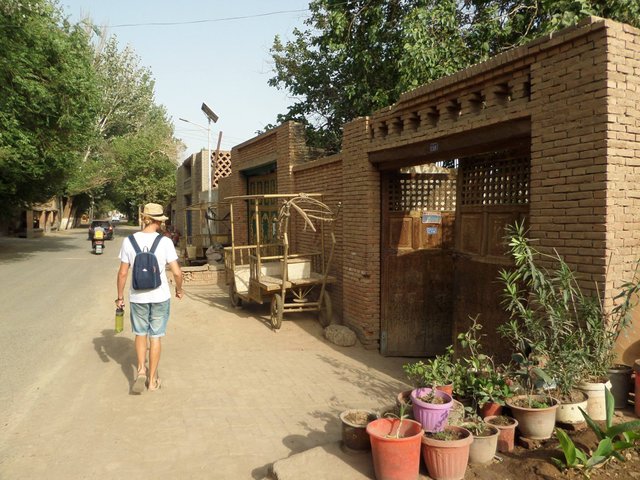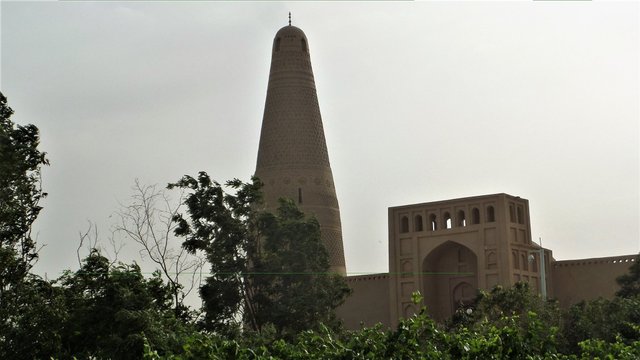 Of course, when we were out we had to try some food and we found this amazing freshly baked bread! It was so tasty and had herbs and spices in it that we had not tasted for a really long time! We also managed to find the famous 'Hami' melon. It is basically a tiny melon the size of a big fist which you can break open with your hands (not recommended, very messy!). It was so sweet and so refreshing, YUM!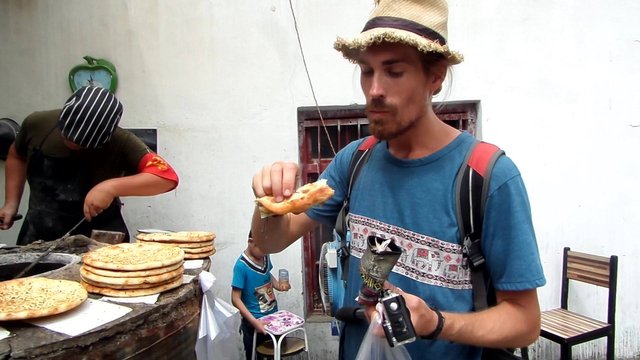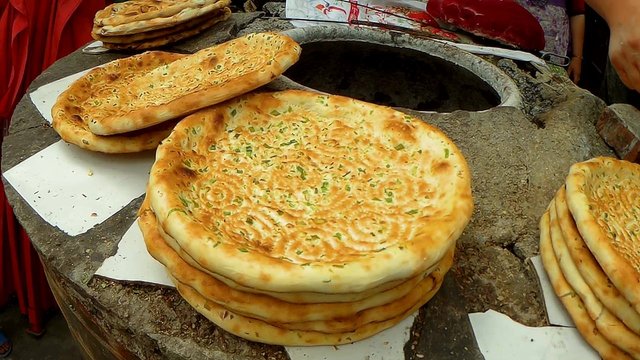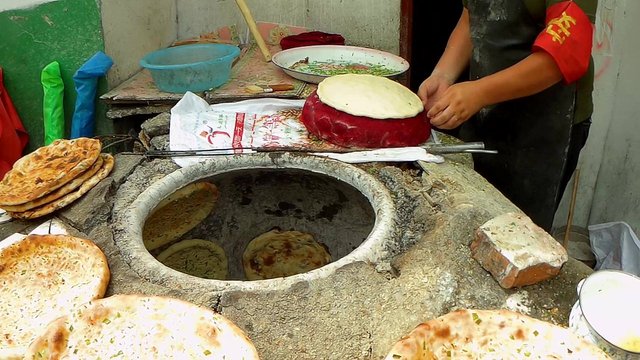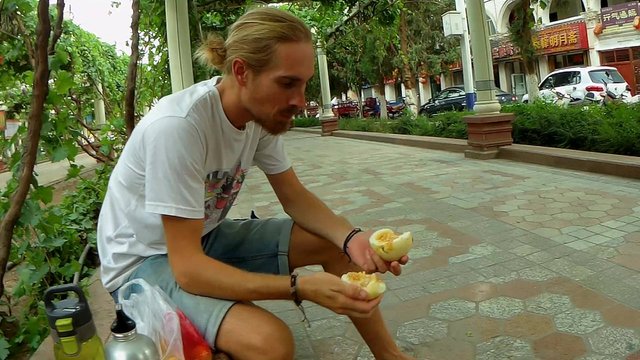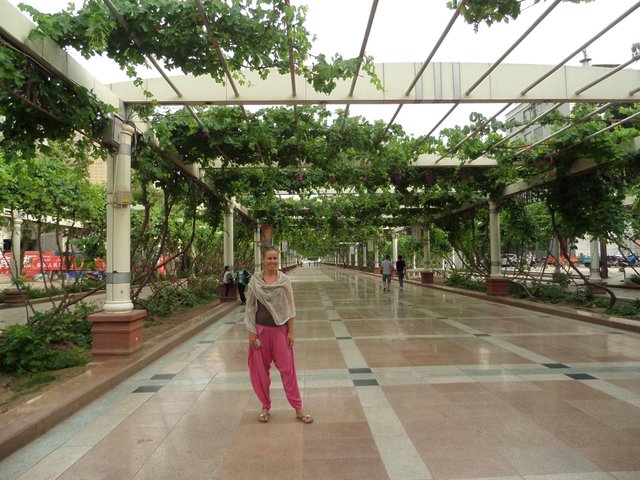 Thanks as always for reading and if you have any questions about our crazy journey please feel free to ask! Would you hitchhike across the desert?
If you would like to watch this episode you will find it posted below.
Here is a map of our route from this part of our journey. We travelled 400 kilometers.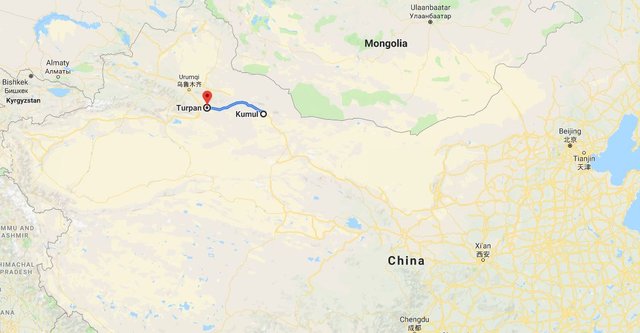 Here is a map of our whole route from Thailand to Spain: If you are interested in our route you can find it here: https://drive.google.com/open?id=1dKeTjIFM0cgSP2Wefp8L3ZvOgTE&usp=sharing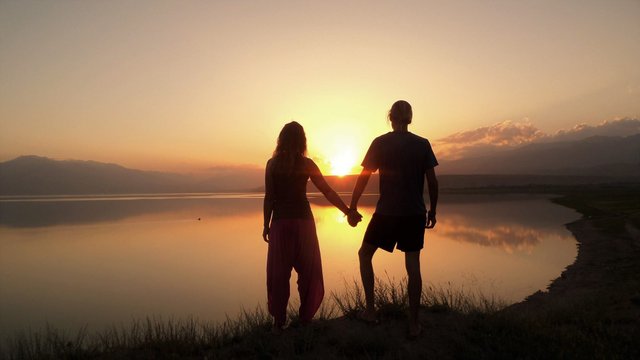 Thanks, Alex and Malin!