As a European traveler you get used to seeing the most amazing cathedrals or more sober protestant churches scattered all over the continent. Every city I visit in especially the South of Europe there will be a moment where I go in one of those buildings to find a calm moment, away from the warmth, the tourists and simply to enjoy the grandeur of past centuries.
Because, man, could they build amazing structures!
I love the Sagrada Familia in Barcelona, the Cathedral in Amiens, the small and unnamed churches in the little villages I used to cycle through with my parents when I was smaller.
But for the @photogames request to share 'religious buildings' I couldn't ignore my most recent religious building discovery: the Mezquita in Cordoba, Spain. Because that one just does not compare to anything!.
Experiencing the Mezquita
Imagine: you walk through an outside garden, the sun is shining, the garden is full of orange trees, yellowish walls surround the garden and you can clearly see the old gates that used to be open. You enter one of those gates that is now the only entrance, and walk in what's clearly a Mosque. And a beautiful one: Arabs are the inventors of some of the most amazing shapes and art in history and I admire their taste in decorations, which tend towards the geometric while keeping it modest.
I walk on and on and on, this Mosque doesn't seem to have an end. The Mosque has been expanded a few times during the centuries and I try to find the places where you can see one building transforming into another.
And then: an organ? Really? I walk towards the sound of the organ. it's getting louder and louder. I walk around a corner and suddenly instead of being surrounded by modest decorations, I see over-the-top white, gold, meters of dark carved wood! A huge organ, many wooden benches, statues, candles, you know, all the things you'd expect from a South European Catholic church.
Even though I knew 'The Mezquita' (which is officially a Cathedral now with daily masses, but still called 'Mezquita', Spanish for 'Mosque') was taken over by Catholics and in the end transformed into a cathedral the shock and amazement was still very real.
I've spent 4 hours in the Mezquita and couldn't stop looking at all the fascinating intertwinings between Islamic and Catholic architecture and decorations.
Right at the end of my visit the light was perfect. I stood for a while against one of the pillars, waiting for either and empty corridor or a person walking in that gorgeous light.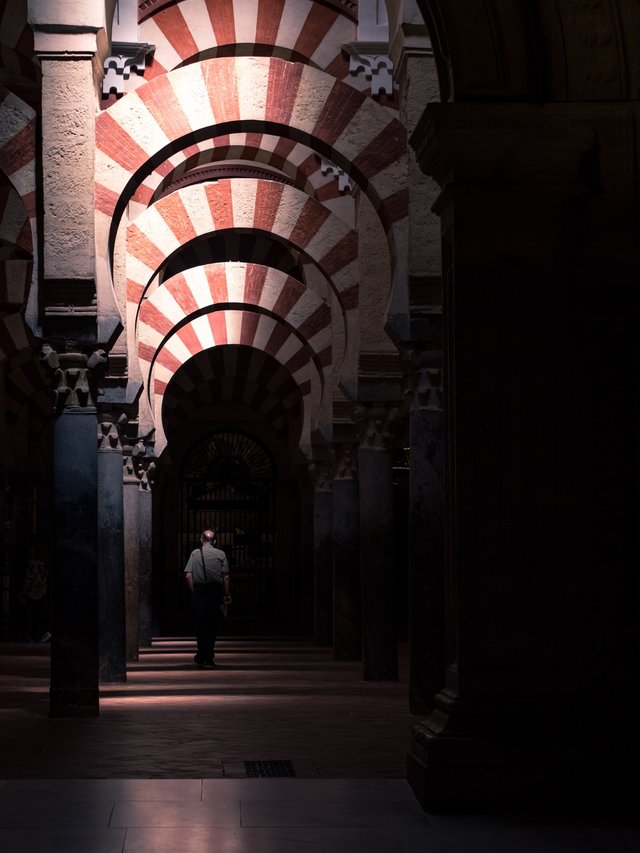 [In the end it was the original Islamic structures that provided the background for my favourite shot of that visit.]
---
I will use this post as a start for a photo essay of a few of the details from this amazing place. If you are ever in the South of Spain: other buildings might beat this Mezquita in size, I've heard a few visitors say: "This was even more impressive because of the unbelievable architectural mix." Be advised ;-)
---
All photography on steemit.com/@soyrosa is created and edited by me, Rosanne Dubbeld, 2005-2018. Contact me if you want to discuss licensing or collaborations on creative projects :-)