Overland Track highlights (Tasmania travels)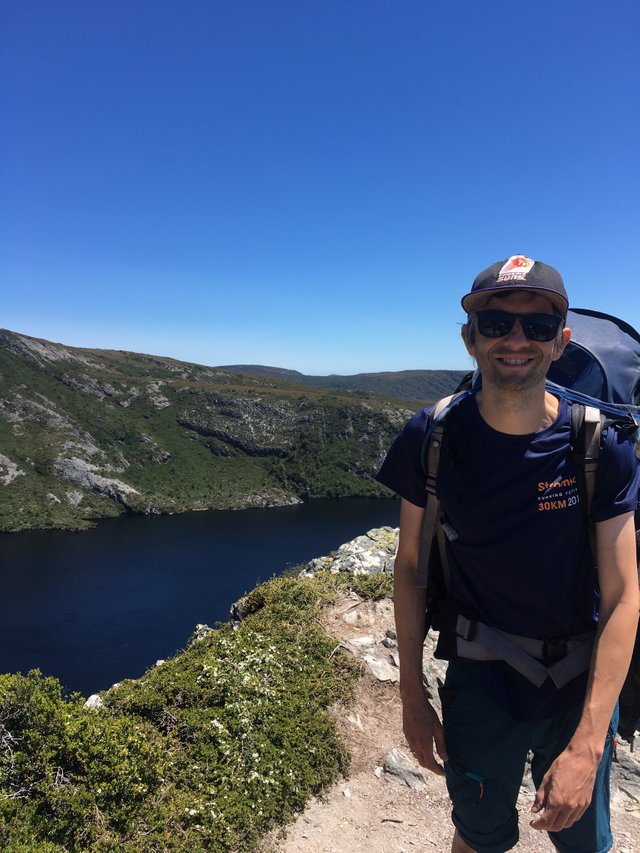 Read "Overland Track highlights (Tasmania travels)" on TravelFeed.io for the best experience
---
In January this year, mrshill and I hiked the Overland Track, a multi-day walk in Cradle Mountain National Park in Tasmania. This was something I'd been interested in doing since my first trip to Tasmania in 2002 when I visited my brother who moved there to work as a park ranger.
We did this walk as part of a guided tour - the group comprised two guides and eight walkers. We followed the traditional six day, five night schedule. We carried our tents, mattresses, all-weather gear and a portion of the group's food. However, there was a food drop on the third night so we didn't need to carry food for the entire six days. We were very lucky with the weather in that there was only a bit of rain during the six days. One of the main perks of doing this hike with a tour group was that the guides made all our meals for us. It was great to put our packs down on arrival at camp, knowing we were basically done for the day (after setting up the tent)!
Day 1 - Ronny Creek to Waterfall Valley - 10.7 kms
The night before the hike began, we stayed with a friend of the family, and the tour bus picked us up on Day 1 outside the front door just after 7am. After the whole group had been picked up, we set off for Sheffield for morning tea and on to the brand new visitors centre in Cradle Mountain National Park. After picking up our passes, the bus took us to Waldheim near the start of the Overland track. When we got off the bus and got our packs ready, our guides noticed that my pack and mrshill's pack didn't fit right. We had hired the packs from the tour company and given them our height specs via email in advance so they could have packs fit to size. It turned out that we each had the other's pack on, so for all of Day 1, we lugged the wrong packs around as we didn't really have time to unpack and re-pack everything before setting off!
The beginning of the Overland Track was relatively easy. We hadn't gone far when we stopped for our first water stop. We learned that any fast-flowing water source within the park is suitable drinking water which meant that I didn't always need to carry my full water capacity. Yay!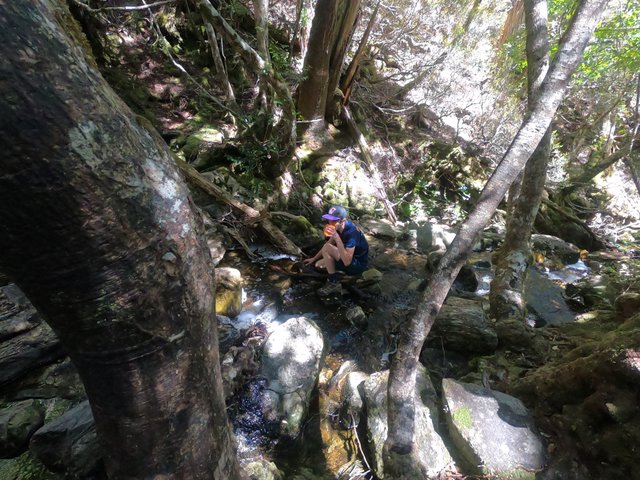 Re-hydration. Can confirm the water tastes nice!
By this point the ascent towards Crater Lake had begun. At Crater Lake, we paused for some photos before the climb up to Marions Lookout, our lunch stop for the day.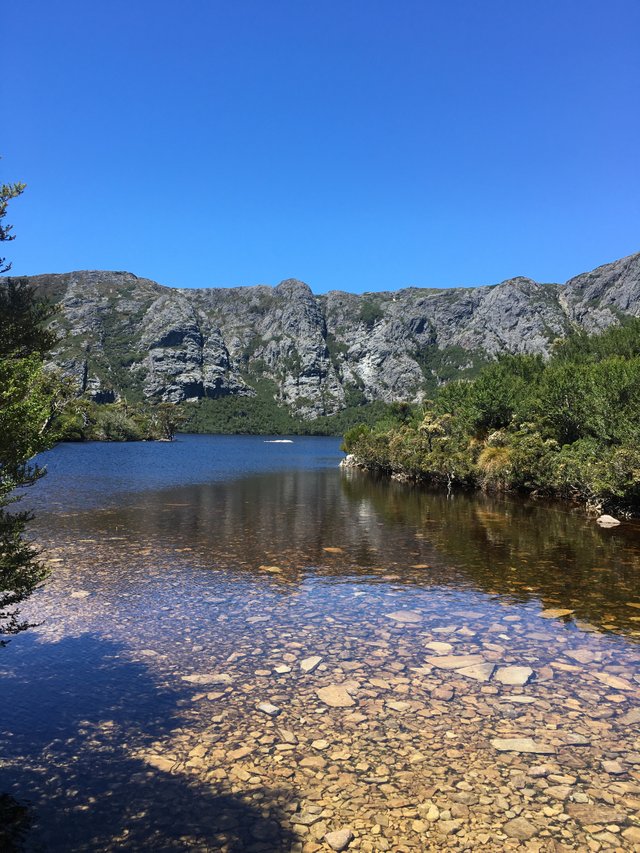 The first jaw-dropping sight - Crater Lake
The climb to Marions Lookout was a challenge with our packs. Being Day 1, the track was filled with day-trippers carrying day-packs. There were several day-trippers who kept passing us slow-coaches only to stop and take a million selfies for us to pass them, only for them to pass us again a little further on! Annoying! At least we didn't have to see them again after Day 1.
At Marions, we were pleasantly surprised with the spread our guides put on for lunch - Turkish rolls with cheese, cold meats, avocado, salad and more. Yum! Our hungry selves couldn't get enough.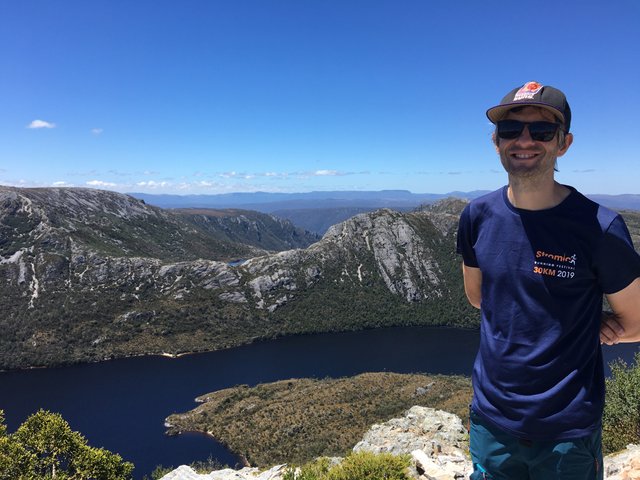 Nice view - Marions Lookout
From Marions it was a short walk on to Kitchen Hut at the base of Cradle Mountain, an optional side-trip. For more on this side-trip please visit my detailed Cradle Mountain summit post. This was about a two-and-a-half-hour round trip and from there it was almost two hours more further to the camp at Waterfall Valley. The folks that opted out of the Cradle summit headed to camp first, including mrshill who kindly set up our two-man tent so there wasn't really much for me to do when we arrived at about 7pm except kill copious amounts of mosquitoes! The main campsite at Waterfall Valley was under renovation so most hikers had to detour to another campsite for the night. We were lucky that the Groups only section was still open so we had the whole place to ourselves.
Day 2 - Waterfall Valley to Lake Windermere - 7.8 kms
After (what would become a very familiar) breakfast of porridge and coffee, we re-packed our bags (the right ones this time) and set off on Day 2. This was the shortest walking day along the Overland, which was just as well because it was also the hottest day! We had a bit of a climb to the turn-off to the Lake Will side-trip. At the junction we were warned to protect our packs from currawongs. Apparently they are notorious in the area for opening pack zips and eating any food they can find. The walk to Lake Will was pleasant and flat, made all the more pleasurable for the fact that we'd left our packs at the junction.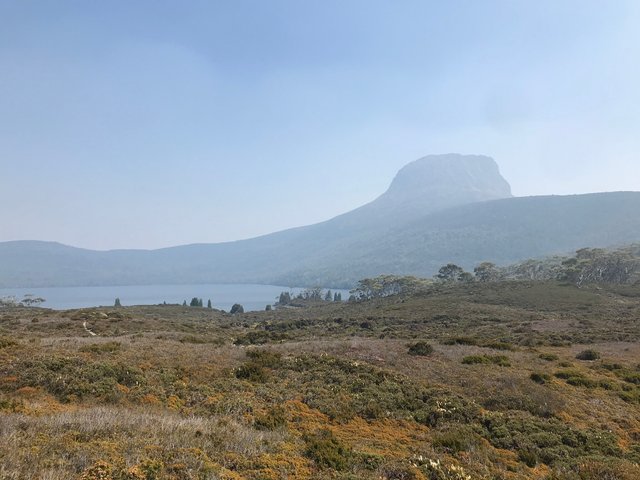 Approaching Lake Will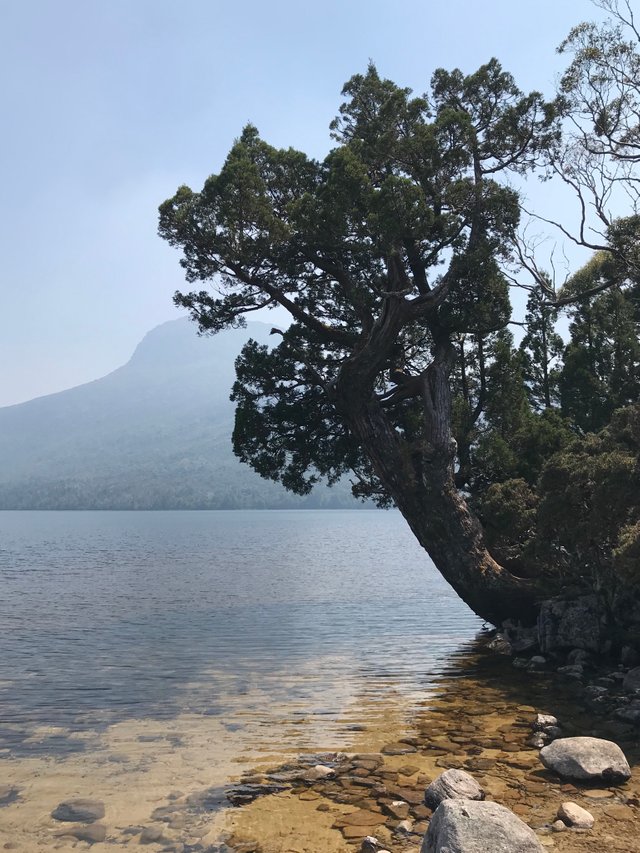 Lake Will. We learnt a lot about native Tasmanian vegetation over the course of six days. One species we learned about was the Pencil Pine - our guide said that this fine example was one of the oldest on the Overland Track. I went about ankle-deep in this water, which was enough - it was cold!
Back at the junction I was relieved to find that my pack had survived the currawongs. The rest of the day was slow-going in the heat. We managed to get to camp mid-afternoon, which gave us time for a dip in the lake and a nap (although I couldn't get to sleep!). I was slightly bummed that I didn't have a book to read as I'd decided against taking one on the trip (for obvious reasons).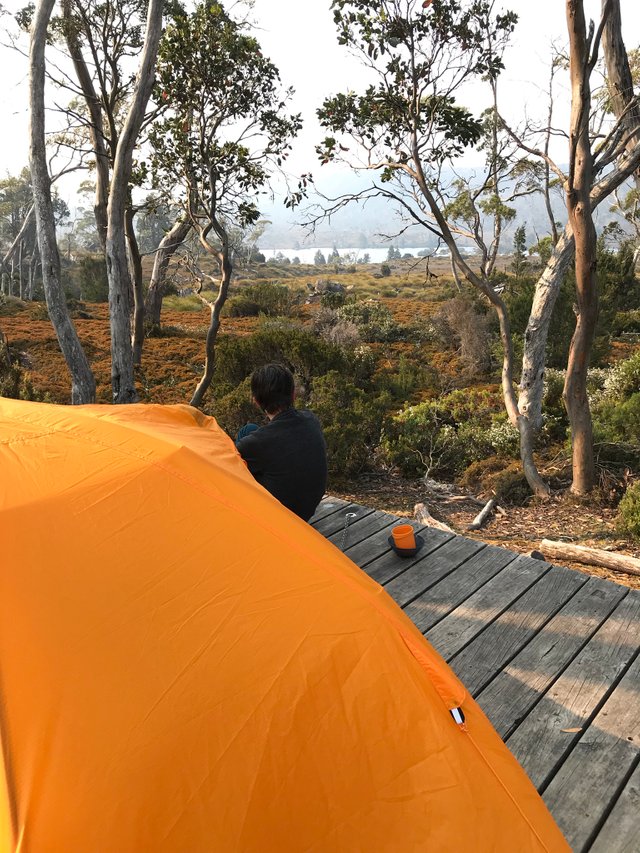 Camp at Lake Windermere - this was my favourite campsite.
Day 3 - Lake Windermere to Pelion - 16.8 kms
Although Day 3 covered the longest distance - 16.8 kms, it was by no means the most difficult.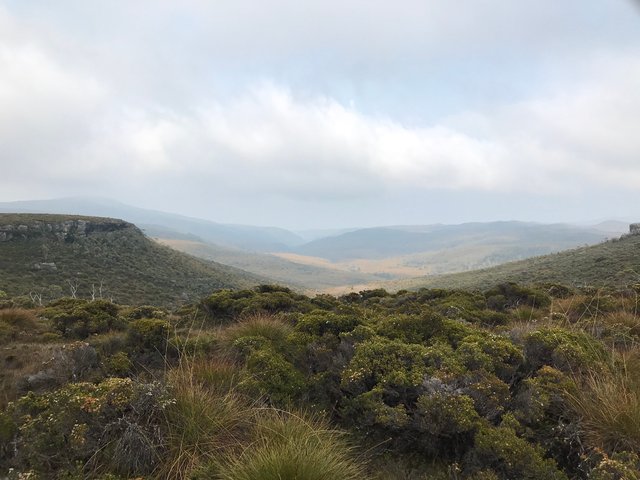 View of the Forth Valley on the morning of Day 3
This was also the day we saw a little bit of rain. My pack got pretty wet as I didn't have a pack cover. Our guide kindly lent me his but it wasn't a big deal as everything inside the pack was in a wet bag anyway.
Along the Overland I became super-interested in what the guides called nursery trees - fallen trees that have rested for hundreds of years for many other types of vegetation to make it their home - after admiring a great example of one at the Pelion campsite.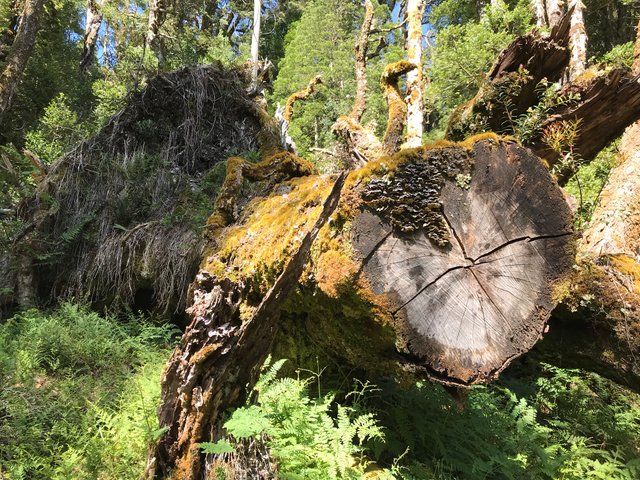 Example of a nursery tree
Day 4 - Pelion to Kia Ora - 8.6 kms
Past the half-way mark now, climbing day as its known, involved first an ascent to Pelion Gap and then a summit to Mount Ossa, Tasmania's highest mountain.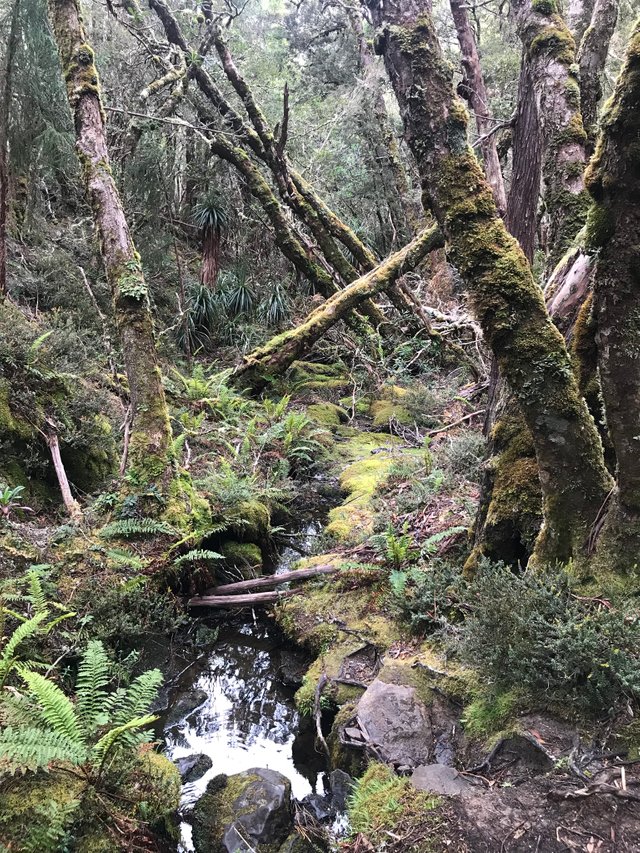 Beautiful Douglas Creek along the way to Pelion Gap
At Pelion Gap, it was by far the coldest we'd been for the four days of the trip. I pulled out all the stops - beanie, gloves, rain jacket - and still felt cold on our lunch stop at the Gap. It was also misty with a little bit of drizzle about. The guides decided at lunch that the optional summit of Ossa would go ahead so, once again, one of the guides took us up and the other took everyone else ahead to the campsite. For more on this side-trip, please visit my detailed Mount Ossa summit post.
The highlight for me on the walk down to Kia Ora hut (and the whole six days!) was an unexpected encounter with an echidna. I stood and watched him in awe for several minutes.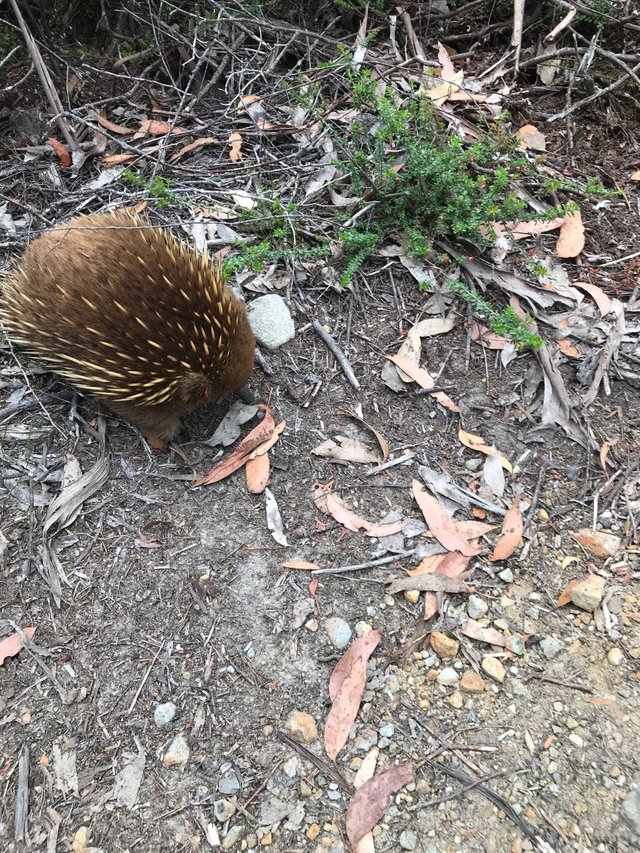 This little cutie was not bothered at all by me! He dug around on one side of the track, crossed over, dug some more and then crossed back.
Day 5 - Kia Ora to Windy Ridge - 9.6 kms
Day 5 had probably the most enjoyable walk. About an hour in, we came to Du Cane hut.
Du Cane hut - I took this photo from the tent platform just before the hut. It was such a relaxing spot to sit and enjoy the morning sunlight.
Immediately after this, was a 45 minute rainforest walk. It was so peaceful and there were lots of great examples of nursery trees along the way. After the rainforest canopy opened up we came to a junction which marked the turn for our side-trips for the day - D'Alton Falls and Fergusson Falls. I've seen a lot of waterfalls in my time but these ones stacked up pretty well against others.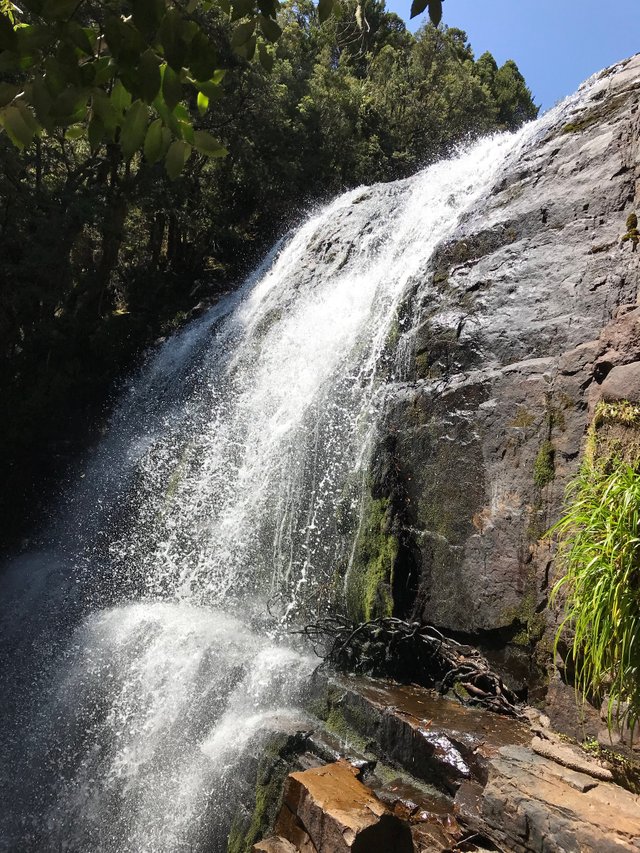 D'Alton Falls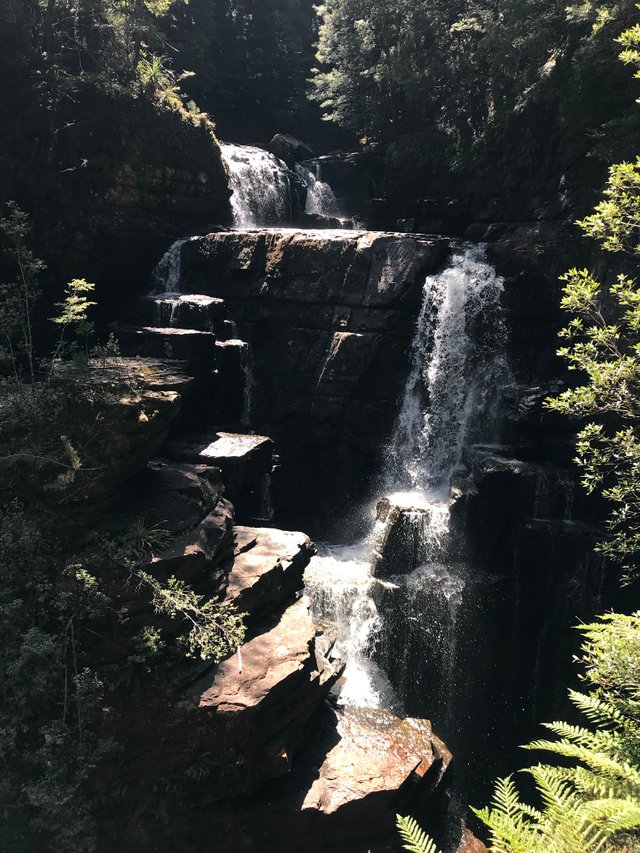 Fergusson Falls
We walked on a bit to Hartnett Falls, a simply stunning spot for our last lunch of the tour and a swim. This was easily the coldest water I've ever been in! It was so cold it hurt. Yeowch!!
Day 6 - Windy Ridge to Narcissus (Lake St Clair) - 9kms
The walk to the end of the road was relatively easy. This was the quickest we'd walked over the six days - probably because we were itching to finish and get back to civilisation!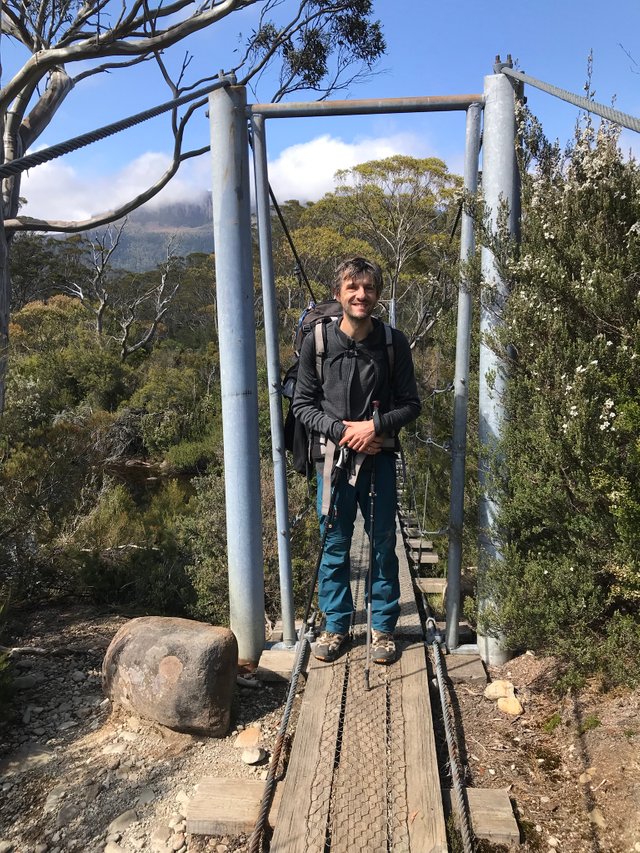 Nearly there - the swing bridge is a landmark for Overland hikers to signal that the end is nigh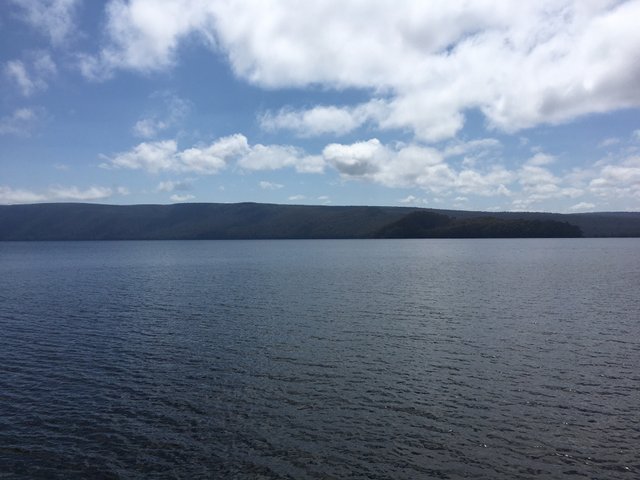 Beautiful Lake St Clair
The track does carry on past this point for hardcore hikers that can't get enough but this is the traditional finish point.
I took a running jump along the pier at Lake St Clair for a super-quick dip (also cold!) before quickly changing back into my dry clothes and boarded the ferry. The 'ferry' took us to Cynthia Bay where the tour bus met us. We stopped off at a cafe for burgers 'the size of your face' (our guide's words) and were then dropped off at our accommodation in Launceston.
Final thoughts
Although I was very sore from this experience I'm so glad I did it! mrshill and I both felt a sense of accomplishment at the end. We went with Trek Tasmania and I can highly recommend them (this is not a sponsored post if you're wondering). Our guides were Nick and Sanja and their passion for the Tasmanian wilderness definitely rubbed off on me.
I really enjoyed re-living those six days whilst writing this and curating photos and I hope you enjoyed reading it. Thanks for taking the time to stop by.
---
View this post on TravelFeed for the best experience.