I really do not like going on organised trip when I go away. Most of the time you join other tourists and get transported around like cattle from one place to another. The tour guide tells you most of the information you need to know about an attraction and all you need to do is to go in to take a photo and tick the been there and done it box. Food, as expected is tourist grade meaning its edible if you're lucky. Who cares about tourists? 99% of them aren't coming back again.
Anyway, whilst in Thailand, I took a day trip from Chiang Mai to Chiang Rai with an organised tour. I didn't have enough time to do any research so the organised tour was the only option unless I was willing to pay much more for a private rental car which I wasn't. Here's how my day went.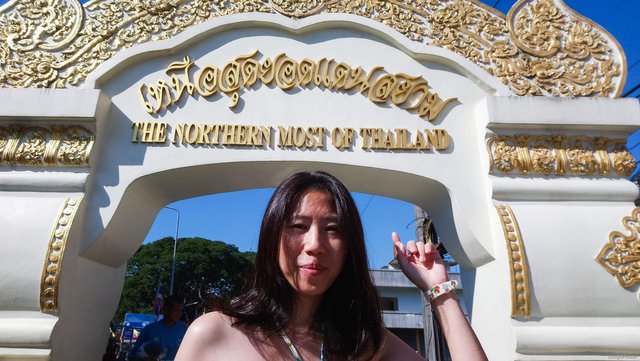 ---
Mae Kachan Hot Spring and Geyser
Pick up was at 7.15am. We were the second pick up, four more to go and we drove around town for half an hour more to pick them up before we start our three hour journey up north. En route we stopped at the Mae Kachan Hot Spring and Geyser. The geyser erupted maybe about two meters high, nothing dramatic but it was pretty hot. There were a few ladies selling eggs in little baskets. You can either cook them in the spring yourself or buy the cooked ones. We had 20 minutes to stop for souvenirs and a comfort break. Toilets cost 5 baht. They were clean and modern ie not the Thai style raised level squatting ones where I'm always afraid I might fall off. I keep on meaning to take a photo of these Thai style toilets but I'm worried I might drop my phone...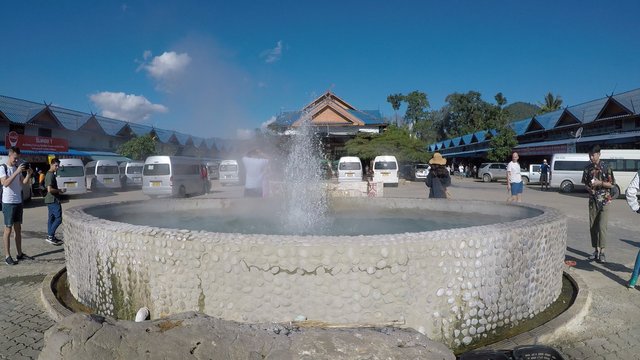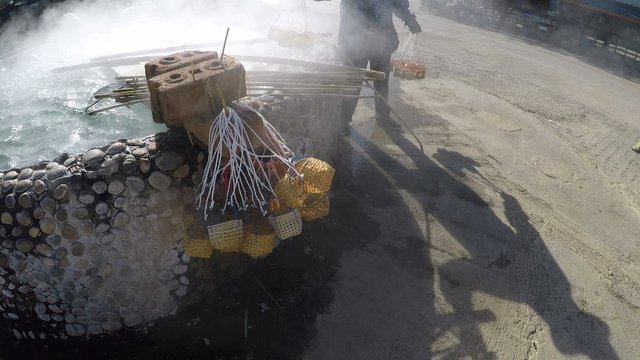 ---
White Temple
The highlight of the trip is the White Temple. This temple was built in 1997 and designed by a local artist. Its a fusion of contemporary, Buddhist and Lanna style. Lanna style architecture is unique to northern Thailand. We arrived at the White Temple late Sunday morning. The sun was scorching hot and it was packed with people, not surprising given this is the most visited tourist attraction in Chiang Rai. I could hardly see what I was capturing on the photos as it was very bright everywhere. Luckily the photos seems to be OK.
We only had 40 minutes here, barely enough to fight through the crowds and admire the temple in detail. That's why I don't like organised tours as you're constantly on the move to cram in as much in as possible. Everywhere ends up as a been there and done it visit. Luckily I managed to snap a quick shot of the golden toilet on the way out - as recommened by the tour guide!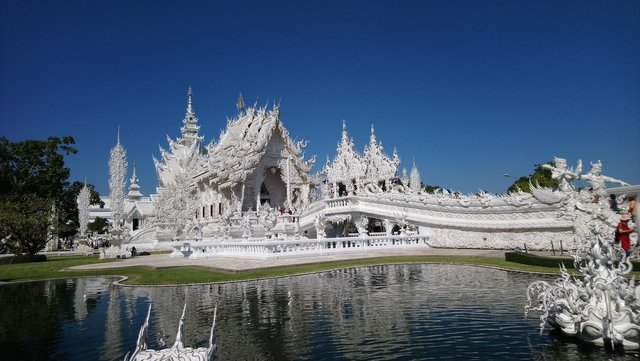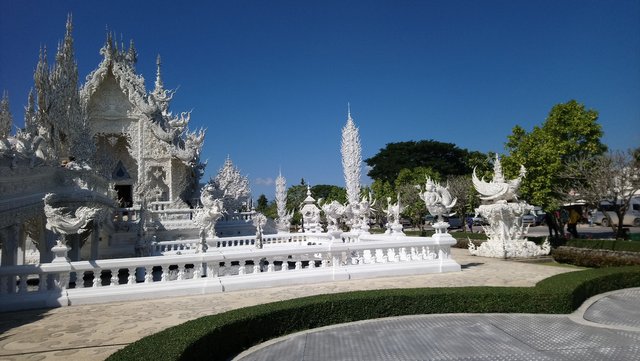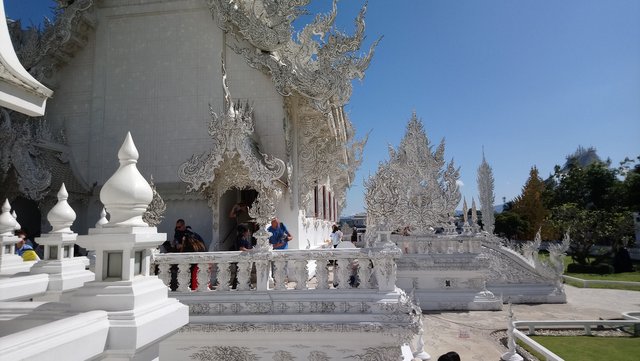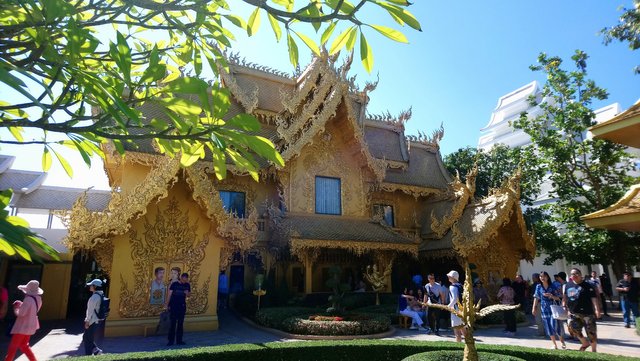 ---
Lunch
Lunch was two minutes drive away and we had half an hour for that. We were the second group of cattle to arrive and five or six more followed us. Twenty minutes later someone asked for more food, the restaurant said no more!!! Not surprised I had no expectation of lunch. The food was ok to fill you up, but that's about it. The highlight meals were the prawn crackers and the dessert.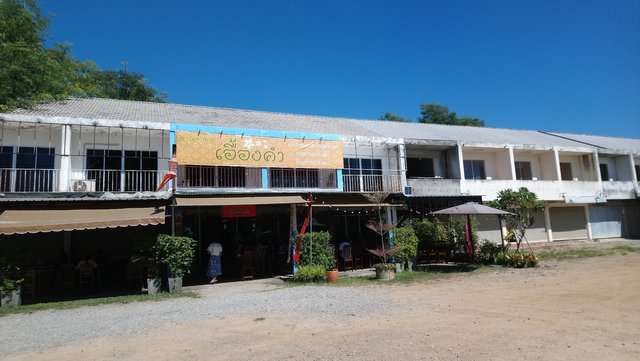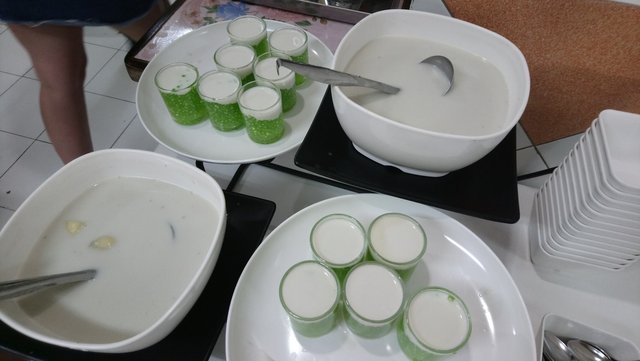 ---
Long Neck Village
We drove 40 minutes after lunch to the long neck village. You may have seen photos of tribal ladies with elongated necks from wearing rings on the neck. This is an optional tour. I didn't like the idea of paying to see someone's unique body feature. It's not the paying part I don't like. I don't mind that as it was only 300 baht which is around USD10 / £7.7. It just felt odd like going to a circus which I didnt like. Those who went inside the village to see the long neck ladies had twenty minutes. I hanged around outside with a couple of other people and looked at the handicraft on sale and munched on fresh mini pineapples.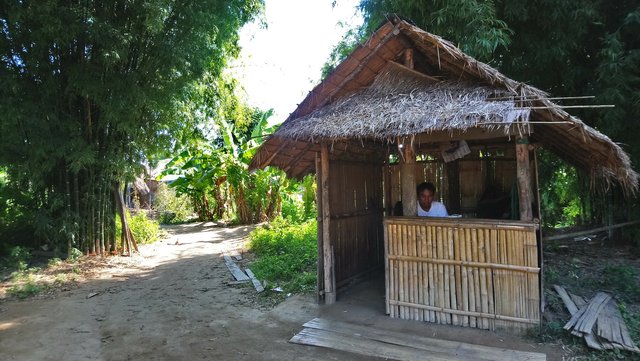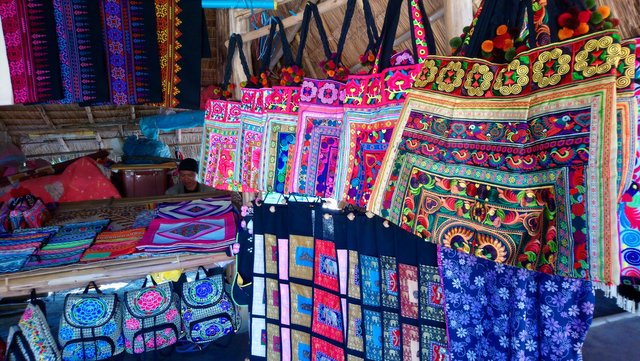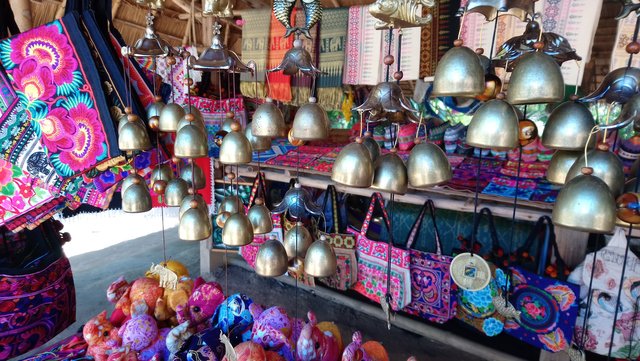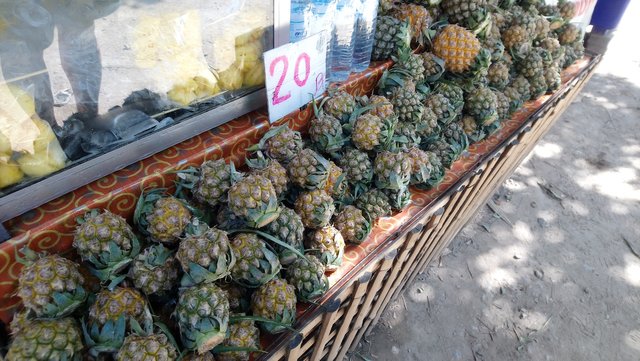 ---
Mae Sai border
Mae sai was forty minutes drive away. This is the most northern part of Thailand and is the border with Myanmar. We stopped for twenty minutes watching the buzz at the border. Our tour guide said there used to be a lot of drug trafficking here in the old days but they've crackdown on it now. Crossing the border cost 30 baht for locals and 500 for foreigners. We didn't cross here as we drove another forty minutes to our next and final stop.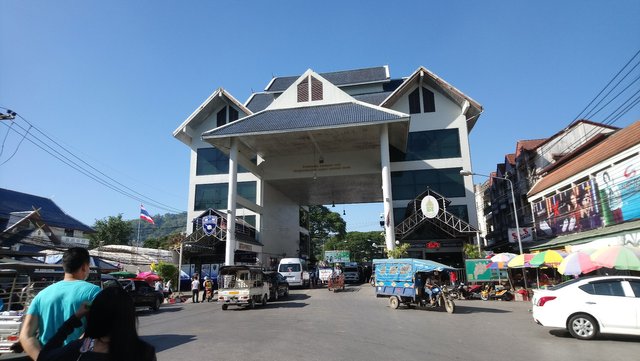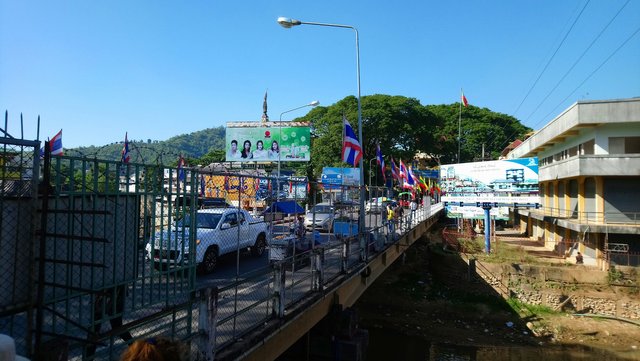 ---
The Golden Triangle
The Golden Triangle refers to the part of Mekong River and Ruak River bordered by Thailand, Myanmar and Laos. We boarded a ship from Thailand, where everyone had to leave their passport with my guide, probably to make sure we wouldn't defect to Laos. Then we went for a spin on the river. On one side is Thailand, next to it an inlet is Myanmar territory, and then on the other side of the river is Laos. All three countries are incredibly close here. The ship stopped at Laos and we all got off and entered Laos.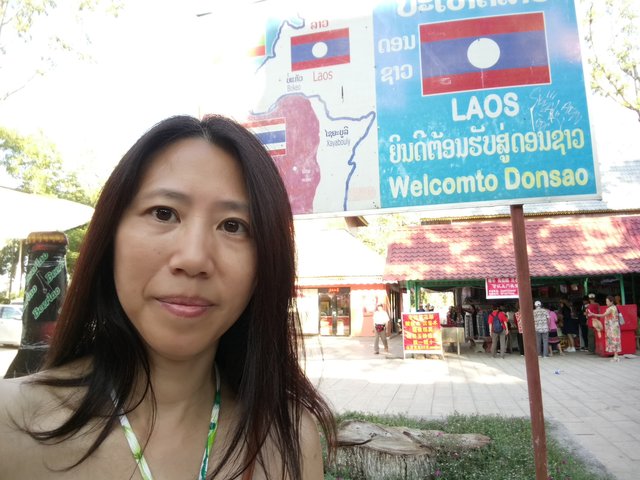 The area by the river is the Donesao Island, the Golden Triangle Special Economic Zone. It is leased by Laos to China for 99 years. The Chinese are building fancy high rise flats and casinos here so the Chinese can come here to gamble. Bit of an irony since gambling is illegal in China. Just shows, you can buy anything with money. We had half an hour here, and walked around the market where traders were selling goods, probably imported from China, to the many Chinese tourists.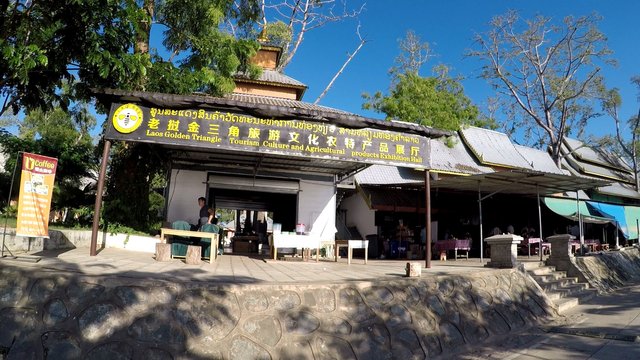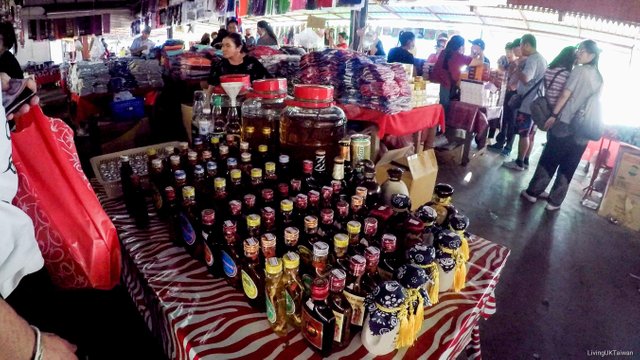 We did buy one thing, a local Laos beer. It was surprisingly good (even hubby says so), and that was the highlight of my half an hour visit to Laos!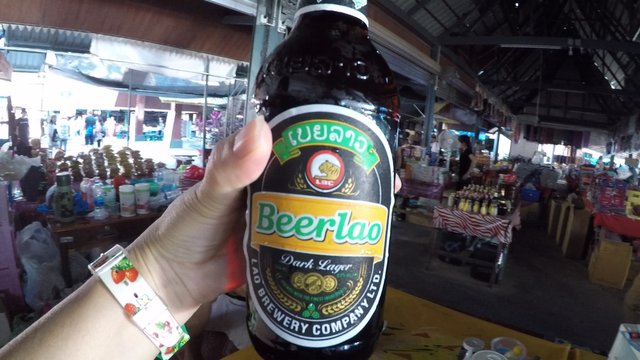 ---
View this post on TravelFeed for the best experience.