The Unplanned - The Day Of The Storm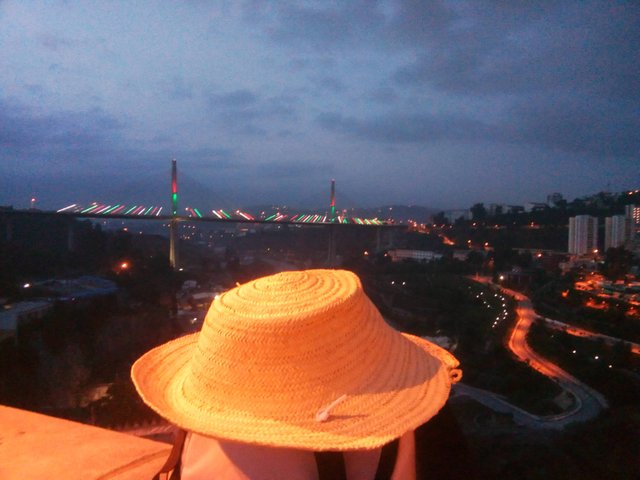 Not shivering, but my bones were so cold it nearly hurt. Trying not to move too much because the ground all around me was wet, so were my clothes, but I didn't want things to get any worse, all I had to do was try to sleep. Sleep would take away every other feeling. It would relieve me. I managed to sleep for minutes, sometimes nearly an hour, at a time, and it was always bad news when I looked at the time afterwards. Is the sun ever going to shine again?
I had no regrets, really, but I wasn't expecting any of that when I said yes! (Or maybe I was planning it all along in my subconscious mind? read along, please, then try to help me answer this question :) )
---
---
I was at work when I checked Facebook on my phone and saw a post in my Climbing Club's group. We had an invitation to a City north of Algeria called Bejaia. Accommodation, food and logistics would all be on our hosts, all we needed to do was to get there, help them install some climbing tracks (which is one of our specialties) and enjoy the whole event for free.
I rushed and said I'd go. That was three days earlier, though it felt like three weeks at least. I didn't hesitate because, back then, it wasn't an irreversible decision, I could always cancel. I mean, earlier that "day of the storm", I was in Tunis considering whether to actually go or to tell the guys I couldn't make it.
That was when I found a ride to Annaba, the Algerian city the most accessible for Tunisians. The guy who would pic me up, in exchange for some money, of course, looked like a professional. About the age of my father, he looked tough, but friendly, a little nice and talkative, but mysterious at the same time. I asked him how long the trip would take. His answer convinced me that he was used to this, or better, that this was his job.
I would reach Annaba late in the afternoon, and I'd have to leave it as soon as possible. Annaba is accessible for us Tunisians, but not so safe. My preferred destination would have been Constantine, a city I was obsessed with, ever since I read "Ahlem Mostaghanmy", the famous Algerian writer, describe it in her novels. I think it was in "Black Suits You" that she described its "enchanting bridges" in such a beautiful way that anyone would become obsessed. Another reason for wanting to pass through Constantine, other than it being in midway between Annaba and Bejaia, was that I have visited it before, a year earlier, with my scout friends, and I believed I can manage myself for a night there.
It was probably when my mind took me to Constantine, that I decided to take the trip.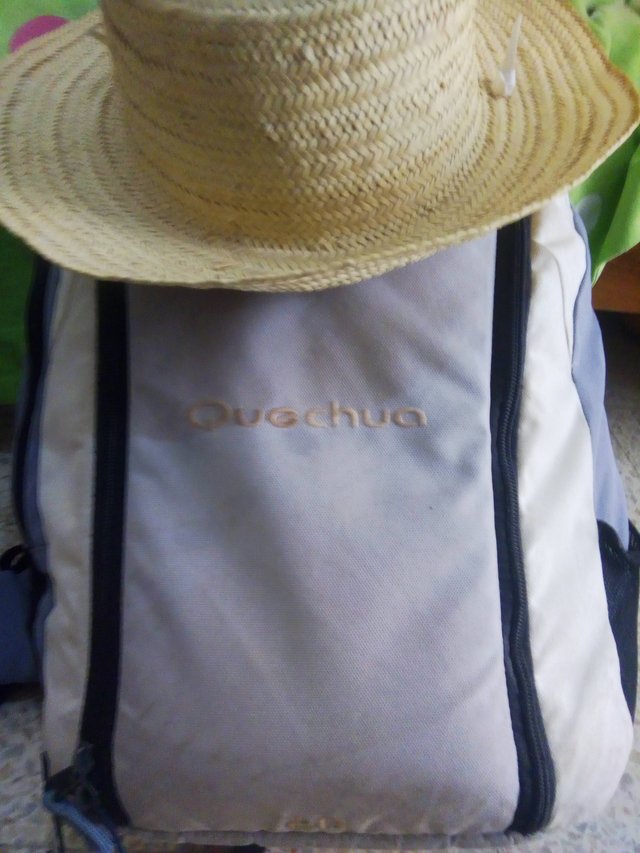 The car was comfortable and fast, the companions were nice, the driver was definitely an expert, he even managed to buy us much time with the paper work in the borders. The only one thing that was disturbing me was the weather. There was a storm going on when we reached the borders. How was I supposed to have some nice time exploring my neighbor country if I would visit it during a storm?
But as we went through Algeria, the rain stopped, and we got to see the beautiful nature.
Probably because Algeria is west of Tunisia, everything in it reminds me of our Northwest area. Nature is actually winning its fight against Humans. If we leave some free space, it would become a forest. Even in the cities, if we leave a free inch, a flower would blossom there, if we leave a few feet, a tree would grow there. Everything around us was green and we had to look again, closely, to realize that there were actually some traces of Human existence here and there.
As planned, and as I was afraid of, I reached the station of Annaba when there were too few options to move from it. There were no means to take me to Bejaia, nor to Constantine. But there were people waiting for one. A kind of microbus that takes 7 people at a time and leaves when full of passengers. I decided to go out of the station and walk around a little. I mostly wanted to do that so I can include Annaba in my visited cities.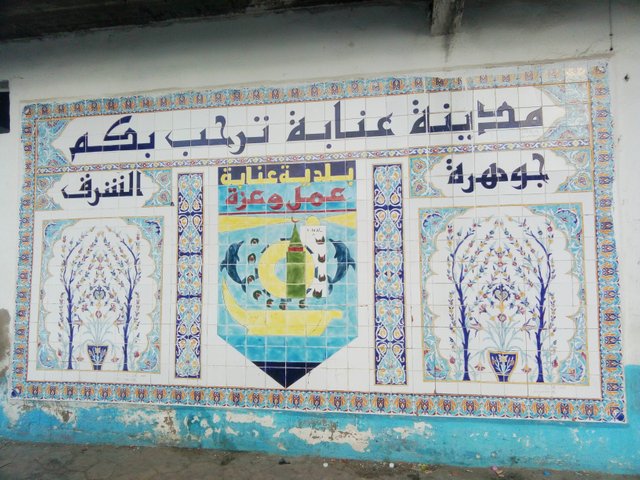 The first guy I made contact with reminded me of how dangerous Annaba was for some traveling alone Tunisian. So I went back to the station, and I got lucky to find a trip to Constantine.
It was getting dark when I reached it, but I still felt much safer. I walked around and took some photos. Finding shelter was never a priority to me, especially when I travel alone and have no complaining companion to try to comfort. I wouldn't think about settling before I would at least see those "enchanting bridges" and the "Amir Abdelkader Mosque" once again (though I didn't know its name back then).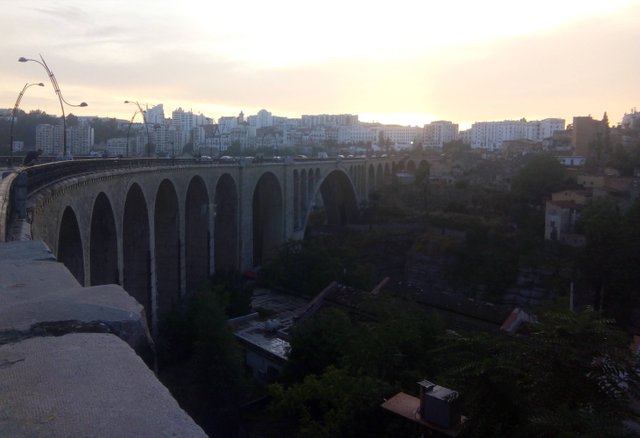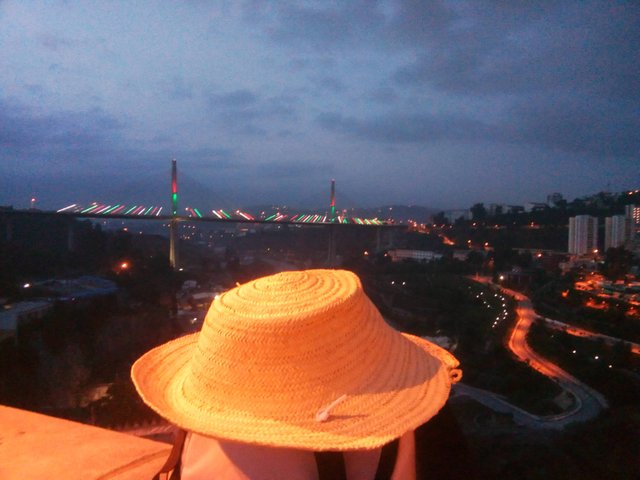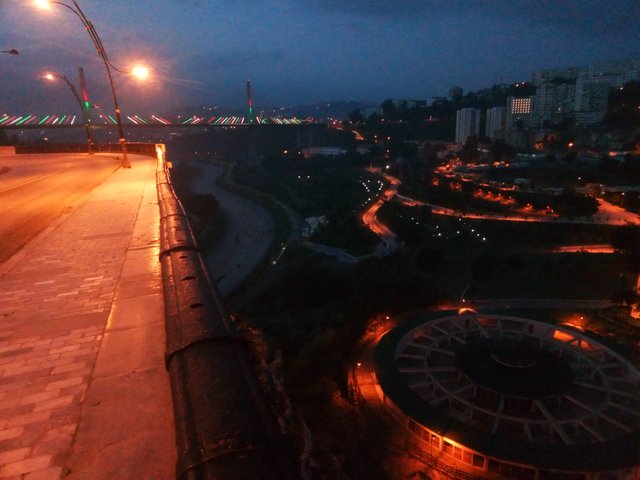 The bridges were easy to find, but the mosque, not quite.
Now, asking around about it wasn't a smart move. Even with my bag and hat, I could easily pass as an Algerian. From somewhere far away in Algeria, maybe, but an Algerian! Unless I open my mouth!
Here I had to choose carefully who to ask and what to ask for. I remembered there was a tramway station right near the mosque. So I chose very carefully someone who would find a foreigner, alone in the night, lost, and tell him where the closest station is and leave him without further interference.
Once in the tramway, I could read the names of the stations, so finding the mosque wasn't hard from there.
One interesting thing about this mosque, other than it's beautiful form as you see, was that it was, along with its surrounding area (a public green space), were protected by the military.
After exploring the area I decided to stay in there for the night. I wasn't really planning to sleep actually, at first. But after I did everything I could do to pass the long cold night, I ended up sleeping under a tree in the cold, sometimes giggling about the situation I led myself to, until the morning prayer's time came. Then I went back to the mosque (I probably could have slept inside the mosque but I didn't want anyone to see me or pity me or offer to help me, I made a choice and I decided to stick to it, after all, it was only an uncomfortable night in a wonderful place) I prayed and went back out to further explore Constantine before I go to my destination and "officially" start my adventure with my friends and my hosts.
All photos were taken by me (using my not-so-smart phone, which explains the quality)