Winter day at Starina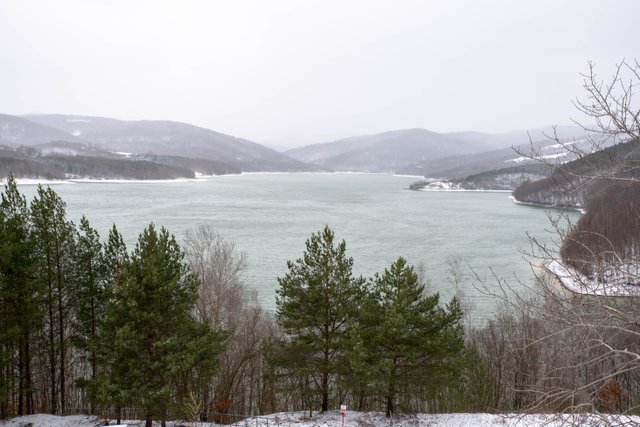 Read "Winter day at Starina" on TravelFeed.io for the best experience
---
Today is the last day that we are spending in my hometown in Slovakia. Tomorrow in the morning we will be driving back to Košice from where we will be flying to the Netherlands for a couple of days because my father in law will be celebrating his 79th birthday. I'm already looking forward to a lovely family celebration.
But before we go, we wanted to spend some time with Maxo, so we drove to Starina reservoir. We were there in summer too, but it has a very different atmosphere in winter. It's one of my favorite places in the region as there are dense forests, large fields and you can easily spot some deer or other wild animals here. You shouldn't go deep in the forest as there are bears and wolves too! Unless you want to meet them, of course.
When I was a child, we used to come here quite often. My grandma lives in a village nearby and I know these forests very well. At that time, we could set up a fireplace and grill some food for lunch. Nowadays, it's a protected area and you can't set a fire here anymore.
We left home in the morning and thought that we will come back in the evening. However, it was so cold and windy that we didn't stay there that long. We walked in the forest, played with a snow ball as Maxo loves it and after a couple of hours we went back to the car.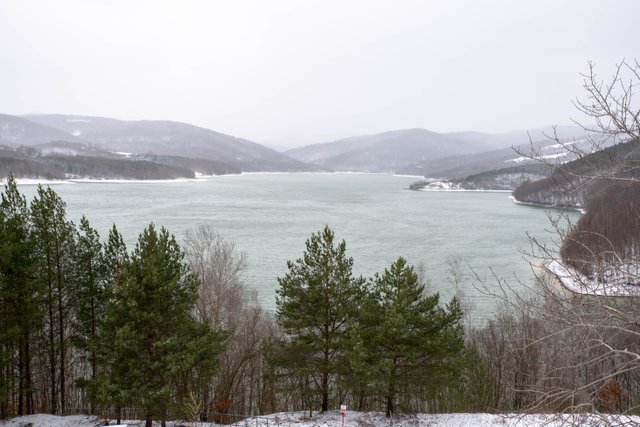 The water in Starina reservoir is crystal clear and it's the largest drinking water reservoir in Slovakia. At the same time, it is the largest source of drinking water in Central Europe. It took 7 years to build this reservoir. I don't remember its official opening ceremony as I was less than 2 years old however I remember coming here from school. I was in awe of its size. We don't have any lakes nearby and I hadn't been to a sea before, so this reservoir was fascinating to me at that time.
It covers an area of 311.4 ha and it's 50 m deep. There is a tunnel underneath the water that will lead you to a platform built in the middle of the reservoir. It is used to regulate the water stream of the river Cirocha which flows from the reservoir to the valley. It was scary to walk in the tunnel. The water is dripping from the ceiling, it is humid and cold inside, and you know that there is such an unbelievable volume of water above you that it makes you shiver.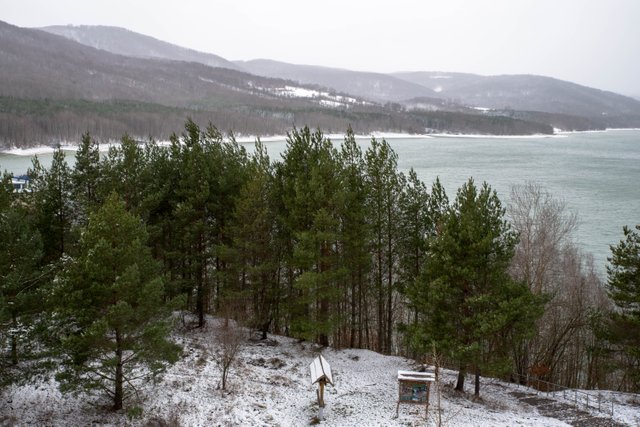 The tunnel is open to public only once a year. There are thousands of people who want to visit this precious place every year. Today, we will stay outside, and we will only walk in the forest. We wanted to walk to the water as well but the road was closed due to the unstable ground and we didn't want to risk it.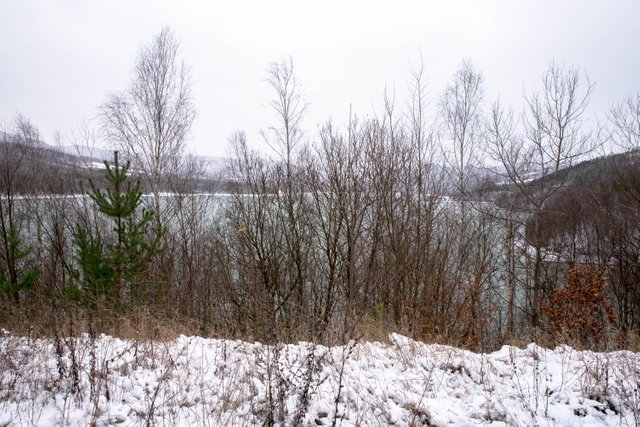 Let's go to the forest!
There is an observation platform from where you can see Starina and surrounding protected are of the national park Poloniny. It was slippery and challenging to walk up this steep path. Maxo didn't mind at all though. He was happy to see the snow.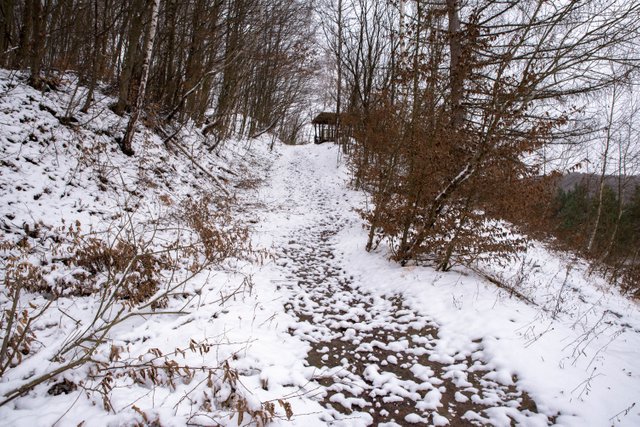 It is a tranquil place and I always feel here at peace. We couldn't see all the mountains because it was cloudy and snowing at that time.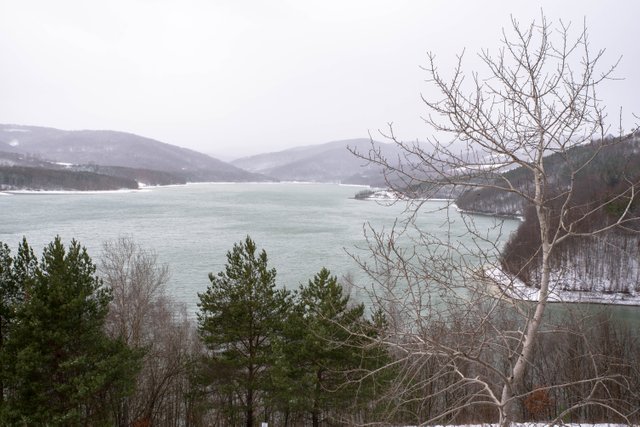 From there I went deeper to the forest. I was looking for some traces of the wild animals but didn't find any, so I took the opportunity and photographed some plants.
I wondered how the snow got in the middle of this leaf...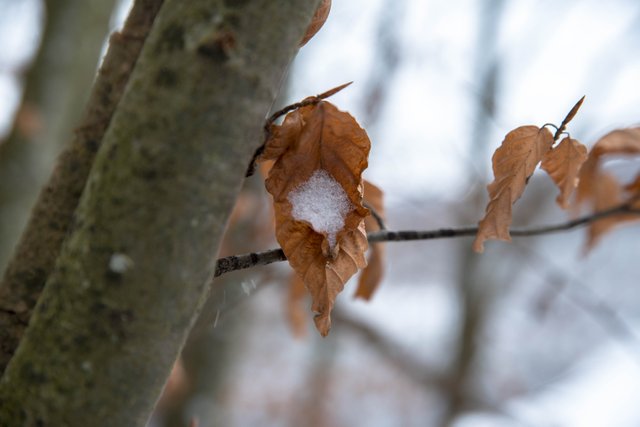 The snow was stuck to one side of the trees, so the wind must have been coming from that side only...
It reminded me of how much I enjoy walking in the moss. It's soft and fluffy for your feet, feels like walking on a cloud...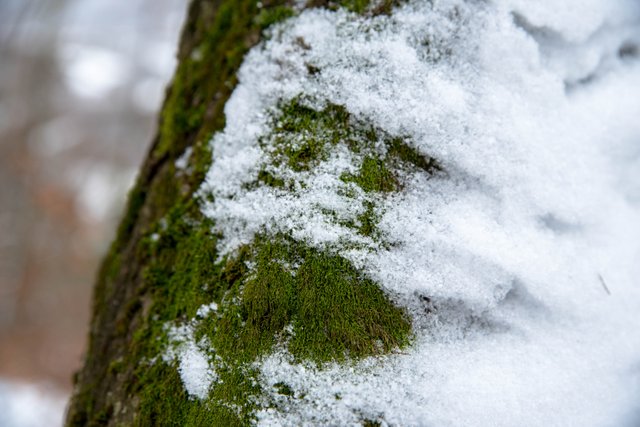 I love winter as it creates such nice patterns. The first snow is the best!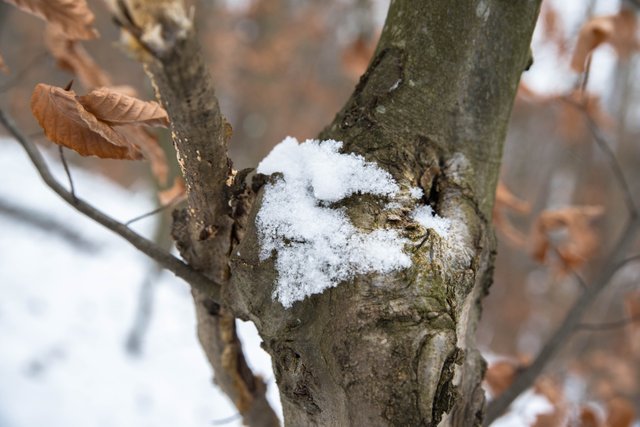 I also came across some fungi. It covered almost the entire tree...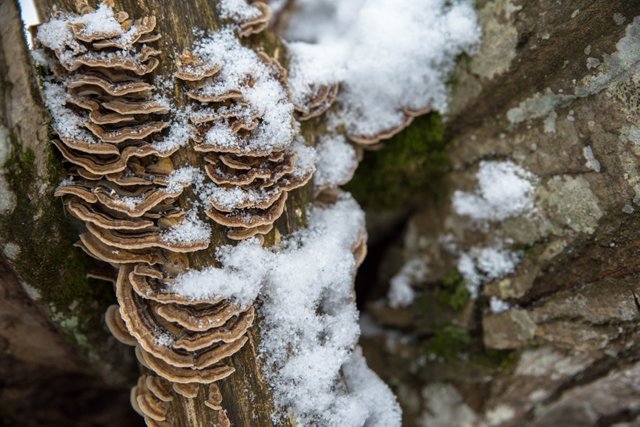 Same fungi, another part of the tree...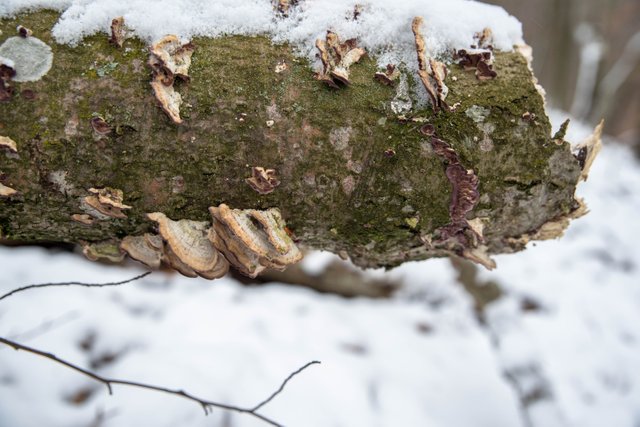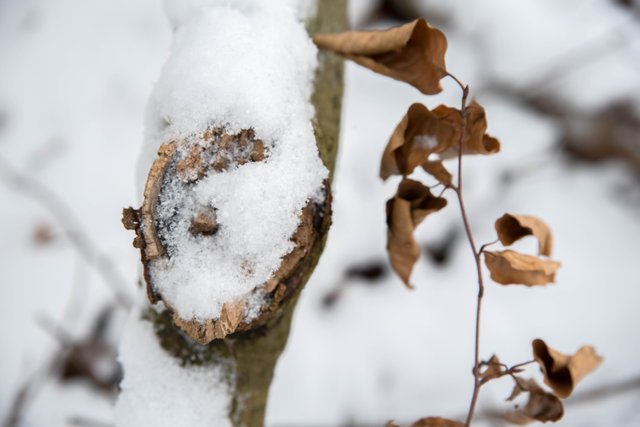 This tree had a little bit of snow on this part only, the rest of it was bare...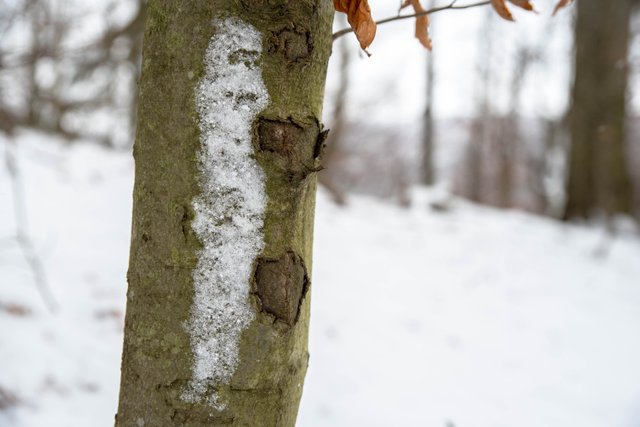 Does anyone live in that hole? I wanted to check it out, but didn't want to wake up anyone 😊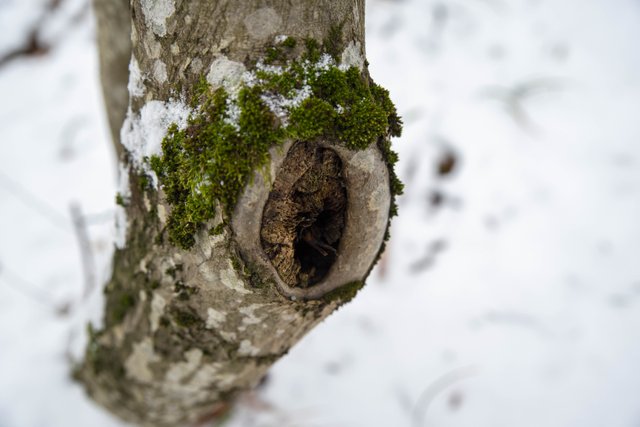 I am sure that this little fellow was not placed there just randomly...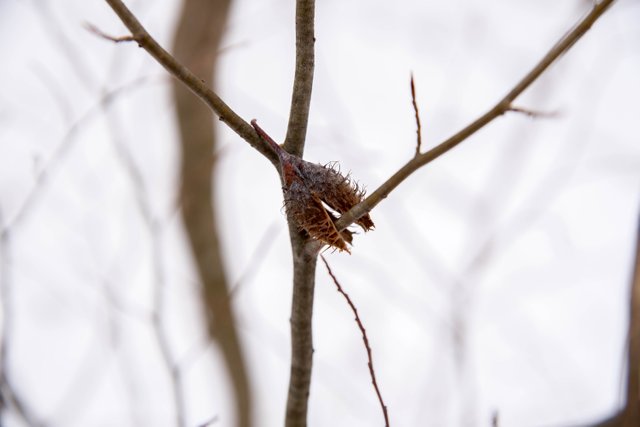 Now we will walk as close to the water as possible. It was forbidden to enter this road, but we simply walked by the sign. My mom refused to go with us and waited for us in front of the sign 😊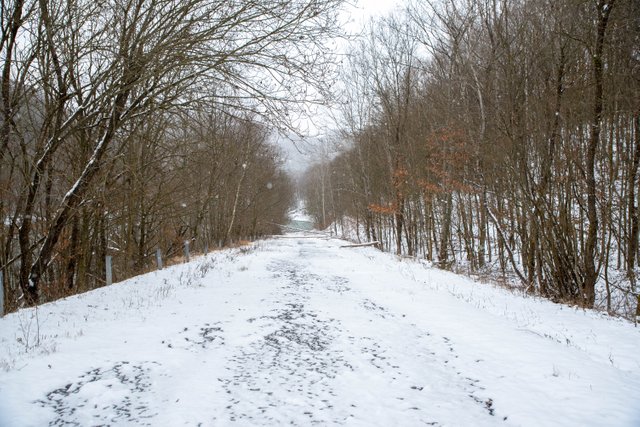 As the area is protected, all broken trees are left behind. It is said that nature will recover itself. I am not that sure as I believe that we should help it in some cases.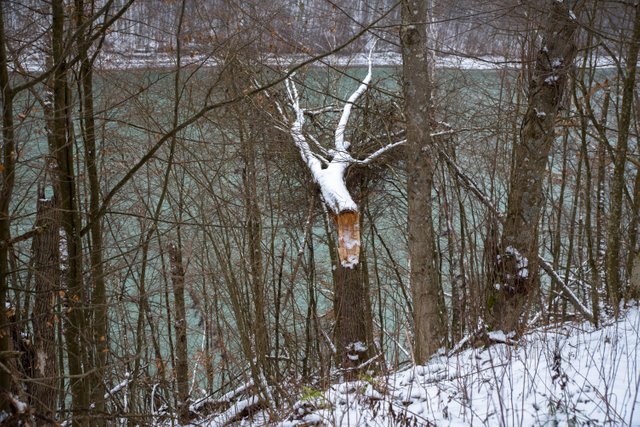 We didn't go behind these fallen trees as my mom was stressing out and asking us to return...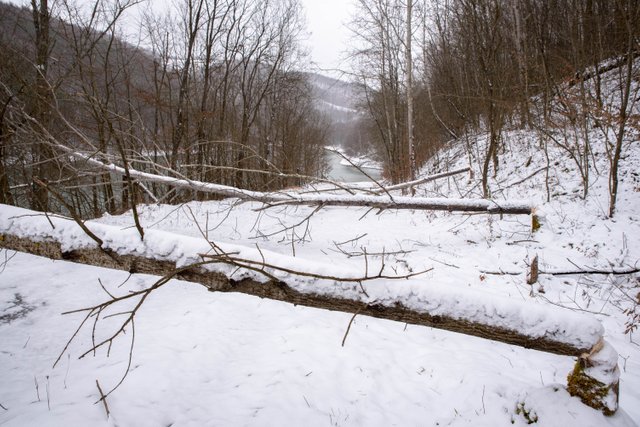 This is the closest that we got to the water...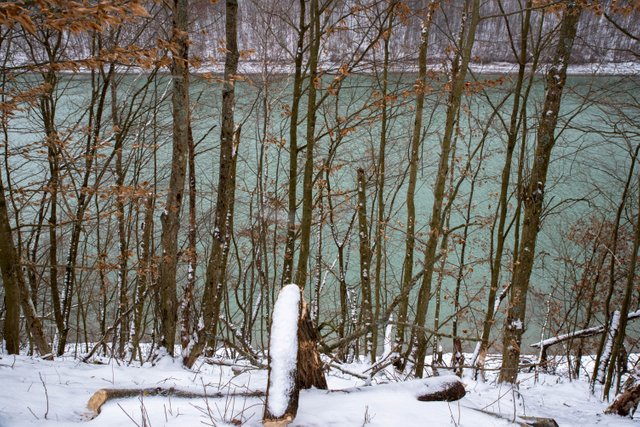 And here is our little friend with his favorite toy - a snow ball 😊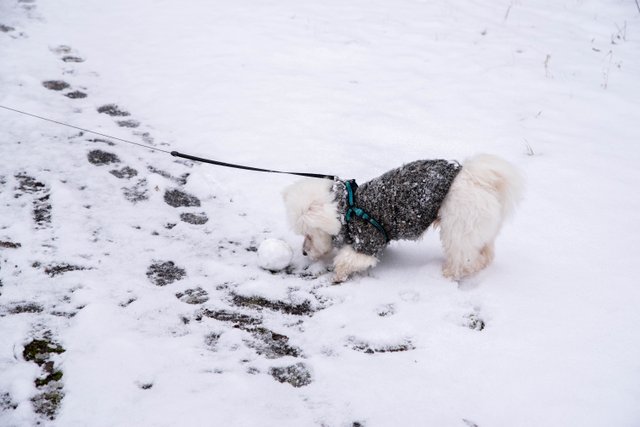 We had a good time back in Slovakia but it is time to go home. Today, we will visit my grandma to say goodbye to her and then we will pack our luggage before leaving tomorrow.
Thank you for reading!
Cheers!
Martina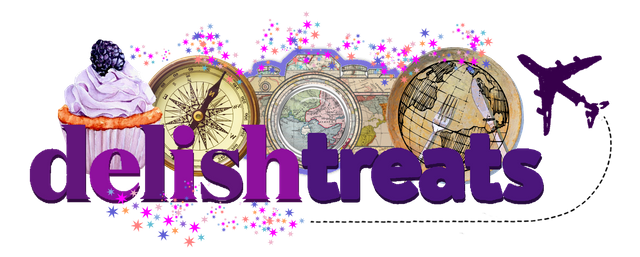 ---
View this post on TravelFeed for the best experience.