Winter Photo tour to the Top of Tatra Mountains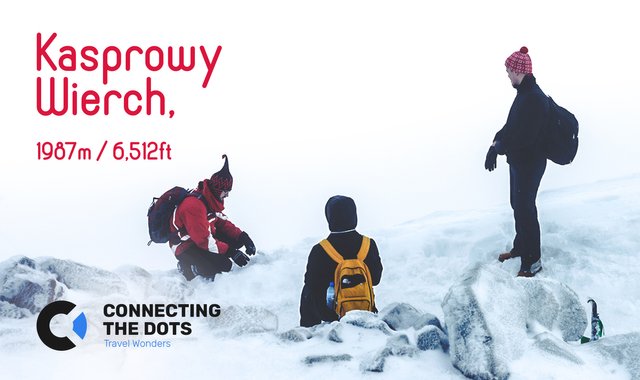 Read "Winter Photo tour to the Top of Tatra Mountains" on TravelFeed.io for the best experience
---
Kasprowy Wierch, Poland & Slovakia
According to some folk tales, Kasprowy Wierch (eng. Casper's Peak) is named after the owner of the valley below the mountain, Hala Kasprowa. Back then, in the 18th century, the inhabitants of Zakopane used the valley to graze their sheep and nobody though of conquesting the High Tatra Mountains surrounding the valley. It was long before the golden age of alpinism and it took a couple of centuries before the first recorded winter visit of Kasprowy Wierch in 1890. It was the dawn of tourism to the smallest majestic mountains in the world.
The High Tatra Mountains are a natural border between Poland and Slovakia, drawn between some of the highest peaks of the mountain range. Kasprowy Wierch is one of those mountains and the crossroads of four mountain crests (ridgelines). Located at the heart of Tatra mountains, there are quite a few hiking trails leading to the top of Kasprowy Wierch from both countries. So, don't get lost. Even though beer might be cheaper across the border, unless it was planned in advance, it would be wise to get back to the same country you came from.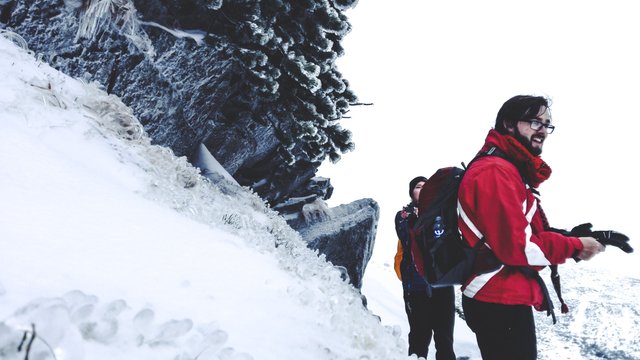 Photo Tour to Kasprowy Wierch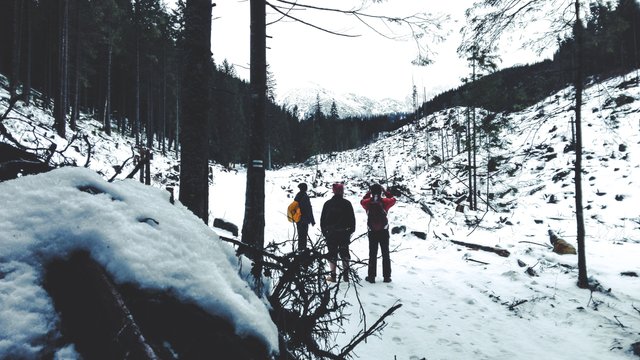 Kuźnice, 1,010 m / 3313ft
The green hiking route to Kasprowy Wierch starts at Kuźnice – part of Zakopane, dating as far as the 18th century when iron deposits were found not that far from it. Further, it follows upstream a mountain creek – Bystra. Further the path goes through Hala Kasprowa, a huge valley, just beneath the High Tatra Mountain. The area is mostly covered by the upper forest.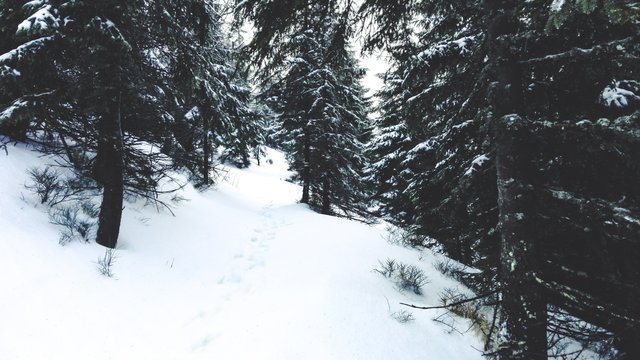 Upper Forest, 1,250-1,550m / 4,101-5,085ft
Here in the High Tatra Mountains, at the heights between 1,250 – 1,550m, lies region called the upper forest. In this area on the only flora adapted to the conditions are conifers and moss. These plants seem not only to survive the harsh climate but to flourish here.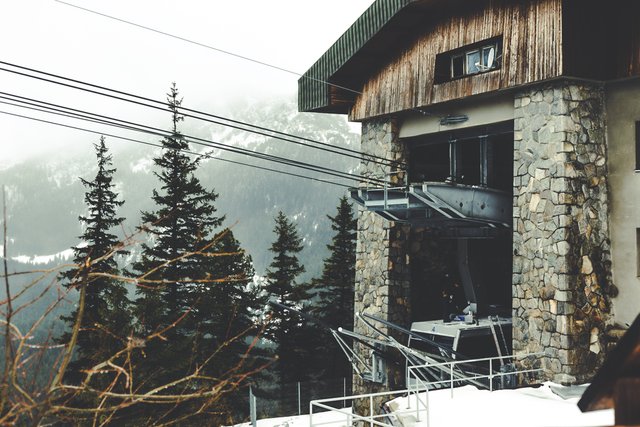 Myślenickie Turnie, 1,360m / 4,462ft
Myślenickie Turnie in an intermediate station for the cable car going to Kasprowy Wierch from Kuźnice. I imagine it was built there not without a reason, the tree line is not far from there, where a hike in the forest turned into a hike in the mountains.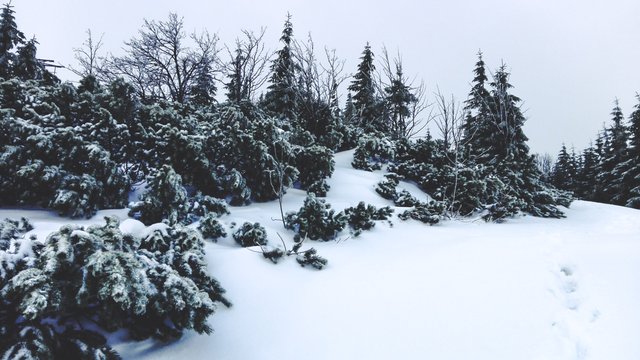 The Tree Line, 1,550m / 5,085ft
Although it will vary from place to place, every major mountain range has a point where the trees simply cannot grow anymore. The usual reason for it is either cold temperatures or the lack of moisture. The trees, at the very end of it, are usually sparse and deformed by the harsh winds.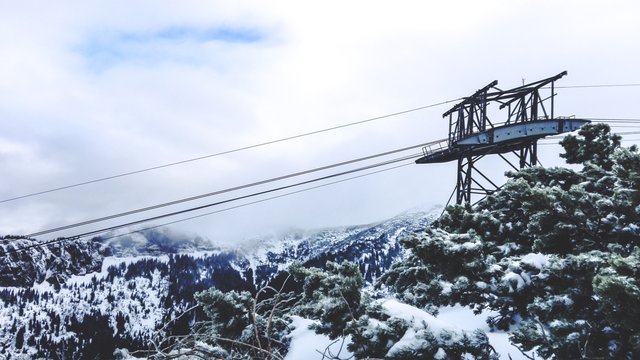 Kuźnice – Kasprowy Wierch Cable car
Kuźnice – Kasprowy Wierch cable car was built in 1935-1936, which makes it one of the oldest of it's kind in the whole of Europe. Despite its age, it is perfectly safe to use it as the cable car was modernized in 2007.
Nowadays, the cable car is an inseparable part of the most popular attractions on the Polish side of Tatra National Park, but historically, the construction of it halted the establishment of the park because the cable car was within the projected territory of green area. Tatra National Park was established only 1954 by the Communist Government, based on the plans made during the interwar period. The clash between environmental protection and technological modernization uncovers two different visions of how a modern society should look like in 20th century.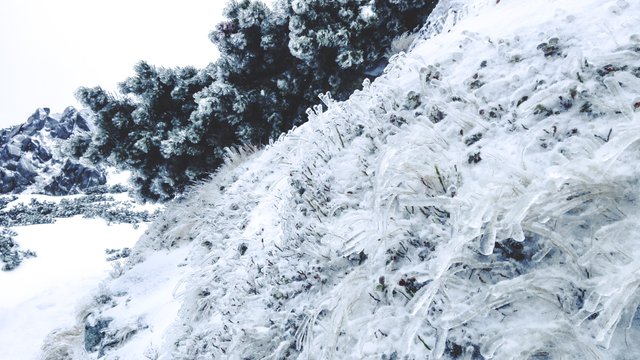 The Subalpine Area, 1,550-1,800m / 5,085-5905ft
In the subalpine area of the High Tatras, all of the flora during winter is frozen. Nevertheless, some species of plants proved to be capable of adapting even to these extreme conditions. They can produce antifreeze proteins, which protect their water from freezing in subzero temperatures. A beauty of a natural adaptation, something I did not expect to see.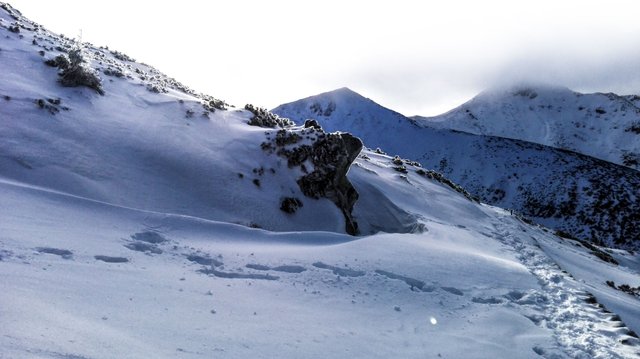 Formation of Tatra Mountains
The Tatra Mountains are the highest mountain range in the whole Carpathian Mountains. It started to form, when two continents, Laurentia and Gondwana, collided to form a supercontinent Pangea, around 380-280mya. It took 40m years more for the first known dinosaurs to appear.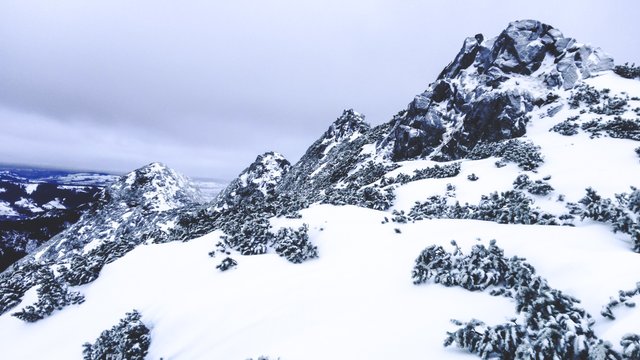 Sucha Czuba, 1,696m / 5564ft
Sucha Czuba (eng. Dry Crest) is a spectacular hill located on the northwestern ridgeline of Kasprowy Wierch. It contains four different minor peaks, standing there together like brothers.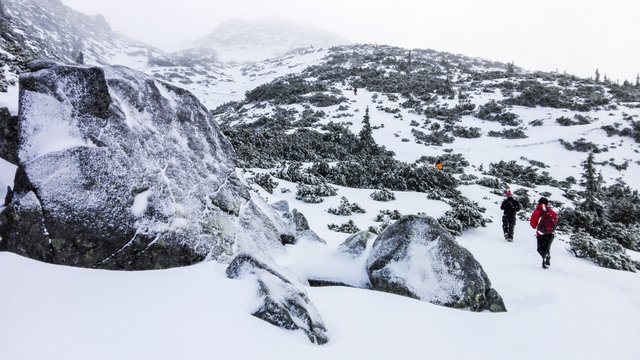 A Natural Border
The Tatra Mountains are a natural border between Slovakia and Poland. I couldn't help myself but feel like walking on a ridge like this, makes you feel like a coin landed on its edge. One small beep and it would collapse.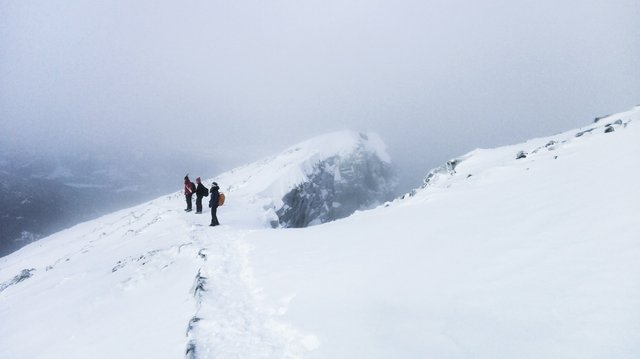 Personal experience
When I was on this hike, I was not in good shape and I knew it. The climb took almost everything from me, but so from my companions. We stood still, baffled equally, as we saw either people running the same track, or somehow doing the walk-in their casual outfits. To us, it took a fortune to keep walking to the very last steps which seemed impossible..
"Very soon this will be over" – I kept repeating to myself for some time, which already felt like a fcuking millennia. "Just one more step" –that was all I cared. At this point, the coldness made my whole body feel numb, and not as it mattered.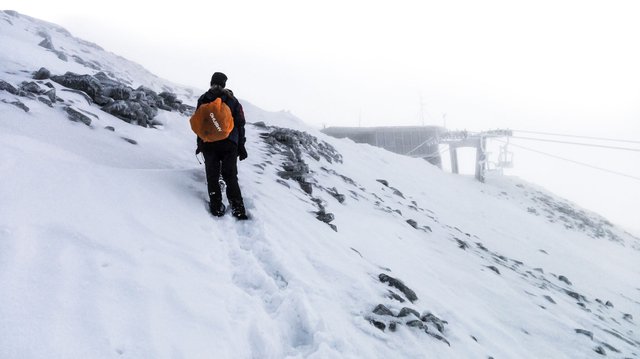 At these heights, we got completely surrounded by clouds thus there was not much to see. I kept walking barely on my sheer will to finish what I set mind to do. I was not even hearing my friend, asking me to stop and wait. All of my focus was on not falling down as I slowly took one step after another. Every step was a challenge. Putting all of my weight on the feet, excited the particles of snow below it into the liquid state, which in turn, instantaneously turned into ice. I knew if I stop, I won't finish it. So, even though I kept falling and sliding down, I persisted.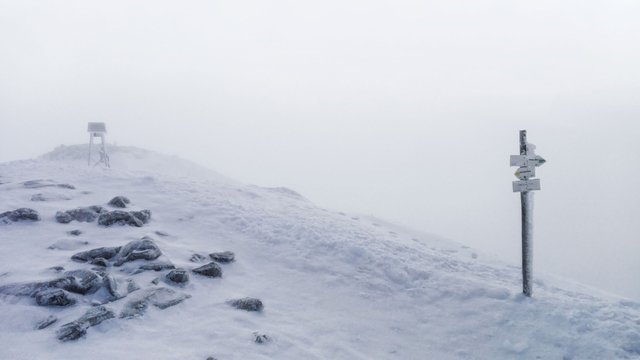 The Peak of Kasprowy Wierch, 1,987m / 6,512ft
It was barren empty once we finally took it to the top. The clouds were still surrounding us and the sign, marking the top of Kasprowy Wierch, didn't look that different from any other random sign somewhere in the middle of nowhere. It was upsetting but not as upsetting as seeing all the people, who got here with a cable car. What are they going to take out of this? Those people took a ride just to drink a coffee in a hut, built upon the Kasprowy Wierch.
Our case was different. Even if we haven't seen the High Tatra Mountains from above this time, we knew that what counts is not the destination, but the journey.
The Journey Down the Mountain
After taking a rest at Wysokogórskie Obserwatorium Meteorologiczne, where you can find bathrooms, warm drinks, and food, we set out the same way we came here. I was worried at the time. From the experience I had, climbing down the mountain might take as much strength as it did climbing up.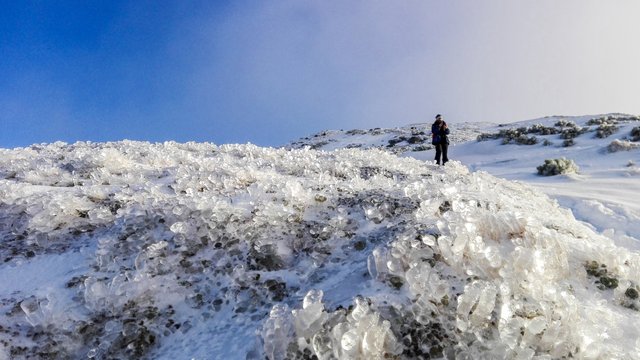 The route down to Myślenickie Turnie seemed exceptionally dangerous. There was a lot of ice near steep slopes and we had no equipment for that. It felt like if I started sliding down, I won't be able to stop. Luckily, the weather conditions got way better and with better visibility, it turned out to be quite an easy descend.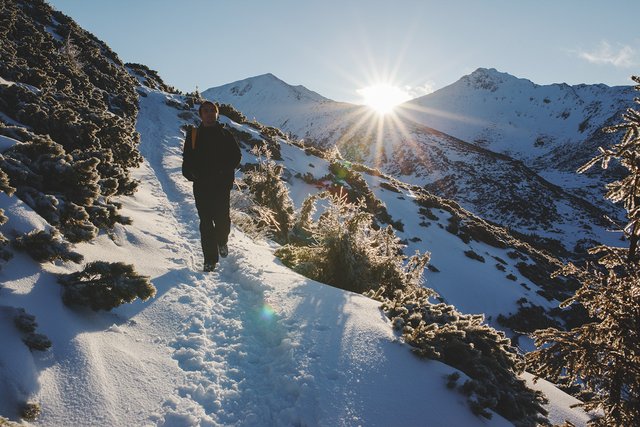 Carelessness and fatigue are the main reasons for surprising statistics that way more accidents happen during the descent of the mountain, rather than ascend. What I learned that day is that sometimes it is better to embrace the difficulty than try to avoid it. We bypassed every difficult icy part by simply sliding down ourselves, on our own conditions.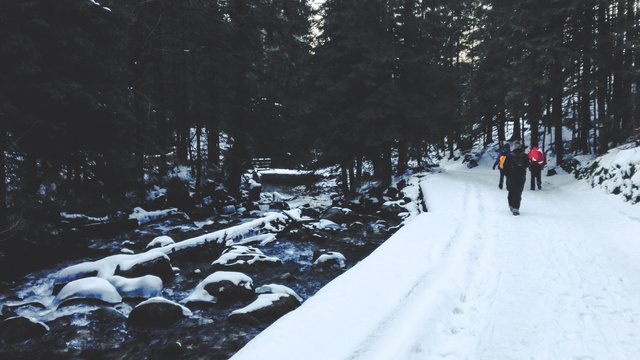 Impressions of Climbing Kasprowy Wierch in Winter
One of the things I love the most about Kasprowy Wierch is that on top of it, mountaineers get to meet the people from the other side of the border. I was caught by surprise, once we met climbers from Slovakia who kindly invited us to join them on their way back from where they came from. "The beer is cheaper over there" – that was their argument.
Despite Kasprowy Wierch being crowded with people ascended by the cable car, I still think that it is a great destination in winter. The hike itself does the journey worth and I'm speaking from my own experience. Due to thick clouds, I've seen nothing from the top of the mountain, but I would repeat the journey even if I knew it would be this way. The subalpine area in frozen mountains is just other-worldly.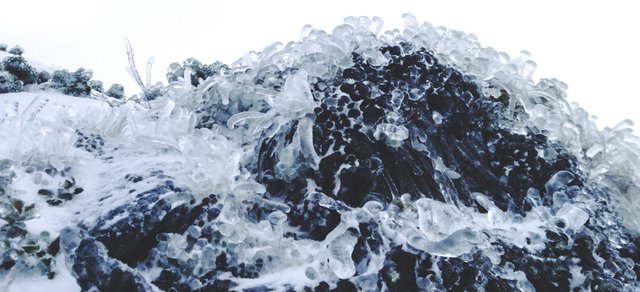 Originally published at https://ctdots.eu on December 16, 2019.
Newsletter Subscription
As some of you might have noticed, I don't post very often and my blog might be a bit hard to follow. Fort this reason, I created a subscription lst for anyone who is willing to get a notice once I publish a new blog post. You can subscribe to it by clicking here
Want more of this?
Any given post entry of any given place takes me around 20h to complete. This includes writing, researching, photo editing, creation of graphics and actual post. Nobody pays me to do it, therefore I must do it on my free time. I have many interesting ideas of how to put an interesting information into an easy way to digest it, like maps, infographics and other cool stuff, but what I lack is time. If you appreciate my work and happened to be in a position where it wouldn't hurt you, it would mean a world to me if you could gift me an extra hour on Patreon.
---
View this post on TravelFeed for the best experience.