This must be the easiest hike in the whole of Spain
Prelude
Because of a similar name to the most popular trail in the world, to some "Camino del Faro" might sound like a long and hard walk. The reality couldn't be more opposite. From the starting point to the very end, the whole 2.5km of road is wheelchair-friendly. The route is relatively flat; thus, elderly people can do it as well. Having in mind the wonderful scenery of the hike, and the accessibility, Camino del Faro is somewhat a paradise for all kinds of nature lovers.
Being one of them, and also into science, the relaxing walk made my mind to drift away thinking of the hiking as an activity. We all know that it is good for you, but why? Having in mind all the features of the route I mentioned before, was like a perfect storm to try deconstructing the whole hiking thing to the very bits. It is then, what I saw was really upsetting. Observing some people exploiting the good conditions of the road left me with somewhat mixed feelings. It looked to me like they miss the entire point of hiking.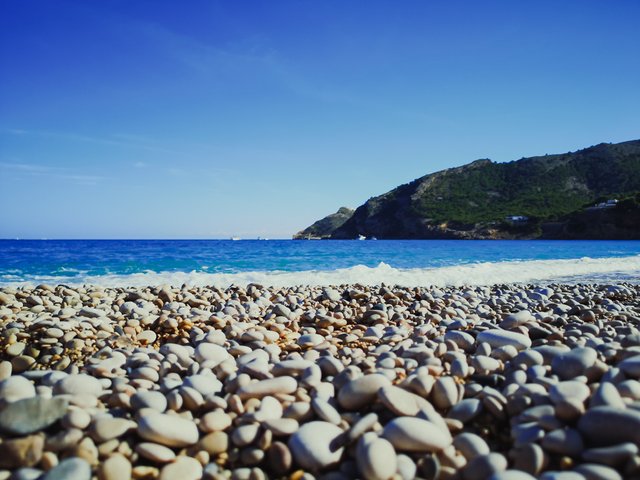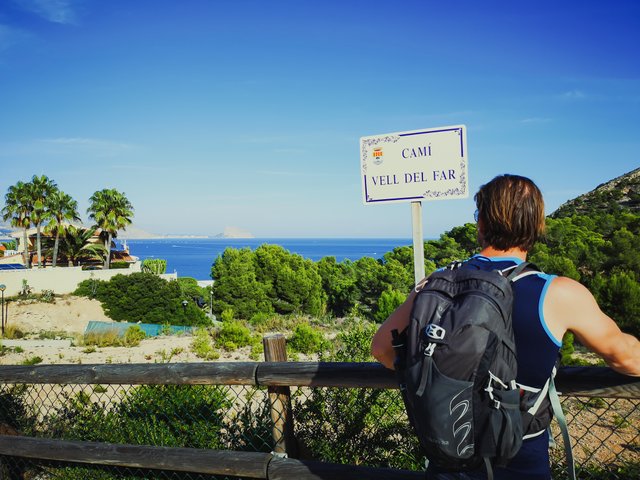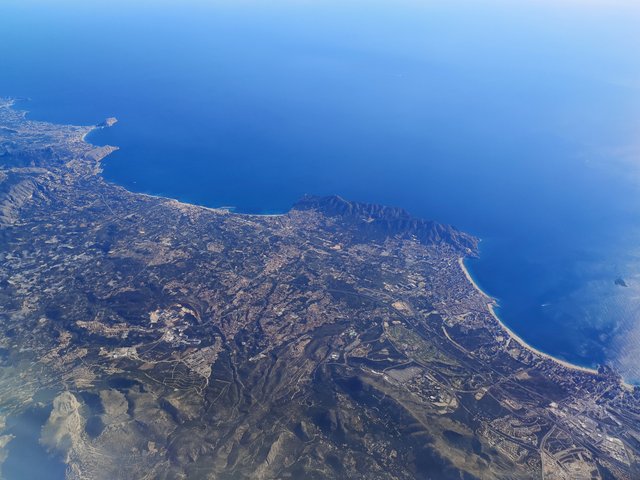 Parc Natural de la Serra Gelada
The key feature of the park is the large cliffs, rising above 400 meters above the sea level providing some of the most dramatic landscapes of Costa Blanca. Heights of the most prominent point, Alt del Governador (438m), are enough to rank them among the tallest cliffs in the whole Iberian Peninsula. Other interesting features of the park are: hanging fossilized dunes among the coast; the underwater area with all of its flora and fauna, including the presence of cetaceans. All of this is enough to make it one of the most unique protected spaces in the entire Valencian Community.
Camino del Faro (Albir – Albir Lighthouse Yellow Route)
Camino del Faro starts straight at the entrance to Parc Natural de la Serra Gelada, sharing the starting point with several other hikes, which you can find on the edge of a popular beach resort town, Albir. A tourist information center is located at the spot with drinkable water and public WC. It is the only one on the whole route, with no possibility to do your nasty work somewhere off-route. Camino del Faro contains twelve designated stops across the 2.5km route. That alone will be enough to help you take more from the hike than just beautiful pictures.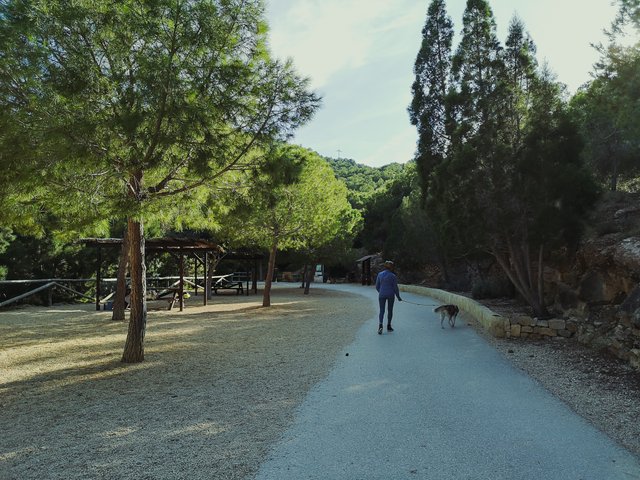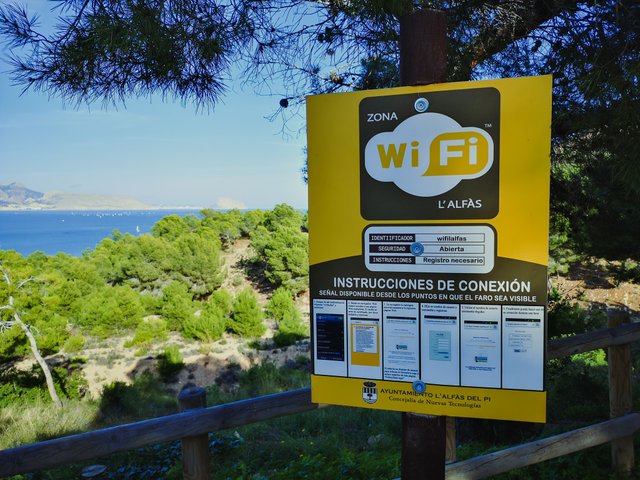 Types of modern hiking
I'm sorry in advance for this segment, but I feel like there is a need to play some semantics here. There is a potential to mark this hike as slightly dangerous due to the reason that scrolling the phone while walking, with no barrier near a cliff, is dangerous. You might think who would do that, but if people are capable of driving and scrolling at the same time, they will do so while walking as well. Free wi-fi on a cliff walking route promotes just that, which is very suitable for scrolling zombies.
Like vampires are another type of modern hikers. How convenient it is for them to have a free wi-fi on a remote landscape to share their stories in real-time. Some people are ready to walk distances, just for that one perfect shot to get more likes. What worries me is that people chose their hikes based not on their skill, but on photography opportunities and that alone is enough to cause some safety problems.
While it might sound a bit absurd, to my defense – absurd circumstances require absurd measures. We don't really have much common sense to name these problems, but we have to start somewhere.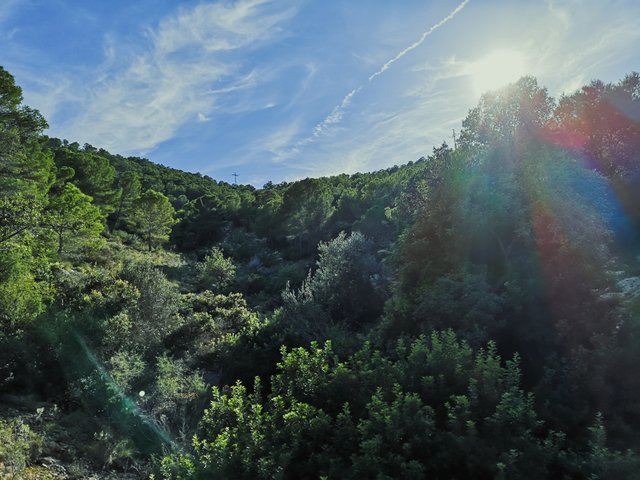 The first information stand will direct your attention to the surrounding flora in the shadowed parts of the park. If there is one thing people should learn here is that Serra Gelada is the home to some endemic (found only in this area) plant species to this area of the Mediterranean. Respecting their habitat could be a life and death question to the survival of whole species.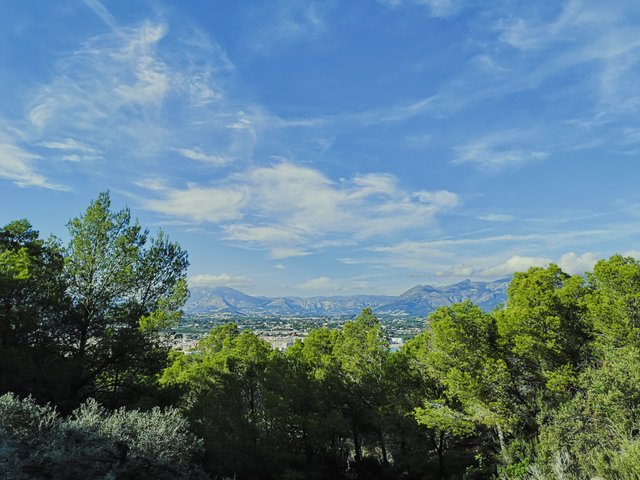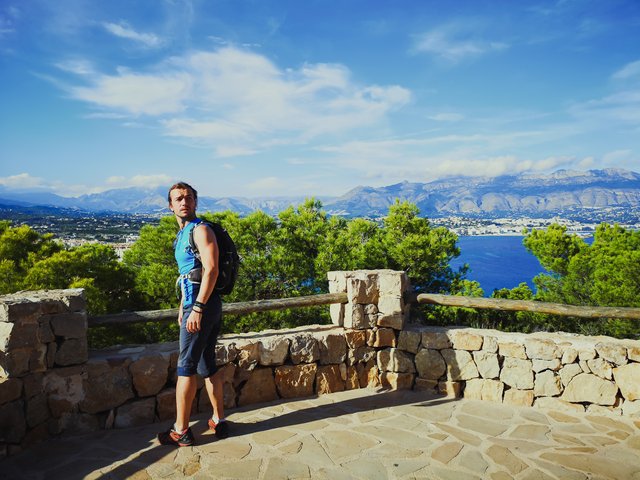 Puig Campana
In this area, a 10km hike will get you to the top of this mountain – Puig Campana. Elevated 1,406m above the sea level it is the second-highest mountain in the Province of Alicante. The key feature of this giant mountain is a small gash, just next to the peak of it. Curious how it got there? There are several legends which you can read here.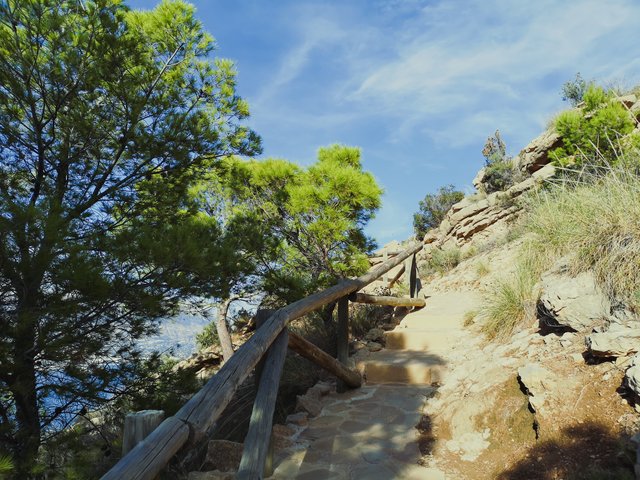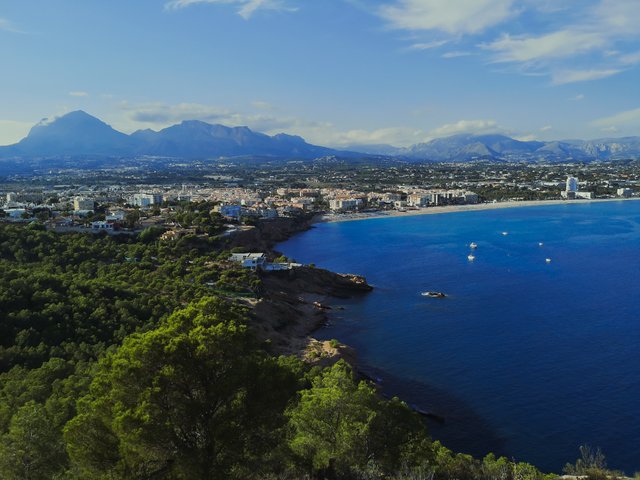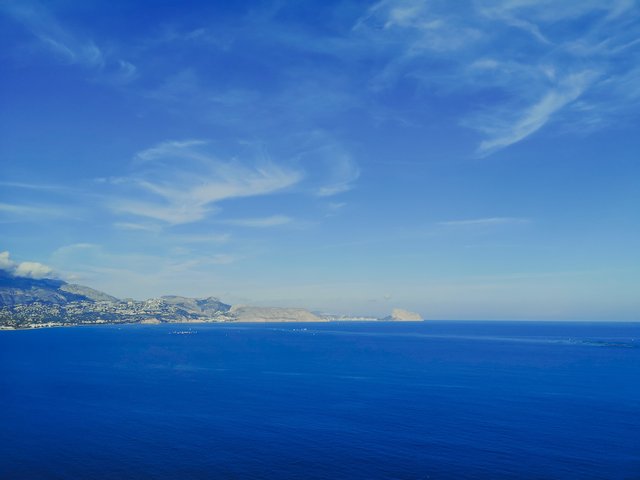 Penon de Ifach
From now on you'll be constantly followed by this scenery. See that rock? That is Penon de Ifach, a Gibraltar-type rock of Costa Blanca in Calpe. If you want to climb that one instead – I highly recommend reading the pieces of advice written in this article. Climbing Penon de Ifach is a way harder task with an even higher reward.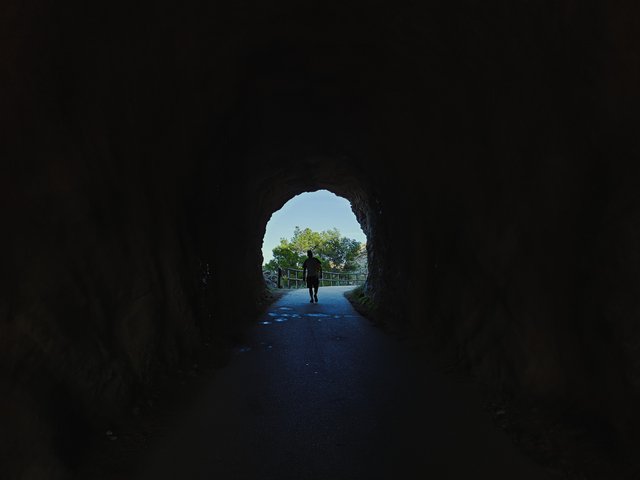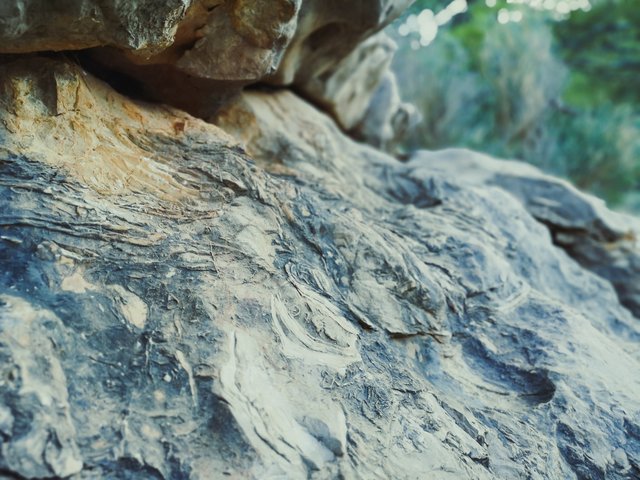 These are fossils of extinct bivalve mollusks – Condrodontos. While the shape of it might not impress you, the fact that they are here proves that at least this part of Serra Gelada was at the seabed 100 mya.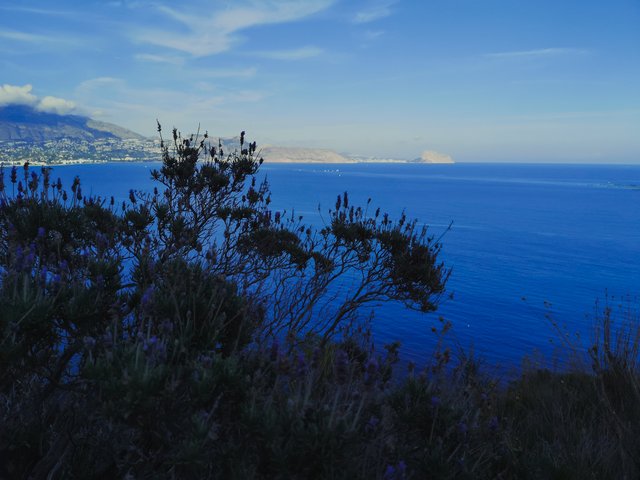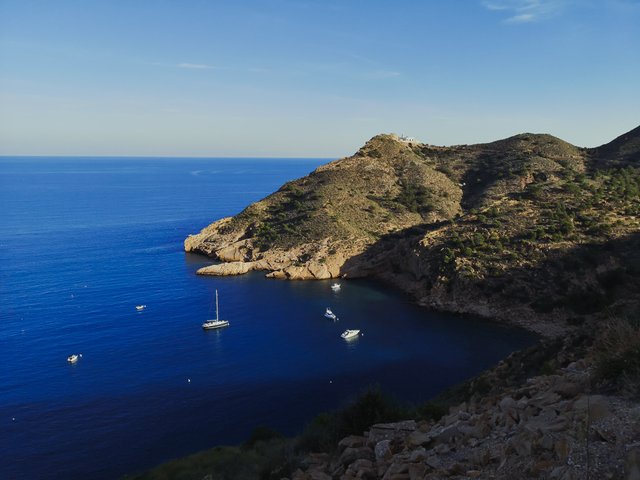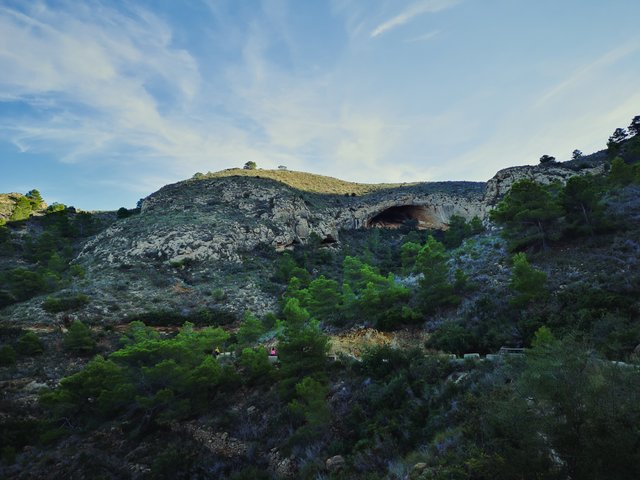 Down the road, Cala de la Mina is accessible to anyone willing to do the climbing back. I imagine this beach would be appreciated more by snorkeling enthusiasts rather than usual swimmers.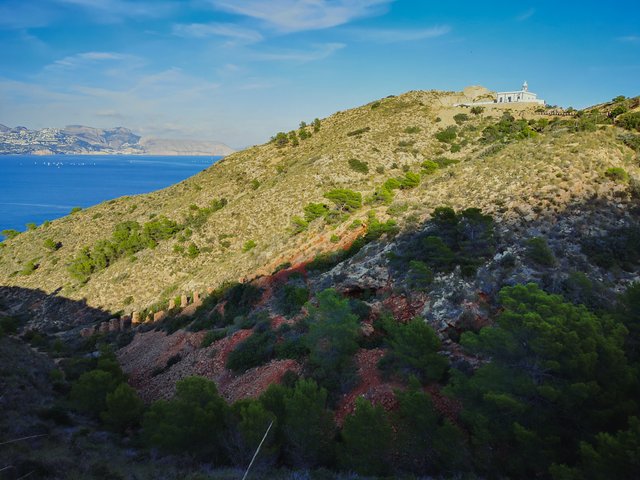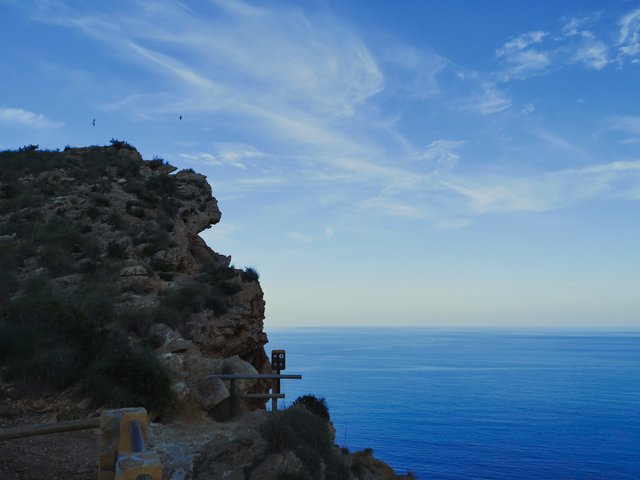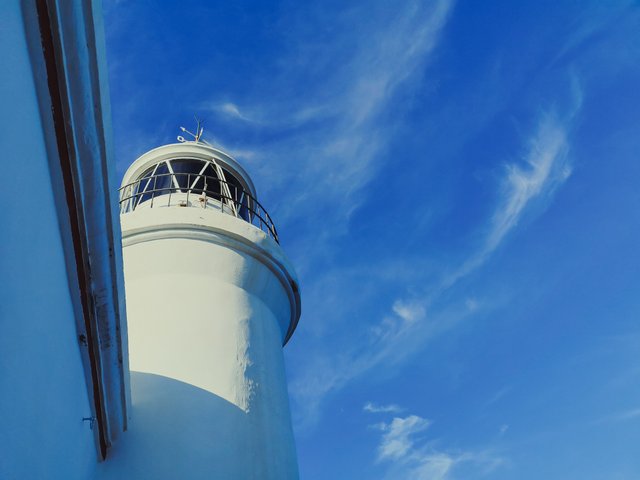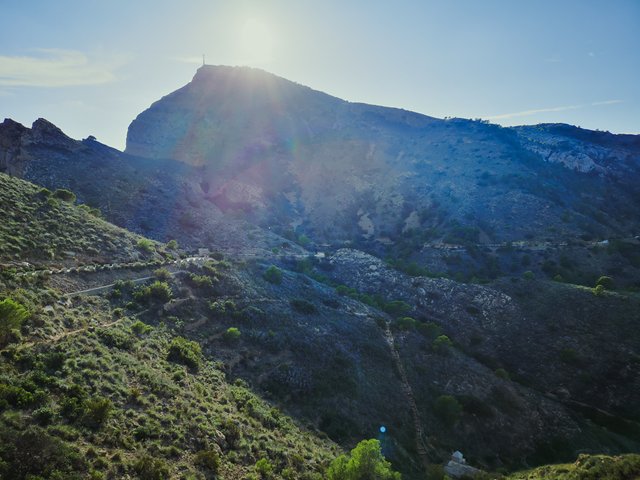 Spotting Cetaceans
The Albir lighthouse area is great for spotting cetaceans, especially, the bottlenose dolphins. The Serra Gelada Natural Park is home to one of the few schools of these wonderful creatures, found around the waters of the Iberian Peninsula.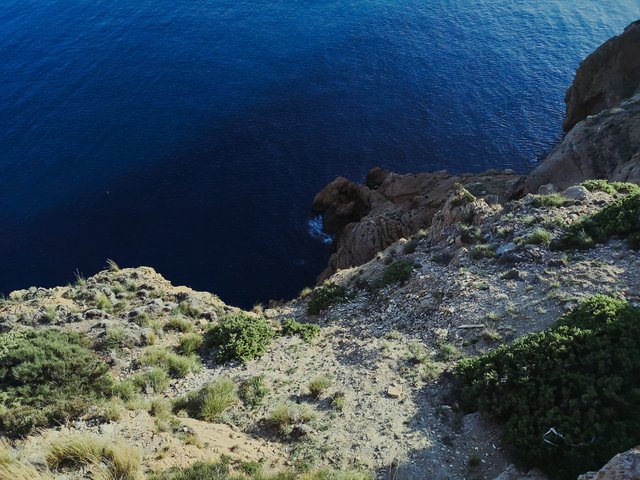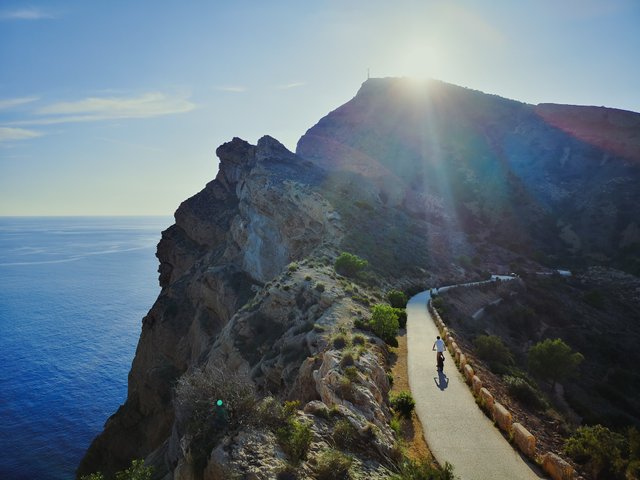 Cliffs of Serra Gelada
These dramatic cliffs formed 70 mya when Africa shifted northwards and collided with the Iberian Peninsula. This resulted in many mountains and similar cliffs across Spain and Europe. The gap between these two peaks is about 170m, formed as a result of an erosion caused by the water.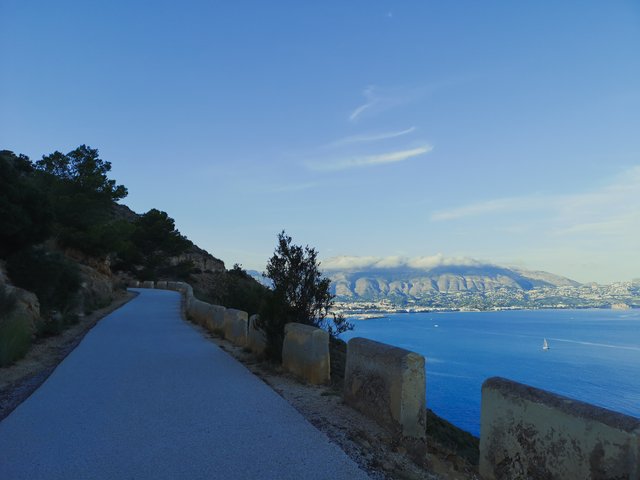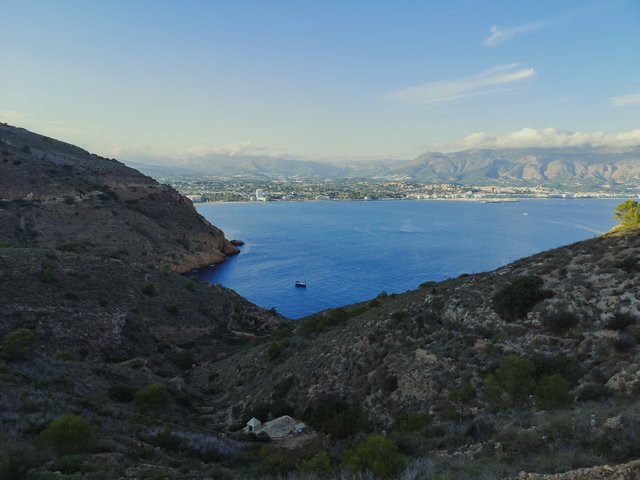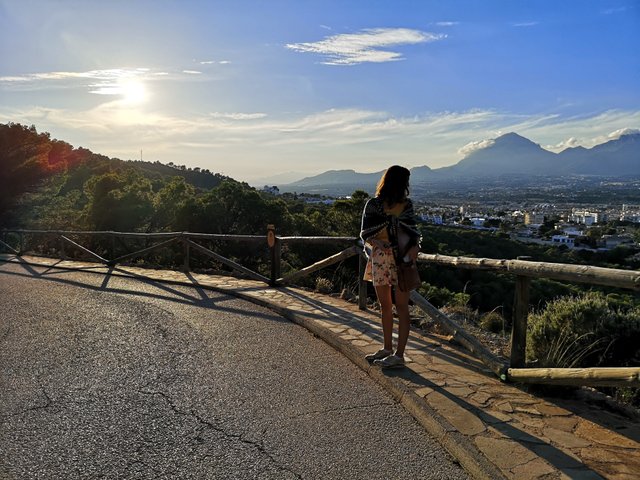 My Impressions
As a European country, Spain is one of the larger ones, and it is no secret that it has a lot to show-of. For that reason, it is expected for some places to have better infrastructure, and some places to lag behind it. Camino del Faro is an example of excellence not only in Spain but in the rest of Europe. Not that every hiking route should be paved (and I'm strongly against it) but that it is possible to have some of these top-notch scenery areas made accessible to everyone.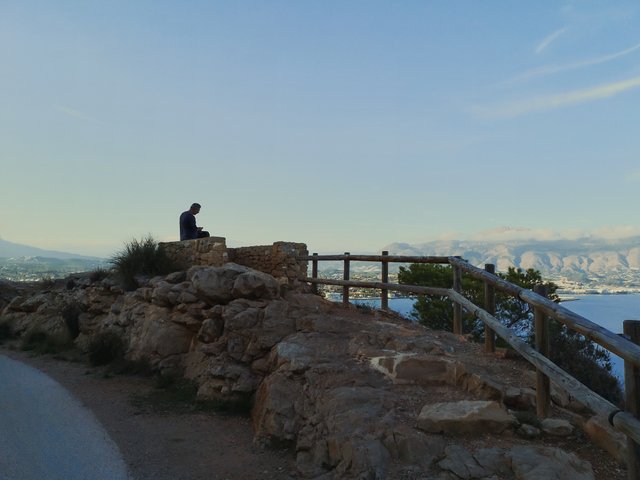 The Benefits of Hiking
The views might look like the main reward here, but the actual motivation for hiking is rather different. Getting direct sun and exercising increases the levels of serotonin in the brain¹. Nowadays, it is a well-known fact that serotonin reduces anxiety of the people vulnerable to depression and increase the mood for all of us². Thus, I cannot stress myself enough to express how it is sad for me to see "like vampires" missing the entire point of outdoor activities.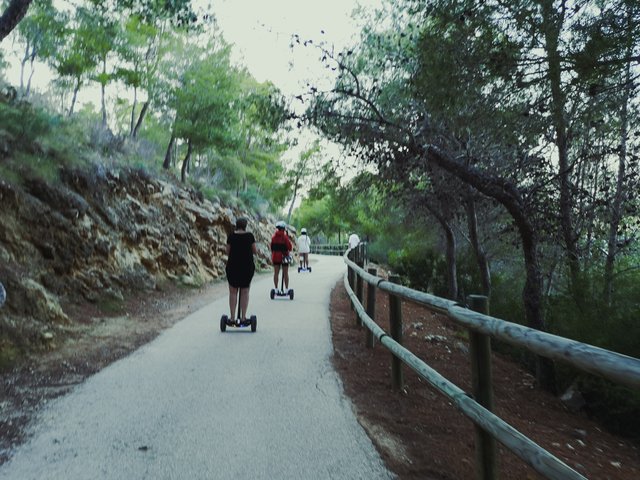 Just because this beautiful route is paved, that doesn't mean that people should grab a segway, or electric scooter, and ride along. It is hard to explain my thoughts once I saw a young woman getting off her Segway and trying to climb a rock by a cliff. All this risk just to get a beautiful picture. She couldn't do more things wrong here.
The reason why I'm stressing about this is, that she risked her safety for a short-term behavior reinforcing dopamine boost obtained from the likes on social network for a cool picture³, while totally ignoring the main benefits of hiking. As I mentioned before, exercising would have similar effects due to increased levels of serotonin, minus the addictive part, plus all the other benefits of active lifestyle, which we all can equally enjoy on Camino del Faro.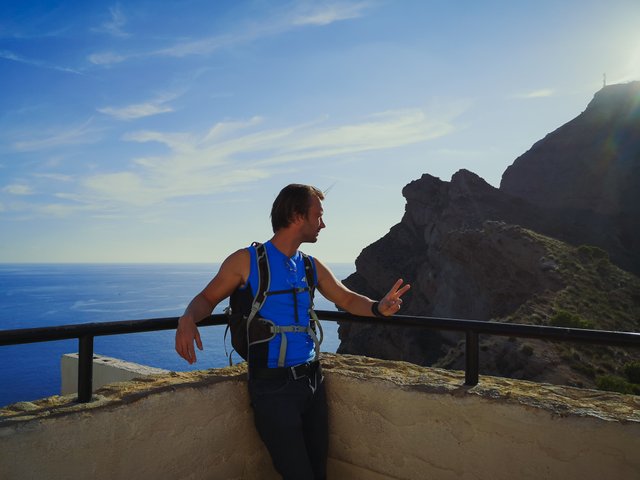 Sources:
¹ Young S. N. (2007). How to increase serotonin in the human brain without drugs. Journal of psychiatry & neuroscience : JPN, 32(6), 394–399.
² Jenkins, T. A., Nguyen, J. C., Polglaze, K. E., & Bertrand, P. P. (2016). Influence of Tryptophan and Serotonin on Mood and Cognition with a Possible Role of the Gut-Brain Axis. Nutrients, 8(1), 56. doi:10.3390/nu8010056
³ Trevor Haynes (2018). Dopamine, Smartphones & You: A battle for your time. http://sitn.hms.harvard.edu/flash/2018/dopamine-smartphones-battle-time

Originally published at https://ctdots.eu on November 27, 2019.
Newsletter Subscription
As some of you might have noticed, I don't post very often and my blog might be a bit hard to follow. Fort this reason, I created a subscription lst for anyone who is willing to get a notice once I publish a new blog post. You can subscribe to it by clicking here
Want more of this?
Any given post entry of any given place takes me around 20h to complete. This includes writing, researching, photo editing, creation of graphics and actual post. Nobody pays me to do it, therefore I must do it on my free time. I have many interesting ideas of how to put an interesting information into an easy way to digest it, like maps, infographics and other cool stuff, but what I lack is time. If you appreciate my work and happened to be in a position where it wouldn't hurt you, it would mean a world to me if you could gift me an extra hour on Patreon.