Amazingly beautiful place on the Adriatic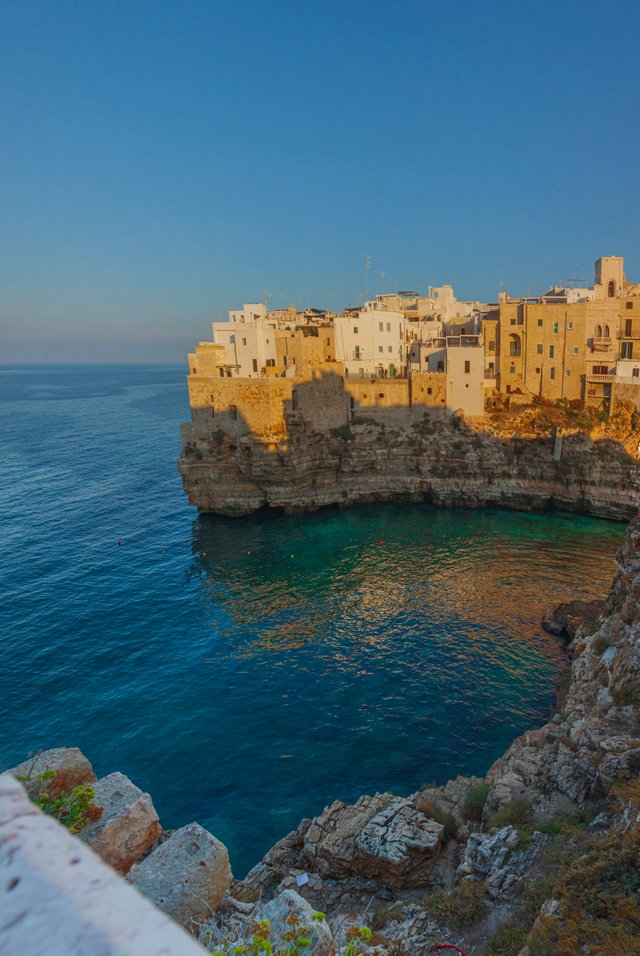 Polignano a Mare
Despite the fact that I was going to go from Bari to Monopoli via Polignano a Mare, it turned out that I stayed in Bari and then in the town of Molfetta, which is located a little bit on the other side than the one where Monopoli and Polignano are a Mare.
A wonderful first day in Molfetta and a great mood until the evening. There was a lot of interesting things in Molfetta, ancient temples and the old city, but such information is not in the guidebooks. Usually in guidebooks they are immediately sent to Polignano a Mare and further along the sea to Monopoli. I decided to do the same.
An excellent direct road leads from Bari to Polignano. We reached the place in just 30 minutes. I drove into the city and kept closer to the sea. When I saw the coastal cliffs I turned right to the water.
We went to the platform with a beautiful view of the sea. Around were beautiful cliffs, all rugged by the wind and the sea. That's very beautiful.
Here and there people were resting on the rocks. Sunbathing. People in wetsuits and fins swam in the water off the coast. These are probably seafood hunters.
But I was not interested in swimmers in the water. The rocks themselves were more interesting to me. We arrived at this place already far after lunch. The sun had already sunk quite low and beautifully softly illuminated the cliffs in yellow-orange. There was already evening blue in the shadows.
To my right further down the coastline is the old city center. It is located on a high cliff directly above the sea. The rock is high, so the city rises above the sea and is protected from the sea by these powerful rocks.
There is a crevice in the coastal rocks and you can go down to the bay near the city. There is a beach and a beautiful harbor.
I saw this place in all guidebooks and I am happy that I managed to get here. The view is really amazing.
Interestingly, at first I was impressed by the coast itself. Rocks, sea and the splendor of Italian nature. Then I noted the great work that the residents of these places did, creating a beautiful city on a rock.
And as I got closer, I realized that I was in complete admiration for this place ...