Abandoned stone city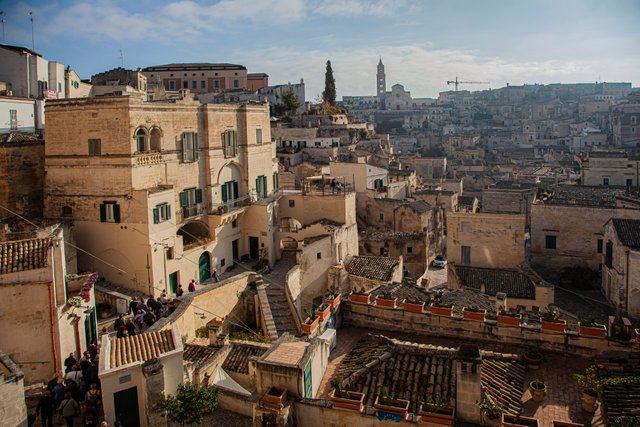 Matera in my heart
After a short pause, I am ready to continue the story of the city of Matera. This time I am ready to share photos of the morning Matera. Just having breakfast at the hotel of St. Anne, we went for a walk along the same streets, but only under different lighting. And this again gives an absolutely amazing effect.
What yesterday went almost unnoticed today is overgrown with details and has become so convex and interesting to look at. In the morning there were still not many tourists and people didn't interfere with my shooting. Although, sometimes, a lonely standing figure blocked my landscape, I began to perceive this silhouette as part of the landscape.
This time we went down the slope to the very center of the stone city. To the right and left of us, ledges rose houses, partially built of stone, partially using rocks as walls.
A maze of streets leads to larger roads that even cars drive on. Here and there the doors of the hotels are visible. It's amazing how they exist here. There seems to be no infrastructure here, but hotels are very expensive. This is a story fee.
History is very important to people.
Speaking of history. After the Second World War, the population of Matera grew and in Italy even the so-called "Matera problem" arose. Unsanitary living conditions in a cave city, lack of water, problems with infrastructure - all this created an unhealthy atmosphere in this place.
When the "Matera problem" grew to the size of a "nation's shame", the authorities decided to relocate residents to new quarters, freeing cave houses. At that time, about 15 thousand people lived in Sassi. Many of them did not want to leave their homes and returned back, then the authorities walled the entrances to the caves with cement.
Since 1952, the evicted city has turned into a cultural and historical site. He began to attract directors and other cinema figures. The streets of old Matera have become the scenery for many films. Pierre Paolo Pasolini shot The Gospel of Matthew in 1964, and Mel Gibson filmed The Passion of Christ in 2004.