ISLAND TRIP Part 3 | Exploring the Beautiful Islands of Aceh - A neglected paradise - End of the trip at William Toren Lighthouse, Pulo Aceh.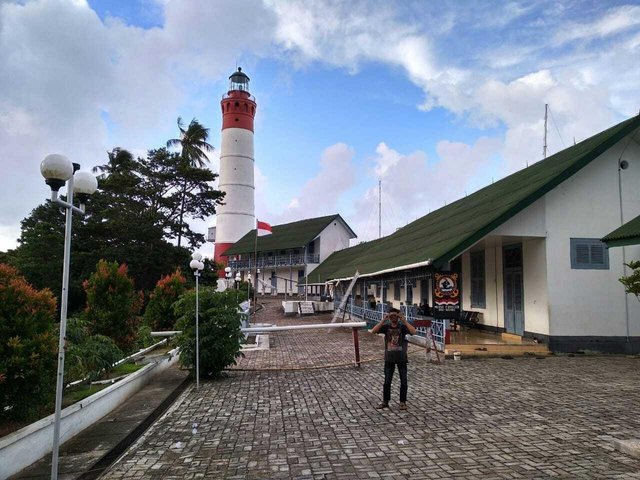 Greetings steemian.
Best wishes to steemit's friends, hopefully always in good health and full of enthusiasm for activities. Yours truly to the Qurator-qurators, especially the Indonesian Qurator, who have appreciated my content, not forgetting my respect for the friends of steemit users wherever you are. You all are amazing.
This post tells the end of my adventure to Pulo Aceh, after I made a post about a trip to Meulingge Beach and Ujung Pineung's old Pier. I made 3 parts because the story of this trip was very long and many beautiful places I visited. I'm sure you like it, not hope but reality.
5. Visiting William Toren Lighthouse.
We hurried to leave Ujung Pineung to continue the trip to William Toren Lighthouse, Rijal with enthusiasm carrying a motorcycle. Even though the route we passed was slippery and uphill, we arrived at 10 minutes on the lighthouse. Rijal speeded to anticipate that it didn't rain on the road, unfortunately I didn't take photos at that time.
If you want to know about the history of the Willem Torren Lighthouse, you can visit this link : https://kebudayaan.kemdikbud.go.id/bpcbaceh/mercusuar-pulau-aceh/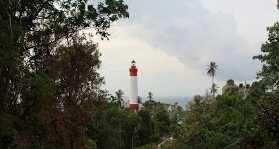 From far away william Toren's lighthouse was visible, I was getting excited to arrive there. Rijal is very careful when going down the road to the Lighthouse, because the road has not been paved. Finally, we arrived at the gate, where the sign had entered the lighthouse.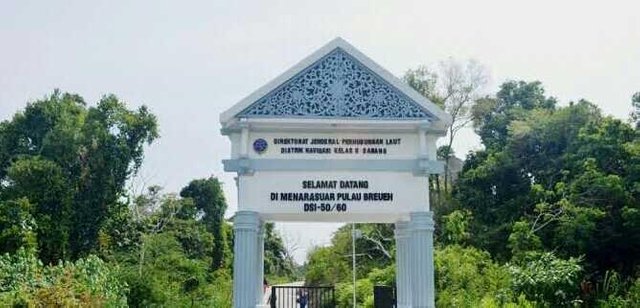 Not far from the gate we arrived at the Lighthouse Guard office complex. Rijal and I took a short break before boarding the Lighthouse, we talked for a while with the lighthouse guards. A clean complex makes me comfortable and it feels like I want to spend the night, especially the typical Dutch building makes me feel like it was in the past.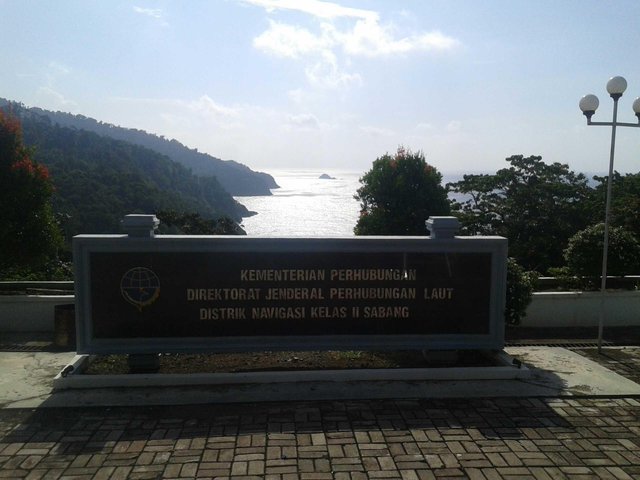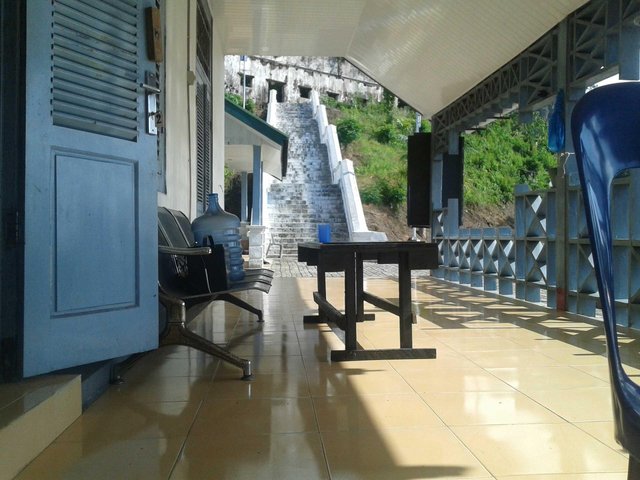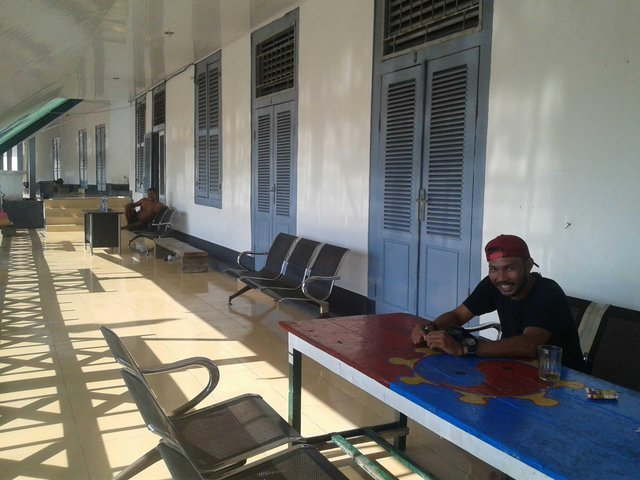 There are two Lighthouse Guards on duty there, they spend their days together guarding the Indonesian Sea Territory. When we arrived there, they looked very happy because they met new friends. I salute them, for the sake of the security of the State they must be willing to leave the family.
Rijal and I asked permission to go up to the tower, they immediately gave us the tower key. Our journey continues by climbing 8 levels of stairs, each level has about 15 stairs.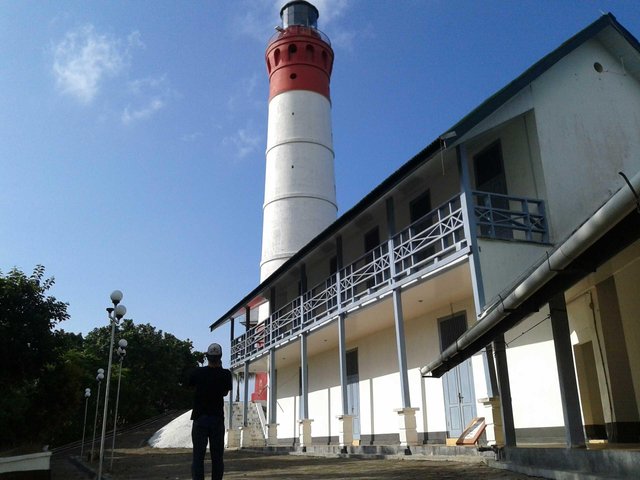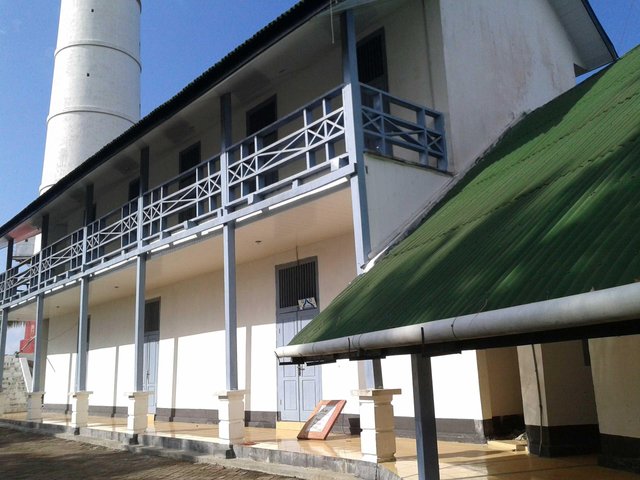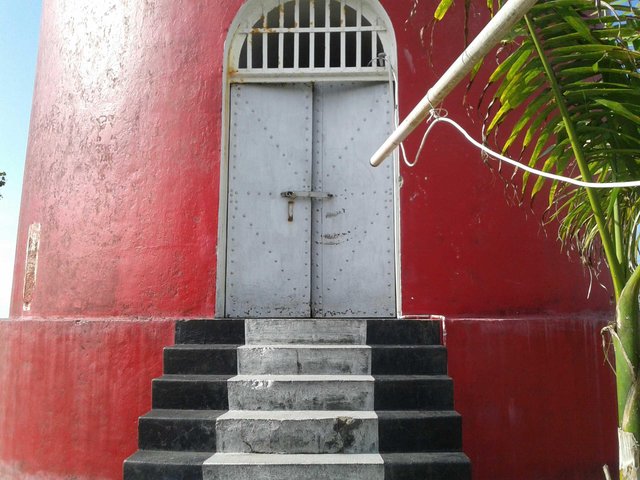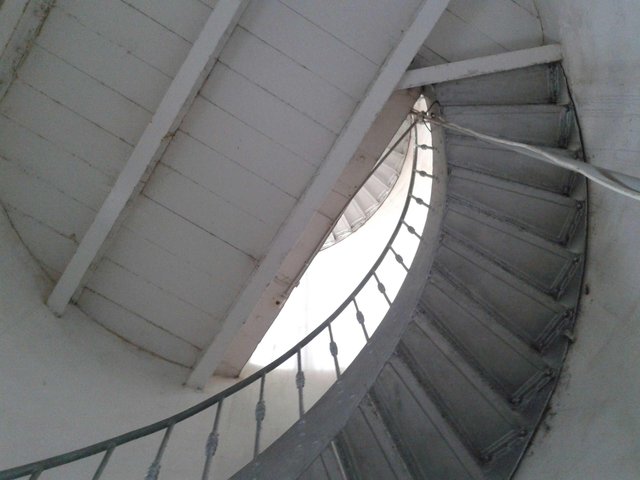 Rijal and I were quite slow when climbing the stairs, but we managed to arrive on the lighthouse. I was happy at that time, I didn't think I could get there.
From the top of the lighthouse I saw the Indian Ocean and the islands nearby, if at night he said we could see lights from Thailand. I can also see other panoramas from the lighthouse, I really enjoyed it.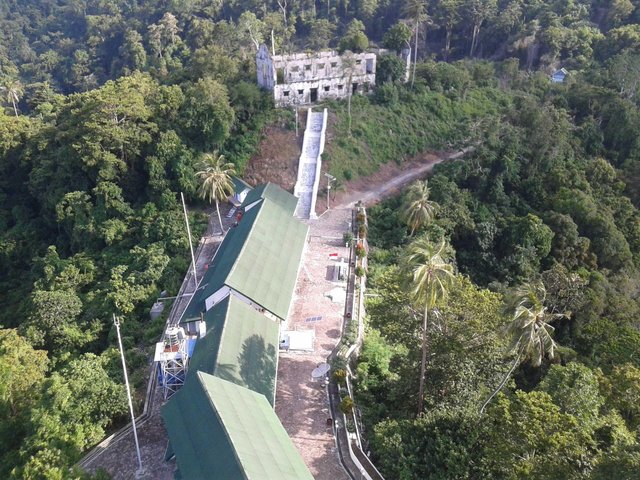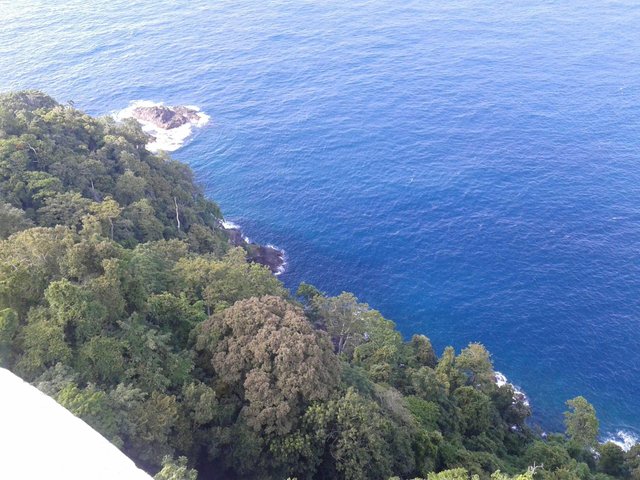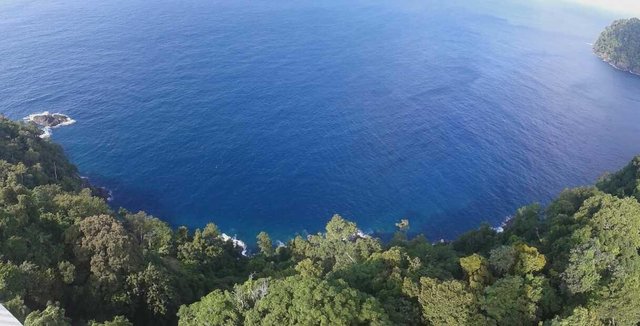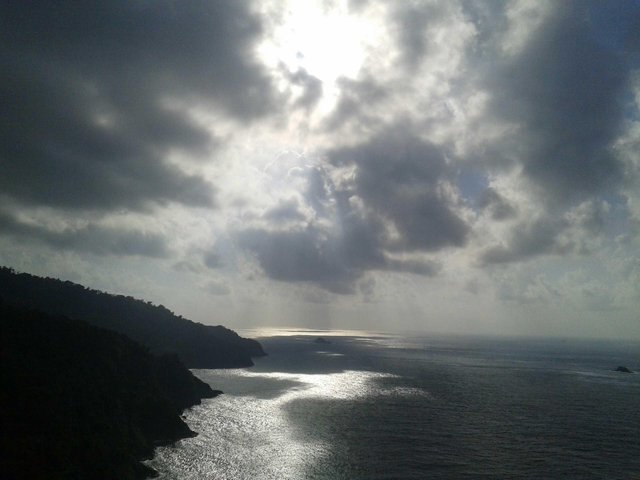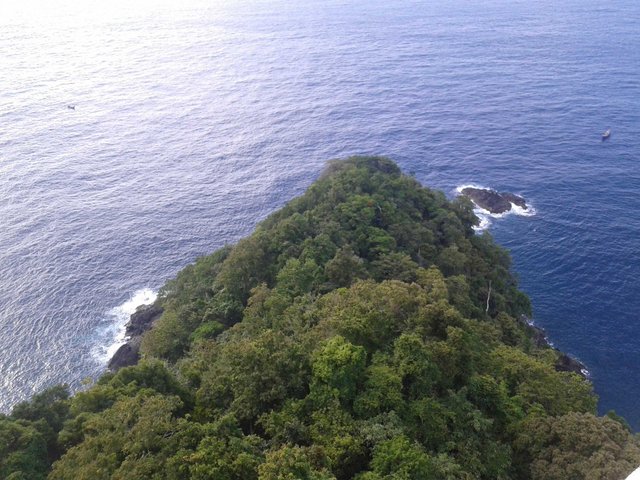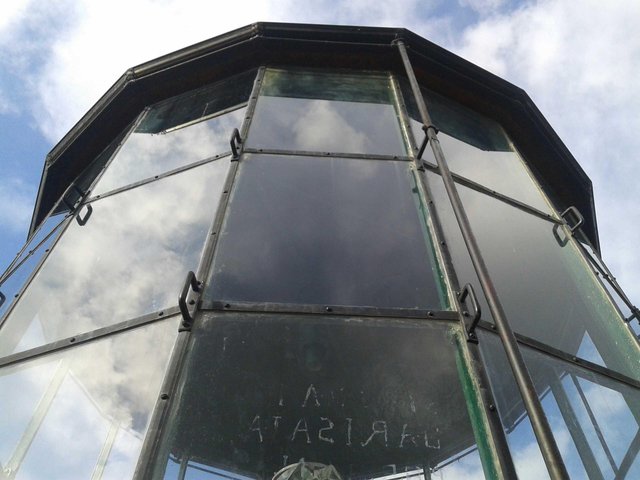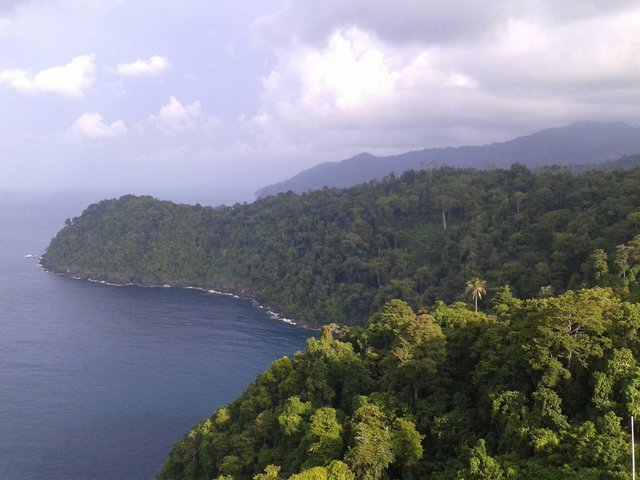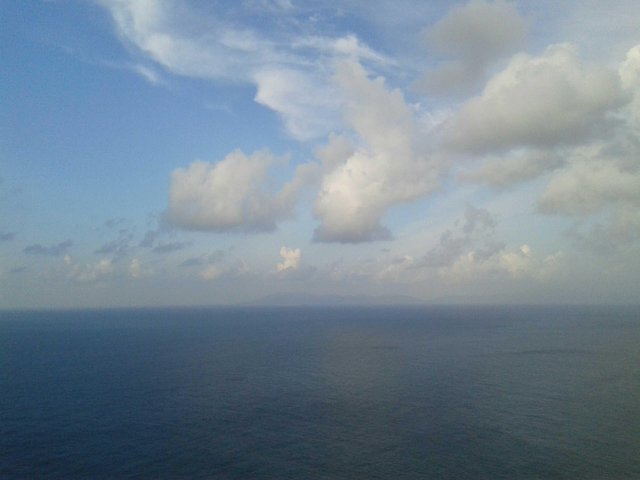 From the top of the lighthouse I can observe anything, I put on a hammock to be more relaxed because I'm tired of climbing the stairs. Rijal is busy with phone calls with her lover, because there is already a cellular signal on the lighthouse. This is my first trip to Pulo Aceh, in contrast to Rijal that has repeatedly been to Pulo Aceh. I don't want to call anyone, I choose to enjoy this trip calmly.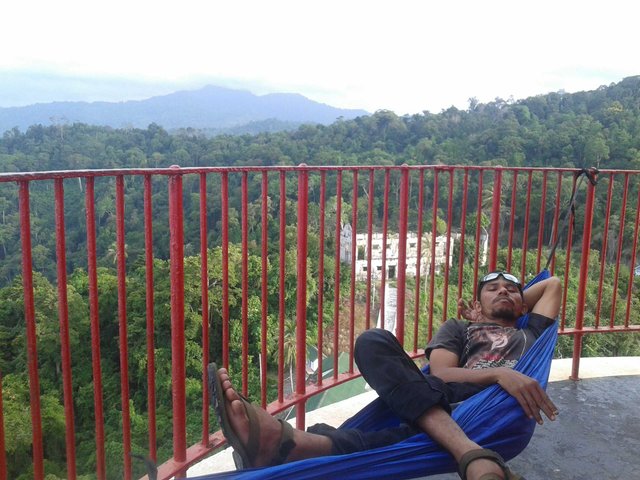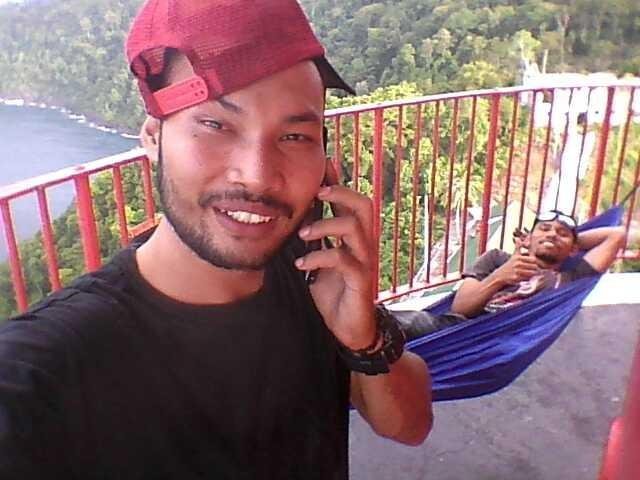 At 6:30 p.m. we came down from the lighthouse, we didn't have enough equipment to stay here. We will return to Meulingge Village to spend the night there and will return to Banda Aceh the next day.
That night we arrived in Meulingge Village, after taking a shower and dinner we went out to meet a friend. We will say goodbye to them and a little thanks for welcoming us here. At 10:00 pm. we returned home to take a break, because we had to get up early to catch up to the ship's schedule that left for Banda Aceh. The boat from Gugop Pier departs at 08:00, so we have to arrive there at 7:30 am.
Day 3 (Sunday, September 9 2018)
The alarm was heard loudly on the mobile cellular, I immediately woke up and woke up Rijal. I just wash my face, if you take a shower you can miss the boat later. From Meulingge Village we leave at 06:30 and arrive at Pier at 7:30 a.m. One hour drive there, thankfully we were able to arrive on time and be ready to return to Banda Aceh.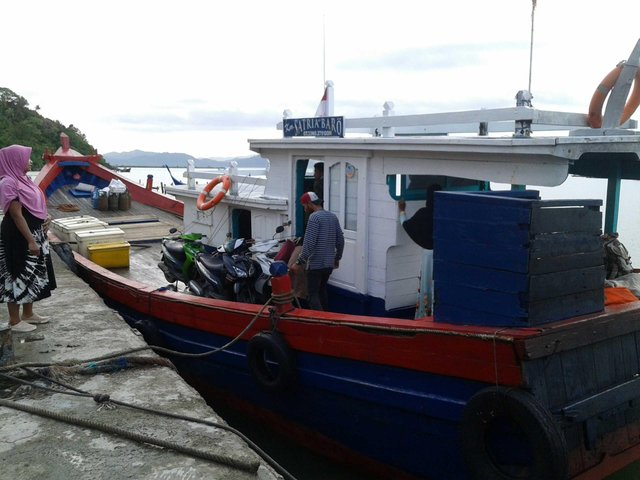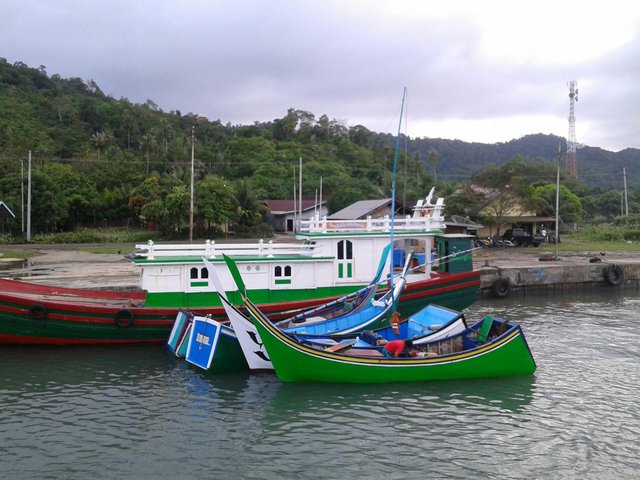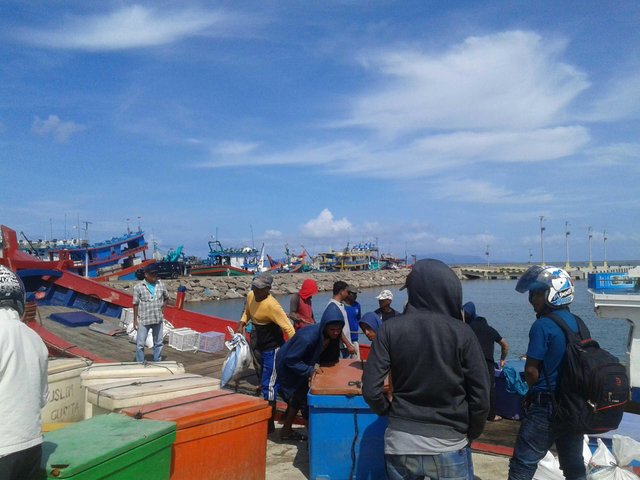 On the way to Banda Aceh, Rijal and I took the top place. We will take a rest until we arrive at Lampulo Port. 2 hours on board is a good time to rest so that my condition remains fit. At 10:15 we arrived at the Lampulo Harbor in Banda Aceh, thankfully we arrived safely. A very impressive journey, one day I will return to Pulo Aceh. See you again Pulo Aceh ...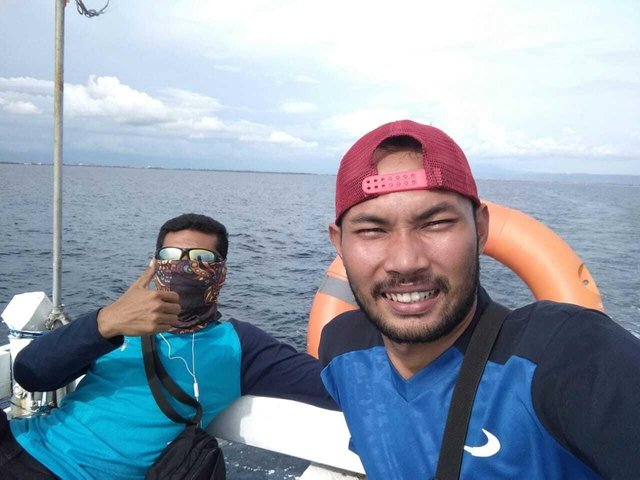 The End.

Author : @bonesumpal
Follow @sevenfingers and Join Discord Chanel : https://discord.gg/MVKkYz
Follow @esteemapp and Join discord chanel : https://discord.gg/V7pxgC
Follow @qurator and Join discord chanel : https://discord.gg/gjrFRe
Follow @curie and Join discord chanel : https://discord.gg/mRrdbhR